The only founder members of the Football League to have won the Premier, Blackburn Rovers are a club of great tradition whose combined FA Cup and title wins match Manchester City's and outshine those of Leeds or Sunderland.
Most of Blackburn's silverware dates to before World War I – eight decades separate Jack Walker's Premier League champions of 1995 from the previous title win of 1914. Walker's unprecedented investment ended the drought, changing a team from second-flight strugglers to title winners in under five years.
Rovers were formed in 1875, at the St Leger Hotel on King William Street. Football was booming in Blackburn, its many clubs formed of tradesmen, weavers and factory workers. Some had links to a local pub, not least Rovers' later rivals, Blackburn Olympic.
But Rovers were righteous, powerful – and sober. One of the men behind their inaugural meeting was John Lewis. Later a top referee, Lewis was a member of the Independent Order of Rechabites, a temperance society with Masonic overtones and access to funds.
'If only,' expounded Lewis, 'money spent on drink could be diverted into ordinary business'. Rovers bore the Maltese Cross and drew on the network of public school old boys for its players.
At the time, gentlemen amateurs from the south were dominating the game, winning each FA Cup.
When Rovers surreptitiously began funding top Scottish players such as stonemason Fergus Suter, Jimmy Douglas and Hugh McIntyre, the balance of power changed. Rovers were the first northern team to reach an FA Cup final, in 1882, then won it in 1884, and again in 1885 and 1886.
A founder member of the Football League in 1888, Rovers took full advantage of open professionalism to win the cup twice more, with the prolific Jack Southworth in attack. Later influential European coach William Townley scored a first cup final hat-trick in 1890 and another winning goal in 1891.
Rovers lacked the stamina to win the league until 1911-12, with stalwart Blackburn-born Bob Crompton, later a record England cap, in defence. His team repeated the feat two years later.
With Crompton as manager, Blackburn won their last FA Cup, in 1928, 3-1 over Huddersfield. Still on the bench in 1941, Crompton succumbed to a heart attack right after a tense derby with bitterest rivals Burnley, his team 3-2 winners.
By then, Rovers had been relegated for the first time. The team who bounced back in 1958 featured loyal right-half and England regular Ronnie Clayton, and fellow international Bryan Douglas. Joined by Derek Dougan, Douglas spearheaded a Rovers side that made the FA Cup final in 1960, injury to later Wigan owner Dave Whelan a major factor in Blackburn's defeat to Wolves.
Decline followed, even third-tier football, before Howard Kendall cut his managerial teeth by taking Blackburn to the Second Division in 1980 and came within a point of the First a year later.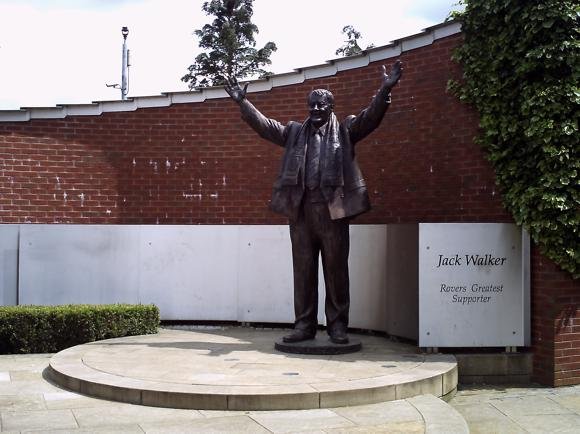 Centre-back Derek Fazackerley and striker Simon Garner, holders of the club's record for appearances and goals respectively, kept Rovers in the hunt that decade but when Douglas-era fan, local steel millionaire Jack Walker became owner in January 1991, relegation looked likely.
The drop averted, that October Walker persuaded Kenny Dalglish out of retirement, the Scot leading Rovers to promotion to the inaugural Premier League in 1992. Ewood Park was significantly overhauled.
That summer, Walker paid a British record £3.6 million for striker Alan Shearer. Two years later, after consecutive top four finishes, Walker again broke the transfer record for £5 million strike partner Chris Sutton. With Shearer notching 34 goals, Rovers led for much of the 1994-95 campaign, winning the league when a Cantona-less Manchester United failed to beat West Ham on the final day. That same Sunday, Blackburn were beaten by Dalglish's old club, Liverpool.
It was a huge achievement but one not repeated at home nor followed up in Europe, Dalglish having quickly moved upstairs. Previously embarrassed by Swedish part-timers Trelleborgs, Blackburn sank to a new low when team-mates Graeme Le Saux and David Batty swapped punches within four minutes (!) of a Champions League game in Moscow.
Within four years, Rovers were relegated. Jack Walker died on the eve of the season that would see their return, 2000-01. Under the Walker Family Trust and the shrewd stewardship of chief executive John Williams, hired by Walker, Rovers rebounded to attract big names – goalkeeper Brad Friedel, strikers Mark Hughes and Andy Cole – and win a first League Cup in 2002.
More top half than bottom during a creditable decade in the Premier League, Rovers lost their mojo when the Walkers sold the club to Indian chicken magnates Venky's in 2010.
Without Williams or manager Sam Allardyce, ludicrously let go that December, rudderless Rovers slipped down the table. By 2012, mismanagement forced a near mutiny by fans. A doomed relegation clash with Wigan saw chickens on the pitch and Allardyce replacement Steve Kean subject to untold abuse. Wigan may have escaped but owner Dave Whelan, a Rovers old boy, took little pleasure in Blackburn's disgraceful demise.
Despite the chaos, goals by Jordan Rhodes kept Rovers afloat in the Championship. After the striker's long-awaited departure in February 2016, manager Paul Lambert gave way to Owen Coyle before the 2016-17 campaign.
Coyle failed to last the season before being replaced by Tony Mowbray. His appointment came too late to prevent Blackburn from being relegated to League One, the third tier, a level last experienced in 1980.
With strangely hands-off owners Venky's employing a bizarre non-management approach, the running of Rovers is largely left to a skeleton beleaguered board/executive team without the authority or expertise to oversee a revival behind the scenes. On the pitch, though, young attacking midfielder Bradley Dack arrived in 2017-18 to spearhead a promotion-winning campaign, complemented by goals from journeyman striker Danny Graham. Mowbray must now keep key players in place in order to make a credible bid for the Premier League.
Stadium
Ewood Park has been Blackburn's home since 1890 – though the club had played a few games on it during the previous decade when it was known as Ewood Bridge and staged greyhound racing.
The club's earlier pitches were cricket grounds – Pleasington, Alexandra Meadows – and before then, the cowfield of Oozehead. Blackburn's previous venue pre-Ewood, though, was Leamington Road. Used, as Alexandra Meadows was, by England for the odd home international, Leamington Road was where Rovers staged their three successful consecutive cup campaigns of the mid 1880s. With its own grandstand, Leamington Road was ideal – just too expensive to rent.
Ewood Park was also more than suitable – 10,000 spectators were accommodated for its first league match in 1890. Way back in 1892, it even could have artificial lights installed.
By 1913, it had three new or revamped stands, including a twin-tiered one, still called the Riverside, by the waterway that meanders down to Darwen. Capacity back then was around 70,000, seating places an impressive 7,000. A record 62,000 gathered to see cup-holders Blackburn take on local rivals Bolton in 1929.
After Rovers lost top-flight status, Ewood Park was provided with floodlights in 1958 but precious little else in the post-war period.
The Jack Walker era began even before the steel magnate bought the club, the lifelong Rovers fan first financing a new stand to replace the original Riverside in 1988. With promotion to the new Premier League in 1992, permission was granted for a rebuilt, all-seater Ewood Park of 31,000-capacity.
Fittingly, on the eve of the title-winning season of 1994-95, the new Jack Walker Stand on Nuttall Street completed the stadium's four-stand revamp. This main stand now houses executive suites and the press rooms.
Nearest to town, the home Blackburn End, named after stalwart skipper Ronnie Clayton in 2011, is where you'll also find the ticket office, and club shop opposite. The statue to Jack Walker stands immediately behind.
Opposite, away fans are usually housed in the lower tier of the Darwen End, named after Clayton's team-mate Bryan Douglas. Depending on demand, visiting supporters may also occupy part of the upper tier.
The first stand to be revamped by Jack Walker's millions, the single-tier Riverside now looks its age and would benefit from modernisation and expansion.
Transport
Ewood Park is located south of town, halfway to Darwen, too far from the main station to walk. An hourly train runs to Mill Hill (3min, £1.60) nearer the stadium. Veer left on New Chapel Street above the platform staircase, straighton, then left again at the Spar onto New Wellington Street. Head to the end, over the canal, down Albion Street to the end. Ewood Park is 5min to the left. Allow 15min in all.
Alternatively, local Transdev Lancashire United bus No.1 runs every 15min from Stand 15 at Blackburn bus station in town – the other end of Railway Road from the train station – towards Bolton via Darwen. It stops at Ewood Park 8min away. Transdev offers a £3.20 day pass to match- or season-ticket holders – otherwise a single is £1.50.
The sat nav code for Ewood Park is BB2 4JF. Match-day parking is available at £10, bookable in advance or with cash on the day, in car parks B, F and H. Car park B is behind the away end, H the Blackburn End. Car park F is a short walk from the ground. Details and booking on 01254 508283.
A couple of council run car parks were closed at the end of the 2016-17 season but there are cheap (£3) alternative car parks on Slater Street and Albion Street leading off it, left from Livesey Branch Road as the ground comes into view.
Alternatively, a small bag of shopping will buy you sufficient hours in the retail park spaces off the bottom of Livesey Branch Road, a goal-kick from the stadium.
Tickets
Tickets usually go on sale three weeks before match day at the Roverstore (Mon-Fri 9.30am-5.30pm, Sat 10am-4pm, match days from 9am/10am until 1hr after final whistle) behind the Blackburn End at Ewood Park. You can also purchase by phone on 01254 372 000 (Mon-Fri 9.30am-5.30pm, Sat 10am-2pm) and online.
Prices are set in three category bands. For a Category A game, you pay £22 in the Riverside Stand, £24 in the Blackburn End and £22-£29 in the main Jack Walker Stand. Seniors and 18-21s pay £15/£17/£17-£24 respectively. Under-17s are charged £8 everywhere except for the Jack Walker Stand, £10.
Prices drop an average £5-£10 for the lower categories. Away prices in the Darwen End are set at exactly the same level as the Blackburn End for any game.
If you book a ticket after noon on any match day, home or away sections, you'll be charged an extra £2 on the advance price.
Shops
Blue-and-white merchandise fills the Roverstore (see opening times above in Tickets) behind the Blackburn End. Second kit for 2017-18 is red-and-white stripes. T-shirts bear the 1875 foundation date, retro replica tops available from the centenary year of 1975 and Cup final appearance of 1960.
Among the more unusual branded souvenirs is a pet poop bag holder, a Rovers mascot clock and toy trucks.
Bars
A handful of pre-match pubs are clustered on Livesey Branch Road close to Ewood Park, with TV football and Thwaites beers at the White Bull and sensible away fans also welcome at the Moorgate Arms. The Brown Cow is more of a Rovers haunt. Even closer to the ground on the Ewood Triangle, the lively Fox & Hounds is another Thwaites pub, with TV football, cask ales and pool.
Traditionally, the Fernhurst, at the hotel of the same name, does a roaring pre-match trade but now tends to limit numbers. It's just on the other side of Ewood Park on the Bolton Road towards Darwen. By the motorway bridge, 10min further away but a downhill stroll to Ewood Park, the Golden Cup is a friendly choice for away fans, with decent pub grub, cask ales and a beer garden in summer.
Halfway between the two, at the river end of Branch Road, Uncle Jacks is arguably the best choice, welcoming home and away fans with a decent selection of beers. For Ewood Park, it has its own bus stop or turn right out of the pub, up the hill to the traffic lights, then right again. Allow 10min.
At the ground, the Blues Bar behind the Jack Walker Stand admits season-ticket holders (£1, free post-game) only on match days but opens lunchtimes Tue-Thur and until 8pm Fri-Sat if you're visiting the club shop or ticket office. Tuck into a Blues breakfast or burger surrounded by images of the 1995 triumph.
Gallery