Awarded hosting rights for Euro 2020, staging the Europa League Final in 2012 and acting as host venue for local clubs in the European competitions, Bucharest's National Arena has brought the Romanian game back onto the global stage. As of 2015, the national stadium has also been the regular home ground for the country's most decorated club, Steaua Bucharest.
This is the new face of the Romanian capital: a modern, EU metropolis still emerging from a dark past.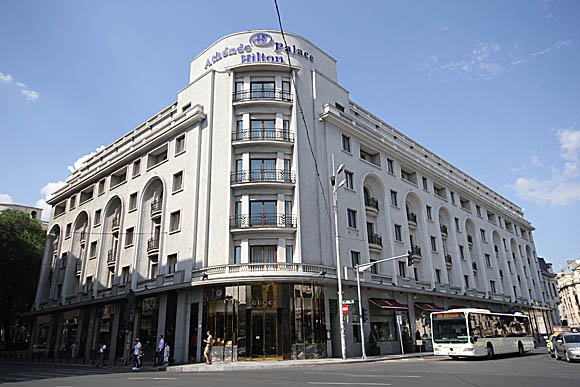 Behind the scenes though, controversy, dark deeds and corruption still haunt football here – not that Bucharest is alone in such matters. Gigi Becali, notorious owner of Steaua, received a jail sentence for his underhand land deals, illustrating the murky relationships between state bodies and the football clubs who once fronted them.
Steaua represented the army, bitter rivals Dinamo Bucharest the interior ministry. Such is the cloak-and-dagger nature of Romanian society, little may have changed behind the scenes even after the overthrow of brutal Communist dictator Nicolae Ceausescu in 1989. 
European Cup winners in 1986, finalists three years later, Steaua were the first club from the Eastern bloc to attain such heights. Able to attract the best Romanian talent, most notably Gheorghe Hagi, Steaua were the dominant domestic force but relinquished the role after Hagi left for Real Madrid and the Communist system that held them in place collapsed. Dinamo then regained the title they had lost to Steaua earlier in the 1980s.
Under Communism, a victory for Steaua or Dinamo reflected the internal power struggle between army and ministry of the interior, ie the secret police, the omnipotent Securitate. Steaua were favoured by Valentin Ceausescu, son of dictator Nicolae. Matters came to a head at the notorious, unfinished cup final of 1988, a scandal of bizarre refereeing decisions, mass protests and ugly scenes in front of the VIP balcony – the trophy was never officially awarded.
For nearly three decades, in fact, the Romanian title stayed in the capital every year but one, invariably held by Steaua or Dinamo – the Eternul or Marcic ('Great') Derby between them took on increased significance. Both clubs had been created with the post-war Communist reconstruction of sport. Before then, Bucharest was a little-known footballing outpost in the Balkans.
At domestic level, Bucharest teams with romantic names such as Venus and Juventus challenged pre-war football powerhouse, Timisoara. Even today, only Steaua and Dinamo have won more titles than Venus, whose ground close to the opera was knocked down after the war.
The last team that Venus pipped for the title, who beat them in the Romanian Cup final that same year of 1940, were Rapid. The capital's third team in modern times, railway team Rapid emerged from near disappearance to gain promotion back to the top flight in 2014. Sadly, despite finishing in a promotion spot again in 2016, the club was dissolved in 2016 and must now climb back from the lower leagues. A fan base, though, remains in place.
Back in the 1940s, a contemporary of Venus and Juventus, Unirea Tricolor, were merged with Ciocanul to create Dinamo. Ciocanul themselves were formerly Maccabi, a Jewish club who didn't survive the anti-semitic policies of the war-time government. Dinamo won their first title in 1955 and became the first Romanian club to compete in the European Cup.
By then, Steaua had already been crowned four times, and each rival enjoyed successive title runs, triumph partly depending on political influence.
This state of affairs remained long after 1989. Untainted by ties with the state or the military, Rapid became many neutral's club of choice in the modern era. A high point came with the all-Romanian UEFA Cup quarter-final of 2006, lost by Rapid on away goals by Steaua.
With the rise of Cluj in Transylvania, the Bucharest stranglehold was broken – albeit temporarily. In 2014, Steaua won their second title in a row.
Meanwhile Rapid could, perhaps should, have been promoted in 2013, having won the play-off, but top-flight status was awarded to Concordia instead. Based in Chiajna, on Bucharest's north-western outskirts, Concordia just survived in Liga I in 2013-14. In 2014-15, they share their 5,000-capacity ground with FC Viitorul, who have moved from their base on the Black Sea. Only founded in 2009, Viitorul are the brainchild of Constanta-born Gheorghe Hagi, who has created a football academy for 300 youngsters. In September 2014, Hagi announced that he will now concentrate on the first team, to try and put Viitorul on a par with the likes of Steaua and Dinamo within five years.
Bearings
Henri Coanda, also known as Otopeni, is 17km (11 miles) north-west of town. An hourly train (7 lei) runs to the main station, Gara de Nord, from the platform accessible by 10-15min transfer bus from the Arrivals terminal. Tickets are sold from CFR booths after baggage reclaim and include the transfer bus. Allow 1hr for the whole journey. From Gara de Nord, the train leaves from platform 13.
More frequent bus No.783 (every 20-30min) takes at least 1hr to reach key points (not Gara de Nord) in the city centre. You'll need a public transit Aktiv charge card (3.70 lei) to buy your return ticket (7 lei, no singles) from the kiosk to your right as you exit Arrivals. Charge it as you go (minimum 5 lei) – it's 1.30 lei for bus, tram or trolleybus, 2 lei for the four-line metro, 5 lei for a 1hr journey using all transport, 16 lei for 24hrs (abonament de o zi).
Henri Coanda Airport has a touch-screen system for taxis the tariff into town usually 120 lei. Reliable, WiFi-equipped Star Taxi  (+40 721 870 819) charges far less and has a phone-app system for ordering.
Bed
The Bucharest Tourist Information Office at Piata Universitatii has a list of hotels in town.
The only hotel at the National Arena recreation complex is the Communist-era Sport (Bulevardul Basarabia 37-39, +40 372 439 207), a tower block containing 139 cheap, convenient but cheerless rooms. Close to the nearest metro station of Piata Muncii, the Golden Tulip Times Hotel is comfortable and convenient, with a sister branch in the centre of town. Also within easy reach, the Hotel Razvan is more affordable.
Right by Dinamo's stadium, and thus Stefan cel Mare metro station on the same line as Piata Muncii, the Hotel Graffiti is a simple three-star with doubles for 300 lei. The more business-like Hotel Capital Plaza is also close.
City-centre hotels can be charming and affordable – such as the lovely Tania and Amzei – or completely lavish, such as the landmark Athenee Palace Hilton, soon to celebrate a centenary of serving high-end guests in glittering comfort. Most other international chains now have a branch in town.
Lodgings around the Gara de Nord vary greatly. Andy is cheap and comfortable.
Bars
Bucharest can be a fun night out, the city centre dotted with bars of all kinds, many catering to the sport fan.
The Stadio Sports Bar is a well run spot near downtown Universitatii, with a recommendable kitchen. Of similar ilk, the Halftime Pub (Gabroveni 14) brims with plasma screens.
Of the expat places, the Dubliner (B-dul N.Titulescu 18) has been providing homesick Brits and Celts with Guinness and Premiership football since 1995. The Harp (Str Bibescu Voda 1) and more restaurant-like St Patrick attract a similar crowd.
Other more recent options include The Drunken Lords and Beer O'Clock. Old City is a slicker , less pub-like alternative.
There are plenty of places with a more local feel that broadcast football too. Mojo is also a major musc venue, the Fire Club opens late while the Argentin Bar is known for its food. Barbero is party-focused and don't be put off by Bordello's – yes, it is a relatively tacky nightspot but has a regular bar, too.
Gallery