Recent masters of Europe and champions of Spain, FC Barcelona are masters of their own destiny. As their motto says, 'More Than a Club'. With more members (100,000 plus) than any other, and more political clout than most, 'Barça' voted Josep María Bartomeu back in as club president in 2015. The Barcelona-born entrepreneur reiterated €600 million plans for an expanded Nou Camp stadium, with a roof and overall capacity of 105,000, to be built in stages between 2017 and 2021.
On the field, too, it's all change. Still considered the world's most attractive team and drawing hundreds of UK visitors every weekend to the Nou Camp, FCB are clearly coming to the end of a spectacular era, one that has blessed the game of football with some of its most memorable matches.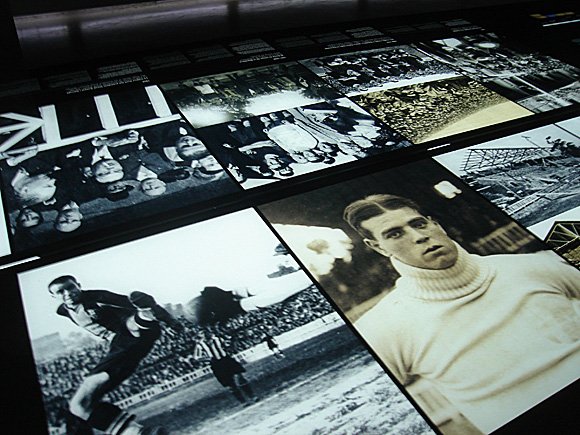 The Barcelona of Lionel Messi, Neymar and Luis Suárez managed to overshadow even the side that Pep Guardiola built. It wasn't just the 14 trophies in four years under Guardiola – it was how they were won. Immaculate passing football (tiki-taka) was executed by the world's best – Messi, Xavi, Iniesta – mainly raised at the club's academy of La Masia.
After Guardiola, already a high-water mark for European club football, FCB had come good again, playing as imperiously as at any time in their history. The South American front trio was simply unbeatable as Barça gained a seventh league title in ten years, a Copa del Rey and a fifth Champions League/European Cup, all in 2014-15.
In 2015-16, Luis Enrique's men notched yet another title with a Suárez hat-trick in Granada. A sixth in eight years.
Then came the downfall. First there was a jaw-dropping 4-0 defeat at Paris Saint-Germain on Valentine's Day 2017, the tie quite improbably overturned with three goals in the last seven minutes at the Nou Camp. But there was no coming back from a 3-0 hiding at Juventus in the following round of the Champions League.
Neymar and Messi both looked broken men as their goalless attempt to outgun the steadfast Italians signalled the end of their European campaign for 2016-17. With Luis Enrique on his way out and Messi approaching 30, many Barça fans were cautious about managerial replacement Ernesto Valverde. A convincing domestic double in 2017-18 and the continuing imperious form of the Argentine master mean that Barcelona are still way ahead of the pack in Spain. A 26th league title was won with ease in 2019 – although an incredible semi-final reversal at Liverpool in the Champions League left Messi in tears in the Anfield dressing room afterwards.
Barcelona fly the flag for Catalonia, the economically powerful region whose language and culture were suppressed under Franco until the dictator's death in 1975. Barcelona always looked to Europe for inspiration. Founded by Swiss Hans Kamper ('Joan Gamper')  in 1899, FCB wear blue and grenadine ('blaugrana' in Catalan) taken from FC Basel, another club Gamper founded. Of Barça's 60 managers, more than half have been foreigners.
The first Gamper hired was Jack Greenwell, who coached the great pre-war side that featured Josep Samitier, Ricardo Zamora and Ferenc Plattkó. Rampant Catalan nationalism at the Les Corts stadium built by Gamper caused the authorities to close it down, and cash-strapped to Gamper to kill himself.
After the Spanish Civil War, the ground would host another great Barça side that included László Kubala and Luis Suárez. Rivalry with Madrid became titanic, Franco's Real always one step ahead. Barça had Hungarians Sándor Kocsis and Zoltán Czibor; Real had Puskás. Barça had Brazilian Evaristo, Real Di Stéfano. Barça won the first two Fairs Cups, Real… Barça lost the 1960 European Cup semi-final with Real, then the 1961 European Cup Final to Benfica.
Despite the arrival of Johan Cruyff and Diego Maradona, it would be 1986 before Barça made another European Cup Final, a shock defeat on penalties to Steaua Bucharest.
It was Cruyff who created the next great Barça team, club president Josep Núñez setting up the La Masia academy upon Cruyff's prompting. Cruyff gave equal emphasis to key foreign stars such as Ronald Koeman and Hristo Stoichkov as to local Catalans – particularly the young midfield orchestrator Guardiola. Barça won the Spanish league four times running, then the long-sought European Cup in 1992.
Cruyff's Dream Team was badly beaten by Milan in the final two years later. Cruyff and Núñez fell out but the Dutchman remained behind the scenes to advise on major decisions. Fan group Elefant Blau, headed by Joan Laporta, pushed out Núñez, then Cruyff pushed Laporta to presidency.
Despite a string of world-class Brazilians – Romário, Ronaldo, Rivaldo, Ronaldinho, Deco – Barça only managed one more Champions League trophy, beating Arsenal in 2006. A pressured Laporta brought in an untried Guardiola – who achieved the treble in his first season of 2008-09.
Dismissing Deco and Ronaldinho, Guardiola created one of the finest sides in football history, whose midfield passed the opposition off the park. Messi justifiably assumed the once-in-a-lifetime status previously reserved for Pelé and Maradona, while the creative industry of Xavi and Iniesta made Barça (and Spain) almost unbeatable.
One slip to Real Madrid and narrow semi-final defeats to Internazionale and Chelsea apart, Barça swept all before them at home and abroad. Perfection proved too much, Guardiola bowed out, his assistant Tito Vilanova kept the same side and won the league by a mile.
Incoming old boy Luis Enrique reenergised an ageing side for 2014-15, new signings Ivan Rakitić and, controversially, Luis Suárez, proving crucial. Former Bilbao boss Ernesto Valverdethen  took over before the double-winning 2017-18 campaign, one of crushing consistency and the occasional shock.
Messi remains in a once-in-a-lifetime class of his own. Scorer of 45 goals in all competitions in 2017-18, 34 in the league alone, the Argentine allowed Barça to overcome the €222 million (!) sale of Neymar to Paris Saint-Germain and win back the Spanish title. With a new contract including a €700 million buy-out clause, Messi helped the Catalans achieve a season-defining 3-0 win at Real to set off on a record-breaking unbeaten league run.
Two negative results stood out, though – the 3-0 collapse to Roma that signalled a shock Champions League exit, and a 4-5 loss to Levante that ended the defeat-free streak.
With Iniesta retiring to an emotional farewell at the Nou Camp, Barcelona started 2018-19 with Messi in phenomenal form, not least against Spurs in the Champions League. The Catalans didn't even need him when they rolled over a sorry Real Madrid 5-1 in October, putting themselves in the box seat to retain the Spanish title.
Stadium
A vast three-tiered bowl with a thin, vertiginous fourth fringe by each scoreboard for away supporters, the 'Camp Nou' was inaugurated on 24 September 1957 during the post-war boom in Spanish football. With Kubala and other stars regularly attracting 60,000 fans to the cramped Les Corts, the management needed a modern arena. The first stone was laid in 1954 – in front of 60,000 fans. Three years later, with Handel's 'Messiah' blasting out, one of the world's finest football temples was unveiled.
Today, as the Blaugrana stride out, the Barça hymn rings out around the ground ('Bar-ça! Bar-ça! Barrrr-çççça!) and Catalan flags of blood red and yellow are flown with abandon at either end of the ground. The notorious Boixos Nois outsing the Almogavers behind the other goal, the Nou Camp fills with fan clubs (penyas) from every corner of the world.
Nevertheless, at the time Franco-backed Real Madrid were still the dominant force. Barca fans had to suffer seeing their team go down 3-1 to Real in the European Cup semi-final of 1960. A few months later, Barca exacted revenge in front of 120,000 fans, breaking Real's five-year monopoly on Europe's premier trophy with a decisive 2-1 second-leg victory in an early round.
Barca-Real clashes have dominated the Spanish season ever since. The Nou Camp became a refuge for Catalans looking to express pride in their region suffering under the Franco regime. Ironically, Barca's greatest triumph over their bitter rivals, the Cruyff-inspired 5-0 win of 1974, took place at Real's Bernabeu.
In order to prepare for the 1982 World Cup, stadium capacity was increased to 115,000 with the addition of a third tier. New VIP and media areas were also put in, to complement the electronic scoreboards installed during the 1970s. Having hosted the European Cup-Winners' Cup final a month earlier, the Nou Camp then staged the opening game of the 1982 World Cup, a shock win for Belgium over Maradona's Argentina. Ten years later, the Nou Camp played host to the 1992 Olympic football tournament, a late goal from Kiko winning Spain gold over Poland.
In 1998, standing areas were converted to seating, reducing the capacity to just under 100,000. Many of those packed in for the Manchester United-Bayern Munich Champions League final of 1999 had already left the ground before United's Teddy Sheringham and Ole Gunnar Solskjaer famously reversed the scoreline in overtime.
Now luxuriating in the trophy-laden Messi era, the Nou Camp attracts a record number of visitors to its museum and for its stadium tours. It is currently the largest of UEFA's official four-star stadia.
As announced in 2014, in the pipeline is a blueprint to raise capacity to 105,050, with a revamped and steeper first tier, the completion of the third tier and a large roof.
The renovation work is planned to start in May 2017 and end in February 2021. Construction will continue throughout three and a half football seasons, without interrupting Barça's home-match commitments.
Transport
The Nou Camp is north-east of Sants train station, surrounded by three metro stations: Collblanc (blue L5); Les Corts, and Maria Cristina (both green L3). Collblanc gives access to the bars of Riera Blanca and is an easy, direct hop from Sants. Bus No.56 runs closer, right by the bars of Riera Blanca, and links with Sants and focal squares of Espanya and Catalunya.
Tickets
Tickets go on sale ten days before each match from the Oficina de Taquillatge at Accès 14 (Mon-Thur 9am-1.30pm, 3.30-6pm; Fri 9am-2.30pm; Sat on match weekends 9am-1.30pm; match days from 11am). Locals also hang around Accès 14 to offload any spares. Tickets are also available online.
Depending on the price category of the opposition, a seat in the best spot (1a/2a grada) in the main stand (tribuna) over the halfway line will cost €140-€180. Higher up (3a grada) is a few euros cheaper. Facing this, the lateral is similarly graded into tier prices (€100-€150). Behind the goals, the three tiers break down into price categories from €70-€90. The cheapest places are gol no numerat, general access, at €59.
Shops
Through Accès 7, the FC Botiga Megastore (Mon-Sat 10am-8pm; Sun 10.30am-2.30pm; longer hours on match days) is a huge, two-tiered affair offering 'Barça Campió' Penedès wine in three colours, crash helmets, frying pans, golf clubs and dog bowls, along with the usual souvenirs. You'll find other shops at Sants station, at the Maremàgnum on Port Vell and at Gran Via de les Corts Catalanes 418 in Eixample.
Tour & Museum
There are various ways to treat the kids to the Camp Nou Experience but the basic tour/museum purchased online is €28, €22 for 6-13 year olds and over-70s. Under-6s get in free. Throw in around €5 for the VR glasses, and that's around €100 for a family of four. Plus they'll bombard you with photo opps as you walk round. These days you can't just buy a museum ticket, it's plus tour or nothing – so bite the bullet, take in the interactive room, the Messi section, the Cruyff area and trophies the size of Jodrell Bank.
The stadium's breathtaking of course, but the home dressing room is off-limits. Note the black Madonna chapel by the players' tunnel. If money's tight, you can limit your visit to the so-called Sky Visit (10am-2pm only) from the top tier of the stadium, through gate 1, for €15.
Bars
Pre-match bars line both sides of Riera Blanca, south of Travessera de les Corts, between Collblanc metro and the Nou Camp. Corner bar El Rincón de Viti by the Hotel Madanis is covered in framed photos but has taken the unwise decision to tart itself up. Also offering Galician cuisine, on the same strip, the nearby Casa Ferreiro is a handy place to catch the game on TV if you've not been lucky enough to get in. Now featuring an open kitchen, it's trying to play more to its culinary credentials.
Opposite, El Cargolet Picant is an upscale eaterie while simple Bar Granja La Pedrera contains framed FCB shirts in a cramped interior, and sun-catching seats outside. Bar El Rellotge alongside also provides a pre-match terrace.
One recent welcome addition to the plethora of pre-match bars stands on Carrer de Benavent. A living testament to the three Hungarians who starred for FCB in the 1950s – Kubala, Kocsis and Czibor – the Futbol Bar Restaurant (No.7) was opened by Péter Büki, a Haladás fan from Szombathely. It has since attracted fans from all over the world, who gather for a beer and a bite before the 200-metre stroll to the stadium.
Closer to the ground, on Travessera de les Corts between the NH Rallye hotel and the stadium, there's another row of busy pre-match bars, some with pavement tables. These include BaYo, Granja El Gol and Casa Pin.
Alcohol-free Estrella beer, hamburguesas and perritos, hot dogs, are sold at kiosks around the ground.
Gallery