Ferrara is a UNESCO World Heritage Site a half-hour train ride from Bologna. Tourists stroll its picturesque historic centre, around moated medieval Castello Estense.
Local industry, imposed by Mussolini before the war, was decimated by Allied bombing. In its place came plastics – which is where the recent revival of flagship football club SPAL Ferrara comes in. Successive promotions in 2016 and 2017 have thrust the Biancazzurri into the top flight for the first time in 49 years.
1968 was the last sighting of SPAL in Serie A. It was also the year that Francesco Colombarini set up Vetroresina, a successful laminate business, later to branch out into Brazil and the USA.
SPAL, meanwhile, went backwards. The club had been founded in 1907 by Pietro Acerbis, a Salesian priest. Established further along the Po from Ferrara in Turin, the Salesian Order flourished in the late 1800s, helping poor children in industrial communities.
Football had been played in Ferrara in the 1890s as part of the activities of a gymnastics society, but Pietro Acerbis established a new initiative, 'Ars et Labor', offering culture, cycling, athletics and gymnastics to deprived youngsters. He also provided the colours of white and blue, as featured on the Silesian Coat of Arms.
In 1913, the sporting branch separated from the cultural one to form the Società Polisportiva Ars et Labor: SPAL. A stadium, a classic Stadio Comunale hemmed in by green-shuttered housing, opened in 1928. After a brief dabble with black-and-white stripes under Mussolini as Associazione Calcio Ferrara, SPAL regained their name and Salesian colours after the war to become regular competitors in Serie A.
A number of Italian internationals started their careers in Ferrara, most notably Fabio Cappello, who moved to Roma the season before SPAL's fateful relegation in 1968.
SPAL spent most the 1970s in Serie B, most of the 1980s, then the next decades, in Serie C and C1, until a series of financial mishaps led to reformations under different names. The most recent saw the club merge with nearby Giacomense to become SPAL 2013, at the initiative of incoming owners, laminate magnates the Colombarinis.
Within a few months, they had brought in coach Leonardo Semplici, a miracle worker with modest outfits and budgets. Within two-and-a-half years, SPAL were in Serie A, rapidly rebuilding and expanding the Comunale, now called Stadio Paolo Mazza, during the summer of 2017.
A further near €2-million loan, secured by the Colombarinis in December 2017, should ensure further expansion to 16,000. Given SPAL's struggle with top-tier calcio, whether it will be hosting Serie A football in 2018-19 is another matter.
Bearings
The nearest airport to Ferrara is Bologna Guglielmo Marconi, 51km (32 miles) south-west.
Bus & Fly sets off from outside the Arrivals terminal every 2.5-3hrs, from 6.15am to 12.15am, heading for Ferrara station near the stadium and viale Cavour by the Castello Estense in the city centre. Journey time is 60min, single €16, pay on board. Going back to the airport, buses set off at 4.45am from viale Cavour and also call at the station.
If you've just missed one, then the Aerobus runs every 11min from the airport to Bologna station, tickets €6 from the machine at the airport, at the Aerobus stop at Bologna station or online. Journey time is 25min.
A Cotabo taxi from the airport to Bologna station is quoted at €16. Something around €80 should cover the whole journey to Ferrara.
From Bologna station, the fastest train to Ferrara (€4.75) is every 1-2hrs and takes 30min. In between, a slower service, same price, takes 45-50min.
From Ferrara station, the stadium is a 5-7min walk, the city centre 15min away. Local buses are run by ami Ferrara. Tickets (€1.30, valid for 75min on all lines, giornaliero day pass €3.50) are sold at newspaper kiosks, validate on board for each journey.
Radio Taxi Ferrara (+39 0532 900 900) is a reliable local service.
Bed
Ferrara terra e acque tourist information service has provides a basic hotel database via the Emilia-Romagna Tourist Office. Many local hotels offer free cycle hire through the BiciDeltaPo scheme.
The nearest lodging to the stadium would be Hotel de la Ville opposite the station – but it's under long-term restoration. Instead, there's the Hotel Orologio, a four-star close to the canal, with a spa, bar and restaurant.
Also close, by a hub of terrace bars on main viale Cavour, Alloggio Cavour is a basic, cheap lodging in a residential building. Further down Cavour, functional four-star Hotel Astra is still within easy reach of Stadio Paolo Mazza.
Closer to the city centre, Hotel Touring is a notch above, with SKY Italia in each room, a spa and quality breakfasts. Half- or full-board deals available.
On the main square, the Annunziata is the sleekest spot in town, 27 chic rooms and suites, a top-quality gym and table football – plus the best hotel breakfast in town. Nearby, equally classy Hotel Ferrara offers the best hotel dinner in town, at a former 15th-century tavern.
Around the castle moat, the Hotel de Prati has been in the hospitality trade for nearly a century, tastefully old-school but with modern-day trappings.
Also on this side of the Castello Estense, the Hotel Europa dates back to 1861 when it hosted royalty. Restored frescoes echo the glory days.
For something cheaper, the Albergo San Romano comprises 15 comfortable rooms between the castle and the canal. On via Voltapaletto near the SPAL club store, Honey Rooms fills an upper floor of a townhouse with neat lodgings, each with a private bathroom.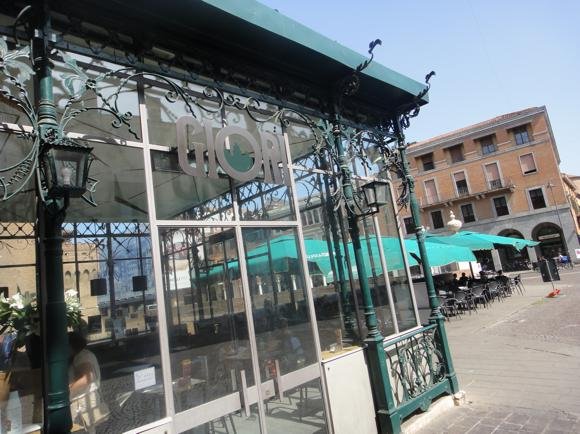 Beer
If you're looking for drinks, you'll find them on and off via San Romano in the city centre, where Birra Frara purveys its own artisanal beers, eight on tap.
The wonderful Antico Cafè, at via Bersaglieri del Po 25E, on the corner of vicolo Cornuda, also offers a range of lesser-known brews. This cosy, bare-brick hidey-hole shows its SPAL support with flags outside and team photos within.
Anglophile corner bar Il Molo tries to establish pub credentials by hanging up football scarves over a row of ale pumps lining the counter. Live football on TV also helps, though few English visitors would make the connection between its name ('The Jetty') and Brighton Pier, the supposed inspiration.
In the shadow of the Castle, on the main square, Birraria Giori dates back to 1881, a bar/brewery set in a pretty gazebo, tables spilling out onto the historic cobblestones. Opposite, the Caffe Divino also specialises in rarer ales, as well as fine wines.
If you're staying at one of the hotels near the stadium, then Main Street is a convenient, pub-like venue on viale Cavour, where Paulaner and Sardinian Ichnusa flow on draught, Tyrolean food is served and football is screened. Opens late most nights, though bafflingly closes on Saturdays.
Towards the canal, Pub Duemiladieci at via San Romano 122 is handy if you're staying at the Albergo San Romano next door.
Just set back from the canal on via Darsena, L'Archibugio not only operates as a bar as well as a classic pizzeria, but sets up a big screen on Serie A afternoons.
Canalside Sebastian Pub nearby offers decent beer, pizzas and TV football aboard the Korina, a German-made sea trawler dating back to 1951. Seized by police for its use in smuggling operations, the boat was towed all the way to Ferrara by intrepid bar owner Gigi, and given a tavern-like makeover. Opening hours are from 7pm, Wednesday through Sunday.
Gallery