Ajax are moneyed, PSV run by a multinational – 2017 Dutch champions Feyenoord are the people's team. The day after that title win, 150,000 supporters gathered around Rotterdam's City Hall to celebrate. In a scenario that could not have been scripted better, a fairy-tale hat-trick by returning home boy Dirk Kuyt ensured Feyenoord topped Ajax by a solitary point and gave the former Liverpool star the perfect end to his playing career.
It also brought the Dutch crown to De Kuip, Feyenoord's revered home, for the first time since 1999. Stage for 11 European finals and scores of Dutch internationals, scene of Graham Taylor's touchline antics in 1993, the stadium stands in the former shipbuilding district of Feijenoord south of the Maas, where the club was founded in 1908. International recognition – in terms of European success and awareness – was the reason for the name change from Feijenoord to Feyenoord around the time of a tenth league title in the early 1970s.
A first one had come in 1923-24. Until then, Feyenoord had been Wilhelmina, Hillesluise and Celeritas. The red-and-white shirts appeared with the name change to reflect the club's location.
It is perhaps no coincidence that the debut season of all-time Feyenoord great Puck van Heel coincided with the club's first league silverware. A swift wing-back, van Heel was Feyenoord born and bred, his father a shipworker.
Van Heel led Feyenoord to five league titles between the wars, encouraging club president Leen van Zanvliet to build a stadium the equal of any in Holland: De Kuip. Van Heel's last season was the title-winning one of 1939-40.
The next great Feyenoord star came to prominence 20 years later. With mercurial winger Coen Moulijn, Feyenoord went from post-war amateurs to world beaters. Following them on the journey were thousands of fans, catching boats from Rotterdam to London, Lisbon and beyond as Feyenoord became known and feared across Europe.
Joining Feyenoord from fellow Rotterdam club Xerxes in 1955, the same year as prolific goalscorer Henk Schouten, Moulijn jinked his way past Europe's best defences.
Winning their first post-war title with 100 goals in 1960-61 – a 9-5 win over bitter rivals Ajax the highlight – Feyenoord defended their trophy a year later. A run in the European Cup was ended at the semi-final stage by Eusébio's Benfica.
Scoring nearly as many goals as games he played in his five years at Feyenoord, towering Swedish striker Ove Kindvall was the next De Kuip favourite, although the evergreen Moulijn also remained in the team that reached the 1970 European Cup Final. Holding Celtic 1-1 at the San Siro after 90 minutes thanks to a goal by captain Rinus ('Iron') Israël, Feyenoord became the first Dutch team to win the European Cup thanks to a late strike by Kindvall.
In the hotseat that season was chain-smoking Viennese coach Ernst Happel, who played dependable Wim Jansen in front of the back four, allowing a young, creative Willem van Hanegem to provide for Moulijn and Kindvall. A brutal tussle with Estudiantes that year saw Feyenoord become World Club champions.
Feyenoord reached another European final, the UEFA Cup of 1974, a win over Tottenham that saw violent scenes in and around De Kuip. Clashes with Ajax were also becoming more violent, not least after Amsterdam legend Johan Cruyff controversially went to Rotterdam for one, title-winning season, in 1983-84. Beside him on that memorable campaign was young midfielder Ruud Gullit.
Though two titles came Feyenoord's way in 1993 and 1999, the Rotterdam side spent most of the Champions League era in the shadow of PSV and Ajax. Until 2017, the main highlight was Pierre van Hooijdonk and the UEFA Cup run of 2001-02, a memorable penalty shoot-out win over PSV leading to the final with Borussia Dortmund. Played at De Kuip, the game was decided on the dead-ball expertise of van Hooijdonk.
Renowned managers – Ronald Koeman, Leo Beenhakker, Ruud Gullit – came and went but still Feyenoord failed to recapture the glory days. De Kuip briefly came to life again for the Dutch Cup win of 2008, a team captained by a returning Giovanni van Bronckhorst sweeping aside Roda Kerkrade and bringing rare silverware to Rotterdam.
Ending his playing career as Dutch captain at the 2010 World Cup Final, van Bronckhorst made another return to De Kuip in 2011, this time as assistant coach. Working first with Ronald Koeman then replacing Fred Rutten, van Bronckhorst won the Dutch Cup in his first season, 2015-16.
Starting 2016-17 with nine straight wins, including 1-0 victories over Manchester United in the Champions League and at PSV Eindhoven to stay top of the Eredivisie, Feyenoord didn't suffer a domestic league defeat until November. With Australian veteran Brad Jones solid in goal and Danish international Nicolai Jørgenson scoring twice every three games, van Bronckhorst's side all but had the title sealed by March.
A bizarre hiccup at former feeder team, now city rivals Excelsior put celebrations on ice and saw ugly clashes between police and frustrated fans. A week later, Dirk Kuyt, who had successfully replaced Pierre van Hooijdonk for Feyenoord back in 2003, opened the scoring a minute after kick-off in the decisive last game against Heracles. He ended the game by converting a penalty, notching a hat-trick and winning Feyenoord the league title for the first time in 18 years.
After a disappointing Champions League campaign, a Dutch Cup win in 2018 featured a goal from returning hero Robin van Persie. The subsequent attempt to make the group stage of the Europa League proved disastrous rather than disappointing, the 4-0 defeat at Trenčín in Slovakia arguably an all-time low in the history of the club.
Van Persie enjoyed an honourable domestic season, however, scoring his first Eredivisie hat-trick shortly before his final match in May 2019. Feyenoord begin the 2019-20 season with Jaap Stam as coach.
Stadium
Built during the club's golden age in the mid 1930s, De Kuip was the first of its kind. Commissioned by club president Leen van Zanvliet and ushered in by star player Puck van Heel, De Kuip was the work of local Rotterdam architects. A bowl (or tub, 'kuip') of a stadium, it consisted of two tiers set on top of each other, without view-restricting supporting columns.
The nickname also neatly sidesteps any confusion between the more official Dutch title of Stadion Feijenoord, its English rendition of Feyenoord Stadium and the prominent sign that runs parallel to Olympiaweg and the mainline train tracks, 'Stadion Feyenoord'. On the other side of the ground, where you'll find the main entrance and reception in the Maasgebouw, and two club shops just outside, the tram stop is called 'Stadion Feijenoord'.
Neat and functional, De Kuip resembles later, larger stadiums, such as Barcelona's Nou Camp.
After opening in 1937, it gained floodlights and lost 13,000 from its original capacity of 64,000. Stage for ten European club finals – including triumphs by Aston Villa, Tottenham, Everton, Manchester United and, indeed, Feyenoord in 2002 – De Kuip was chosen above the then recently opened AmsterdamArena and newly built national stadium in Brussels as the final venue for the co-hosted Euro 2000 tournament. Regular stage for Dutch Cup finals, De Kuip shares national duties with Amsterdam – it was here that Graham Taylor famously imploded on the touchline in 1993.
The home end is the Gerard Meijer Tribune (aka Stadiontribune), colour-coded yellow, with away fans usually allocated sector GG in the green, Willem van Hanegem Tribune (aka Marathontribune) opposite. A separate passage runs from the rail station to allow them access. Business seats are located in the orange-coded Maastribune, while the blue-coded Olympiatribune is set by Olympiaweg.
Currently, a rebuild is still in the planning stage. Feyenoord City will not only create a new, 63,000-capacity football stadium but relandscape the surrounding area. Approved in principle by Rotterdam City Council in May 2017, the project was granted a six-month presentation deadline. Construction is due to begin in 2019, with Feyenoord playing at the new arena by 2022-23.
Transport
Ticket-holders may travel free on public transport for three hours either side of kick-off.
On match days, a special train runs from Centraal before and after kick-off – the terminus is across Olympiaweg facing the Olympiatribune.
From stand C beside the main entrance of Centraal station, tram No.23 (every 7-10min) takes 20min to reach Stadion Feijenoord, calling at Beurs as it runs through the city centre. The match-day only tram No.12 runs the same route – and back. The tram stop is on the other side of the stadium, behind the Maastribune, beside a small retail and leisure hub.
Feyenoord Stadion is also a 10-12min walk from Rotterdam Zuid rail station, two stops from Centraal, one from focal Blaak. Head to the end of the platform, away from the high walkway, and turn right after the underpass.
Tickets
Foreigners residing outside Holland may purchase tickets for all home games – though they will have to show their passports when collecting them on match day. Many games sell out but there's an online service for those with less demand, such as early rounds of the cup and against less attractive opposition, usually two or three months in advance. Ticket collection is from the office on Olympiaweg. Windows open 3.5hrs before kick-off – if there are any tickets left over, here's where to find them.
Viagogo also sell out fast. The club operates a ticket exchange network, though it's Dutch-only.
For a lesser league fixture, prices run at around €30-€35 for seats at either end, in the Willem van Hanegem Tribune or Gerard Meijer Tribune. Prices rise to €40-€60 in the Olympiatribune and the Maastribune along each sideline. Discounts are offered to 12-18s and under-12s in the Olympiatribune (€20/€15) and van Hanegem Tribune (€19/€14).
An English-speaking receptionist can help with all queries on +31 10 292 38 89. You can also email sales@feyenoord.nl.
Shops
There are two Feyenoord FanShops (Mon-Fri 9.30am-5.30pm, Sat 9.30am-5pm, 3hrs before match, 1hr afterwards) by the car park behind the Maastribune at the stadium, and two in town, one at Binnenwegplein 60 (Mon & Sun noon-6pm, Tue-Thur & Sat 9.30am-6pm, Fri 9.30am-9pm) and one in the main entrance of Centraal station (Mon-Thur 7.30am-8.30pm, Fri 7.30am-9pm, Sat 9am-8pm, Sun 9am-7pm).
Amid the mass of red-and-white merchandise you'll find T-shirts celebrating the 2017 title triumph, home and green-and-black away tops, Feyenoord barbecue aprons, shower curtains, snow globes and toy helicopters.
Tours & museum
Stadium tours usually take place in the afternoons, Wed-Sat, booked at the FanShop or online. Online reservation is Dutch-only but it's relatively easy to work out days, times and prices – €13.50 for adults, €9.50 for children under 12.
Tours last 90min and include a visit to the museum. An English-language audio guide can be downloaded – details from the FanShop.
A visit to the Feyenoord Museum is part of the tour or it can be visited separately (€5/€2.50) on Wednesday and Saturday afternoons.
Bars
There are two hubs for pre-match drinks.
One is at the junction of Putselaan and Beijerlandselaan convenient for Rotterdam Zuid station and, even closer, the Varkenoordseviaduct tram stop, one before the stadium on the No.23 line. There you'll find old-school bar 't Kruispunt, where support for Feyenoord shares decorative space with a worship of Laurel & Hardy. A little further down Beijerlandselaan and closer to the ground, the Café Schuyer at No.47 is an age-old Feyenoord haunt with a pool table, two huge taps of Heineken and seats outside.
Each venue is a 10min walk from the ground.
On the other side of the stadium, by the Stadion Feijenoord tram stop, a small complex of family-friendly eateries, shops and leisure attractions includes De Beren grill eaterie by a bowling alley and, facing it, the Hollywood Café by a luminous golf game. Each has a terrace, each serves alcohol but more suits a sit-down pre-game meal with the kids. If you're after a old-school snack as you head across to the ground, then Feyenoord's Kitchen should do the trick, just below the flyover at Breeweg 65A, by the corner with Donkerslootstraat.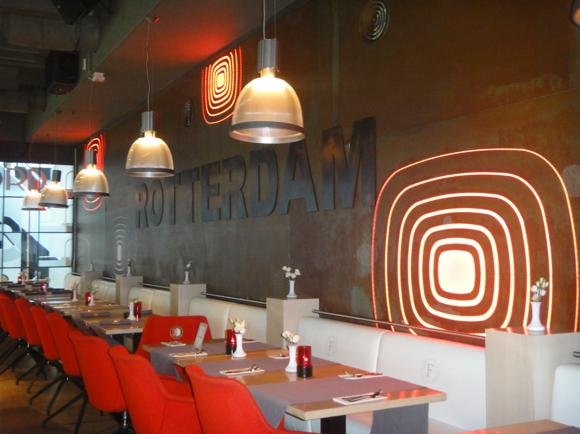 At the stadium, on the first floor of the Maasgebouw, tasteful Brasserie De Kuip operates Mon-Sat from 9am until 4pm/5pm. On match days, it's members-only and usually reservation-only. If you're here for the stadium tour, it's ideal for post-stadium Club Zuid sandwich or panini with Rotterdam cheese, and a draught Brand Pilsner or Affligem to go with it.
Before and during the game, the Heineken sold at kiosks (pay with tokens, betaalmunten, from the exchange outlets) is 2% 'events beer'. After the match, it switches to regular strength.
The Feyenoord faithful gather at the Supporters Home bar, its interior a muralled history of red-and-white worship.
Gallery