Industrial hub of Wallonia, the French-speaking half of Belgium, pretty Liège is bisected by the Meuse river near the Dutch and German borders. Its outskirts, however, remain as bleak as any industrial community from the Victorian era.
Sclessin, set on a bend in the Meuse, is one such quarter – and is home to the city's main football club, Standard Liège. Coal was mined here until 1980, the Meuse used to transport it to France. Behind Standard's Stade Maurice Dufrasne, commonly referred to as the Stade de Sclessin, slag heaps still dot the grim landscape.
Not surprisingly in staunchly Socialist Liège, gritty, red-clad Standard have a strong communal fan base.
United in celebration, such as for the long-awaited Belgian title wins of 2008 and 2009, these fans also stage mass protests over transfer policy or ticket prices. In Antwerp, football is a sideshow – not so here in Liège.
Formed by students in 1898, Standard settled in Sclessin in 1909. Back then, the Reds – les Rouches in the local liégeois dialect – were overshadowed by city rivals Liége Football Club, aka FC (or 'Club') Liégeois.
Founded in 1892, FC Liégeois were the fourth club in Belgium to be officially registered, giving them the honour of being matricule 4 (Anderlecht are matricule 35.) The club won the inaugural national league in 1896 and two more titles before the turn of the century. Their top scorer was Englishman Sam Hickson, who notched 22 goals in 35 games, finishing his stint in 1903.
Gaining a Royal title after World War I, RFC Liège enjoyed more success after World War II. Though overshadowed by Standard for most of post-war period, 'Les Sang et Marine' played 67 consecutive seasons in the top flight after 1945.
With goals from the legendary 'Pol' Anoul and chances created by Louis Carré, RFC won consecutive titles in 1952 and 1953. A year later, the pair combined in the Belgium side that drew 4-4 with England at the World Cup.
The replayed Fairs' Cup semi-final of 1965, a defeat to Real Zaragoza, was the last hurrah of the post-war side. After another mini-revival in the late 1980s, and the Belgian Cup win of 1990, RFC returned to Europe. With goals from left-winger Danny Boffin, Liège reached the quarter-finals of the Cup-Winners' Cup before falling to Juventus.
That same season, Boffin's team-mate, Jean-Marc Bosman, was refused permission by RFC to go to Dunkerque. Bosman took to the case to the European Court of Justice, whose ruling on free movement of out-of-contract players has benefitted thousands since.
Bosman, however, ended up an impoverished alcoholic. Fate was no less kind to his old club, forced in 1995 to sell their Stade Vélodrome de Rocourt and briefly merge with an underachieving outfit from the Liège suburbs, Tilleur-Saint-Nicholas.
Based at Seraing's Stade du Pairay, RFC made the Second Division in 2008 but dropped to the Fourth in 2011. Winning Group D in 2014-15, Liège are now playing in the Third Division, Group B. The club is even back at its old stomping ground of Rocourt, north-west of the city centre.
The Stade de Rocourt is at rue de la Tonne 80. Bus No.70 (every 10-30min daily) and the less frequent No.73 run to nearby rue des Quatorze (XIV) Verges. Allow 13min from central place St-Lambert by the Opéra. The No.19 takes a longer route from St-Lambert to the same destination.
Admission is €10 standing, €16 seated. The club shop opens Wed 4.30pm-7.30pm, Sat 10.30am-6pm and for home games.
Seraing have also gone through many changes since formation in 1900. Representing the industrial hub of the same name, over the Meuse and part of greater Liège, Seraing have fielded a few big names, including former Spurs striker Nico Claesen and Juan Carlos Oblitas of Peru's 1978 World Cup side.
Swallowed up by Standard in 1996, Seraing later broke away. For 2015-16, they were renamed RFC Seraing, and currently play Second Division football at the Stade du Pairay, rue de la Boverie 253-255. Seraing station is reasonably close but there's no direct rail connection with Liège-Guillemins. Head for Jemeppe Gare Routière (on regular bus Nos.2 and 3 from Guillemins, 20min), then change onto the Nos.15, more frequent 46 or 47 to rue de la Troque (8min), the closest stop to the stadium down rue de la Vieille Espérance. Tickets are €10 standing, €14-€25 seated.
Bearings
Liège Airport 9km (six miles) west of town is used mainly for cargo and holiday traffic to the Med.
Both Charleroi and Brussels are just over 90km (56 miles) away. Neither has a direct transport connection with Liège. From the Charleroi terminus, head to the stops at the far left upon exit for TEC bus A to Charleroi-Sud (every 30min, 20min journey time, €5). From there, an hourly direct train to Liège (€14) takes 1hr 30min.
From the rail station at Brussels airport, an half-hourly train to Liège (€19) takes 50min altogether.
From the Eurostar terminal at Brussels Midi, an half-hourly train takes 1hr to Liège. A single is €15 but you can book St Pancras-Any Belgian Station and get the onward train journey thrown in.
From Charleroi or Brussels, you can also ask for a Liège Zone Urbaine ticket also valid for public transport when you arrive.
Impressive Liège-Guillemins is the main station, a 15min walk from the city centre. There are also regular quick links from Guillemins to the Liège-Palais station right in town.
City transport consists of local buses. A single ticket on board is €2.50, a day pass €5.
Taxis Bleus (+32 4 361 1161) is a reliable local service.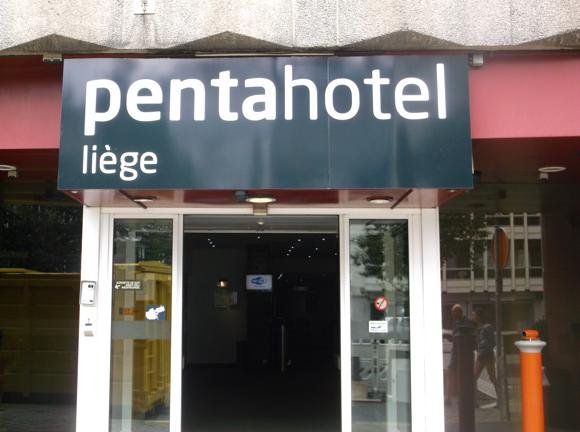 Bed
Visitez Liège has a local hotel database.
There are no hotels near the Stade Maurice Dufrasne – nor anything else around it.
Opposite Guillemins station, Hotel de La Couronne is a neat and recently converted three-star. Alongside, the Hotel-Brasserie Univers is another convenient and affordable chain.
Towards town, Le Cygne d'Argent is a real cheapie, more a restaurant but acceptable for the price. Closer to the centre, 16-room Les Acteurs is in similar vein and low price range.
In town, the Ibis Liège Centre Opéra Hotel is, as its name suggests, right in the centre by the Opera. The former Crowne Plaza Liège on rue du Mont St Martin is now Les Comtes de Méan, an upscale lodging of 125 rooms, a spa, gym and bistro. Nearby on main boulevard de la Sauvenière, the pentahotel Liège provides a pool room with TV sport and rooms with rain showers.
Beer
Behind the Cathedral, the criss-cross of streets known as Le Carré is the city's main nightlife hub, with bars on and off rue du Pot d'Or. There, the former Bar Carlsberg at No.33 emphasises the local trendification: it's now the tropical Moya, plant-filled restaurant and nightspot. More tucked away, Elmas (No.48) is a popular corner North African place with decorative support for Ipswich and Nottingham Forest.
Behind Le Carré near the Opera, Le Britannique is more a brasserie serving honest food than a pub.
For that, you need to head to the area of terrace bars and restaurants at the south-eastern edge of Le Carré, and Temple Bar Liège, the former Celtic Ireland Liège, with its 300 beers and regular live music. Opposite, the Taverne Royale (boulevard d'Avroy 2) goes big on football during World Cup and Euro summers.
Further down the same avenue towards the station, Huggy's is the main sports bar in town, slightly American in style and very American in cuisine. It's wall-to-wall TV football though, and it's an ideal spot before getting the nearby bus to Standard.
Finally, you haven't been to Liège if you haven't been to Le Lequet, aka Chez Stockis, an age-old bar/resto on quai de la Meuse by the river. Packed for La Batte, the Sunday market, it's done out with vintage local football and beer memorabilia. Reports of its demise in 2019 were greatly exaggerated – although the old owner is bowing out. Close by, on place Cockerill, Au Delft is similarly timeless – note the old posters for RFC Liège.
Gallery