In Croatia's far north-east by its borders with Serbia and Hungary, Osijek is the largest city of Slavonia, a great swathe of Pannonian plain largely given over to agriculture. Less than an hour's drive from Vukovar, a town completely destroyed by Serbian forces in 1991, Osijek also suffered months of bombardment, emerging to become the fourth largest city of a newly independent Croatia.
Flagship football club NK Osijek have never been relegated from the Croatian top flight – nor have they been close to winning it, despite nurturing two prolific locally born strikers, Robert Špehar and Davor Šuker. When Špehar was at his peak, Osijek were playing home games elsewhere in Slavonia because of the war, while Šuker had moved on to Zagreb and Sevilla by the time his home-town team were members of the fledging Croatia-only league.
While the Bijelo-plavi ('White and Blues') played out 25 seasons of relative mediocrity, as a city Osijek developed a status beyond its achievements on the football field. Proximity to Hungary made it a prime candidate for inclusion as a host venue for Croatia's joint bid with their northern neighbours to stage Euro 2012. Though unsuccessful, it did lead to improvements of the Gradski vrt stadium, the city-owned ground located south of the bus and train stations. To date, Croatia have played 11 internationals here, two involving Wales.
As Šuker carves out a career in top-level football administration, so his influence helps to keep Osijek on the radar, even when his former club finishes below the likes of Zadar and local Slavonian rivals Cibalia Vinkovci in the league.
In 2015, matters came to a head. Facing bankruptcy, Osijek were saved by entrepreneurs from Hungary and Croatia, Lőrinc Mészáros and Ivan Meštrović. In February 2016, at a ceremony on the banks of the Drava river that forms much of the border, Meštrović declared a new era in the history of the club, of investment and development, even proposing that his business partner Mészáros be made an honorary citizen of Osijek. With Hungary seeking to gain influence in communities it lost after World War I, and governed by a football-mad prime minister, so clubs such as DAC in Dunajska Stredá (Dunaújváros to Hungarians) and Sepsi in Sfântu Gheorghe (Sepsiszentgyörgy to Hungarians) in Slovakia and Romania have benefitted from stadium overhauls partly funded from across the border.
It is perhaps no coincidence that Mészáros is also mayor of Felcsút, where Hungarian Prime Minister grew up, where a top-flight stadium has been built in a hamlet of fewer than 2,000 inhabitants. In April 2018, Osijek chairman Meštrović announced plans for a new stadium and club headquarters, to be ready at some point in the 2019-20 season. Its location is the so-called Pampas, near the riding school, west of the city centre by the Drava.
Yet, unlike, say, Bratislava or Cluj, Osijek has little historic evidence of Hungarian involvement during the early days of football here. The most successful club before World War II were Slavija Osijek, founded in 1916 along the same lines as Slavia Prague (and Hadjuk Split), in defiance of their Habsburg overlords. Regular competitors in the all-Yugoslavia league from as far back as 1924, Slavija included international goalkeeper Franjo Glaser, later a title-winner with BSK Belgrade title-winner, along with fellow cap, Osijek-born inside-forward Gustav Lechner. Slavija's great local rivals were Građanski Osijek, formed in 1917.
Mysteriously, Slavija's stadium burned down in 1938 and neither club survived the war.
There was also a Hajduk Osijek, where Franjo Rupnik, later league winner with Partizan Belgrade, started out. Rupnik, another savvy inside-forward, finished his playing career at Proleter Osijek, formed in 1947. This precursor to NK Osijek moved into the Gradski vrt soon after it opened in 1958 but spent most of the post-war period in the second flight.
While NK Osijek claim a heritage from 1947, it wasn't until 20 years later that the this main club in town took its current name, and 30 years claimed a top-flight spot.
The influx of cash post-2016 has allowed Osijek to enjoy their best European run to date, beating PSV Eindhoven in the 2017-18 Europa League and missing out on the group stage on away goals.
Bearings
Once used by Ryanair but now mainly by domestic Croatia Airlines, Osijek Airport is 20km (12.5 miles) south-east of the city, on the same side of town as the stadium. With so little passenger traffic, there's no regular public transport into town, only taxis at about 200kn. Based in town, Osječki taxis can be contacted on +385 31 200 200.
The city's bus and train stations are close to each other south of the city centre. Rail connections are poor, with only four trains a day from Zagreb, 5hr journey time. There are far more buses, journey time 4hrs, single tickets around 125kn. The stadium is a 15min walk away, as is the city centre, in the opposite direction.
Trams also serve the stadium, station and city centre, though schedules and numbers aren't posted up on any stop. Pay the driver 10kn when you board. Beneath the main square, Trg Ante Starčevića, is the office for transport company GPP, who can provide timetables and day passes at 35kn.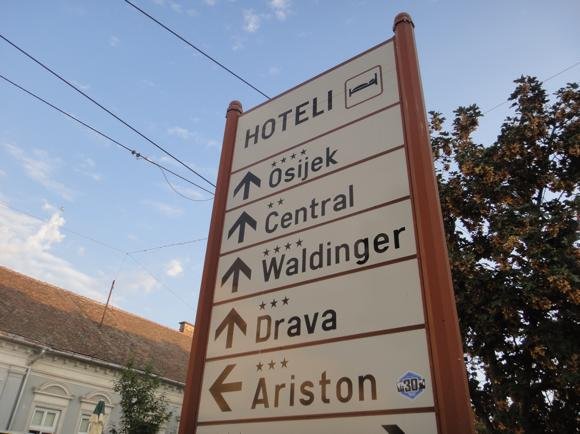 Bed
The Osijek Tourist Office has no online hotel information.
The nearest lodging to the stadium is the Villa Gradski vrt (+385 31 575 406), a little house five minutes away at Delnička 17, simple and pleasant.
Near the bus and train stations, the Hotel Vila Ariston offers convenient, comfortable, mid-range accommodation. Also walking distance, overlooking the pretty park of Zrinjevac, are the basic Prenoćište Perla (Zrinjevac 9A, +385 98 186 6349), offering absurdly cheap rooms above a beauty parlour, and the old-school Hotel Drava, with three-star singles and doubles.
You'll find a gym, sauna and quality restaurant at historic Hotel Waldinger, plus four-star rooms, all near near the main square, where the Central is crying out for modernisation. For the price, though, rooms are reasonable and the tram to the stadium is a short walk across the square.
The most notable hotel in town, surprisingly affordable despite a riverside location, panoramic spa and terrace restaurant, is the Hotel Osijek, hired out for major functions.
Beer
Local beer Osječko is Croatia's oldest, with craft varieties available around town. Osijek is lively at weekends, with bars concentrated near and along the river, and in the historic fortified complex of Tvrđa. There you'll find the Pivnica Merlon, a sport-focused terrace bar in bare-brick, industrial style, with rooms available alongside. Round the corner, overlooking a focal square, the Fort Pub saw a lot of action during the 2018 World Cup, as did its neighbour, St Patrick's. At the far eastern end of the fortress complex, the Old Bridge Pub is in similar vein. At the city end of ulica Franje Kuhaća, Dubioza attracts a younger crowd with DJs and live acts.
Along the river, by the Hotel Osijek, Brooklyn shows matches on its expansive terrace, while the Bounty is more loungey.
Overlooking the harbour, Zimska Luka, at the junction of the embankment and Ribarska, fills with friendly older regulars, while the string of terrace bar/cafés along Ribarska itself – Pressing, Berlin and Caffe 054 – all caught World Cup fever in the summer of 2018. Nearby, tucked down a passageway, don't overlook the Swan Pub, off Kapucinska behind the Hotel Royal, with a terrace, TV football and several beer varieties.
By the Cathedral, Caffe No.22 provides a handy terrace, with a TV in a cosy, pub-like interior while at Kapucinska 23, the contemporary Club Lounge Bar screens plenty of sport to a prominent terrace.
On Županijska near the Hotel Waldinger, the London is a handy little spot to watch the match, while the modern Pivnica Runda at Stjepana Radića 44 offers the best beer choice in town.
Sport House has transformed a once abandoned section of the train station into a pizzeria and urban bar, with a long terrace and two-storey modern interior dotted with TV screens. Upstairs is lined with World Cup posters all the way back to 1930 and framed photographs include, inevitably, Davor Šuker. Turn right as you exit the station. Beside the main station building, City provides a handy pitstop with a TV on the terrace. By the bus station, Diesel performs a similar function.
Gallery