The Black Sea resort of Sochi, venue for the Confederations Cup in 2017 and World Cup a year later, is adept at hosting prestigious sports events though lacks tradition as far as football is concerned.
When this was part of the USSR and a favoured haunt of Stalin and high-ranking apparatchiks, no club from Sochi spent a single season in the top flight.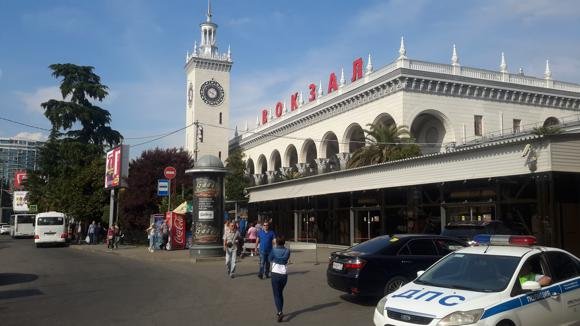 The city arrived on the world stage with the Winter Olympics of 2014. A whole Olympic Park was created, consisting of a showpiece stadium, ice palace, half-a-dozen sundry indoor arenas and a village large enough to accommodate 3,000 people. Costs are said to have hit the $50 billion mark and beyond – an autodrome, where the Russian Grand Prix takes place, was opened later that same year.
Converting the 47,000-capacity Fisht Olympic Stadium for the football events of 2017 and 2018 has been another $46 million. And although the Russian national team can use it for training in the winter, Sochi being a popular destination for clubs in the off-season, the city has lacked a top-flight outfit since the relegation of Zhemchuzhina in 1999.
Apart from its astronomical costs, the first thing you should know about the Sochi's multi-venue, state-of-the-art sports complex and Fisht Olympic Stadium is that they're not in Sochi. They're in Adler, close to Sochi airport but a good 20km from the resort hotels and Soviet-era façades of what is called Tsentralny City District, central Sochi.

Greater Sochi extends for nearly 150km along the east coast of the Black Sea, as far as what was once the frontier with Georgia.
Walking distance from the Olympic complex, the bridge at Psou is now the border with the partially recognised state of Abkhazia.
Adler was incorporated into Greater Sochi when the Soviets expanded the resort area in the 1960s. Sochi had only been colonised by Russia a century earlier. Prior to that, Sochi was part of the Kingdom of Georgia for 500 years then within the Principality of Abkhazia for another 300.
With Sochi's sub-tropical climate, the Russians first established tea plantations – the railway, the spa baths, the villas, including Stalin's, these all came with the 20th century.
Whereas nearby Krasnodar has a football club dating back to 1928, Sochi's first known team, Spartak, only sparked into life after World War II. Certainly local hero Slava Metreveli started his career there in 1953, leaving the youth team of Trud in Adler for the bright lights of Sochi.
He later played at three World Cup finals for the USSR, scoring one of the goals that won the European Championship in 1960. His main club was Georgia's Dinamo Tbilisi.
Sochi's first major football stadium, built in 1964, later took his name. Still in operation today, it was unveiled with a friendly match between the Russian Federation and Syria. As now, Moscow clubs liked to use Sochi in the winter – Spartak switched their Cup-Winners' Cup tie against eventual winners Milan here in early March 1973.

The 10,000-capacity ground sits just inside Khostinsky, another of the four city districts, a longish stroll from Sochi's main port. When Zhemchuzhina-Sochi were formed in 1991, the last year of Soviet football, they had a stadium to play in.
Named after a local hotel ('Pearl'), without competition from nearby Georgia or other nearby Caucasus states in the new Russia-only set-up, Zhemchuzhina sparkled. With the money to attract Georgian internationals such as goalgetter Gocha Gogrichiani, the Sochi side stayed in Russia's top flight for seven seasons.
The club folded in 2004, was replaced by Sochi-04, who then folded in 2009. With the grand old coach Arsen Naydyonov still at the helm, Zhemchuzhina were revived in 2008 but dissolved after relegation from the second tier in 2012.
In their wake came FC Sochi, who finished 2016-17 mid-table in the Southern Zone of Russia's third division. The standard of football is reasonable – Rotor Volgograd of European fame won the league.
The ground is a brightly coloured affair, two open sideline stands facing each other and nothing behind each goal. It has its own bus stop, Stadion, on routes Nos.1, 2, 3, 103 and 105, among others, all from Sochi train station. Its location by the main highway of Kurortnyi, originally Stalinski, prospekt, allows for few bars nearby.
Bearings
UK and other EU visitors to Russia require a visa – see
Visa To Russia
for details. Most hotels can also help with visa invitation letters.
Those holding tickets for matches in the Confederations Cup 2017 and World Cup 2018 can
register
and receive a Fan ID to circumvent visa restrictions. Note that Fan IDs are sent out by mail – allow plenty of time.
Sochi International Airport
is in
Adler
, near the Olympic complex, 35km (22 miles) south-east of central Sochi. A swish new
train
takes you from the terminal to
Sochi train station
in 45min, running roughly every hour.
Tickets
are around 165 roubles/€2.55.
For the Confederations Cup 2017 and World Cup 2018, free rail transport is offered to match-ticket holders – but first you have to
register
. You then have to be carrying
Fan ID
(
see above
), dispatched to you in the mail.
Аэропорт Сочи (высадка)
,
bus Nos.105, 105k
and
105s
run into town, a journey of 90min in heavy traffic.
Bus Nos.57
and
57k
run from the airport to the Olympic Park.
Bus tickets
are around 20 roubles/€0.30 so keep small change to give the driver. For details of
routes
, see
eaway24
.
The
taxi company
recommended by the airport may not be the cheapest.
Taxi Aeroport Sochi
(+7 938 440 32 32/+7 938 442 30 30) quotes 450 roubles/€7 to the Olympic Park and 900 roubles/€14 to central Sochi, though this may be shared transport.
Within
central Sochi
, the train station and adjoining bus terminal, port and main hotels are all walkable from each other.

Bed
Like most Russian cities, Sochi has no official online tourist information. The hotel-booking site Sochi City Guide set up for the Winter Olympics 2014 doesn't seem to work for 2017-18. Both Adler and central Sochi are full of hotels – this has long been a tourist resort and catering to foreign guests is commonplace.
There are a dozen hotels alone within 2km of the Fisht Olympic Stadium. Perhaps the most convenient, just off the main road leading from the Olympic Village train station, the Tulip Inn Omega Sochi comprises 270 standard rooms, 42 luxury lodgings and 12 suites, plus a restaurant. This was used to house journalists during the 2014 Winter Games – the media centre is right in front. TV football shown in the bar. Nearby, and cheaper, the Hotel Parus (ulitsa Starookhotnichya 29, +7 918 000 53 72) sits opposite the tennis academy and alongside the Cowboy, a handy pre-match bar/restaurant.

Nearer the Olympic Park station, Russkiye Sezoni is of similar ilk to the Tulip Inn, and contains the most unpublike Stratford Pub. Half- and full-board doubles, with spa admission, were still available in the run-up to the Confederations Cup for around 8,000-10,000 roubles/€124-€155.
If you're coming into Sochi station, the Park Inn Sochi Centre could not be better located, with 153 rooms, the Paulaner restaurant and airport transfers. Sports teams seem to like it, such as Spain's rugby 7s team who stayed here.
Nearer the seafront, the 200-room Mercure Sochi Centre has its own private beach. In the same complex and under the same umbrella, the five-star Pullman Sochi Centre features sea-facing balconies in all 150 rooms, swimming pools inside and out, a gym, spa, 24-hour bar and high-quality Mediterranean restaurant.
Close by, at the budget end, the once functional Mirit has been raised from two-star to three-, the pre-2018 overhaul also providing a sauna, spa pool and wine cellar.
On the other side of main Kurortnyi prospekt, the Spa Hotel Fidan is in a similar bracket, with a bar and restaurant – and a less handy location.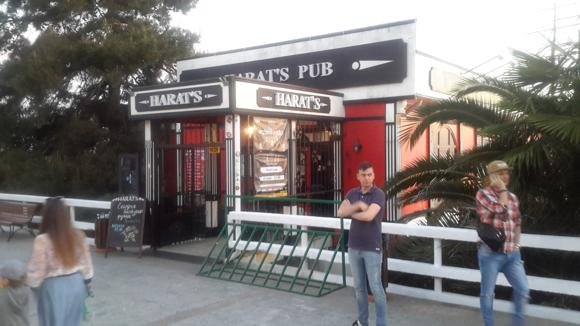 Beer
Bars and restaurants dot the city centre and seafront, most catering to holidaymakers from Russia and the ex-Soviet states.
Right on the promenade, near the Zhemchuzhina Hotel that was behind Sochi's top-flight football club in the 1990s, Harat's Pub is the Sochi branch of a chain that stretches from St Petersburg to Irkutsk. Several screens show match action and draught brews include house Harat's. Fish and chips will set you back 260 roubles/€4.
Near the port, Frau Marta (ulitsa Sovietskaya 2) is Germanic beerhall in feel, with Belgian and Irish beers and plentiful pub grub. Close to the Mercure/Pullman hotel complex, Legenda (Kurortnyi prospekt 47/3) is more restaurant than bar but shows TV sport.
At Kurortnyi 16, on the top floor of the Melodiya shopping centre, Dobri El' is the Sochi outlet of this Rostov-based chain of sports bars. Plenty of screens make up for its rather functional appearance.
Right in town near the station, Draft at Navaginskaya 11 is the pub-like outlet of a long-established local beer distribution company, a convivial for soccer-watching, scores of scarves lining the bare-brick walls.
If you've just got in by train, slake your thirst with lashings of Munich's finest at Paulaner, attached to the Park Inn.
Gallery