Big screens, craft beers and historic hostelries – London has sports pubs for all
With three derbies on Boxing Day, then Chelsea, QPR, Charlton, Millwall, Leyton Orient, Wimbledon, Dagenham & Redbridge and Barnet all at home over Christmas week, London will be welcoming back fans in serious numbers for the first time since Qatar. Throw in New Year Sales, tourists here to celebrate New Year's Eve and a full programme of domestic football back on TV screens, and the pub tills should be ringing.
For those who want to watch the game in London can choose from hundreds of options but the following suggestions have that something extra about them, either in terms of history, atmosphere, location, special attractions or just sheer number of screens.
London is where you find the venue that hosted the first meeting of the FA 160 years ago to set the rules of the game, and where all kinds of communities have long had roots, including the Italian, Dutch and Irish, as illustrated here. And London is huge enough offer recommendable football-friendly pubs and bars in every district and neighbourhood. The following is a selection of reasonably centrally located destinations in Soho, Victoria and Covent Garden, as well as Shoreditch and West Ken.

Note that branches of the Sports Bar & Grill chain can be found from Clapham Junction to Canary Wharf. Here we focus on the Marylebone venue, handy if that's your route to Wembley. For pubs convenient for Arsenal, Brentford, Crystal Palace, Fulham, Tottenham and West Ham, all of whom face each other on Boxing Day, check out their respective pages on the Libero site.
With so much of Soho disappearing, the Bar Italia is a very reassuring sight, indeed. Opened in 1949 by Lou and Caterina Polledri, a couple from Piacenza who met in war-time London, this authentic jewel remains in same family two generations and seven decades later.
The eyes of Rocky Marciano, staring out from a huge signed portrait donated by his widow, have witnessed many a famous guest casually stroll in for the city's finest cappuccino, the Bowies and the McCartneys – this is the heart of Soho, across Frith Street from jazz landmark Ronnie Scott's.
The bar was at the height of its fame with Football Italia's heyday in the 1990s, everyone posing with that morning's pink Gazzetta and talking Sacchi. The place still shows calcio, of course, but serves more Aperol Spritz than before and has possibly thought about changing its pre-decimal cash till. Revered staff still keep pouring 23/7, taking an hour off when Soho's neon dims. Bar Italia, 22 Frith Street, London W1D 4RF
'Can you kick it?' asks this ever-popular table-football bar beside London's hip square mile of Hoxton, and the answer is a resounding 'yes!'. Here, at this party-spirited sister of Clerkenwell's more sensible (and smaller) Café Kick, guests gather in raucous huddles around championship-quality tables over two floors, drinkers spilling out onto the pavement for a post-work guzzle and goss.
The TV screens are another major attraction, the Bar Kick being as much about watching matches as winning them on the spin, while superior drinks (Moretti, Neck Oil and Orchard Thieves cider on draught) and burgers (Nashville hot with buttermilk fried chicken breasts, Mac Daddy with double beef) are hoovered up at London prices. Bar Kick, 127 Shoreditch High Street, London E1 6JE
The smaller, older sibling of Hoxton's Bar Kick, this Exmouth Market mainstay celebrated its 25th anniversary in 2022. London's original table-football bar was also one of the first places to pick up on the eternal cool of the game's iconography across the Latin world – walking through the cramped main room is like flipping through a life-sized Panini album from the 1970s, all bright colours and smart stripes, with the occasional flash of Brazilian gold.
Drinks share the same aesthetic, Estrella, Brahma and Sagres by the bottle, and Mahou on draught, perhaps brewed opposite Atleti's old ground in Madrid. There's a long selection of dishes, chalked up on the board in the pleasingly ramshackle bar area. French baby foot rules are listed in loving detail in the games area, where players battle over B60 Bonzini tables usually enveloped in the Gauloises smoke of the classic French café.  
Matches are screened in both rooms, though for major tournaments, table booking is essential. Café Kick, 43 Exmouth Market, London EC1R 4QL
The former Macclesfield has witnessed as much adventure as the retired Dutch sea captain it was later named after. They've been serving drinks on this site in the heart of Soho since 1685 but the grand pub you see today only dates back to 1890 when it also operated as an oyster house under the auspices of the aforementioned Papa De Hem.
As the clientele shifted from sado-masochistic poets of the Victorian era to the criminal underworld of pre-war London, the Macclesfield then became a refuge for homesick Dutch drinkers seeking solace around the ageing mariner. De Hem, in turn, made his pub a meeting place for the Dutch Resistance, not unlike De Gaulle's retreat two blocks away, The French House. Spies came and went surreptitiously.
Changing its name after the death of its revered landlord, De Hems embraced Swinging London by attracting pop impresarios and the stars they represented – it was here that the hit parade was fixed over a cheeky rum & Coke while a discreet envelope was passed along the bar.
In more recent years, De Hems rediscovered its Benelux heritage, as Belgian beers gained metropolitan acclaim and Dutch teams success on the international stage. A major hangout during international tournaments, De Hems is also where local Ajax supporters convene. Craft brews now dominate the drinks menu and there's global cuisine instead of classic Dutch bar snacks but, with TV screens a-plenty. De Hems, 11 Macclesfield Street, London W1D 5BW
Back when much of the UK was still confined to four channels, the Famous Three Kings gained a reputation for being an exotic outlier, a screen-filled anomaly where you could watch match action from all over the world just by wandering through its warren-like interior with a pint in hand and your eyes transfixed to the TVs.
Now that everyone streams and subscribes, the FTK might have easily gone the way of internet cafés. Not a bit of it. A short stroll from West Ken Tube takes you to a large boozer occupying a prominent street corner. Walk in, and you're surrounded by screens, over the bar, on every available wall space and pillar, in pull-down form when needed.
Craft beers line the long counter, from Hogs Back, Camden Town and Tiny Rebel breweries, the selection ever-changing and probably more upscale than when you were last here. Gins equally reflect this attempt at gentrification, as does a menu of sharing platters and stone-baked pizzas. Don't let this put you off: the Famous Three Kings is designed for you to find your spot nearest the game that interests you most, and sup your pint. Famous Three Kings, 171 North End Road, London W14 9NL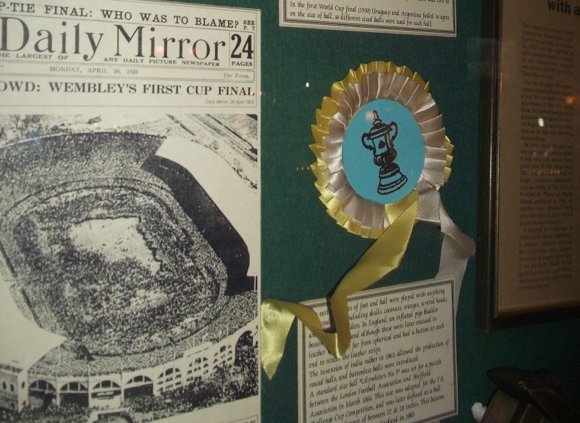 When the Football Association first convened on October 26 1863 to agree on the rules of the game, it was here that those earnest Victorian gentlemen gathered. Or rather, it was close by, as the actual location was the Freemasons Tavern at 61-65 Great Queen Street, the continuation of Long Acre, converted into a hotel in 1909 and now the Grand Connaught Rooms, and elegant events venue.
This comfortable, traditional pub with a similar name doesn't lay claim to being exact spot where Ebenezer Cobb Morley called that first meeting to order – the 'spiritual home of the Football Association' is how they describe themselves – but they have decorated the place in classic football memorabilia. The splash from the Daily Mirror covering Wembley's first 'White Horse' cup final of 1923, along with an original football, boots, rosette and rattle, are kept under glass, as well as a detailed document outlining the momentous events of 1863-64 – it took several meetings, in fact, to separate soccer from rugby and kick the oval-ball game into touch at this early stage.
It's a Shepherd Neame pub, so expect their Spitfire ales and own-brand India Pale Ale, plus hulking great pies slathered in gravy, Sunday roasts and, for Christmas, pressed slow-cooked pork belly. It's also a major match-watching spot, with a schedule posted up for you to plan ahead. Freemasons Arms, 81-82 Long Acre, London WC2E 9NG
The most prominent face of the Nova dining and leisure complex near Victoria station, this two-storey sports bar and kitchen attracts many a passer-by to its glass-fronted, open-plan surroundings. It's a large-scale operation with an à la carte restaurant downstairs and screen-lined sports lounge above.
There, the bar menu reflects the main activities of match-watching, pool and ping pong. Sharing platters ('The Wingback', 'The Quarterback') and wings are designed for groups to gather and take in the action on many screens but a word of warning: even for central London, prices are steep and that's before a 12.5% service charge is added.
As for beer, you're paying around £7 for your draught Moretti, Guinness or Brixton Reliance Pale Ale – small bottles of Sol and Peroni Red are £6. Signature cocktails are similarly sport-themed, the Lioness with Slingsby Marmalade gin, the Midfielder with Ketel One vodka, the Boxer with Bulleit bourbon, and there's a pavement terrace for those post-work pick-me-ups before you get your train from Victoria. Greenwood, 170 Victoria Street, London SW1E 5LB
There's long been a sports bar within London's largest, and probably the UK's busiest, casino. On the eve of Euro 2012 and the London Olympics, Carlsberg took it over – now it's in the hands of Budweiser, the American beer giant that lost out on gallons of sales during the 2022 World Cup.
They should make up for some of it in this huge space with several bars in what was once an American-style movie palace in the 1920s and variety theatre in the Victorian era. Above are still nine screening rooms right on Leicester Square, where the red carpet is rolled out for Hollywood stars almost every week – there were two major premieres right here in November 2022 alone. Away from the tourist hordes, some 5,000 square metres are given over to match-watching and gambling (it's over-18s only, of course).  Gaming tables, roulette and entire battalions of slot machines are ranged around 16 screens, two of them huge.
Given the new owners and 24/7 opening hours (with a kitchen operating until 5.30am at weekends), the accent is on NFL in terms of screening priority and what's on the menu, but just as there's an all-day English breakfast option alongside American-style pancakes, Kings can be relied upon for Premier League action, too.
Their Budweiser beer is also used for the batter in the fish 'n' chips, and the peas are mushy. If you prefer your Bud in a glass, there are several varieties these days, including Nitro Gold with toasted caramel malt and savoury Chelada, which may or may not be an attraction, depending on which side of the Pond you're from. Kings Sports Bar, 5-6 Leicester Square, London WC2H 7NA
Philomena's Irish Sports Bar and Kitchen, to give this friendly spot in Covent Garden its official title, sits at the top of a very long list of shamrock-tinged London pubs. Here, we're not just talking Guinness and horse racing screened on quiet weekday afternoons, but soda bread with your breakfast, Irish sirloin steak and Tayto crisps.
Also on tap are St Austell Tribute and Cornish compatriot Sharp's Doom Bar, as well as Amstel and Hop House lager and a cider, currently Rosie's Pig Cloudy Rhubarb. There's a whole section of the back bar dedicated to gin but drinks aren't the only reason you're here – it's the bonhomie, the feel of a real pub.
Football has to compete for attention with racing, NFL and rugby, particularly during the Six Nations, but there are plenty of screens and usually a little card indicating which TV is showing what. A smallish rectangle of terrace allows you to observe the fashionable bustle of London's theatreland – Drury Lane is just next door. Philomena's, 40 Great Queen Street, London WC2B 5AD
'The home of live sport in London' currently has six homes, large, screen-filled bars in Clapham, Canary Wharf, Farringdon, Victoria, Marylebone and Old Street, all key hubs for the post-work crowd. The one by Marylebone station displays the shirt Pelé wore when filming Escape to Victory, signed and framed, but most branches are otherwise pretty functional in feel.
To their credit, SB&G has moved with the times as far as beer selection is concerned, BrewDog and Brooklyn dominating the draught beer choice, Cîroc and Crystal Head among the vodkas and Tanqueray Flor de Sevilla gin.
Match-day combos, sharing platters and topped fries are there to be shared, while burger options include the recent addition of the Messi Dribbler, two patties plus streaky honey bacon for those who haven't eaten this week. Room hires and table reservations are available, along with digital darts. Sports Bar & Grill, 6 venues across London, see details here