A fan's guide – the club from early doors to today
First club of French legend Raymond Kopa after whom their stadium is named, Angers SCO celebrated their centenary in the autumn of 2019 with a fifth straight season in the top flight, and ninth consecutive campaign under coach Stéphane Moulin.
Moulin led Angers back to Ligue 1 – eventually – and to the French Cup final in 2017, when a sterling performance by the SCO defence held out the billionaires of Paris Saint-Germain until a fluky own goal in the 92nd minute.
2017 was a momentous year, in fact. Former Real Madrid and French World Cup star Raymond Kopa passed away shortly before the cup quarter-finals and a large congregation filled Angers Cathedral to honour the most famous player to stride out for SCO.
Few were old enough to remember the so-called 'l'équipe de biberon' of 1949-50, the youngsters selected by incoming coach Camille Cottin from a nationwide talent competition, including Raymond Kopaszewski. It was Cottin who shortened the player's surname and gave him his debut.
SCO had not long turned professional. The Fortin brothers had formed the club in 1919. Another influential figure, industrialist Julien Bessonneau, built a stadium on rue St-Léonard, south-east of town, site of today's Stade Raymond Kopa. It was Bessonneau who had formed the first local sports club – the Fortin banking family continued his legacy, inheriting the players who had survived World War I.
Starting out in the Lower Loire Division d'Honneur, SCO assumed professional status after being crowned French amateur champions in 1943, with former Red Star midfielder Georges Meuris as player-coach. His SCO were granted a berth in the newly formed Division 2 Nord after the war.
Pushing for immediate promotion, Angers threw money at attracting winger Alfred Aston, who had just won the last of his 31 caps for France, and his one-time Red Star and international attacking partner André Simonyi. A late penalty miss by the Hungarian-born striker in a winner-takes-all clash with Alès saw the southerners promoted and Angers stuck in the second tier for the next decade.
The decision to hire youngsters, including Raymond Kopa, in 1949 was an economic one – the club could no longer pay star wages. Although Kopa soon moved to Reims, a policy of youth recruitment remained. Promotion was achieved in 1956 with a satisfying win at local rivals Nantes.
A mid-table debut campaign in Division 1 was accompanied by a run to the final of the French Cup. Refereed by Englishman Jack Clough, the decider at the Colombes was a high-scoring affair, Toulouse running out 6-3 winners. The following season saw a league finish of third, equalled a decade later.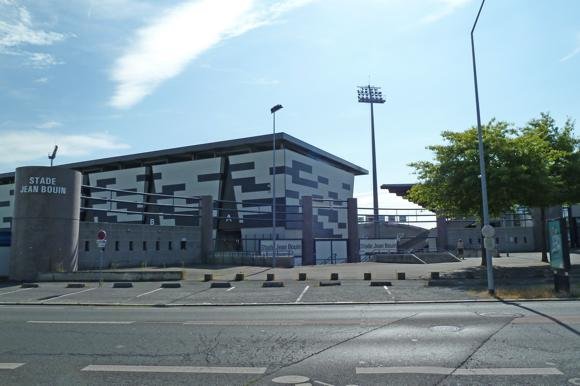 An shock drop to Division 2 was reversed by former Real Madrid centre-back Louis Hon, whose team scored 128 goals to storm back to the top flight. Jean-Pierre Dogliani, who had won a French cap while helping Angers reach third place in 1967, scored 22 of them. 
Another key was a young Jean-Marc Guillou, who joined Angers at 16 and would play more than 250 times for his first club, earning a call up by France. His nine years at SCO were the most successful in the club's history – until 2017. They also coincided with a thrilling midfield partnership with Albert Poli. Each player left in the mid-1970s, to Nice and Paris Saint-Germain respectively.
Before then, the duo took Angers into Europe, ahead of Lyon on goal difference in 1972, thanks to generous new UEFA Cup allocations. Under former Red Star goalkeeper Ladislas Nagy, Angers welcomed Dynamo Berlin, then relatively new to the European stage. The East Germans rescued a 1-1 draw in France before the first-leg goalscorer Jacky Lemée was given a red card in Berlin to give the advantage to the hosts. A 3-2 aggregate defeat remains SCO's only European appearance to date.
A teenage substitute for that 2-1 defeat, attacker Marc Berdoll was another Angers prodigy who gained French caps, starring with Guillou in the 1978 World Cup, by which time he had joined Marseille. And by which time Robert Lacoste, SCO sporting director who oversaw the Guillou era from 1966, had died.
Treading water in Division 2, struggling to attract four-figure crowds, Angers sank even lower, to the third tier, in 1996, only picking up under Jean-Louis Garcia a decade later.
With Gabonese international Do Marcolino scoring half the overall goal haul, Garcia achieved promotion to Ligue 2 in his first season. As his side knocked on the door of Ligue 1, and average home gates rose above 7,000, Garcia was pinched by recently relegated Lens. That same year, young club owner Willy Bernard was handed a two-year suspended sentence for embezzlement.
Reserve-team coach and former SCO midfielder Stéphane Moulin was brought in to anchor Angers, keeping the side in the second flight. Mid-table for half the campaign, Angers picked up in the spring of 2015, goals from Ivorian international Jonathan Kodjia earning him a transfer to Bristol City – and Angers promotion to Ligue 1.
With a strong defence, SCO were the surprise package of 2015-16, even sitting in runners-up spot during the winter, but falling away in the spring. The following season, a cup run kept SCO in national focus as they reached their first French Cup final for 60 years. Paris Saint-Germain, missing out on a league crown after four straight titles, and looking for a third consecutive cup, were in no mood to let the provincial side cause an upset. Goalkeeper Alexandre Letellier, whose spectacular double-stop near at the end of the Bordeaux quarter-final had paved the way to the Stade de France, kept out Edinson Cavani and Ángel Di María. With extra-time beckoning, a freak defensive header by on-loan Senegalese defender Issa Cissokho flew into the SCO net.
Stéphane Moulin currently steers a promising side, starring French youth international back Rayan Aït-Nouri, capable of beating Nantes 2-1 away and Saint-Étienne 4-1 at home. A European place is not out of the question – an echo of the Guillou glory days of the 1970s.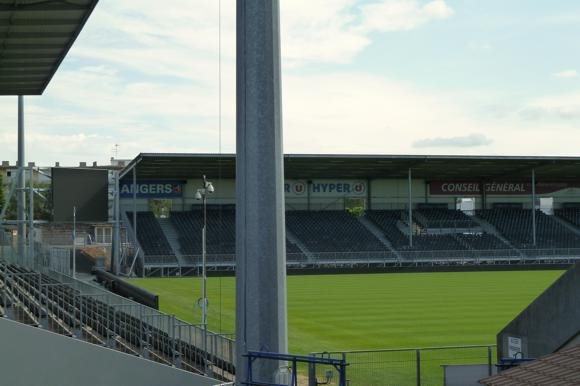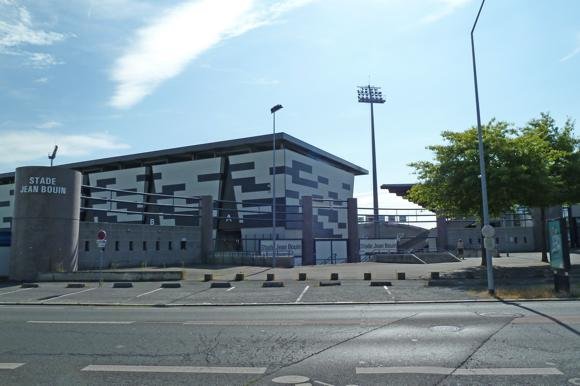 The field of dreams – and the stands around it
Renamed the Stade Raymond Kopa in 2017, the main municipal stadium leased to SCO Angers by the city council dates back over a century. Built in 1912 by a local industrialist of the same name, the Stade Bessonneau straddled the amateur and professional eras before a major renovation in 1957.
With the removal of the running track, the Stade Jean-Bouin witnessed SCO's golden era of the late 1960s and early 1970s, when 20,000-plus could squeeze into the ground. A record attendance of 23,000 was set for the visit of Olympique Marseille in 1969.
With modernisation in the 1990s, the Tribune Colombier opened and the hillock behind the home end was razed. Another disappeared with the construction of the Tribune Coubertin in 2010.
Giant video screens, goal-line technology and an artificial pitch have all since been installed.
With the expansion of the Tribune Saint Léonard ongoing until 2021, incorporating a restaurant, a new press area and dressing rooms, capacity will reach 19,000-plus. Until then, it remains at 17,000, although parts of the ground will be off-limits at different periods of the 2019-20 and 2020-21 campaigns.
As well as SCO games, the stadium has hosted a number of women's and youth international fixtures – a role sure to continue after the current rebuild.
For the time being, press and VIPs are hosted in the sideline Jean Bouin Stand opposite. Home fans gather in sectors A-E in Tribune Coubertin by the boulevard of the same name, with away fans allocated the end sector nearest Tribune Saint Léonard, through accès 5.
The Tribune Colombier runs along the street of the same name, behind the east goal.
Going to the stadium – tips and timings
The stadium is about 1.5km east of Angers train station, along rue Saint-Léonard.
Two bus lines serve the stadium. The most direct, the 12 (every 30mins up to around 7.30pm, Mon-Sat only), runs from Lorraine, at the square of the same name. The recently renamed Stade Raymond Kopa stop is five away.
The 9 (every 20mins up to 9pm, Mon-Sat only) is more round-about but sets off from Paul Bert closer to the station. Six stops away is Coubertin, 5mins from the stadium. The only Sunday service is the 12b (every 1-2hrs, up to around 7.30pm) between Lorraine and the stadium.
Buying tickets – when, where, how and how much
Tickets are distributed 15 days before each game at the two club shops (58 promenade de la Baumette, by the club HQ south-west of town, 12 rue Chaperonnière, by the cathedral, opening hours below) and through France Billet and outlets (Fnac, Carrefour, Géant), and Ticketmaster and outlets Leclerc and Auchan. The club also distributes online.
The ticket windows at the ground open 90min before kick-off.
With the Tribune Saint Léonard out of commission, the best seats (Tribune Jean Bouin Centrale, €25) might sell out for the most attractive fixtures – otherwise, availability is rarely a problem. The cheapest seats (€6.50) are the lower tier of the Tribune Coubertin home end, with places in the Tribune Colombier opposite starting at €9. Nearer to the penalty areas, a seat in the sideline Tribune Jean Bouin is €17.50.
Shirts, kits, merchandise and gifts
Black-and-white souvenirs, current second kits of grey and centenary retro tops in white, as well as club histories (100 Ans en Noir et Blanc) are sold at the two club shops at 58 promenade de la Baumette (Tue-Fri 10am-12.30pm, 2pm-7pm) and 12 rue Chaperonnière (Mon 2pm-7pm, Tue-Fri 10am-12.30pm, 1.30pm-7pm, Sat 10am-7pm).
Pre-match beers for fans and casual visitors
Even though the stadium has been in place for well over a century, there are no bars or cafés in the immediate vicinity. The best pre-match options would be Matt Murphy's, near the junction of main boulevard du Maréchal Foch and rue Célestin Port, the downtown continuation of rue Saint-Léonard, and Le Falstaff alongside at rue Bressigny 11. Each is about a 10min walk to the ground.
Faux pub Matt Murphy's, lined with sports tops, has several advantages, late opening hours all week, TV match action and filling Québec poutine dishes.
Student-friendly Falstaff also runs late (closed Sun), screens sport and serves pitchers of beer.