A fan's guide – the club from early doors to today
When the marketing team at AS Trenčín had to come up with a new logo for the club, shortly before their new-build Štadión Sihot' was to be unveiled in 2021, they took their inspiration from the T of TTS Trenčín, flagship club of a pretty medieval city close to the border later created by the division of Czechoslovakia.
Most associated with the golden period of the 1960s, Telovýchovná jednota Trenčiansky telocvičný spolok Trenčín wore the kind of badge that gets collectors excited, combining the city's manufacturing heritage with its historic castle and the industrial iconography of Communism. Throw in an unpronounceable Slovak name 53 characters long, a huge letter T and it's a classic of its time.
It's also indicative, as despite a break with the past with the folding and merging of TTS in 1993, today's designers still recognised the nostalgic power of football tradition, although perhaps not the Trenčín team best remembered for taking the great Dukla Prague to the wire for the title in the Czechoslovak era of 1962-63.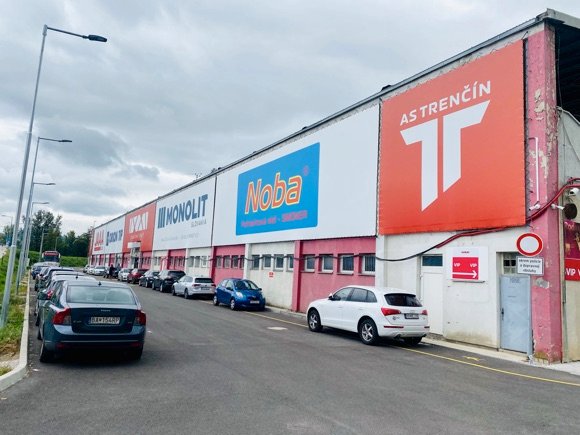 Six decades later, with Trenčín owned by former Ajax star Tschen La Ling since 2007, the local office had to clear their revolutionary streamlined logo with the Dutchman back in the Netherlands. 
'Where's the castle?' is not a phrase you often hear footballers say, but La Ling, who had based much of his successful food-supplement business in the region, had spent long enough in Slovakia to know about identity. 
Assured that a letter T fashioned in minimalist style still carried enough weight to say to the world, 'Trenčín', he approved the badge and prepared himself to open the club's new stadium, after seven years of demolition and construction, and €20 million.
Twice double winners in 2015 and 2016, AS Trenčín are hoping that a rebuilt stadium will reboot the club after a few fallow seasons since domestic glory. European games with the likes of Hull, Steaua Bucharest and Rapid Vienna had to be moved to nearby Žilina, where all domestic fixtures were also played. 
The then-named Štadión na Sihoti was initially deemed unsuitable, then the diggers moved in to rebuild the stadium. With a capacity of 3,500, 3,000 seats done out in signature red, the new Štadión Sihot' started staging matches after the winter break in 2021.
Sihot' is the large housing estate in Trenčín, in the district of Sever squeezed between the railway lines and the river Váh. As its name suggests, Sever ('North') lies on the town's outskirts, the historic centre to the south. Trenčín's rapid manufacturing growth after the war encouraged the authorities to build plentiful housing and, with it, a sports stadium. Money was poured into the football club, then called Jednota Trenčín, to attract Czechoslovakia's better players.
There had been football club before then, of course – in fact, there had also been a manufacturing industry, both set up by the Hungarians when this was part of Hungary before 1918.
Jednota went through several changes, winning the Slovak Cup in 1978 but missing out on Europe after losing the play-off against their Czech counterparts, Baník Ostrava. Thereafter, Jednota/TTS fell into obscurity.
It took newly formed Ozeta Dukla Trenčín one season to climb from the Third Division to the Second, and a further four to reach the top flight in 1997, where they stayed for the following decade. Key players included later Liverpool star Martin Škrtel and much-travelled Slovak international striker Martin Fabuš, who had two spells at his native Trenčín.
Shortly after another name change to FK AS Trenčín, Tschen La Ling stepped in, buying up 80% of the club in 2007 while expanding his special brand of nutrition for athletes.
Sadly, the manager in charge for Trenčín's three-win campaign of 2007-08 was former Hull striker Rob McDonald. The man to take them back up, three seasons later, was Adrián Gul'a. Achieving third place in the top flight with Trenčín in 2012-13, Gul'a was immediately picked up by Žilina, and L'uboš Nosický came in. 
Overcoming IFK Gothenburg in their European debut thanks to two goals from Nigerian striker Fanendo Adi, Trenčín then fell to Romania's Astra Giurgiu. Nosický was replaced by Martin Ševela, who had spent his later playing career as centre-back for the club. League form picked up, 21-year-old Trenčín-born, two-metre-tall striker Tomáš Malec returning from a loan spell to claim the honour of top scorer in the Slovak league. 
With Adi going off to America, La Ling's clout and connections helped attract Curaçao-capped striker Gino van Kessel, previously active in Holland, and a new strike partner for Malec. Though Slovan Bratislava won the title by a country mile, Ševela's men were far and away the highest scorers. 
Providing the chances were Trenčín-born midfield pair Jakub Holúbek and Patrík Mišák, both 23. Local goalkeeper Miloš Volešák was a near ever-present as captain. Trenčín duly did the double two years running, in 2015 and 2016, but success proved to be short-lived.
Never afraid to sell young talent, La Ling collected €3.5 million for twice double-winning midfielder Matúš Bero and €1 million for Ghanaian winger Osman Bukari, player of the season in 2019-20. With several million needed to rebuild the stadium, players came and went.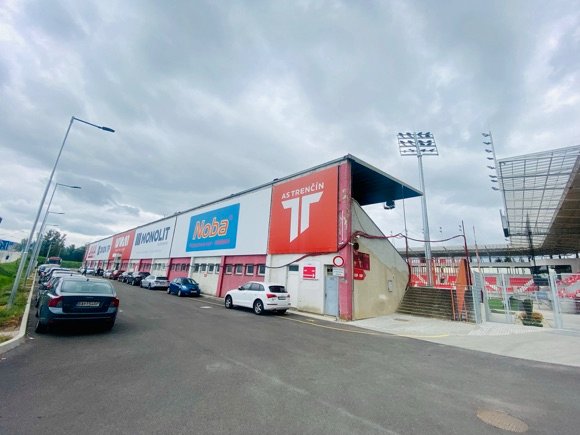 La Ling offloaded prolific Croatian striker Antonio Mance, first lending him to Nantes for the French club to replace Emiliano Sala who had died in a plane crash on his way to Cardiff in early 2019. Mance had already proved himself in Europe, hitting a hat-trick against Feyenoord in the home leg of Trenčín's Europa League Third Qualifying Round tie with the Dutch giants.
The 5-1 aggregate win was the greatest result in the club's history, and one that would have given the ex-Ajax legend considerable pleasure, although La Ling would have been less impressed by the 3-0 defeat at Larnaca that followed.
Another sale was of Jakub Kadák, a Slovakia U-21 international who earned a call-up to the senior squad after topping the domestic league's scoring charts in 2021-22. Losing at DAC in the play-offs for the Conference League that May, Trenčín failed to make Europe yet again. 
A mediocre campaign in 2022-23 will mean that the club won't be crossing any borders in 2023-24 either. The club may have three-quarters of a new stadium, but it's been a fair while since that fateful afternoon in Larnaca.
The field of dreams – and the stands around it
It took eight years to demolish the old Štadión na Sihoti, built in 1960 and little changed in half a century, and build the new Štadión Sihot' – but it still isn't ready. Unveiled in 2021 and due to have an overall capacity of 10,000, it currently holds just over 4,000 behind each goal.
The home south end, Južná Tribúna, is divided into eight sectors, D1-D1 to D4-D4, the north end, Severná Tribúna, another eight, with the end one nearest the press entrance to the main stand, B4, allocated to visiting supporters. At present, only journalists and VIPs occupy their privileged positions in this West Stand, Západná Tribúna.
Opposite, the East Stand is officially still under construction, with shops and outlets still earmarked, although everything looks ready, neat rows of signature red seats surrounding the unnaturally bright green of the artificial surface. Each stand is under cover.
It is not yet certain when the Sihot' will be complete. All the same, it feels a long, long way from its predecessor, where later Champions League winners Xavi, Carles Puyol and Milan Baroš played for their respective national sides in the Euro U-21 Championship in the summer of 2000.
Going to the stadium – tips and timings
The Sihot' is easily walkable from Trenčín station. Take the underpass away from town, turn left, then cross the street. The stadium is just ahead.
The nearest bus stop is the Akadémia Komenského alongside the language school on the stadium side of Štefánika Park, but unless you're on the outskirts of Trenčín, the ground is also easily walkable from the city centre.
Buying tickets – when, where, how and how much
Tickets are sold during the week at the Fanshop AS Trenčín (Tue-Thur 1pm-5pm) behind the South Stand, Južná Tribúna, and from the match-day windows (pokladňa) behind the Main Stand from 90 minutes before kick-off.
There are also two online outlets to purchase in advance, through club loyalty programme My sme Trenčania and the Slovak ticket portal Predpredaj, each with an English-language option.
Admission is €8 at either end, including for away fans in sector B4, with half-price discounts for over-70s and 6-15s. Under-6s are admitted free.
Shirts, kits, merchandise and gifts
You'll see a large model of the club's minimalist new logo in bright red before you reach the Fanshop AS Trenčín (Tue-Thur 1pm-5pm, 2hrs before kick-off) behind the South Stand, Južná Tribúna.
Home white and red away shirts both carry the logo, of course, as does a range of strange accessories, including an ice scraper (škrabka na ľad) for those winter mornings in Trenčín and a warming pillow, hrejivý vankúšik, that keeps your hands toasty for those chilly evening games.
Pre-match beers for fans and casual visitors
At the Sihot' and its predecessor, the classic stadium bar has always been the Sokolovňa Pub, dedicated to the Sokol movement, a sporting organisation in the Habsburg era. Black-and-white photos show energetic locals stretching in unison or passing medicine balls to each other, with Trenčín Castle in the background.
A TV shows match action, but the recent stadium overhaul has also seen a makeover here, taps of Bernard and Paulaner giving way to craft brews, sausages rubbing shoulders with the inevitable burgers on the menu.
It's still fairly rustic – and still one of the finest of its kind in all Slovakia.
On the other side of the stadium, the indoor sports hall contains the Mers Caffe, decked out in floorball pennants and ice-hockey shirts, sport beamed on a flat-screen TV. Fruit-flavoured Birell beer can be sipped on the roof terrace.
Nearby on Martina Rázusa, the reliable Hostinec u Václava serves Czech Litovel beer to local regulars, though you do wonder how it survives. Following Martina Rázusa east, you come to the winter arena opposite the Hotel Magnus, where Hokejka displays a collection of a extremely cool ice-hockey tops from Slovakia and the region.
In the opposite direction towards town, the wonderful Koliba ('Hut') on Mládežnicka serves classic Slovak dishes in a folksy cabin, Birell and Gambrinus among the beer choices.