A fan's guide – the club from early doors to today
European champions for the sixth time in 2020, Bayern Munich are now far more dominant at home than the great side led by Franz Beckenbauer in the 1970s. All but eight of their nine consecutive titles since 2013 have been won by huge margins of victory, and few doubted that the run would continue well into double figures.
Then in 2022-23, Bayern hit a run of draws then defeats under Julian Nagelsmann, quickly replaced by Thomas Tuchel. As Borussia Dortmund prepared to break Bayern's monopoly, last-day nerves got the better of them and the Bavarians took their 11th straight title.
What this means for German football is up for debate but Bayern could win the league another umpteen times straight and never match the significance of what Kaiser Franz, Gerd Müller and companions achieved from the mid-1960s onwards. 
Back then, Bayern weren't even the top team in Munich. City rivals TSV 1860 won the league in 1966 and reached a European final the year before. Bayern soon superseded them then became German and European champions three times running, lifting the club onto the world stage for the first time. 
Originally built for both clubs, the Allianz Arena is now very much Bayern's home ground, the can-can blaring out every time Bayern swat aside yet another league opponent. Watching from the VIP seats will be stars from the Beckenbauer era and beyond, still playing a key role in the running of the club. 
For all the misgivings in Germany concerning Bayern's dominance, in Europe, the club has to compete with those backed by petrodollar states or operated at a substantial loss for the sake of success. The Champions League run of 2020 saw the Bavarians walk all over Chelsea and Barcelona before edging Paris Saint-Germain in the final, clubs astronomically cavalier in their spending in recent years. Bound by the German's FA's strict rules of financial probity, Bayern may be able to sign a Ribéry but cannot plunge into the überdebt of Real Madrid to lure a Ronaldo.
Bayern ('Bavaria') were founded in February 1900. Gathering members of the Munich Gymnastics Club (MTV) barred from joining the German Football Association, a little-known photographer from Berlin, Franz John helped set up Fußball-Club Bayern München, who played at local and regional level for the next 30 years.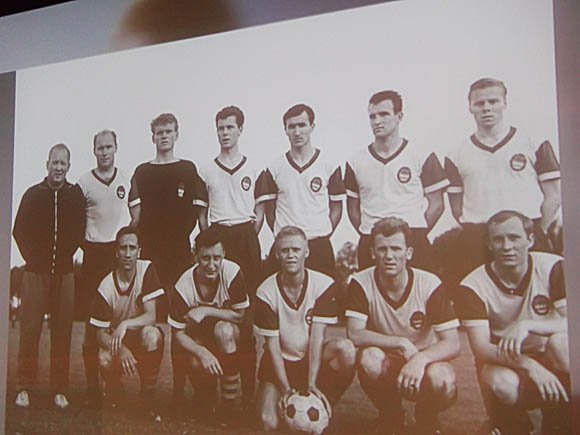 It was remarkable Jewish coach, Vienna-born Richard 'Dombi' Kohn, who led Bayern to their first national title in 1932. His star player was 'Ossi' Rohr, later hunted by the Gestapo and sent to the Eastern Front. Roth's great-nephew Gernot managed the Bordeaux side that faced Bayern in the UEFA Cup final of 1996.
Under the Nazis, Bayern's Jewish president Kurt Landauer was forced to flee. To a man, every player went to visit him in Switzerland – in 1940. In 1947 he returned to be popularly reelected but Bayern remained stigmatised until the early 1960s.
Surviving near-bankruptcy, Bayern made the Bundesliga in 1965 with a young team headed by precocious half-back, Franz Beckenbauer. Up front was a squat but quick goalgetter, Gerd Müller, and in goal, Sepp Maier. The trio helped Bayern win the German Cup and, in 1967, the Cup Winners' Cup against Rangers. Coach Branko Zebec galvanised the team to win the Bundesliga's first double in 1969.
Behind the club, president Wilhelm Neudecker introduced a high level of professionalism. By 1972, and the opening of the Olympiastadion, Bayern had brought through young stars such as Paul Breitner and Uli Hoeneß. Under coach Udo Lattek, Bayern won the first of three consecutive titles, and provided most of the West German side who won the European Championship. Two years later, at what became Bayern's home ground of the Olympiastadion, Beckenbauer's West Germany beat Johann Cruyff's Holland to claim the World Cup thanks to a typical Müller turn and shot for the winner.
At national and club level, Total Football held sway, a rapid interchange of players with Beckenbauer operating as sweeper. At the highest level, only Ajax could (and did) beat them but after Cruyff left for Barcelona, the way was open for Bayern to take three consecutive European Cups. The first, against Atlético Madrid, required a late hopeful strike by Georg Schwarzenbeck to force a triumphant replay. In 1975, Bayern suffered brutal treatment at the hands of Leeds before roaring back with two cleverly taken goals. In 1976, the Bavarians rode their luck against a talented St-Étienne.
With Beckenbauer's departure for New York Cosmos in 1977, Bayern needed time to regroup. The 1980s saw player power and ego battles, as Paul Breitner, Karl-Heinz Rummenigge and later Lothar Matthäus held court on and off the pitch. 
With Uli Hoeneß as club president, Bayern accumulated serious wealth and could buy the country's best talent, including Jürgen Klinsmann, Stefan Effenberg and Mario Basler. Despite Basler's early goal, Bayern let Europe's ultimate prize slip in 1999, thanks to two injury-time strikes by Manchester United. Under the tutelage of wily coach Ottmar Hitzfeld, they bounced back to win the Champions League on penalties over Valencia in 2001.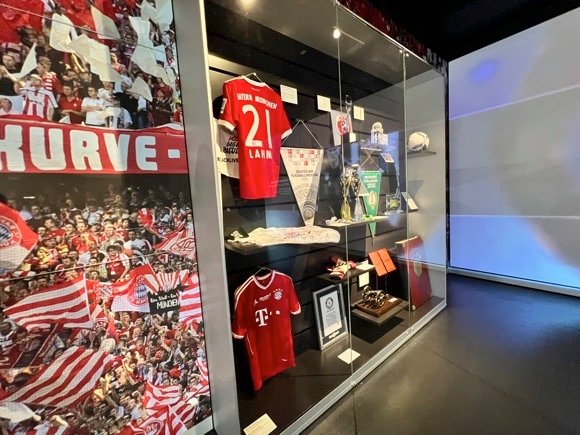 Felix Magath replaced Hitzfeld as coach to win two consecutive doubles but with Rummenigge, Beckenbauer and other ex-stars in and around the boardroom, top coaches such as Giovanni Trappatoni and Otto Rehhagel were soon put to the sword. 
Runners-up in the Champions League finals of 2010 and 2012, Bayern bounced back from the bitter disappointment of losing on penalties to Chelsea in their own stadium, keeping faith with Heynckes to sweep all before them in 2012-13. Bayern broke Barcelona's domination of Europe in an astounding Champions League semi-final. Described by club icon Franz Beckenbauer as 'the best Bayern team ever', Bastian Schweinsteiger, Franck Ribéry, Arjen Robben and co outplayed previously dominant Barcelona, a 7-0 aggregate thrashing turning the football world on its head.
Beating Dortmund in the all-German Wembley showdown, then overcoming Stuttgart in the domestic cup final, gave Bayern an unprecedented treble. Not even Beckenbauer's great side of the 1970s achieved that. Riding out the departure of treble-winning Heynckes, Bayern simply carried on where they left off, unbeaten in the league from October 2012 to April 2014,  their best spell since the glory days of the 1970s.
New arrivals Pep Guardiola and ex-Dortmund star Mario Götze proved themselves in 2013-14 with a second consecutive Bundesliga title – though the gulf in class with Real Madrid in the Champions League saw the arrival of Xabi Alonso and Robert Lewandowski for 2014-15.
For all Bayern's domestic dominance, time and again the Bavarians had been halted by the moneyed Spanish giants in the late stages of the Champions League. In November 2019, the club's former midfielder Hansi Flick, the influential assistant coach behind Germany's extraordinary successes in major tournaments from 2006, was handed over the reins. 
It proved an inspired move, for that same Covid-hit campaign of 2019-20, Bayern swept all before them. For his first game in charge, Flick gave flying Canadian wing-back Alphonso Davies his full Champions League debut, a 2-0 win over Olympiacos. He then set about recharging loyal club forward Thomas Müller, bloodied by Jürgen Klinsmann way back in 2008, and building a midfield around a now world-class Joshua Kimmich and ever-reliable Leon Goretzka. 
Behind them, for the best part of a decade, sweeper-keeper Manuel Neuer had been anticipating breakaway moves as Bayern rushed forward at speed. With his mind on a lucrative move to Real Madrid, swift Austrian back David Alaba kept fully focused, even when converted to a centre-back.
And then there was Lewandowski, absurdly prolific, who would go on to beat Gerd Müller's single-season goalscoring record in 2020-21. In a dressing room full of egos, Flick convinced forwards Kingsley Coman, Leroy Sané and Serge Gnabry to perform even when not named in the starting XI. 
The results were dramatic. After the 7-1 demolition of Chelsea on aggregate, Flick's Bayern hit the jackpot in the one-off quarter-final against Messi's Barcelona in an 8-2 whitewash. Not as mismatched as the score suggests until the hour mark, the two sides illustrated the difference between an organised club structure and chaos. The final two nails in the coffin were hammered in by Philippe Coutinho, on loan from Barcelona.
Bayern then held on for a 1-0 win over Paris Saint-Germain in a tense, entertaining final decided on a sublime Kimmich cross and arrowed header by former PSG graduate Coman. After the treble, Bayern completed the full sweep of five trophies with the Super Cup and Club World Cup.
Rejoining the national set-up in 2021 to revive a Germany side, Flick had set the bar impossibly high for incoming coach Julian Nagelsmann. Almost certainly, no-one will ever match his 23 consecutive wins in all games from February to September 2020, nor his 83% win record.  
Nor did Nagelsmann, ushered out as Bayern faltered in March 2023, to be replaced by Thomas Tuchel. Although winning Bayern another title in 2022, the former miracle worker of Hoffenheim had seen his team wilt before Villarreal in the Champions League, and then lose ground to Borussia Dortmund in the Bundesliga. 
Tuchel duly inherited a stellar but disjointed squad, and immediately had to deal with a disastrous 3-0 defeat at Manchester City, followed by dressing-room dust-up between new boy Sadio Mané and Leroy Sané.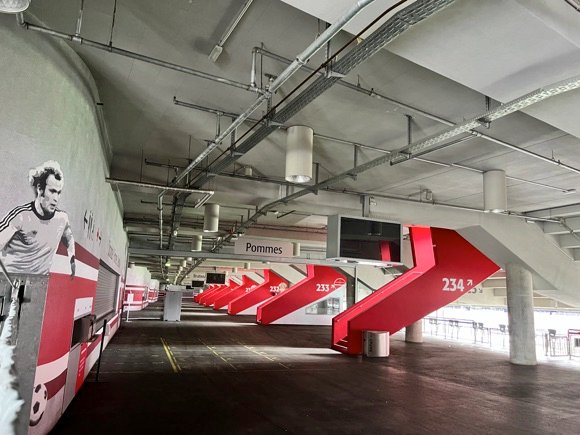 The field of dreams – and the story behind it
The stunning Allianz Arena is north of Schwabing, towards Munich Airport. Opened in 2005 in time to host the 2006 World Cup, the stadium was the latest in modern technology – the first in the world whose exterior changed colour according to event. Cocooning the whole arena were 2,874 ethylene tetraflorotethylene, self-cleaning, fireproof illuminated panels.
The 75,000 seats, a neutral grey until 2017, are now a combination of red and white, the Bayern colours. The arena had been built for both the record German champions and their city rivals, TSV 1860, whose drop to the third tier saw the former top dogs in Munich slink back to the Grünwalder Stadion, the ground both clubs had also shared from 1925 onwards. 
Both then also moved to the  Olympiastadion, created for the 1972 Games and stage for West Germany's World Cup triumph two years later.
By contrast, the Allianz was custom-built for soccer. 'A true football stadium at last', as Franz Beckenbauer said. Large but giving everyone a taste of the action – many can smell the turf from their seat – the Allianz is referred to as the Fußball Arena München when staging a major international event, such as the Champions League Final of 2012. Standing places (in blocks 112 and 113 in the Bayern end, the Südkurve) are then removed and the capacity is reduced from 75,000 to 70,000.
The stadium comprises three steeply rising tiers: Unterrang (sectors 101-136); Mittelrang (201-247), and Oberrang (301-348). For their home games, Bayern are allocated the Südkurve (red, access C/D), away fans are allocated upper blocks 340-347 in the top half of the Nordkurve, with additional seats available should demand require in middle block 242 just below.
Going to the stadium – tips and timings
The stadium is a ten-minute, well signposted walk from Fröttmaning U-Bahn stadion on the U6 line, direct from central Marienplatz 11 stops and 15 minutes away. Note that fans of the visiting club should follow the signs at Fröttmaning station that takes them along Fröttmaninger Heide via a footbridge, to arrive at the north-west corner of the stadium. This goes through a conservation area and public toilets are provided.
If you're coming in from the airport,  you're on the same side of the city as the stadium but a taxi would still cost around €70 and take 20mins to do the 30km journey. Frustratingly, the S1 S-bahn line from the airport passes just north of the terminus of the U6 line, meaning you have to ride it all the way to Marienplatz in the city centre, then back up on the U6. Allow 1hr-1hr 15mins.
The only alternative is to take the Lufthansa Express bus (€11, every 20mins) from Terminal 2 or Munich Airport Centre (MAC) and alight at the first stop of Munich Schwabing/Nordfriedhof (25min journey time), where you can change onto the U6 line and Fröttmaning five stops away. The advantage of using just public transport into town is that you can take advantage of the AirportPLUS-Ticket (€14.80/€27.50 for up to 5 people), valid for all travel until 6am the next day.
Buying tickets – when, where, how and how much
Bayern's league games invariably sell out. Lucky members may have a chance of tickets from the club website – note that Bayern have nearly 300,000 members worldwide. 
The club sells online where possible, usually as part of the Ticket Market, ie exchange, system. Bayern's ticket request page details upcoming matches and what's available. To purchase through the Ticket Market network, you require membership, currently €60/season + €3 joining fee, minus €10 without a printed copy of club magazine 51. Under-18s and over-65s pay €30 (+€3/-€10 with no magazine), 18-25s €40, same deal.
Even with a €1 booking fee, €15 for a standing place for a Bundesliga game is reasonable – but availability very unlikely. Seats are €35 in the upper tier, €45 in the middle one and €60-€70 in the lower tier or along the sidelines. For Champions League fixtures, it's seating only, €35-€130 from cheapest to dearest. Under-13s and over-65s receive a 50% discount across the board.
For enquiries, contact tickets@fcbayern.com or call +49 89 699 31 333 (Mon-Fri 8am-8pm, match-day Sat 9am-3pm). This is the Ticketservice desk at the club HQ at Säbener Straße 51-57 – to visit in person, details are given below in What to buy.
Shirts, kits, merchandise and gifts
Of the club's eight shops in Munich, the main one is FC Bayern World at Weinstraße 7 (Mon-Sat 10am-8pm), near central Marienplatz. There's an FC Bayern Store at the Allianz Arena (daily 10am-6pm, match days 2.5hrs before kick-off, 1hr after final whistle) and a Fan-Shop (Mon-Fri & match-day Sat 9am-2pm) at the club HQ at Säbener Straße 51-57 – take trams 15 or 25 from U1 Wettersteinplatz to either Kurzstraße or Südtiroler Straße. Säbener Straße is parallel to tram-lined Grünwalder Straße, accessed via Meraner Straße, halfway between the  tram stops, one or two from Wettersteinplatz.
There are more downtown stores at Neuhauser Straße 2 (Mon-Sat 10am-8pm), by the Hofbräuhaus at Orlandostraße 1 (Mon-Sat 10am-7pm) and on Bahnhofsplatz in the Pasing Arcade (Mon-Sat 9.30am-8pm) by the train station. Terminal 1 (daily 7.30am-7pm) and the departure lounge at Terminal 2 (daily 8am-8pm), access by boarding card only, have Bayern outlets at Munich airport.
For 2021-22, Bayern's classic red shirt has a subtle chevron pattern going on below chest level, as does the away-choice black, both with Adidas shoulder stripes, white and gold respectively. Accessories are numerous but fairly uninventive, though many would like to get their hands on the entirely impractical but nonetheless guzzlelicious five-litre kegs of Bayern-branded Paulaner Münchner Hell beer. 
Explore the club inside and out
The FC Bayern Museum (over-14s €12, over-65s €10, 6-13s €8, daily except for match days 10am-6pm) is one of the best of its kind, the growing trophy collection forming part of the Via Triumphalis as you walk in. Club history starts with its foundation at the Gisela restaurant in 1900, rare memorabilia including the shirt Franz Beckenbauer wore when Bayern gained promotion to the Bundesliga in 1965. Among the more unusual items is the advertising stand Jürgen Klinsmann kicked in after being substituted in 1997. 
Documentation is in German and English and a 12min film provides further background. You can also pick up an audio guide (€3) in English and nine other languages.
Tickets can be combined with a stadium tour (over-14s €19, over-65s €17, 6-13s €11, same opening hours) lasting 1hr, with frequent ones in English booked through the German-only booking site. Your tour guide will show you the dressing rooms, players' tunnel, press area and two tiers of the stadium. There are currently no tour-only tickets available.
Pre-match beers for fans and casual visitors
According to the Arena One team that takes care of catering at the Allianz, on any given match day 40,000 beers and 20,000 bratwursts are devoured. Up to 1,300 Bayern fans can converge on each of the Paulaner Treff Nord and Süd beer halls at either end of the Allianz Arena, open before, during and after the game, and on non-match days (daily 10am-6pm, from 9am during the school summer holidays). 
Natürlich, there's slightly more choice of draught beer at the home Süd end, but your basic Hell or Weißbier will set you back just under €5 a half-litre. Throw in a bratwurst or weiße wurst (€4.50) and your Munich experience is complete.
Done out with tasteful, black-and-white images depicting German football history – a close-up of Helmut Rahn's boot or the lace-up collars of the pre-Beckenbauer national shirt – the Arena Bistro in the Südkurve is open daily (10am-6pm) for affordable pizzas and sandwiches. It's also open match days, with the same beer offer and prices.
Near the FC Bayern Museum, the Café Gisela is named after the original restaurant where the club was formed in 1900, its 21st-century iteration somewhat more sleek.
In warmer weather, and invariably coinciding with Oktoberfest, a Paulanergarten also operates across the stadium forecourt.
Down at the club HQ at Säbener Straße 51-57, on open training days, the public is allowed into the Paulaner-Treff bar beside the main building – the club website indicates when training sessions are open.