A fan's guide – the club from early doors to today
Setting all kinds of unwanted records for runs of defeats in Serie A, Benevento Calcio have ensured that their first season in Italy's top flight in 2017-18 will not be followed by a second.
Whether the Witches can prevent a complete freefall through Serie B in 2018-19 remains to be seen. Whatever the case, it's been a wild ride deep in the fiery heart of Campania.
Benevento Calcio are the tenth incarnation of a flagship club in this historic town two hours from Naples. Until a shot on the half-hour from young Romanian striker, George Pușcaș, hit the roof of the net at the Stadio Ciro Vigorito one balmy June evening in 2017, Benevento had only experienced lower-flight football since 1929. The play-off win over Carpi changed all that – for one season at least.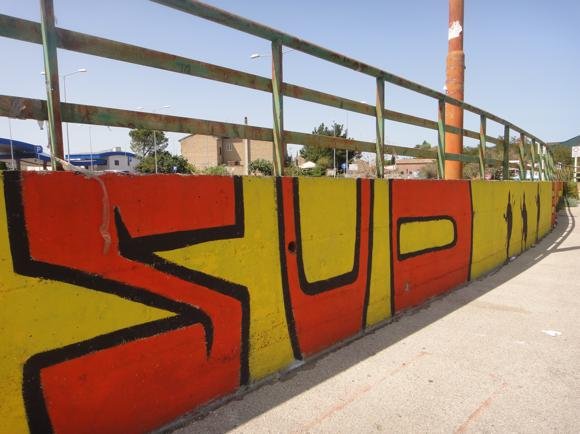 In their present guise, Benevento Calcio only date to 2005. Società Sportiva Littorio Benevento, founded in 1929, begat Gioventù Italiana del Littorio Benevento, who later begat AC Benevento. Much later came Polisportivo Benevento, then Società Sportiva Calcio Benevento. Even the colours have changed, the former Red-and-Blacks settling on red and yellow, engendering the alternate nickname of the Giallorossi.
One constant over those 50 years was the club's home ground Santa Maria degli Angeli, later named after lawyer and benefactor Gennaro Meomartini. Another constant was football in Serie C or D, or their equivalents, 62 seasons in all. Only once, in 1945-46, did Benevento earn promotion to Serie B, only to be refused admission because of financial irregularities – sadly, another constant.
By the late 1970s, there were changes were afoot. First Benevento narrowly failed to gain promotion to Serie B despite a run of nine wins. This same team then took part in that bizarre but hardy tournament, the Anglo-Italian Cup, and had the pleasure of a visit to Plough Lane for a 4-0 defeat by Wimbledon. Even Nuneaton beat them. Then, in 1979, a new stadium was built, a few hundred metres along via Santa Colomba. To this day, though, the club headquarters remain at the Stadio Gennaro Meomartini.
The Stadio Santa Colomba soon witnessed credible attempts to reach Serie B, before further financial meltdown and loss of professional status.
Local supporters, of course, still held out hope, holding a telephone vote for a new name for the reconfigured club, FC Sporting Benevento coming into being in 1990.
By the end of the decade, Benevento had scaled back up to Serie C1, before unpaid taxes emerged in 2005 and FC Sporting were no more.
Formed that same summer, Benevento Calcio endured a rocky start until the Vigorito brothers, Ciro and Oreste, stepped in at the head of the recently created club. Despite a propensity for losing play-offs, including one to later Serie A rivals Crotone, Benevento were at least operating on a more stable footing.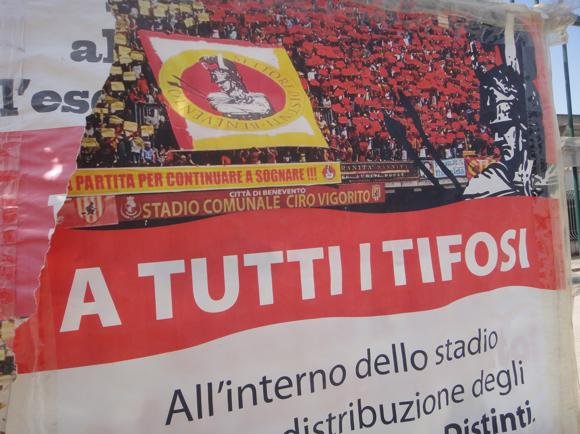 The most surprising thing about promotion to Serie B in 2015-16 was that it was immediately followed by promotion to Serie A. In 2016, 15,000 fans coloured the Stadio Ciro Vigorito, the renamed Santa Colomba, red and yellow, for the clash with promotion rivals Lecce. A 3-0 win, sealed on 50 minutes, ended 87 years of mediocrity.
Coach and former Palermo striker Gaetano Auteri was immediately replaced by Marco Baroni, a member of Maradona's Napoli side in the glory days of the late 1980s. After later coaching at Siena and Pescara, he knew about lesser clubs making the grade.
Unbeaten after seven games before a bitter derby defeat at Salerno, Benevento kept in the hunt before Romanian under-21 international George Pușcaș and former Atalanta forward Fabio Ceravolo hit vital goals, against Frosinone and Pisa then, in the promotion play-off, versus Spezia.
A late Pușcaș strike at Perugia set up a showdown with recently relegated Carpi. Pușcaș then repeated the feat in the second leg of the play-off final at Benevento, the only goal of a tense tie.
Ceravolo's subsequent move to Parma did not auger well for 2017-18. Baroni remained in place, at least until late October, by which time the Giallorossi had lost every single game of their debut Serie A season.
Losing margins were reduced under ex-Napoli midfielder Roberto De Zerbi, before a 95th-minute header by goalkeeper Alberto Brignoli gained Benevento a draw against the visiting giants of Milan. Occasional narrow wins were registered over Chievo, Sampdoria and Crotone, but the Witches have always been out of their depth in Serie A.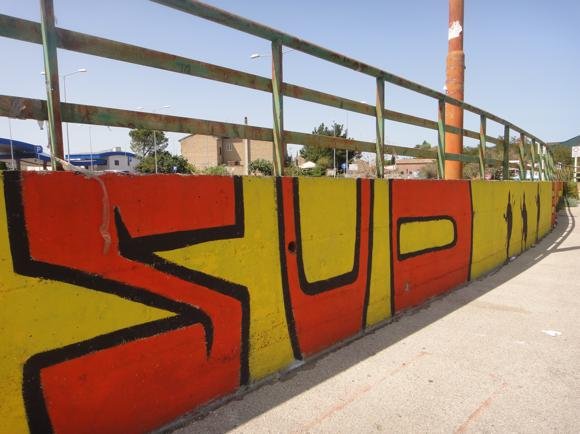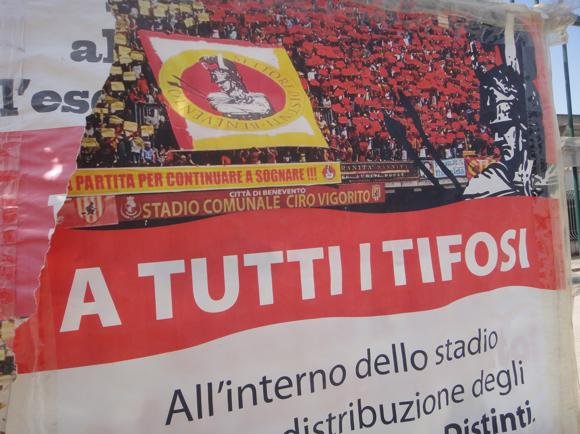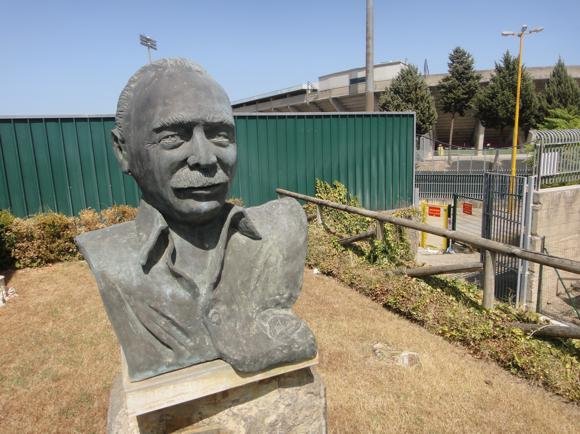 The field of dreams – and the stands around it
Replacing the nearby Stadio Gennaro Meomartini, the originally named Stadio Colomba was unveiled in September 1979, a two-tiered bowl open to the skies and set close to the pitch. With a top tier more than twice the size of its lower counterpart, the stadium feels one of those classic Mediterranean arenas as seen all over Italy, Greece and Spain.
An initial capacity of 25,000 was later reduced to 13,000 due to security issues– still way more than average attendances at the time.
But as Benevento became more ambitious under the Vigorito brothers, so improvements were made, to the players' tunnel, the press area and ticket offices. In 2010, the Santa Colomba became Stadio Ciro Vigorito.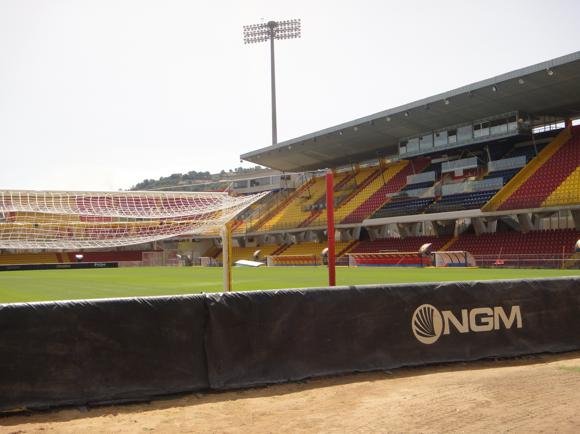 With promotion to Serie B, an extra 4,000 seats were added, in two phases. In June 2017, Benevento's surprise play-off win instigated a flurry of activity in these south-eastern outskirts of town. Access to the Curva Nord for away fans, floodlighting, security and turf were all upgraded. Capacity rose to 16,867 individual seats, with a further 1,500 possible.
Each with a capacity of 4,000 or so, the four stands partly painted red and yellow run are backdropped by the wooded hills of Monteguardia and Monte Calvio. The main stand is divided into the Tribuna Superiore and Inferiore, with the Distinti opposite. The home end is the Curva Sud, away the Curva Nord, with half also allocated to local support.
Going to the stadium – tips and timings
The stadium is not best placed for access by public transport. It's otherwise a 20min walk down from the elevated historic centre, or 40min from the main train station.
One solution is to take the regional EAV train from Napoli Centrale to Benevento Rione Libertà, on the same side of the river as the stadium, which is then 15-20min away. Journey time from Naples is 90min. The train then terminates at Benevento Centrale. There are 11 trains a day (not Sun or hol), the last one back to Naples from Benevento around 8pm.
There are local buses but don't even bother looking at the timetables. The 12 is meant to run from central piazza Risorgimento to the terminus by the stadium, though when is anybody's guess. The 5 takes a route from Benevento's main station to via Napoli, crossing the Sabato at the junction of via Santa Colomba.
A taxi between main station and stadium should cost around €10-€12. After the game, you'll almost certainly need one.
Buying tickets – when, where, how and how much
Even with a stadium capacity of under 17,000, availability is rarely a problem.
Tickets are sold from various outlets around Benevento, including the Mirage betting bar, open from 9.30am on downtown piazza Roma. Another is the Tabaccheria Collarile at piazza San Modesto 36, on the same side of the river as the stadium, about 30mins away. Both open on Sundays.
At the stadium, the ticket offices behind the main stand, facing the petrol station, operate Mon-Fri, 10am-12.30pm & 3pm-6pm, and the same times on the Sat before any match-day Sun. Only season-ticket holders can buy admission to the Tribuna Centrale.
There are also online sales through Listicket.
For match-day sales, it may be wise to try Mirage first before trekking all the way to the stadium.
ID is required for all ticket purchases in Italy. For all information, contact the club at societa@beneventocalcio.club
For most Serie A fixtures, it's €25 in the Curva Sud or Nord, €30 along the sidelines in the Distinti, and €48-€60 in the Tribuna Inferiore and Superiore. For under-10s, you pay a reduced price of €14-€34.
Shirts, kits, merchandise and gifts
You'll find the modest Benevento Calcio Official Store (Mon-Sat 9.30am-1.30pm, 4.30pm-8.30pm) at via del Pomerio 43, behind the Trajan Arch in the city centre. There's just enough room for a display of Benevento replica shirts, baseball caps, flags and scarves, all in bright red and yellow.
There are even umbrellas, presumably for games up north.
The away top in white, with red and yellow markings, is wonderfully fashionable, the black third kit with thin red-and-yellow stripes would be hellish to play in of a sweltering August afternoon in Campania.
The store closes on Sundays – stalls are set up around the ground on match days.
Pre-match beers for fans and casual visitors
Two bridges cross the Sabato river from the city centre. The furthest from the stadium, the Ponte Santa Maria degli Angeli, provides access to two handy pre-match bars. Excellent Café allows you to order a bottled beer inside from the friendly staff and drink it on a shaded back terrace by the roundabout. 
On the corner of via Girolamo Vitelli, Sweet Café, beckons with a large tap of Peroni, a TV and chairs ranged outside on the pavement. Both are decorated in Benevento red and yellow.
Further down via Santa Colomba nearer the stadium, the Caffetteria Melgrace is more convenient, even more comfortable, but its only connection with football is its location.
At the Esso petrol station right by the stadium, the Ewa Café sells snacks and alcohol, and provides a handy little terrace facing the main stand opposite.