A fan's guide – the club from early doors to today
Ireland's oldest league club still in continuous existence, Bohemians, known as the Bohs, are based at equally venerable Dalymount Park in Phibsborough.
Bitter rivals of Shamrock Rovers, the Bohs are all about longevity and tradition. Owned by its members since being founded at Phoenix Park in 1890, the club played its first game at Dalymount in 1901, against Shelbourne.
Still capable of picking up the odd title, most recently in 2009, Bohemians now look to have secured their future after Dublin City Council purchased Dalymount and announced a €20 million phased rebuild.
The first Dublin club to join the Belfast-dominated Irish League in 1902, Bohemians established an early rivalry with Shelbourne that continued when both became founder members of the League of Ireland in 1921.
With English forward Dave Roberts as top goalscorer and loyal Bohs servant Bertie Kerr as captain, the club won the title in 1924. Kerr and several team-mates also played in independent Ireland's first internationals that spring at the Paris Olympics. He then captained his country in the subsequent visit by the United States, Ireland's first ever home game – and at Dalymount.
With the league a three-horse race, the Bohs beat Shelbourne and Shamrock Rovers to the title again in 1928 and 1930, then nipped in ahead of Cork In 1934 and Dolphin FC in 1936.
It would be a long wait before more silverware was won. Ireland's de facto home ground, Dalymount had long been staging European matches when Bohemians hired their first professional in 1969.
The step-up, coupled with the later arrival of Billy Young as long-term manager, would produce two FAI Cups and two long-awaited league titles in the 1970s. European ties included meeting Wolfgang Overath's 1FC Köln and Manny Kaltz's Hamburg, and a tense fixture with Rangers.
When the two teams met again ten years later, Dalymount was pretty much on its last legs as a venue for full internationals. Despite segregation and increased security, the Dalymount saw grim scenes as terrace hero Rocky O'Brien hit two goals in ten minutes to surprise the Glasgow side, Ally McCoist, Davie Cooper and all. Holding on at Ibrox for 84 minutes, the Bohs then succumbed to two heartbreakingly late goals.
An even narrower defeat to Aberdeen came three years later – and revenge a decade or so later. With Kevin Hunt bossing the midfield and the prolific Glen Crowe and Trevor Molloy, a recent title-winner with St Pat's, up front, by the late 1990s Bohemians had a very handy side indeed, overseen by the much-travelled former Bohs forward Roddy Collins. 
In the UEFA Cup, a late penalty from Molloy sealed an unexpected victory over The Dons at Pittodrie, The Bohs holding Aberdeen to 1-0 in Dublin for an away-goals win despite a red card at the halfway mark. Another red card before half-time – Molloy the culprit – then let in Kaiserslautern, whose 3-1 first-leg lead looked increasingly shaky at the Fritz-Walter-Stadion when Crowe scored a vital opener on 37 minutes. Otto-Heinz Rehhagel's side survived a disallowed goal before sheer relief at the final whistle.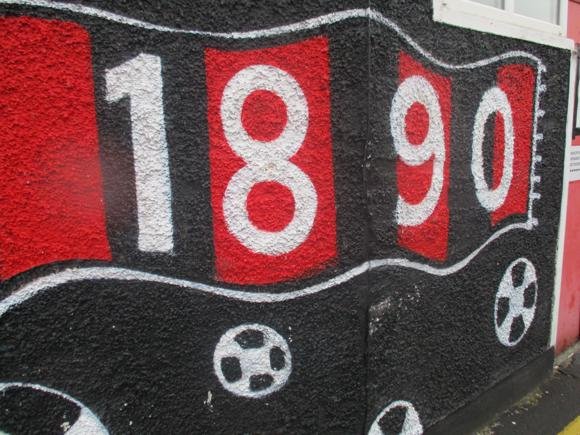 Later in 2000-01, Crowe would become top league scorer as Bohs beat Shamrock Rovers away 6-4, then Kilkenny away 5-0 to lift a famous title on the last day. A 1-0 win over Longford Town days later then sealed the double.
Bizarrely, Collins then left – eventually for Carlisle, taking Molloy with him. Stepping into the breach, a young, ambitious Stephen Kenny first took the club to an FAI Cup final in 2002 then to another title in 2003, Crowe again top league goalscorer. A Crowe goal also capped an impressive 3-0 win over BATE Borisov in the Champions League qualifying round that summer – although subsequent collapse in Trondheim, 4-0 to Rosenborg, was disappointing.
Another Euro defeat, 3-1 at Levadia Tallinn a year later, saw the end of Kenny's promising managerial stint. He later found major success at Derry and, recently, Dundalk.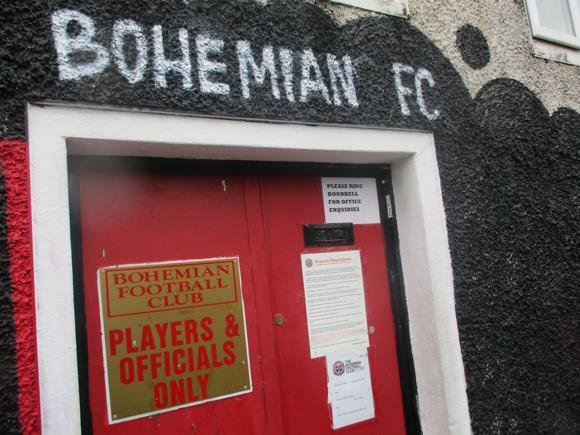 With question marks over the future of Dalymount, Bohemians trod water but stayed afloat before Pat Fenlon – his playing career spent in the midfields of each of Dublin's Big Four clubs – was appointed manager before the 2008 season. With experienced, polished right-back Owen Heary in his prime as team captain, The Bohs swept all before them, winning the league by a record margin and the FAI Cup on penalties, Crowe again among the goals. Left midfielder Killian Brennan was another major factor – and a goals-against tally of 13 in a 33-game season.
Pushed close by revived rivals Shamrock Rovers, Bohemians held on to defend their title a year later.
In Europe, a frantic ending to a second leg at Dalymount against moneyed Red Bull Salzburg saw Bohemians fall to a very late winner that cancelled out a brave 1-1 draw in Austria.
Looking for a three-in-a-row string of titles, The Bohs trailed Shamrock Rovers all 2010 season until a late catch-up saw them two points behind on the final day. Rovers' 2-2 draw at Bray, after being behind, sent the title to the Tallaght Stadium on goal difference.
After Fenlon's departure for Hibs, Bohemians struggled on and off the pitch, losing 5-1 at Iceland's little-known Thór Akureyri in Europe and forcing the hire of Owen Heary as temporary manager. His 2014 stint in the permanent post failed to lift The Bohs from mid-table.
With Dalymount now in serious need of repair, Bohemians found salvation in Dublin City Council, who bought the stadium for nearly €4 million in 2015. Its planned complete rebuild now bodes well for the future of its host club – although results on the pitch will also have to follow.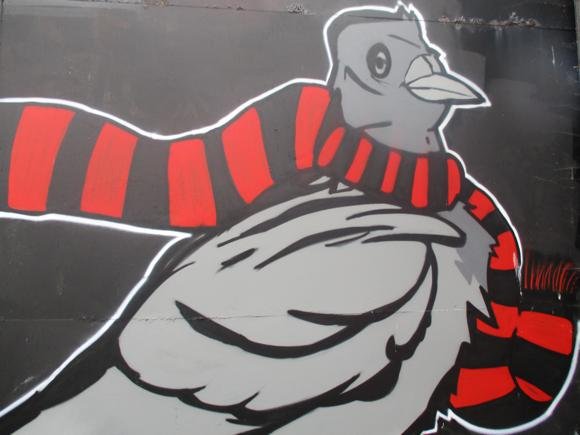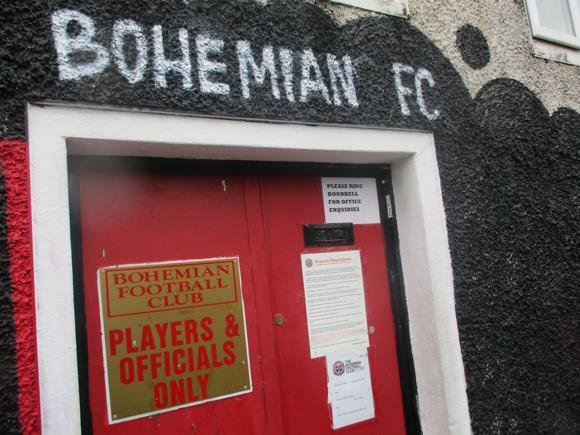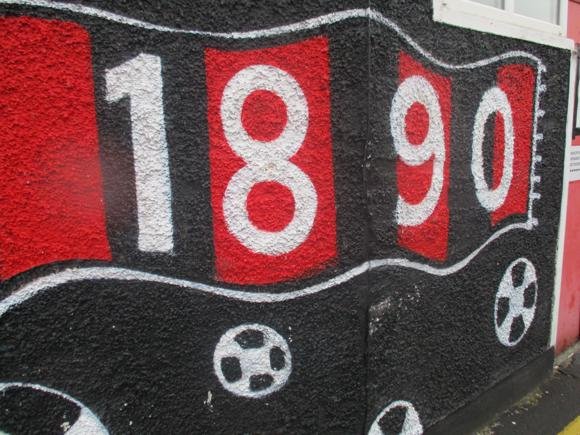 The field of dreams – and the stands around it
Ireland's national football stadium for more than half a century, Dalymount Park has long needed a complete overhaul. Fortunately, thanks to owners Dublin City Council, this is exactly what it will be getting, €20 million's worth, with a realigned plastic pitch, a new main stand and seating behind each goal.
While planning still takes place – the adjoining faceless Phibsborough shopping centre also needs addressing – The Bohs play at what was once a 40,000-capacity stadium. Here Liam Brady and Johnny Giles made their Ireland debuts and Beckenbauer, Gullit and Paolo Rossi played international matches.
Today's capacity is around 4,000 and only the newest, main Jodi Stand is in full use, roofed and all-seated. Away fans in small numbers will also be accommodated here – for derby games with Dublin clubs, the open seating at the front of the Des Kelly Carpets Stand aka the Shed End, is allocated.
The old-school feel is accentuated by the floodlights, installed at Highbury in 1951 and shipped to Dublin a decade later.
Getting to the ground – tips and timings
Several buses run up to Phibsborough from the city centre. The main ones, the 4 (direction Harristown) and the 9 (direction Charlestown), leave from diagonally opposite the Savoy Cinema on O'Connell Street and take 10-15mins to reach Phibsborough Shopping Centre. The 46A stops 50 yards further up O'Connell Street at Cathal Brugha Street and continues to St Peter's Church, closer to Dalymount's main entrance, accessed down a narrow alleyway from the North Circular Road.
These services run every 15-20mins, the 4 hourly Sun.
Alternatively, the Phibsborough stop on the LUAS line, a short hop from the city centre, is a 7-8min walk from the stadium – head for St Peter's Church, cross over the main road and head down the next alleyway on the left.
Buying tickets – when, where, how and how much
Tickets are available online for all home league games for the upcoming season.
Pay-on-the-night admission is through the main entrance down the narrow alleyway off the North Circular Road, close to St Peter's Church.
Prices are set at €15, €10 for over-65s and students, €5 for under-12s.
Shirts, kits, merchandise and gifts
Merchandise available on match nights includes a selection of club badges, scarves, home shirts and tracksuit jackets. The shop, by the main entrance, is also open Mon-Fri 9.30am-12.30pm.
Pre-match beers for fans and casual visitors
Traditional pubs have been in place at Doyle's Corner by Dalymount Park for more than a century. The Bohemian (66 Phibsborough Road) was built for owner John Doyle in 1907. Facing it at No.160, John Doyle's is similar in style and heritage and goes big on TV football.
Beside Doyle's at No.159, The Hut dates back to 1852 and does honest pub food, beef stew, roast lamb and the like. If you're with the kids, then they might prefer chain diner outlet Eddie Rockets, built into the Phibsborough Shopping Centre adjoining the stadium, and open way late at weekends.
On match nights, three bars operate under the main Jodi Stand. With its three large-screen TVs, jukebox and pool table, the Members' Bar is open to all. It also operates Friday and Saturday nights, and Sunday lunchtimes. 
For home fans and neutrals, the Phoenix Bar puts on post-match live acts and DJs. Renovated in 2017, the Jackie Jameson Bar is a more comfortable spot for home fans.