The field of dreams – and the stands around it
Named after a national campaign against bullying, the Friends Arena opened in 2012 as Sweden's national stadium, replacing the nearby Råsunda of 1958 World Cup legend. De facto home of the 'Blågult' for the majority of Sweden's international fixtures from 1911, the Råsunda was set in the district of the same name in Solna, north of central Stockholm.
Further north, between two lakes and a main rail line, the Friends Arena now centrepieces a recently created leisure, retail and residential hub, Arenastaden, that will have its own station on the T-bana network, as well as 2,000 flats. Already unveiled since the stadium opened are a 399-room hotel with a 25th-floor panoramic bar, and the biggest mall in Scandinavia, somewhat prosaically named Mall of Scandinavia.
With a quick-opening retractable roof, the flexible Friends Arena is a year-round operation, regular home ground of former Råsunda tenants AIK and a multi-purpose events and music venue. Its attendance records were set early on, first by the near-capacity 50,000 crowd who witnessed a wonder goal, one of four that night, by Zlatan Ibrahimović for Sweden against England, then by Bruce Springsteen, who attracted 56,840 here six months later in May 2013.
For all its success as a multi-functional resource for the 21st century, the Friends Arena came under fire in May 2017 when ticket allocations for the Europa League final were revealed: under 10,000 per club for Manchester United and Ajax respectively, in a stadium that holds more than twice as many spectators than the two sets of supporters combined. The contrast with the Råsunda, engulfed in football fever during Sweden's run to the 1958 World Cup Final, couldn't be more pronounced.
Today's new-build venue is laid out in three storeys, läktare, the middle level mainly for reserved for VIP seats and the Business Club. Sectors 101-140 are at pitch level, 301-340 on the third upper level. Entrances (entré) are indicated by letters, E and F for the north (Norra) end, A and B for the south (Södra) end. For AIK and Sweden fixtures, K in one corner of the south end is allocated to visiting supporters.
For showcase games, such as the 2017 Europa League Final, each team is allocated part of one end – for Manchester United, this is the south (Södra), through entrances A, K and Hx.
Entrances C and D are for the main West (Västra) Stand on Evenemangsgatan, and G and H for the facing East (Östra) Stand.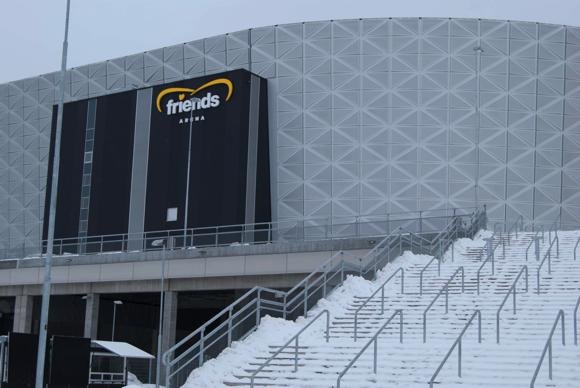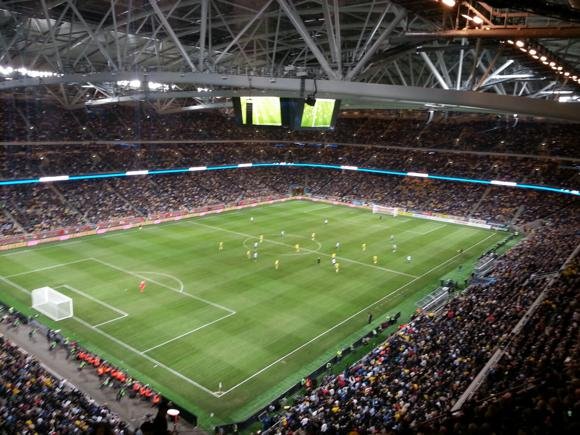 Going to the stadium – tips and timings
The easiest way to the Friends Arena is by commuter train (pendeltag) to Solna. From Stockholm Central, Solna is two stops and less than 10mins away – you need line 36 (destination Märsta) or line 38 (destination Uppsala). From Solna, the stadium is 400 metres away – you can see it as you turn right out of the station, before crossing the bridge and heading first right up Dalvägen.
Many still use Solna Centrum T-bana, closer to the old Råsunda, as their favourite bars are still there. On the blue line (direction Akalla) from Stockholm Central, Solna Centrum is 15mins away – sit in the front carriage. Exiting Solna Centrum station doors you arrive in a tunnel – take the exit marked Råsunda/Solna Centrum straight ahead, follow it, then the next left brings you to another, shorter underpass and the site of the old Råsunda Stadium. Keeping the Råsunda to your left but walking on the right-hand side of the road, turn right into Bollgatan, which brings you to Östervägen. Crossing Råsundavägen, you veer right into Vintervägen and you're at the Friends Arena. Allow a good 15mins.
If you're enjoying pre-match beers around Odenplan in Vasastan, buses 70 and 515 will also take you to Solna local train station.
Special buses 101 and 102 are also laid on from Mörby and Sundbyberg stations.
A taxi from the city centre should cost around 250Skr.
Buying tickets – when, where, how and how much
The main ticket office (Biljettkassa, Mon-Fri 9am-1pm and on match days/nights) is by entré A in the South Stand. The Friends Arena also distributes according to each event on its homepage. Swedish Ticketmaster also offers online sales. For domestic fixtures, AIK distribute online through the Friends Arena site. For Sweden's international teams at all levels, tickets are sold through the FA's Swedish-only website.
Followers of visiting national teams should check with their own FA website for ticket prices and information.
For AIK's domestic fixtures, standing tickets in the north (Norra) end are available at Skr149, the same price away fans are charged in sectors 103-107. It's just over Skr200 to sit in the north end, Skr 300-350 to sit along the sideline, Långsida.
Explore the stadium inside and out
Free guided Arena Tours take place on Saturdays and Sundays at 1pm, provided there's no other event on – just ask at the ticket office by Entré A. Visits are suitable for all ages, though bear in mind that there are long corridors and sets of steps to negotiate. Commentary is in Swedish and English.
Pre-match beers for away fans and casual visitors
Many local fans still frequent the bars where the Råsunda used to be. The classic venue is the Dick Turpin Pub at Solnavägen 55, close to the junction with Råsundavägen, about 1km from the Mall of Scandinavia on the city side of the Friends Arena. With TV screens, Guinness, Falcon Export, Staropramen on draught and a range of whiskies from Ardbeg ten to Yamazaki 12, it's always a popular pre-match choice. Open from mid-afternoon.
Round the corner at No.104B, the East End Company has expanded its remit from restaurant to restaurant-and-sports-bar, with a burger menu, darts and billiards.
On the south side of the former Råsunda, in the Solna Centrum mall close to the T-bana station of the same name, Offside is a standard sports bar/burger restaurant based on the popular local O'Learys model.
At the Friends Arena, the main outlet is by Entré A (south/Södra side) , the weekday lunchtime Bistro 1847 that turns into the Carlsberg Bar & Bistro on match nights. Admission is limited to those with tickets for läktare ('level') 1 – those in 2 or 3 have to use the kiosks.
Those in the north/Norra end can take advantage of the North Bar.