A fan's guide – the club from early doors to today
Forever associated with the adventurous side created by David Pleat in the 1980s, Luton Town have come through near disappearance to rise back up the league pyramid. Two promotions in as many seasons lifted the Hatters into the second tier, over a decade after they left it. During this time, irresponsible ownership all but broke the club, which sank into the Conference, only to be rescued by a supporters' trust. 
Although it's a far cry from back-to-back finals at Wembley and top-ten finishes in the top flight, the future seems bright at Luton, now looking to build a new stadium right in town and leave behind cramped Kenilworth Road.
Luton were one of the 21 clubs from the entire Southern League granted en-masse membership of the new Third Division in 1920. The Hatters, formed in 1885, had already dipped their toes in Division Two and competed in each year's FA Cup, without progressing too far in either.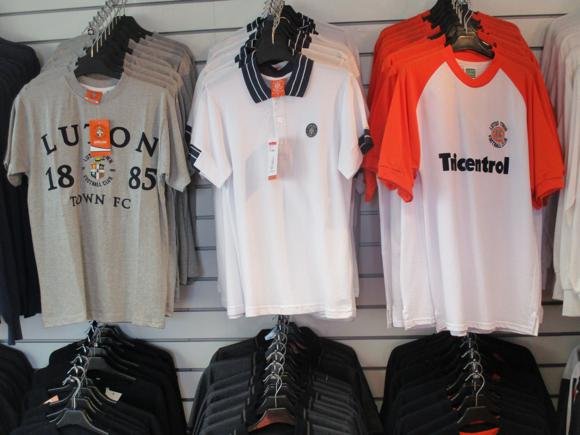 Key figure of the day was Ernie Sims, his leg shattered in World War I, who would sneak into Kenilworth Road at night in order to continue training on his own. Rewarded with a renewed contract, he repaid with 34 goals that first League season and became the first forward to win an England cap while at a Third Division team.
Buying and developing Kenilworth Road in the 1930s, Luton won Division Three South in 1937, 55 of their 103 goals coming from Joe Payne. The England international scored ten times in one match against Bristol Rovers, a Football League record.
With centre-half Syd Owen as captain, Luton gained promotion to the First Division in 1955 and, with Owen also as player-manager, reached their only FA Cup final four years later. In Owen's last appearance, Luton lost 2-1 to a nine-man Nottingham Forest bedevilled by injuries during the game. A late miss by Northern Ireland international Billy Bingham was the Hatters' last hope of a leveller. With Forest on the ropes, Luton needed a proven goalscorer – and the directors had left out club record holder Gordon Turner.
After Owen joined Don Revie at Leeds, Luton went into a decade-long decline, reversed by manager Alec Stock, centre-forward Malcolm Macdonald and comedian Eric Morecambe. Stock, having steered Third Division QPR to a League Cup win in 1967, had spotted underused full-back Macdonald at Fulham. Converting him into a centre-forward, he got 25 goals out of him in 1969-70 to take Luton back to the Second Division. Morecambe, a resident of nearby Harpenden, had become enamoured with the club and became a celebrity director.
Funds remained low, though, despite the sale of Macdonald to Newcastle and talented midfielder Peter Anderson to Antwerp. Fortunes changed with the promotion of former Luton winger David Pleat from coaching assistant to manager in 1978.
Pleat had already spotted a mercurial Ricky Hill playing for his school team. He signed unknown Larne full-back Mal Donaghy and wizened Bob Hatton as a strike partner for a young Brian Stein, switching him from winger to forward. Reaching Division One in 1982, Pleat's team struggled. Needing a win at fellow relegation battlers Manchester City on the last day, the Hatters escaped the drop with a late strike by Raddy Antić, inspiring a jubilant canter by Pleat in an unfashionable suit across the Maine Road pitch.
Partnered by Paul Walsh then Mick Harford, Stein and team slowly fared better with the big boys. Overcoming a horrific riot at home to Millwall in the Sixth Round, Luton pushed all-conquering Everton to the wire in the FA Cup semi-final of 1985, falling to a late equaliser then the winner in extra-time.
After hooligans had ravaged Luton's stadium and surroundings, club chairman, the Thatcherite David Evans, declared a ban on away fans and a membership scheme for home ones. This, coupled with an artificial surface, made Luton Town pariahs in the football world – even though they were victims the day that Millwall marauded. Good faith was lost and many season-ticket holders never returned.
Pleat left in 1986, his team still in place. Under Ray Harford, Luton reached the League Cup final in 1988, a thrilling tie bookended by goals from Brian Stein and heroics from goalkeeper Andy Dibble to keep favourites Arsenal at bay. Stein had left for Caen before the Hatters returned to Wembley to defend their trophy a year later, a 3-1 defeat to Nottingham Forest. This was Ricky Hill's swansong before he, too, left for France.
Pleat returned in 1991, persuading Stein and Harford back, but the good times had gone. Relegated in Pleat's first season, a last-day reverse of the scenes of 1983, Luton missed out on the impending money-spinning Premier League – and haven't really recovered since.
Constant battles for survival on and off the pitch saw the formation of the Trust In Luton supporters' co-operative, who forced out controversial owner John Gurney in 2003. Despite the club's promotion to the Championship in 2005, a series of points deductions gradually condemned Luton to the Conference after illegal payments by Gurney's successor, Bill Tomlins, came to light.
The fatal last punishment, a draconian 30 points, almost made the 2008-09 campaign worthless – except for the morale-boosting win of the Football League Trophy at Wembley.
Manager that day, Mick Harford stayed on following relegation but failed to raise Luton's game in the Conference. After a string of play-off defeats and managerial changes, in 2013 Luton hired attitude-focused John Still, who led Luton to the Conference title in his first full season. Among the 100-plus goal haul were 30 by previously sidelined Andre Gray.
Gray left for Brentford, Still stayed, but Luton missed out on the 2015 play-offs. A poor start to 2015-16 saw Still depart amid a chorus of boos, later muted by the steady presence of replacement Nathan Jones.
It proved a vital hire, along with journeyman striker Danny Hylton, whose goals lifted Luton into the 2017 League Two play-offs. Although a ding-dong battle with Blackpool was settled by a last-minute own goal, the Tangerines going to Wembley 6-5 on aggregate, astute signings by Jones and consistency in the box from Hylton assured Town of automatic promotion to League One in 2018.
By then, chairman and TV presenter Nick Owen, who had overseen his boyhood club through its darkest days, had stepped down and a group of lifelong fans, including former Trust In Luton director Gary Sweet, were planning ahead. In the pipeline was a new stadium at Power Court, on the site of a former power station right in the town centre. Linked to the project is another, the retail and leisure complex Newlands Park, whose profits will help fund the football-focused initiative.
After Stoke poached Jones halfway through the 2018-19, ever-loyal Mick Harford stepped into the breach and assuaged any guilt he might have felt about his last stint, when he couldn't save Luton from dropping out of the League, by taking Town on a long unbeaten run until April, and another automatic promotion. This time goals came from both Hylton and Irish international James Collins.
Harford and Collins again proved to be the saviours after Luton's disastrous start in the second tier, the stalwart stepping in to lead Town to safety from the spring, and the former Crawley forward notching vital goals, none more than a last-minute penalty to deny Jones' Stoke all three points in February.
Realising the error of his move, Jones returned to Kenilworth Road for the steadier 2020-21 campaign.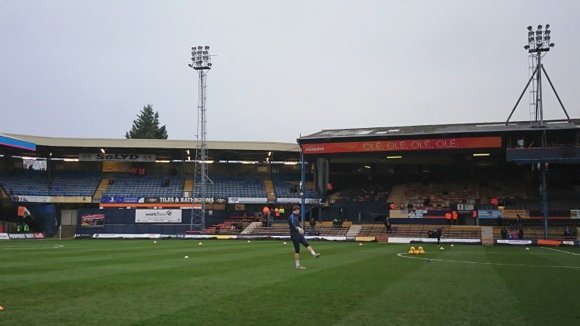 The field of dreams – and the stands around it
The club that banned away fans from Kenilworth Road nearly 40 years ago now preside over one of the most poorly facilitated grounds in the league. With its narrow-alleyway access for away fans, obstructive pillars and limited leg room, it feels like something out of the 1960s.
The good news is that the club is on the move, to Power Court, right in town, and with a proposed opening date of 2024.
In the meantime, Luton are unlikely to be spending significant sums of money on their home since 1905. Away fans are usually allocated the bulk of the Oak Road Stand, requiring that undignified shuffle through a litter-strewn alleyway by people's back gardens. One side, the former Bobbers Stand, is how executive boxes looked back in 1986. Opposite, the main stand, fronted by long communal benches, only runs to the edge of the penalty box that spreads out before the Kenilworth Road end.
The rest of this side is occupied by the David Preece Stand, family-friendly and closest to the Luton-Dunstable Busway line.
Capacity is an all-seated 10,070, the smallest in the Championship, 2021-22.
Going to the ground – tips and timings
All cramped and antiquated once you get there, Kenilworth Road is connected by one of the most swish transport links of any Football League destination. The Luton-Dunstable Busway A zooms up on its own track the bus Interchange alongside Luton station, journey time to Clifton Road 2mins. Line 31 takes the same route, Line Z serves the Interchange and Clifton Road via the Galaxy Centre, so takes a couple of minutes longer.
Once at Clifton Road, cross over the tracks and the main reception is ahead of you, Oak Road to your left.
Several buses also run along Dunstable Road on the Bury Park side of the ground – it's also a 15min walk to the station via this route.
The sat nav code for Kenilworth Road is LU4 8AW. The nearest parking for away fans is at the Beech Hill Conservative Club (LU4 8HZ), also a pre-match bar, tucked away at 18A Leagrave Road, which charges £5, pay inside. The ground is a short walk down Oak Road, where you find the away entrance. 
There's also a multi-storey car park at Luton station (Station Road, LU1 2LT), with off-peak weekday day rates of £3.65/£2.70, and weekend ones of £2.90.
Buying tickets – when, where, how and how much
The main ticket office (Mon-Tue, Thur-Fri 10am-3pm, home-match Sat 10am-kick off, after final whistle, away-match Sat 9am-noon) is behind the Kenilworth Road stand, accessible from the top of Hazelbury Crescent or via a series of narrow alleys from Oak Road. The club shop (Mon-Fri 10am-4pm, Sat 9am-4pm) on Park Street in the town centre also distributes. There are also phone bookings (01582 416 976, same hours as ticket office) – tickets to be picked up from the office on match days – and online sales.
Prices fall into three match categories (A-C, £20-£32) but don't differ around the ground. Over-65s and 18-21s pay £15-£24, 10-17s £6-£12. Accompanied under-10s are charged £3-£9 and, in a nice touch (why don't more clubs do this?), there's a special rate for 'golden seniors', over-75s, who pay £12-£21, the same rate as 17-19s.
Shirts, kits, merchandise and gifts
Luton have two outlets, one at the ground (Mon-Fri 10am-5pm, home-match Sat 9am-kick off, after final whistle) behind the Kenilworth Road end, one in Park Street (Mon-Fri 10am-4pm, Sat 9am-4pm) in the town centre, where it doglegs into Church Street. 
Current first kit is orange with white trim, change strip a somewhat Jackson Pollocky job of blue, red and black streaks, third choice plain white as was worn by many Luton sides in the past. Curiously, there's a different sponsor for each one, perhaps a more lucrative policy to be adopted elsewhere.
Sadly there's no straw boaters – nor kipper ties as worn by David Pleat during his legendary canter at Maine Road in 1983.
Pre-match beers for fans and casual visitors
The area between the ground and the railway line, Bury Park, is dotted with mosques and visibly Muslim – there are no pubs.
There is, though, a great little Afro-Caribbean restaurant beside Lidl, tucked at the bottom of Francis Street, set back from Dunstable Road by the flyover. Kabanas opens from the afternoon and runs till late, offering piri-piri chicken burgers, jerk chicken wings and curried-goat stew, standard lagers and games of pool.
Closer to the ground and more commonly used pre-match, the Beech Hill Conservative Club is tucked behind the busy junction of Oak Road Dunstable Road and Leagrave Road, beside a carpet warehouse. It has the look and feel of a social club, charging non-members for admission but providing standard beers at friendly prices.
In the ground, visiting supporters have their own Away Fans Bar at the front of the Oak Road Stand, a small, bare cellar. Home fans have the Bobbers Club, accessed via Oak Road. Payment around the ground is cashless.
If you're in town the night before the game, there's also decent stand-up on the first Friday of the month at the Specs Comedy club in the Eric Morecambe Suite.