A fan's guide – the club from early doors to today
A play-off from promotion to the Scottish Championship in 2016, Peterhead FC have come a long way since the days of the Highland League and Aberdeenshire Cup. Elected to the Scottish League in 2000, partly on the strength of opening a new stadium three years before, the Blue Toon have been a credit to the regional game – despite regular disappointment at the play-off stage.
Loyal fans of Stranraer, Ayr and Berwick, meanwhile, might baulk at the long journeys to this far tip of north-east Scotland, but Peterhead is a fine, friendly day out.
Founded in 1890, installed at Recreation Park a year later, Peterhead first played in the Aberdeenshire League, joined the Highland League in 1931, winning the regional title three times immediately after the war.
Continuing a bitter rivalry with nearby Fraserburgh, the Blue Toon won regular Aberdeenshire Cups but not the Highland League again until the late 1980s.
With the successful accession of Inverness Caledonian Thistle to the Scottish League in 1994, other prominent clubs in the far north began to weigh up the pros and cons of regular football with clubs in Scotland's Central Belt.
Able to field a decent side under former Leicester and Scotland midfielder Ian Wilson, Peterhead then took the bold step of choosing to build a new ground. A new era began in 1997, a few hundred yards up a gentle slope out of town from the club's former home of Recreation Park. With two neat, modern stands running along the sidelines, Balmoor stood head and shoulders above most other grounds then staging Third Division football and provided a powerful argument for Peterhead's league accession.
Bidding farewell to Boxing Day fixtures with Fraserburgh, Ian Wilson's men took on the likes of Hamilton and Dumbarton and finished in mid-table position. Knocking on the door of the Second for three seasons, the Blue Toon gained promotion in 2005.
Within one season, Peterhead came within a penalty shoot-out of a place in the second tier, Partick Thistle clawing back a 2-1 deficit after the first leg of the promotion play-off in Glasgow. The home tie ended in defeat by spot-kicks.
Picking up his managerial career after notorious drinking incidents while in charge of Aberdeen, it was down to Steve Paterson to lift the Peterhead side in 2006-07. Bringing the Blue Toon within a point of promotion in 2008, he handed over the reins to Neale Cooper of Aberdeen fame.
Again, Balmoor had to witness another play-off defeat, this time to Airdrie. Cooper's stint ended with a disastrous run in the 2010-11 season, and relegation.
In stepped Jim McInally, with bags of international experience with Dundee United and Scotland, and three years of lower-league football under his belt as recent manager of East Stirlingshire.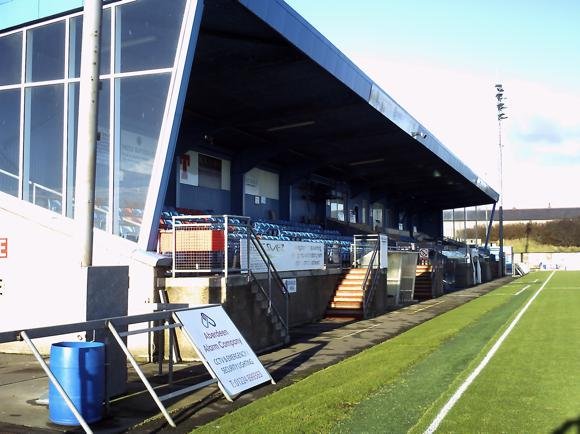 A year after a bumper crowd for the visit of Celtic in the Scottish Cup, nearly 5,000 squeezed into Balmoor for a league game with Rangers, doing penance in Scotland's lowest tier. That spring, Balmoor accommodated a near-2,000 crowd for the Second Division play-off with East Fife, pegged at 0-0 in the away leg. Yet again, Peterhead's luck ran out when most needed, the Fifers winning by a single goal after half-time.
Everything came together in 2013-14. With goals from Balmoor favourite Rory McAllister – known for his winning goal against Rangers at Ibrox the previous season – McInally's Peterhead topped League Two by 13 points and were promoted as champions.
With McAllister ever prolific – five goals in a 2015 Challenge Cup game at Falkirk stand out – Peterhead mounted a serious promotion challenge in the spring of 2016. With another play-off came another defeat, this time 4-1 at home to Ayr, easy winners at Balmoor.
McInally remains in place for 2016-17, as does McAllister – but the Blue Toon may have to wait until 2017-18 to break the promotional play-off hoodoo.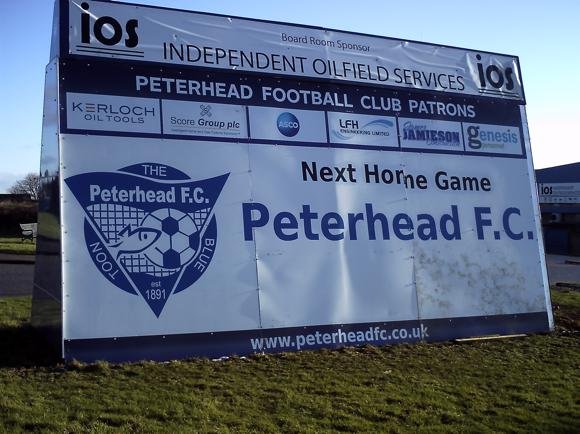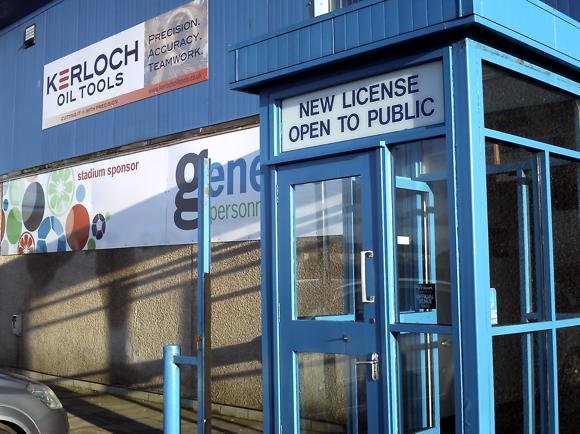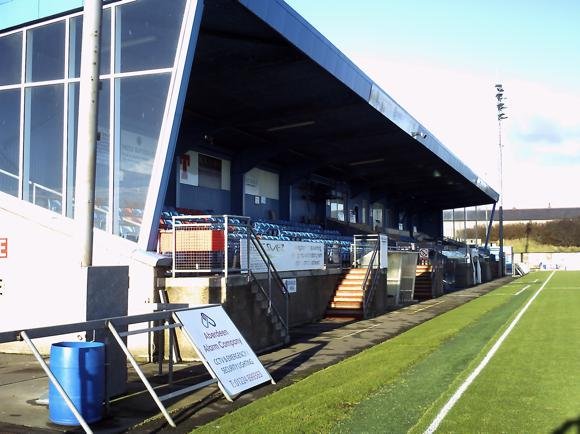 The field of dreams – and the stands around it
Opened in 1997, Balmoor is a simple, modern construct of two all-seated stands, East and West, along each sideline. Segregation is not usually required – if so, away fans are allocated the left side of the East Stand.
Capacity is around 3,000 but with four-figure attendances only witnessed for play-off games and big cup games, most matches involve a few hundred spectators occupying the two stands. If it's blowy, then the West Stand has windshields on each side.
Going to the ground – tips and timings
Balmoor is a 10min walk up Queen Street from the Peterhead Interchange bus terminus. Bus services from Aberdeen take between 1hr 10mins and 1hr 30mins, see Peterhead Transport for details. 
The ground does have its own bus stop on Balmoor Terrace, on the hourly 66 and 66A services, but it's hardly worth the wait.
Buying tickets – when, where, how and how much
Unlike many lower-league clubs in Scotland, Peterhead operate a ticket-only system at the turnstiles. Buy your ticket from the match-day office directly outside the main entrance to the ground.
Admission to either East or West Stand is £14, £12 to stand elsewhere. Concessionary rates are £8 and £6, accompanied under-12s charged £2 in either stand.
Shirts, kits, merchandise and gifts
On match days, a blue-fronted club shop operates by the main entrance, stocking a standard range of souvenirs and merchandise, all bearing the badge with the fish flying Viz-like into the goal.
Pre-match beers for fans and casual visitors
Bars at the far end of Queen Street are suitable as pre-match venues, particularly if you're coming in by bus.
The Station Bar, its name referring to the days when Peterhead was served by rail, is still a thriving pub, home to a keen darts team and always busy on a Saturday. Alongside, the Mayfair Bar is a bit more rough and ready. At the Albert Hotel, you'll find the Lemon Tree, the house bar open to non-guests but with restricted evening hours.
Balmoor is some 10min walk away. With no other pubs nearby, the Peterhead FC Social Club, set in the main stand, packs out with home and away fans on match days – just as well there's enough room for a decent selection of draught beers and a pool table.