A fan's guide – the club from formation to today
One half of what was the most bitter rivalry in MLS, the California Clásico, San Jose Earthquakes has the distinction of playing, and winning, the very first match in the league's history.
San Jose has come a long way since then, club owner Lew Wolff funding the $100 million construction of soccer-specific PayPal Park, opened in 2015, right by the boundary fence of San Jose International Airport. At the open north end of the ground, a vast double-sided video scoreboard displays the sponsor's name to passengers on taxing planes, as fans sit at what is claimed to be the longest open-air bar in North America, all 22 bartender stations of it.
In 2017, the US men's team played at PayPal Park for the first time, a vital World Cup qualifier against Honduras – the women had already won two friendlies there, before crowds at or close to capacity of 18,000.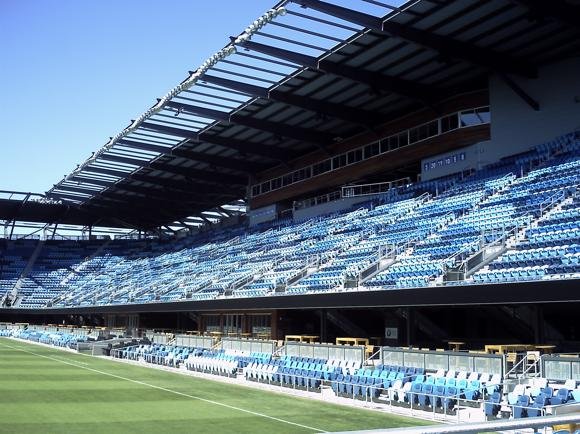 Back in 1996, and that inaugural MLS, the team representing the de facto capital of Silicon Valley was San Jose Clash, its home ground Spartan Stadium. The contrast with Southern Californian rivals LA Galaxy was already stark. Spartan Stadium was by far the smallest in the league, holding barely over 30,000. Galaxy was based at the Rose Bowl, the 92,500-capacity arena that had just hosted a World Cup final.
Nearly 30 years on, there's still a more homely feel to San Jose than you'd find amid the razzmatazz and opulence of its Galaxy rival 260 miles south.
The club became Earthquakes in 1999, a rebrand harking back to the old NASL days of the 1970s and George Best. Under-achieving San Jose Clash had imploded with its own clash of player personalities.
Earthquakes brought in British-Canadian coach Frank Yallop, who had started his lengthy playing career at Ipswich under Bobby Robson. His first master stroke was to sign Landon Donovan on a loan deal from Bayer Leverkusen, joined by defender Jeff Agoos, on the DC United team that played in that first MLS game with San Jose before going on to win the title in 1996.
Yallop's assistant coach was Glasgow-born Dominic Kinnear, a former San Jose player and 54-time US international.
In his initial season, Yallop led Earthquakes to a first MLS Cup, a satisfying 2-1 win over Galaxy in overtime. In cloudy Columbus, a Donovan strike before halftime canceled out an LA lead before a Golden Goal from Canadian international Dwayne De Rosario took the trophy to San Jose. Ironically, though, Earthquakes had the lowest average gate of the whole 12-team league, under 10,000.
Two years later, the most dramatic California Clásico produced a 5-2 scoreline at Spartan Stadium in the Western Conference Semifinal. Earthquakes not only overturned a 2-0 Galaxy defeat in LA but a 2-0 early lead in the second leg to roar back thanks to a 90th-minute aggregate equaliser from Chris Roner. 
In what has become known as the greatest comeback in MLS history, San Jose then beat Galaxy with a Golden Goal from little-used squad member Rodrigo Faria. All this action took place in front of a half-full Spartan Stadium.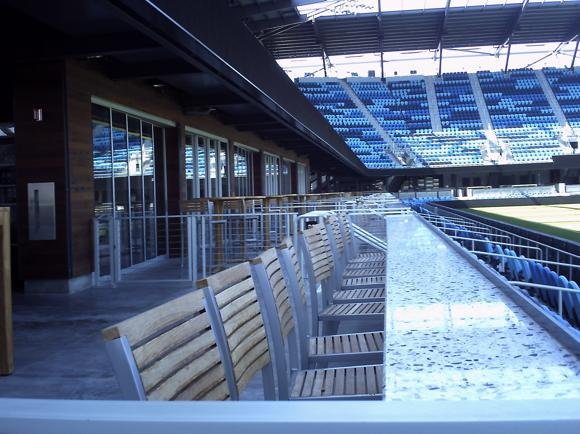 Another poorly attended cliffhanger saw Landon Donovan grab the Golden Goal to beat Kansas City 3-2 in the Western Conference Final. Donovan then hit two against Chicago Fire to help San Jose to a 4-2 win and a second MLS Cup – at LA Galaxy's home of the Home Depot Center.
Kansas gained revenge over San Jose with a 92nd-minute winner in the Western Conference Semifinal of 2004. With a crowd of 8,000-plus for the home game, it was clear that the Earthquakes formula wasn't working. Behind the scenes, a botched rebranding eventually led to incoming general manager Alexi Lalas to help relocate the club to Houston – this, along with effectively selling Landon Donovan to LA Galaxy.
In stepped Lew Wolff. While now head coach Dominic Kinnear and former Earthquakes team won the MLS Cup as Houston Dynamo in 2006, urban redevelopment mogul bought the option for the Earthquakes MLS franchise. With Dwayne De Rosario as man-of-the-match, Dynamo won another MLS Cup in 2007 and Kinnear would stay at Houston until 2014.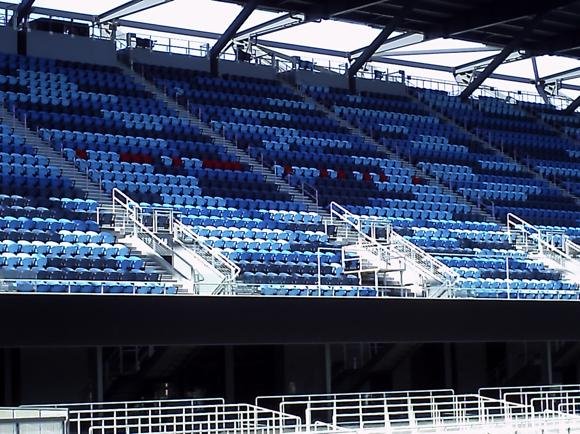 Back in San Jose, Wolff relaunched Earthquakes in 2008 with the same colors, logo and records as before. He even persuaded Frank Yallop back.
As for a venue, Earthquakes set up at the soccer ground of Santa Clara University, the Buck Shaw Stadium, making improvements and raising the capacity to a notch over 10,000. The winning Brazilian practised here before the 1994 World Cup – but this was, again, a modest home by comparison to other MLS arenas.
By chance, it's just across ACE rail line from today's PayPal Park.
After the restart in 2008, Earthquakes struggled to find form and retain key players. Keeping faith in Yallop, the club made the Playoffs in 2010, losing narrowly to Colorado Rapids.
Despite Supporters' Shield-winning form in the regular 2012 season, San Jose fell to a rampant Robbie Keane in the Western Conference Playoff Semifinal, Galaxy having the last laugh after Earthquakes had gained a 94th-minute victory in LA. The following year, a revenge 3-2 stoppage-time Clásico win, reversing a 2-0 deficit, wasn't enough to lift Earthquakes into the Playoffs.
In 2015, Dominic Kinnear returned, the club buoyed by the opening of a new stadium. After nearly 20 years of MLS action, the club at last had a soccer-specific home to go to. For MLS 2017, Italian general manager Jesse Fioranelli arrived from Serie A as the Quakes looked to raise their game in the fields of scouting and youth development.
Replacing Kinnear with coach Chris Leitch worked fine in the short term, with satisfying Clásico wins over LA Galaxy and a penalty shootout defeat to Kansas City in the Semifinal of the Open Cup, but a 5-0 loss to Vancouver in the Playoffs spelled the end for the former Quakes defender. 
The only highlight of otherwise disastrous campaigns since has been the continued sparkling form of evergreen striker Chris Wondolowski, who continued setting records until beating Landon Donovan's MLS total of 145 goals in 2019. His last game, in November 2021, also saw Wondo's last MLS goal, his 171st.
The field of dreams – and the stands around it
It has been a long time coming but the opening of PayPal Park on the eve of MLS 2015 has put an end to San Jose Earthquakes playing in front of four-figure crowds at college sports grounds.
This is soccer watching as never before in MLS.
Set beside San Jose International Airport and the rail line that serves California, PayPal Park is perfectly connected for the slowly burgeoning breed of traveling soccer fan. Away support for the California Clásico with LA Galaxy is a given, with trouble breaking out at one game in 2012, at the Buck Shaw Stadium not half a mile away.
PayPal Park is unique in that it was the first in MLS to have a safe standing section, in the home South Stand, plus patio seating, with tables, paid for by the season. Steep sightlines surround all four sides – including the open fan zone around the signature bar, stretching 300-plus feet below the video scoreboard. The concourse in the main West Stand features high-tech screens displaying fans' Tweets as they are sent.
This is a soccer stadium for the 21st century.
Visiting supporters are allocated the top of sector 134 nearest the north, Scoreboard End. Designated Earthquakes Supporters' Group sectors are 117 and 118.
Going to the stadium – tips and timings
Close to PayPal Park, San Jose International Airport and multi-connected Santa Clara station are linked by local VTA bus 10, via Coleman & Earthquakes, the designated soccer stop a few minutes' ride from either.
Weekend and evening services run every 30mins.
For major games, including internationals, VTA bus 231 also operates every 15min from downtown Santa Clara & 1st, and Market & St John by bar-lined San Pedro Square, journey time 20min.
A Single Ride is $2, paid on board. For a Day Pass ($6) you need a rechargeable Clipper Card. You can also pre-purchase through the VTA mobile app EventTIK, a better buy when traveling as a group.
If you're coming by Caltrain to Santa Clara from San Francisco, there's an integrated ticket with a VTA Day Pass for an extra $6. Other rail services using Santa Clara include ACE, Amtrak and Capital Corridor.
Coming back after the match, the boarding location for each bus service, the 10 to Santa Clara/airport, the 232 to downtown San Jose, is by the main entrance, on the west side of the big scoreboard, ie not the side with the gas station on it.
By car, you're heading for PayPal Park 1123 Colman Ave, San Jose CA 95110. From San Jose, take Highway 87 Northbound, merge onto Highway 101 Northbound, take the Trimble Rd/De La Cruz Blvd exit 391, merge left onto W Trimble Rd and continue onto De La Cruz Blvd, then take a slight left onto Coleman Ave – signs will lead you to Avaya Stadium. From San Francisco, take Highway 101 Southbound.
Parking lots open four hours before kickoff. Silver Silver Parking is $20, $15 in the Overflow behind VIP Parking.
When, where, how, and how much
With the first games of 2017 an 18,000-capacity sell-out, availability is now most certainly an issue. Single-match sales for the whole season are distributed online but get in quick. For any that may still be available, the Will Call and ticket offices beside Earthquakes Way open 2hrs or so before kickoff.
Premium and center circle seats are priced around $70. Sideline seats are around $50-$70, Corner Flag $35-$60, End Zone $30, supporters' sections $28. Visiting supporters are charged around $35.
For more information, call 408-556-7700.
Jerseys, souvenirs, and all kinds of gear
The club has two outlets, a store at the stadium (Mon-Fri 10am-3pm, 2hrs before kickoff) and a kiosk on the first floor of Westfield Oakridge mall (Mon-Thur 10am-9pm, Fri-Sat 10am-10pm, Sun 11am-7.30pm) south of San Jose, enter through Sears or Macy's.
Primary (black/blue) and secondary (red/white) jerseys can be customized by player, you'll find Earthquakes shades, USBs, keyboards and chargers, cooler bags and growlers for tailgating, and 'Forward As One' hoodies.
Explore the ground inside and out
Stadium tours are available Mon-Fri 9am-5pm except on match days. Contact through the Chat Now link on the club website.
Enjoy the full matchday experience
Anywhere but VIP Parking is fair game for tailgating. There's plenty in Silver Lot where the Ultras meet, while long-established Casbah and The Faultline of more recent seasons gather in Gold Lot.
Matchday beers at the stadium and downtown
The longest outdoor bar in America is no idle boast – and that's what stretches under the scoreboard at the north end of PayPal Park. Manned by 30-plus bartenders, facilitated by 18 HD TVs, the Scoreboard Bar has provided the signature wow factor since the stadium opening in 2015. Earthquakes supporters in the South Stand can also avail themselves of the Beers of the World stand with a rotating selection of global brews.
For prematch, the stadium location out by the airport means that it's easier to drink around San Pedro Square downtown. And if the 231 stadium bus is running, it calls at Market & St John alongside.
The San Pedro Square Market Bar itself is a fine place to start, an abundance of ales, beers, wines and cocktails, a world of food, rows of TVs showing sports and, most of all, all kinds of people passing by to enjoy them. Live music on weekends too.
Around the corner, Peggy Sue's is all retro and quality burgers, Firehouse No.1 is a notch-above gastro pub lined with craft beers, while the Old Wagon Saloon & Grill is a chain and feels like it, but shows sports.
As for expat-type pubs, nearby on W St Clara Street The Brit, aka Britannia Arms, is prime sports territory, with drinks specials on Sunday, Monday and Tuesday nights. DJs spin Thursdays through Saturdays. Happy hours are currently Mondays through Fridays, 4pm-7pm. 
Back on San Pedro Square, O'Flaherty's puts the focus on beer, all 54 taps of it, with rotating import craft brews, plus the largest selection of whiskeys in town. The kitchen runs seven days a week. Game Day here is mainly geared to NFL, Sharks hockey and baseball.
Following the local soccer scene
1974 Milan Mandarić, a Yugoslav-born millionaire who made his fortune in computer components, brings soccer to San Jose. NASL team Earthquakes attracts near 20,000 crowds to Spartan Stadium. Gates later dwindle despite the two-season presence of a now wayward George Best.
1975 San Jose Earthquakes plays in MISL indoor soccer at Cow Palace, winning inaugural title. Best takes part before his move to Hong Kong in 1982.
1983 Team becomes Golden Bay Earthquakes but little change in form or gate revenue.
1985 With NASL collapse, renamed San Jose Earthquakes wins the Western Alliance Challenge Series against teams from Seattle, Portland and British Columbia in Canada, Victoria Riptides.
1986 WACS becomes Western Soccer Alliance, won by Hollywood Kickers. Earthquakes finishes below San Diego Nomads.
1987 San Jose Earthquakes loses to San Diego Nomads in WSA Final.
1988 Former San Jose striker Chance Fry scores the fifth of five unanswered goals as Seattle Storm whitewashes Earthquakes at the last WSA Final.
1989 Earthquakes becomes San Francisco Blackhawks for inaugural and doomed Western Soccer League. Loses to San Diego Nomads in Final. Players include Earthquakes' later long-term general manager John Doyle and current coach Dominic Kinnear.
1990 WSL merges with West Coast American Soccer League to create the American Professional Soccer League. Blackhawks loses Final to Maryland Bays on penalty kicks. Defender Marcelo Balboa, later the first US international to reach 100 caps, begins professional career at Spartan Stadium. Blackhawks wins trophy in 1991 over Albany Capitals.
1992 Blackhawks hits the big time with appearance in CONCACAF Champions' Cup, losing to Mexico's Club América featuring national hero Hugo Sánchez after successful career at Real Madrid.
1993 Blackhawks renamed San Jose Hawks, playing in USISL.
1994 League-owned franchise San Jose Clash formed, based at Spartan Stadium.
1996 Clash plays inaugural MLS game, a 1-0 win over DC United, star player Eric Wynalda scoring the only goal. Club later reverts to name San Jose Earthquakes.
2015 Avaya Stadium opens, Earthquakes plays curtain-raising friendly with eternal rivals LA Galaxy.
2021 Stadium becomes PayPal Park as part of a new sponsorship deal.