A fan's guide – the club from early doors to today
Scunthorpe United have hit their worst slump in 70 years of league football. Without a win in their last ten games of 2020-21, the Iron came perilously close to falling into the fifth tier, and 2019-20 wasn't much better. The days of Championship football seem very far away indeed.
Back then, in 2010-11, Scunthorpe were facing Humber rivals and leaving fellow Lincolnshire clubs in their wake – both Grimsby and Lincoln City have experienced stints out of the Football League limelight in recent seasons. United's slide has since created a more level playing field around the flatlands of Lincolnshire.
Formed as Scunthorpe United in 1899, merged with North Lindsey United in 1910, the club turned professional to join the Midland Football League in 1912. Scunthorpe only entered the Football League in 1950 when it was expanded to 92 clubs.
A crowd of nearly 12,000 crammed into the club's long-term home of the Old Show Ground for the League debut, a 0-0 draw with fellow new boys Shrewsbury. Promoted to Division Two in 1958, now more concisely named Scunthorpe United spent six years taking on the likes of Liverpool, Aston Villa and Sunderland, achieving a highest-ever fourth place in 1962 – the year that Bill Shankly's team finished top.
Two years later, Scunthorpe finished bottom, just below local rivals Grimsby. It would be more than 40 years before the Iron would reach the second tier again.
Despite this extended stay in the bottom two divisions, United were not without the odd star name or two. In the first of his two spells as manager in the late 1960s, Ron Ashman nurtured a teenage Kevin Keegan before the later Liverpool hero followed another Scunthorpe discovery, goalkeeper Ray Clemence, to Anfield.
Somewhat more improbably, England cricket legend Ian Botham played a handful of games in the claret-and-blue of the Iron in 1980. He later had an executive lounge named in his honour at Glanford Park, the new-build that replaced the Old Show Ground in 1988. 
Despite decades in the doldrums, Scunthorpe were able to raise enough cash from various sources – including Glanford Council, the representative body for this pioneering out-of-town location – to construct a 9,000-capacity stadium. Soon afterwards came the Hillsborough Disaster, the Taylor Report and new stadiums by the score – but Glanford Park was the first of its kind.
The move inspired Scunthorpe, stuck in what would turn out to be a 15-year stay in the fourth tier, to reach the play-offs at least. After a 2-0 semi-final win over Crewe in 1992 at Glanford Park, the Iron ran out at Wembley for the first time, only to lose on penalties to Blackpool. Ironically, it was United's later manager Graham Alexander who was the first to miss a spot-kick for Scunthorpe.
Under another ex-United defender, Brian Laws, Scunthorpe at last won a play-off final in 1999. Overturning a 1-0 deficit with a 3-1 win over Swansea 3-1 in extra-time at Glanford Park thanks to two rare strikes from Gareth Sheldon, the Iron beat Leyton Orient 1-0 at Wembley. An early Sheldon cross allowed Alex Calvo García to glance in a header, sealing the Basque striker's legendary status with Scunthorpe fans. The former Real Sociedad reserve served the claret-and-blue for eight years, earning a testimonial that featured a number of Spanish internationals and later writing a warts-and-all memoir of his days at Glanford Park, Scunthorpe Til I Die.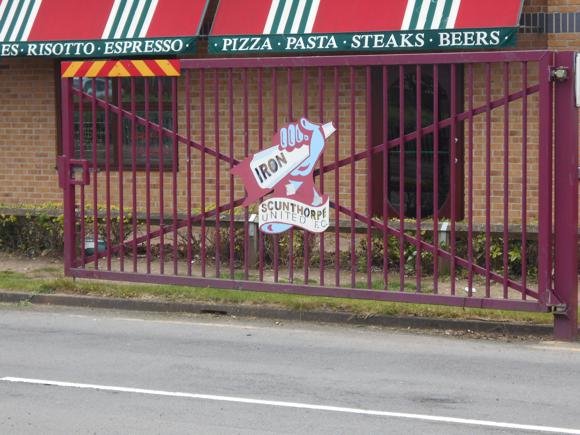 Laws led United to automatic promotion from League Two in 2005 then was poached by Sheffield Wednesday following a successful start to the 2006-07 campaign in League One. His replacement, club physio Nigel Adkins, went beyond expectations by winning the division with 91 points. After immediate relegation, Adkins got Scunthorpe back up to the Championship within one season, a last penalty miss by former Chelsea striker Tore André Flo sending United to Wembley at the expense of MK Dons in the play-off semi-final. 
In front of a near 60,000 crowd, in a hot and frantic final, Millwall's Gary Alexander scored two but missed a late sitter for Scunthorpe to run out 3-2 winners. Adkins kept United up for one season in the Championship then left for Southampton. Around the same time, Celtic signed Scunthorpe's top striker Gary Hooper, whose goals had kept the club afloat in the second tier. For The Iron, relegation in 2010-11 was the inevitable outcome.
Mediocre league form interspersed with the odd cup excitement – such as the 5-5 draw with Derby and subsequent 7-6 win on penalties in 2012 – prefaced the arrival of millionaire owner Peter Swann in 2013. Promoting Russ Wilcox from assistant to manager after sacking a returning Brian Laws, Swann saw his club return to League One in 2014 thanks to a record 28-game unbeaten run.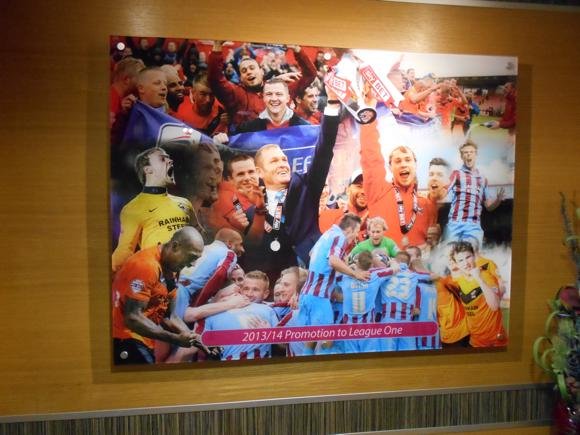 Within five months, Swann had sacked Wilcox and handed Mark Robins the task of keeping Scunthorpe up – which the former Manchester United striker managed to do. Planning to move the club from the original new-build Glanford Park to a newer new-build at the nearby Lincolnshire Lakes, Swann needed results. When Robins couldn't provide them, he hired Scunthorpe old boy Graham Alexander. 
Painfully close to a play-off final in 2016-17, Scunthorpe falling 3-2 at home to Millwall after a 0-0 draw away, Alexander was surprisingly replaced in March 2018 despite United sitting in the play-off spots. Filling in as caretaker, Nick Daws steered Scunthorpe into the final stage again but failed to overcome Rotherham in the semi-finals. Relegation in 2019 has been followed by desperately poor campaigns, with seemingly worse to come.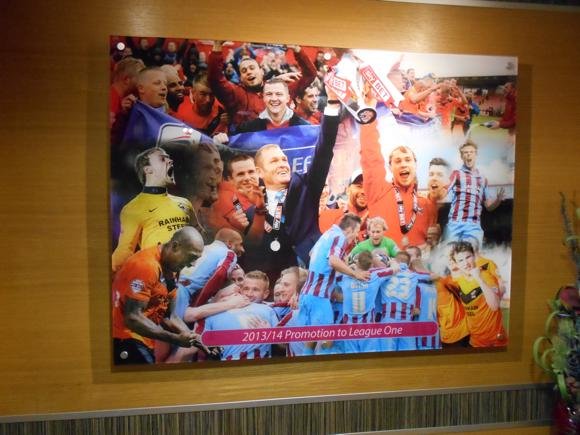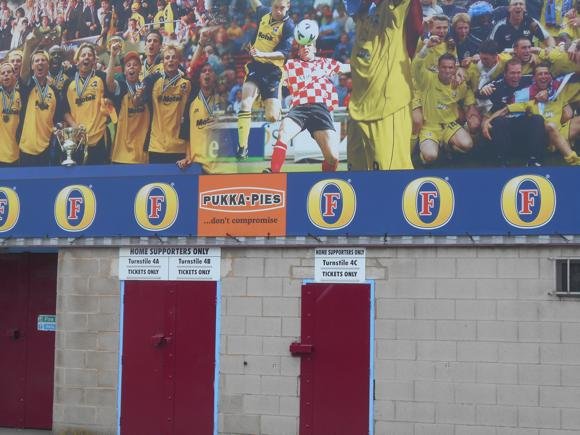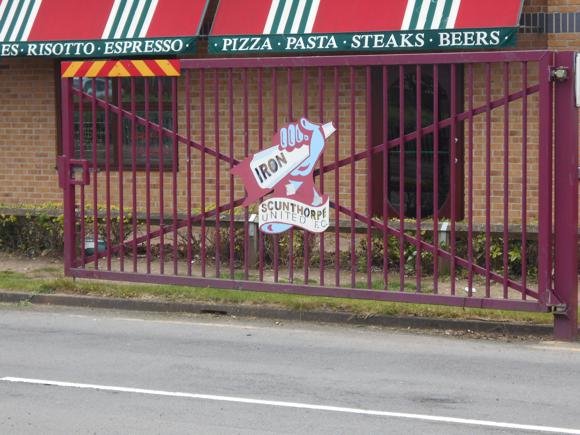 The field of dreams – and the stands around it
It's strange to think of Glanford Park as being ahead of its time as it now feels so dated – which is why the club was planning yet another new-build. For the time being, home fans stand at the Doncaster Road End (aka Britcon Stand), are away fans are treated to seats in the South (AMS) Stand, accessed through gates 6A-C and 7A-B. The two sideline stands are also all-seated, the ticket office and club shop located behind the main Easy Buy Stand. Opposite is the East Stand.
Capacity is a shade over 9,000, reached for a League Cup tie against Manchester United in 2010. Average gates hover around 4,000.
The ground is currently officially called the Sands Venue Stadium, named after the major Blackpool nightspot owned by Scunthorpe chairman, Peter Swann.
Going to the ground – tips and timings
Glanford Park is a long walk from the train station, at least 30mins. Local buses from the bus station in town head for the shopping and leisure complex – referred to as the Gallagher Retail Park on timetables – near the stadium 15mins away. Stagecoach buses 1/1A leave from Bay G every 30mins Mon-Sat and hourly Sun, running until late.
Ashby Cars (01724 644 444) quotes £6 from Scunthorpe train station to the stadium.
The sat nav code for Glanford Park is DN15 8TD. The club charges £5 to use the spacious car park behind by the East Stand, £4 in advance if booked through the SUFC website.
Buying tickets – when, where, how and how much
The ticket office (Mon-Tue, Thur-Fri 10am-4pm or until kick-off for eve games, match-day Sat 11am-5pm) is located by the club shop behind the main stand at Glanford Park. There are also sales by phone (01724 747 670) and online. For all enquiries, email sufctickets@scunthorpe-united.co.uk.
Prices fall into two categories, A games £1 dearer than B, and match-day admission £2-£3 more expensive. A seat for a category A game is £23/£26, £16/18 for over-65s and under-21s. A place on the Britcoin Stand terrace is £19/£22, £14/£16 for over-65s/under-21s. Under-18s pay £7/£9 to sit or stand, for under-12s, commendably, it's free.
Shirts, kits, merchandise and gifts
In the club shop (Mon-Tue, Thur-Fri 10am-4pm or until kick-off for eve games, match-day Sat 11am-5pm) behind the main stand you'll find Scunthorpe first-team tops of claret fading into blue, second-choice shirts of black with yellow tiger stripes, and third kit of white with a claret chest band. 
All kinds of souvenirs carry the somewhat dramatic club badge of a superhero hand clutching a girder with the word 'IRON' emblazoned across it, including towels, rucksacks and coffee mugs.
Pre-match beers for fans and casual visitors
The ground is surrounded by a retail park and its various chain restaurants. Among them the best option for home and away fans (no colours) is the Old Farmhouse, a family-friendly Hungry Horse venue, with big-screen sport and standard drinks and food.
With The Berkeley hotel and bar now closed, the only alternative is at the stadium, and the Iron Bar, invariably welcoming to visiting supporters, equipped with TV football.