A fan's guide – the club from early doors to today
Shamrock Rovers are Ireland's most titled team. Rescued from dissolution by their fans who now own the club, the Hoops eventually returned to their spiritual home of south Dublin, moved into the new-build Tallaght Stadium and won back-to-back Irish titles.
After becoming the first Irish side to reach the group stages in modern-day European competition in 2011, Rovers were overshadowed by Dundalk, but have recently roared back under the club's former midfielder, Stephen Bradley, still in his thirties.
Bring silverware back to south Dublin, Bradley's men took the FAI Cup in 2019, beating Dundalk on penalties after two late goals from each side. Fittingly, it was star player Jack Byrne who converted the first spot-kick, the Dublin-born attacking midfielder then picking up the Players' Player of the Year as Rovers went through the truncated 2020 season unbeaten to lift a first league title in nearly a decade.
The Hoops also gave Italian giants Milan a real fright at an empty Tallaght, probably the most important European fixture played there since Cristiano Ronaldo made his Real Madrid debut at the stadium's showcase opener in 2009.
Rovers successfully defended their crown in 2021 and look set to win three on the bounce as a nicely balanced group in the Conference League plays out in the autumn of 2022. 
The club was formed in Ringsend, inner south Dublin, in what is now thought to be 1899. Not involved in the inaugural League of Ireland of 1921-22, Rovers won the title at their first attempt the following season. Top scorer Bob Fullam then left for Leeds but the bullish Ringsend-born attacker returned to spearhead a forward line known as the Four Fs. Fellow forwards John Joe Flood and John 'Kruger' Fagan also earned caps for the Irish Free State – Billy Farrell, top league scorer in Rovers' second title-winning season of 1924-25, and again in 1925-26, when he suffered a career-ending motorbike crash.
That same year, the Hoops moved into Glenmalure Park in Milltown, opened with a Bob Fullam goal against Belfast Celtic. Winning the 1926-27 title unbeaten, Rovers continued to attract large crowds to Milltown, particularly for southside derby games with Shelbourne.
As a fiercer rivalry developed with northside Drumcondra, Rovers welcomed back Jimmy Dunne as player-manager, bookending successful stints at Sheffield United and Southampton with back-to-back Irish titles in the late 1930s.
After Dunne's sudden death in 1949, Paddy Coad assumed the responsibility as player-manager while still in his twenties. Bringing through players such as Liam Tuohy, later a major managerial figure for Rovers and Ireland, Coad coaxed the best out of his young team, capturing the public imagination with a swift passing game not yet seen in the domestic game.
Born of tragedy, Coad's Colts won three league titles and ushered in a new era of European football. With goals from Paddy Ambrose, signed as a 20 year old by Dunne and nurtured by Coad, Rovers gave notable performances at Old Trafford against the Busby Babes and at French champions Nice, both 3-2 defeats.
By the time Franz Beckenbauer's Bayern edged Rovers by the same score in Munich in 1966, Liam Tuohy had the Coad role, his mentor since headed to his native Waterford to win them their first title. Rovers were on a run of FAI Cup wins, the so-called Six in a Row side also featuring later Chelsea right-back Paddy Mulligan and strikers Mick Leech and Bobby Gilbert.
Tuohy's team also gained draws with Valencia and Real Zaragoza, and ran out as Boston Rovers for the one-season United Soccer Association league – but the departure of the player-coach in 1969 started a long decline at Milltown.
With lucrative European fixtures staged at floodlit Dalymount and key players opting to hop over the water rather than struggle in Ireland's semi-pro game, Rovers were reduced to fielding a near junior side by the mid 1970s. Realising the club could go under – league re-election was sought in 1976 – the Kilcoyne family owners persuaded ageing stars Johnny Giles, Ray Treacy and Eamon Dunphy back to Dublin.
The FAI Cup win of 1978 took Rovers back into Europe. Glenmalure Park staged its first European game, a 2-0 win over APOEL Nicosia and Giles ran out for the Hoops until a month after his 40th birthday.
In the league, Giles' slow passing game foundered on bumpy provincial pitches and his business interests in North America kept him away from Dublin for extended periods. In 1983 he resigned.
Giles left in place a strong youth set-up, full-time first XI and a blueprint for a floodlit Glenmalure Park to become an all-seater stadium of international standard. His team, though, was changed almost overnight. In came the experienced midfield savvy of Pat Byrne, twice a title-winner with Bohemians, his namesake goalkeeper Jody acquired from Dundalk. Providing teenage teammate Liam O'Brien with master classes in midfield artistry, Pat Byrne was instrumental in bringing the title back to Milltown for the first time in 20 years.
Three more would arrive in quick succession, goals coming from Mick Byrne and Noel Larkin, persuaded out of retirement by Rovers manager Jim McLaughlin. The highlight of this golden era came in September 1986 with the visit of Celtic to Glenmalure Park. Before a full house of 18,000, facing top Scottish internationals Paul McStay, Mo Johnston and Brian McClair, Rovers held out until the 82nd minute – and were by no means embarrassed in Glasgow.
Six months later, after a decade of unprecedented development, domestic success and European revenue, the Kilcoynes dropped the bombshell news that they were selling Milltown.
The aftershocks rippled out for 20 years, starting with pitch protests during the last game with Sligo, whose fans joined in solidarity. The miserable failure of the subsequent groundshare at an empty Tolka Park, boycotted by action group Keep Rovers at Milltown, hurried the welcome demise of the Kilcoynes.
Rovers, meanwhile, moved to Dalymount then to the RDS in south Dublin, where a revival of sorts began. With goals from Stephen Geoghegan, Ray Treacy's Rovers won the title in 1994 but his striker's sale to rivals Shelbourne lost the club the goodwill they had struggled to claw back since 1987. A 7-0 defeat at Górnik Zabrze did the rest – Rovers hadn't been so whitewashed in Europe since being tonked by the Busby Babes in 1957.
The club was duly sold to a computer firm who recognised the urgency of a home for Rovers. A site was found south-west of the city in Tallaght, a burgeoning new town beyond the M50 orbital motorway that was being built at the same time.
But from the granting of planning permission in 1998 was only the start of a decade-long merry-go-round. With stadium construction stalled, and Rovers playing an athletics stadium in the shadow of Dublin airport, the club's debts mounted and a legal battle began between South Dublin Council and the local Gaelic football club at Tallaght.
Eventually, the supporter-based 400 Club had to step in to save Shamrock Rovers, who were facing extinction. Docked eight league points in 2005 for financial irregularities, Rovers had to undergo the ignominy of a relegation play-off with homeless promotion hopefuls Dublin City. They lost.
One season later, as Rovers won the lower-tier First Division, Dublin City went out of business.
With the end in sight of the legal battle surrounding Tallaght, the momentum at last swung back in favour of Rovers, now based back at Tolka Park.
With the LUAS light-rail line connecting town with Tallaght already in place and a summer league introduced, stadium construction recommenced.
In December 2008, former Northern Ireland international Michael O'Neill left his first managerial post at Brechin for Shamrock Rovers, bringing with him Scottish striker Gary Twigg. Heading in within minutes of his pre-season debut at Athlone Town, Twigg then scored the first ever goal at the newly unveiled Tallaght Stadium in March 2009. The opposition was Sligo, the last team Rovers played at Glenmalure Park 22 years earlier.
While Twigg went on to become top league scorer, O'Neill proved as capable a manager as he would later prove for Northern Ireland at Euro 2016. Rovers finished in runners-up spot, earning European qualification. 
The Tallaght often filled close to its 6,000 capacity, temporary seating extending this to nearly 11,000 for that summer's visit of Real Madrid for a showcase friendly. Making his debut for the Merengues that day was Cristiano Ronaldo, in a game settled by a solitary late winner by Karim Benzema.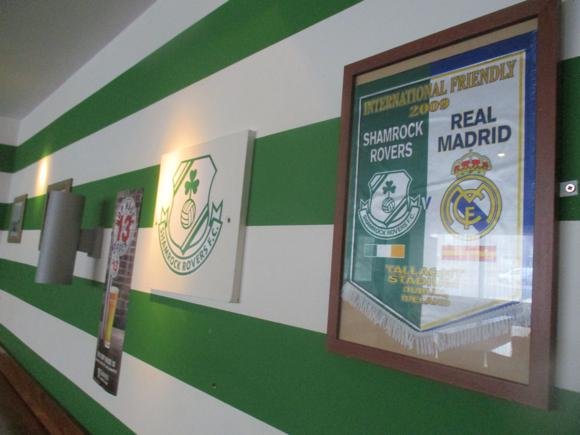 2010 proved even more memorable. First came Juventus, a plum European tie attracting another full house at Tallaght and kudos for Rovers keeping the aggregate down to 3-0. In the league, with Twigg again top scorer, Rovers were neck and neck with Bohemians for the title. On the last day of the campaign, the Hoops trailed 1-0 at Bray as the Bohs led 1-0 at Dalymount. Twigg intervened to equalise, Rovers duly drew 2-2 and the league crown was festooned in green-and-white for the first time in 16 years.
2011 started with left back Enda Stevens making his under-21 Irish debut and finished with Rovers making history. Surviving a late penalty miss by Flora Tallinn in the Champions League second qualifying round, Rovers then held FC Copenhagen to a single early goal in Denmark but were outclassed at Tallaght.
In the Europa League play-off round, The Hoops notched a late equaliser at home to Partizan before giving a heroic performance in Belgrade. The aggregate level on 90 minutes, a sure-footed penalty from Stephen O'Donnell won the tie in extra-time. Rovers became the first Irish team to reach a European group stage.
Drawn with Tottenham, PAOK and Rubin Kazan, Rovers ran the Greeks close in Salonika, shortly before sealing a second consecutive domestic title with a win over UCD. That December, 8,500 squeezed into the Tallaght Stadium to witness Harry Kane score his first goal for Spurs in a 4-0 win. The day before, it was announced that Michael O'Neill had taken the Northern Ireland job.
His replacement, Stephen Kenny, famed for his European exploits with Derry, soon found himself in deep water after an unexpected loss to Ekranas of Lithuania in a Champions League qualifier. A derby defeat by Bohemians sealed his fate. Soon after, Gary Twigg left for Portadown.
As Kenny made Dundalk the strongest team in Ireland, Rovers trod water, a cameo, career-swansong role by Damien Duff a rare highlight. In Europe, defeats to middling Scandinavian opposition simply highlighted how far the club had sunk since holding Juventus to a similar scoreline.
In November 2016, caretaker manager Stephen Bradley, a 2010 title winner as a Rovers midfielder, was announced as a permanent replacement for Pat Fenlon. Bradley's first silverware came in 2019 with a heart-stopping FAI Cup victory over Dundalk before 33,000 at the Aviva.
The curtailed 2020 season saw Bradley's first title as manager, before two more in 2021 and 2022. Rovers also kept a visiting Milan side to 0-2 at an empty Tallaght during the pandemic.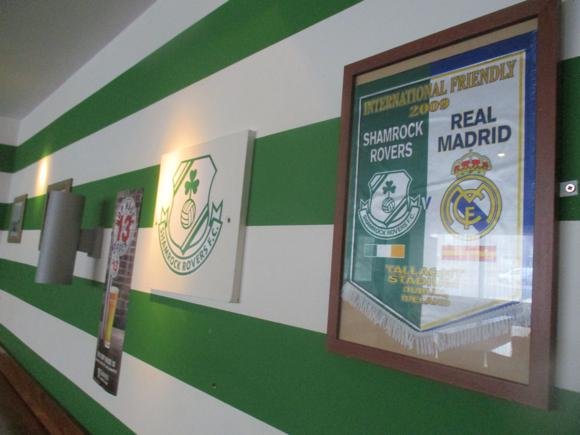 The field of dreams – and the stands around it
So, so long in the making, the council-owned Tallaght Stadium is not now being completed. Initialy consisting of two stands, East and West, running along each sideline, it remained bare behind each goal.
This allowed for additional temporary seating for the odd showcase European fixture – its record attendance of 10,900 was set for the curtain-raising visit of Real Madrid shortly after the stadium opened in 2009 – but kept regular capacity at a modest, all-seated 6,000.
Average league gates for 2016 were 2,000 – five years earlier, for Rovers' last title-winning season, they were closer to 4,000.
This apart, the Tallaght has always been a convivial place to watch a football match. Not five minutes' walk from the LUAS light-rail stop, although the most distant of Dublin's soccer stadia, for first-time visitors the Tallaght couldn't be easier to reach from the city centre.
In 2018, with the promise of silverware and regular European football under Stephen Bradley, a South Stand was built, bringing capacity to 8,000. At the opposite end, a new North one will add another 2,200 after it opens in 2023.
Wherever you sit, the view of the action should be ideal and you can look forward to a bit of atmosphere being provided by the most raucous home fans in the East Stand.
In the main West Stand, if it's overcast, make sure you sit a few rows further up from the pitch – the roof doesn't stretch all the way down. Away fans are allocated one side of it, sections H-J on the corner of Kiltipper Road and the dual carriageway, opposite the Maldron Hotel.
Going to the ground – tips and timings
The stadium is a short walk from Tallaght LUAS light-rail stop. Head towards The Square shopping centre, away from the Glashaus Hotel – the stadium is straight ahead.
Tallaght is at the end of one branch of the LUAS red line, directly linked to Heuston Station (30min journey time) and Dublin's main bus station, Busáras (45mins).
Make sure the train is going to Tallaght and not Saggart, the other branch – the line divides at Belgard shortly before. From Connolly station, it's a 2min walk round the corner to Busáras.
Trains run every 5-15mins until midnight, 11pm on Sun & bank holidays.
Buying tickets – when, where, how and how much
The ticket office is near the club shop behind the main West Stand on Kiltipper Road, beside the car park. On a home-match week, it opens noon-4pm. The club also distributes online on a match-by-match basis.
As availability is rarely a problem, there's also pay-on-the day from the kiosk behind the main stand, opposite the Maldron Hotel.
Admission is €15 anywhere in the East or West Stand. Over 65s and students are charged €10, under-14s €5. Prices may vary for pre-season friendlies and major European games.
Shirts, kits, merchandise and gifts
The Shamrock Rovers Megastore (Mon-Sat noon-4pm) behind the main stand carries home shirts, away shirts, even third shirts, plus hooded tops, polo shirts and rain jackets, as well as mugs, keyrings and branded notebooks.
On match nights, a merchandise unit sets up an hour before kick-off behind one goal at the car park end of the stadium and stays open after the final whistle. You'll find scarves, caps and woolly hats amid the replica shirts.
Pre-match beers for fans and casual visitors
Tallaght is a new-town suburb, all hotels and shopping centres – you won't find the kind of traditional pub that you would around Dalymount or St Pat's.
The main pre-match haunt is the bar at the Maldron Hotel, Stir, accessed through the restaurant of the same name, which has had the good grace to create a Rovers area in one corner. Team line-ups from the 1940s and 1950s, pennants from games with Real Madrid and Hibernian, and a photo of Alex Del Piero in a hooped shirt are all on display.
Alternatively, there are many chain outlets in the retail strips between Tallaght LUAS stop and the stadium. On Cookstown Way, the family-run Blazin' Grill is the nearest to the ground, with a 'Shamrockers Gather Here' sticker in the window and the floodlights in view. Steaks and seafood are its stock-in-trade. 
Nearby, towards the LUAS stop, the more bar-like Aussie Outback is a BBQ spot serving monumental burgers and regular draught lagers. Spicy Mexican eaterie Perios Grill has seats outside in summer.