A fan's guide – the club from early doors to today
In 2021, legendary Hungarian club Újpest picked up a third Hungarian Cup in seven years to add to the 20 league titles won since 1930, allowing the Lilacs to embark on a 37th European campaign.
While trailing their eternal rivals in the Budapest derby, Ferencváros, not least in terms of budget and political influence, Újpest would seem to be in a good position to put in credible challenges for the title. Sadly, the mood at the Szusza Ferenc Stadion is sombre, to say the least.
First, there's the stadium itself. While all major clubs in Budapest, in Hungary, in fact, have benefitted from a massive, and massively expensive, stadium rebuilding programme, Újpest's quaint home between the former Tungsram light-bulb factory and the Danube in north Pest has only seen relatively minor improvements over a decade of nationwide arena construction.
Worse, in fans' eyes, is the continued ownership of controversial Belgian Roderick Duchâtelet, whom few at Charlton and Liège would remember with too much affection. In January 2022, a sale was at last announced, only to be withdrawn due to economic uncertainty in the wake of the Russian invasion of Ukraine.
The following September, Újpest lost the derby to Ferencváros 6-0 at home, a new low, and shaped up for a relegation battle in 2022-23. The last – and only – time the club has dropped down a division came in 1911.
Hungary's third most titled club twice dominated the domestic game, once either side of the war, and more recently in the 1970s, when every championship but two went to Megyeri út.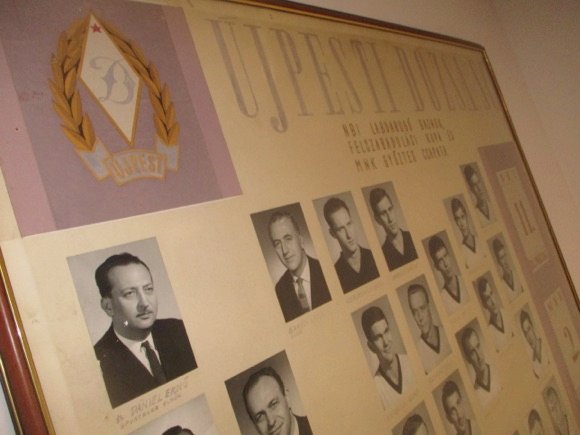 Formed as Újpest Torna Egylet ('UTE') in 1885 when the area of 'New Pest' was founded by Jews just outside the city limits, Újpest were a tough team to beat in the 1920s. With a defence featuring the famous Fogl brothers, Újpest twice won the Mitropa Cup before a debut league title in 1930. 
Providing four of the Hungary side that played in the 1938 World Cup Final, Újpest became a high-scoring, championship-winning machine after the arrival of Gyula Zsengellér from Salgótarján in 1936. A genius of a forward, Zsengellér scored 56 goals in 26 games in the 1938-39 season.
By the immediate post-war period, he was joined by Ferenc Szusza as Újpest notched 125 goals in 22 games to win the 1945 spring title, and 147 in 26 to retain the crown a season later. After the subsequent title of 1947 under Béla Guttmann, Zsengellér went to Roma, while Szusza remained at renamed Budapest (later Újpest) Dózsa until 1961.
By then, Szusza was linked up with prolific young striker János Göröcs. Representing the Police, Dózsa, as they are still colloquially named, then hired coach Lajos Baróti. The manager of Hungary's talented side at the 1966 World Cup, Baróti established a forward line with Göröcs, 1966 star Ferenc Bene, Antal Dunai, Sándor Zámbó and László Fazekas.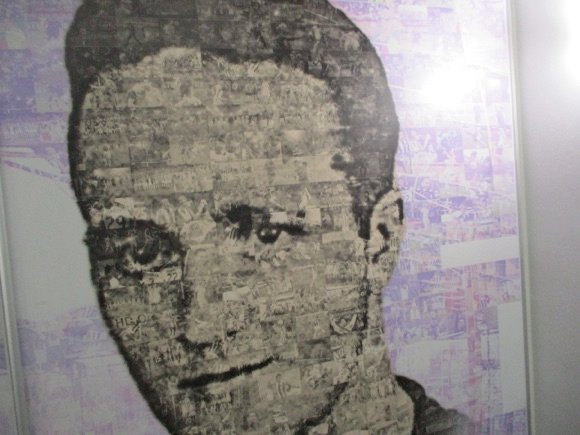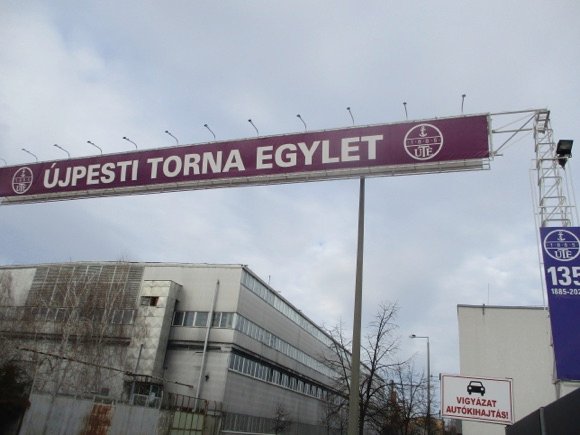 Despite the disappointment of losing the Fairs Cup final to Newcastle in 1969, Dózsa won the league, then repeated the feat six times and claimed top scalps in Europe. After losing to Franz Beckenbauer's Bayern Munich in the European Cup semi-final of 1974, the Lilacs welcomed the arrival of an extraordinary young talent, András 'Törő' Törőcsik. 
A fans' favourite, Törőcsik would skip effortlessly past opponents, generating the chant 'Dance, Törő!' as he did so. Setting up goals for László Fekete, Törő helped bring the title back to Újpest two years running, before drink ended his career. In 2014, as his former club's fate hung in the balance, Törőcsik suffered another fall and was rushed to hospital. He later died in 2022.
When asked by journalists to sum up his feelings, his long-term friend, club rival and teammate on the national side, media pundit and Ferencváros hero Tibor Nyilasi was literally lost for words, so deep was his sorrow. Both players had been sent off towards the end of Hungary's fiery opening game with Argentina at the 1978 World Cup, each had taken different paths in their post-playing careers.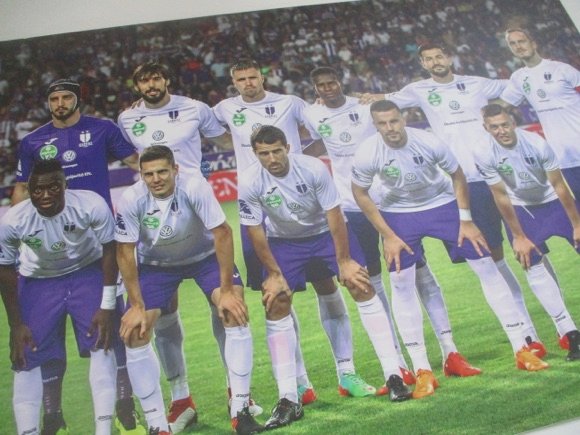 Bereft of state support, and of star midfielder István Kozma who had left for a successful spell at Dunfermline, the renamed Újpest TE still managed to win the league by one goal in 1990. Kozma returned from an unhappy stay at Liverpool to lead a young side to win the title in 1998. Popular midfielder György Véber played in both title-winning teams that decade.
A 1999 takeover by local businessmen saved the club and saw the sorry Megyeri út ground become the tidy Ferenc Szusza Stadium. Though short of silverware between the cup wins of 2002 and 2014, Újpest kept their strong following, evident at Hungary's fiercest derby against Ferencváros
In May 2014, they were staring lower-league ignominy in the face. Threatened with eviction from the NBI league for owing more than Ft500,000 tax, the Lilacs managed to maintain top-flight status but earned a sanction from UEFA. The Hungarian Cup win against Diósgyőr on penalties did not offer subsequent access to the Europa League.
Off the pitch, club owner Roderick Duchâtelet broke down in tears as he pleaded his case before the Hungarian press. He had apparently been pouring a fortune into offshore companies to manage the debt he had assumed when buying the club for a nominal €1 in 2011.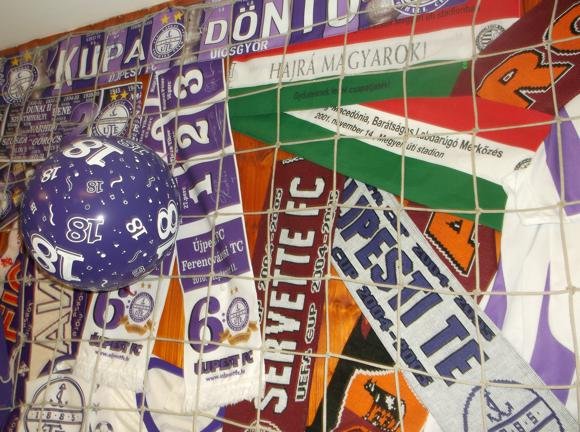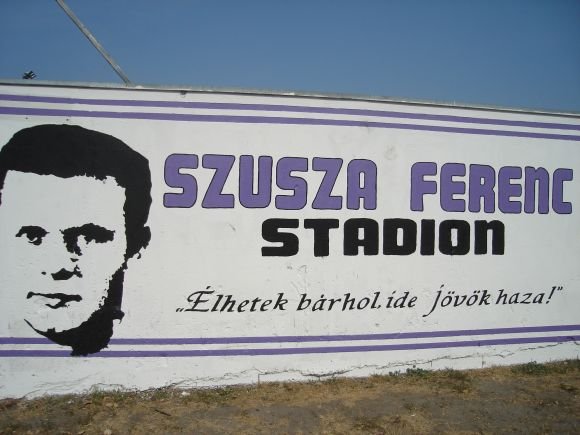 Offloading players and staff they could ill afford, Újpest plummeted down the table. High finishers over the previous decade, runners-up twice, the historic Lilacs from the north Budapest riverfront trod water and waited for the odd cup run.
Renamed Újpest FC, the club had its badge altered by Duchâtelet for the 2017-18 campaign. Ostensibly introduced to counteract pirate merchandise, the new logo provoked exasperated protests, toilet seats hurled onto the pitch due to their similar shape to the unpopular badge.
Another cup win that season briefly appeased disgruntled followers, followed by an 11th trophy in 2021. Never progressing more than one qualifying round in Europe since 1983-84, Újpest began their 110th consecutive campaign in the top flight with a shocking defeat at home to Ferencváros, 6-0 in September 2022. 
A motley squad of bargain-basement Serbs, promising Hungarian U-21 international defender Áron Csongvai and stalwart winger Krisztián Simon then prepared for the relegation battle ahead with defeats to Kecskemét and Mezőkövesd.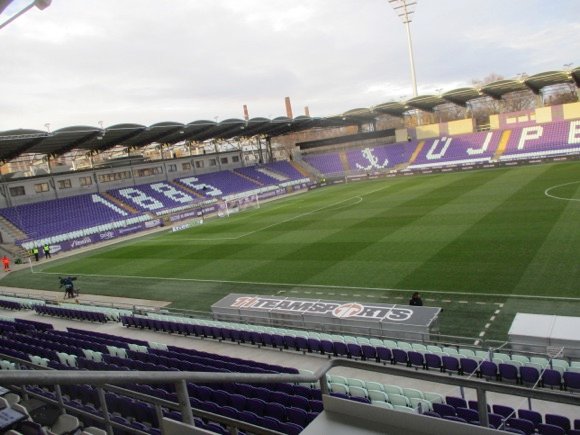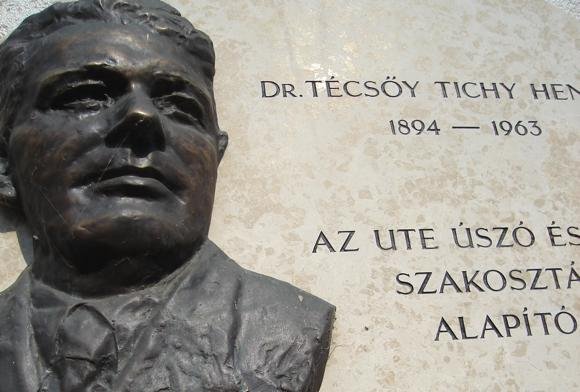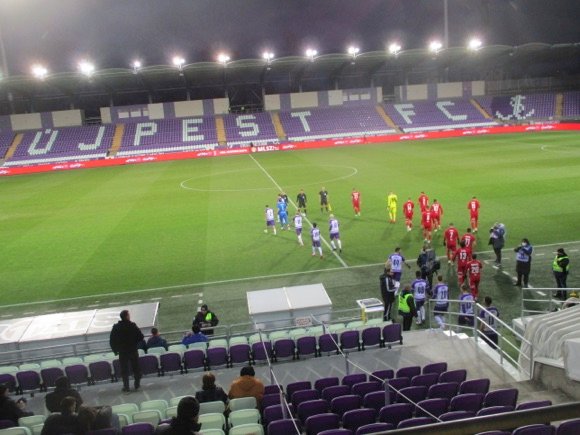 The field of dreams – and the stands around it
Competely modernised in 2000-01 and then renamed after the legendary Újpest striker, the Szusza Ferenc Stadion is the right size for its purpose. An all-seater of 12,300 capacity, this intimate, mainly covered ground staged numerous internationals in the early 2000s – as did it did in its previous guise, the Megyeri úti Stadion.
Designed by the famous Olympian and architect Alfréd Hajós in 1922, Megyeri út opened with a derby match against Ferencváros. Its capacity rising to 50,000 after the war, it provided the stage for Puskás and company to score hatfuls of goals against the likes of Austria, Sweden and Czechoslovakia.
Floodlights illuminated Újpest's great European runs of the late 1960s and 1970s, though by the 1990s lack of funding saw the old ground crumbling. Integral to the 1999 club takeover by local entrepreneurs was stadium renovation.
The stadium now comprises four stands, main A, B opposite, and C and D behind each goal. Away fans are placed through gate IV, in a corner between stands B and C. The home end, D, is accessed through gates I and II/III. 
All but 1,200 of the lilac-coloured seats are covered and attendances are of the size that you can move in out of the rain with little protest. The triangular floodlights remain a distinctive feature, used on T-shirts in the club shop, beside the recommended Sector Bistro on Megyeri út, where you also find the main ticket offices.
Going to the stadium – tips and timings
Set way up in north Budapest, the stadium requires a bus journey from either Újpest-központ or Újpest-Városkapu, both at the end of the blue M3 metro line. However, the central stretch of the M3 is now under major, long-term repair until 2024 at least. The service is currently only in operation between Göncz Árpád központ and Újpest, and only on weekdays. A replacement bus otherwise shuttles north from the city centre, so allow at least an extra 15mins for the journey.
A handy alternative is bus 30 from Hösők tere on the yellow M1 metro line, journey time 25mins to Mildenberger utca behind the stadium, buses every 15-20mins including Sundays.
If you're at Újpest-központ, then the 104 (every 30mins) and 196 (every 15mins) run to Tímár utca near the stadium, the 147 every 15-20mins Mildenberger utca.
Buying tickets – when, where, how and how much
For the Ferencváros derby, the only time when availability will be an issue, or to save a fair few forints, it may be an idea to buy in advance, online or from the club shop (Mon & Fri 2pm-7pm, Tue & Thur 9am-2pm), found a little further along Megyeri út from the ticket windows. These main match-day outlets are also open three days before kick-off from around 1pm. 
There's also a separate match-day kiosk the other side of the ground, on Mildenberger utca. For all enquiries, contact ticket@ujpestfc.hu.
Pricing is set in two categories, Normál and Kiemelt for special fixtures, the visits of Ferencváros, Honvéd, Debrecen and Fehérvár. Online and advance purchases are considerably cheaper across the board.
A seat in the home end, sectors D and DK in the corner, for a standard league game is Ft1,200/€3 online, Ft1,500/€3.70 in advance and Ft3,000/€7.35 on the day. In Stand B along the sideline, it's Ft1,800/€4.40, Ft2,200/€5.40 and Ft3,600/€8.80. The main stand is divided into the lower A terasz (Ft2,000/€4.90, Ft2,400/€5.90, Ft4,000/€9.80) and upper A Tribün (Ft2,400/€5.90, Ft3,000/€7.35, Ft4,400/€10.80). 
There are significant discounts for 14-25s of around 40%. Under-14s and over-65s are admitted free, again with proof of age. Higher-category games are around 40%-50% more expensive. 
Look out for a copy of free match programme Hatnull, with squad numbers and birthdates of both teams.
Shirts, kits, merchandise and gifts
The Újpest FC Shop (Mon & Fri 2pm-7pm, Tue & Thur 9am-2pm, match days) is on Megyeri út, just past the stadium.
The current version of the home kit features two shades of lilac, interspersed with white, in hooped form across the chest, and darker lilac sleeves. Second choice also features lilac, in thin pinstripes on a mainly white background. Third-choice is a darker lilac, almost black, with lighter lilac shorts and socks.
Pre-match beers for fans and casual visitors
Don't experience a game at Újpest without first visiting the Kék Duna borozó, a classic cellar wine bar just over a grassy area from Újpest-városkapu station, on the corner of main Árpád út and Berzeviczky Gergely utca. An entire history of the club adorns the walls, team line-ups, signed portraits, archive photos, while the ageing regulars are lifelong Újpest men. 
One frequent visitor is the son of Gyula Zsengellér, Hungarian hero of the 1938 World Cup and prolific scorer for Újpest before joining Roma in 1947. Supporters' meetings and events are also held here, the bar unchanged since the golden days. Cheap wine and domestic beer are the order of the day.
Round the corner on Árpád út, the Öreghalasz étterem serves dishes its name, 'the Old Fishermen's Restaurant', suggest, carp, trout and catfish. There's goulash, duck leg and goose liver, too, but if you're just after pre-match drinks, there's a wide choice of wine and Staropramen on draught. The Danube is a short stroll away.
Nearer the stadium on the main road leading there, Váci út, the Tüzestál étterem at No.65 is an innocuous cheap eatery serving Heineken and showing TV sport.
At the stadium, by the club shop on Megyeri út, the Sector Bistro is a great recent addition to the match-day experience, serving craft beer (Ogre Bavarian lager, cherry, blackcurrent) from the Szent András brewery in Békesszentandrás, south-east Hungary, quality house burgers with beef from Hortobágy cattle, and wines from Lake Balaton. 
If that makes it sounds slightly pretentious, it's not – sport is broadcast on several screens in the intimate interior, sharing wall space with framed Újpest shirts and depictions of those classic floodlights. Seats outside, too. It usually shuts at 4pm (closed Sun( but stays open on match days. Recommended.
Within the ground, you'll find a small bar beneath the main stand serving Belgian Gallica beer. You can take your drinks to your seat. Opposite is the ice-hockey arena, whose bar offers Borsodi beer and hot dogs – it should open for football games, too. It was here that the infamous Whisky Robber, Attila Ambrus, kept goal and drove the Zamboni while planning 27 hold-ups in the 1990s, earning folk hero status while evading the police.