It seems appropriate to describe this point in time as a high-water mark for football in Fleetwood.
Also odd, as flagship club Fleetwood Town only celebrated their 20th anniversary in 2017.
Over the course of two decades, this isolated former fishing community and would-be pre-Victorian transport hub saw the opening of a modern stadium and its team rise from the North West Counties League to two tiers shy of the Premier.
Backing The Trawlermen, more than 2,000 rowdy regulars, the Cod Army, in fine song for the Football League accession in 2012 and Wembley play-off triumph of 2014 as Fleetwood Town then flew up League One, mooring there for three seasons and counting.
Like its football team, as a town, Fleetwood is a relatively new concept.
A banner brazened by Fleetwood followers proudly states 'One Way In and One Way Out', a nod to their location at the end of a narrow peninsula between the sea and the estuary of the River Wyre. Fleetwood was created as the grand scheme of local bigwig Peter Hesketh. In the 1830s, he envisaged transforming the northern end of his huge country estate into a bustling resort where guests arrived by train from London, stayed at the magnificent North Euston Hotel, then left by steamer for Scotland, at that time still not linked to London by rail. Queen Victoria made that very journey in 1847.
Fleetwood hired celebrated Greek revivalist architect Decimus Burton, of Buckingham Palace and Kew Gardens fame, to create a radial design for his dream city, like the spokes of a wheel, stretching out to the sand dunes.
Today, halfway between its hub and the swish tramline that runs all the way from resort rival Blackpool, stands Fleetwood Town's Highbury Stadium, reconfigured for modern times.
Just the other side of the tramline, Fleetwood Freeport is the recent marina redevelopment of the dock that lay deserted after Hesketh's schemes ran aground. First, the West Coast main line bypassed isolated Fleetwood, then Blackpool outshone its tourist potential, before the Wyre docks found prosperity as a fishing port.
Fleetwood even exported the fiery throat lozenge, Fisherman's Friend, which became, as the town's many Goth bands did not, big in Japan.
As for football, a Fleetwood FC were formed on 1908, playing against the grand backdrop of the North Euston Hotel at the windswept tip of the peninsula, just before the lifeboat station.
The club ploughed a fairly unremarkable furrow in the Lancashire Combination, following Barrow and Chorley as its champions in 1924. A young Frank Swift signed from the wonderfully named Blackpool Gasworks in the early 1930s before success with Manchester City and England.
On the back of three consecutive Lancashire Combination Cup wins, Fleetwood moved to Highbury Avenue in 1939, but both team and town went into decline after the war.
Founder members of the fifth-tier Northern Premier League in 1968, along with Wigan and Morecambe, Fleetwood finished bottom three times in the mid-1970s with the Cod Wars at their height.
With a failing team and impoverished fan base, Fleetwood FC folded in 1976.
Within a year, with the same ground and many of the same team, a newly formed Fleetwood Town had joined the Cheshire League. Moving up to the new North West Counties League, then second tier of the Northern Premier, Fleetwood Mark Two made it to Wembley in 1985 for the FA Vase final with Halesowen Town.
Promoted to the Northern Premier two years later, Fleetwood Town looked to match the modest achievements of their pre-1976 predecessors – but went the same way, relegated in 1994 and dissolved in 1996.
Finally, a year later, came Fleetwood Wanderers. Renamed Fleetwood Freeport after the burgeoning marina complex that was breathing new life into the ailing failed resort, this was the club that managed to scale the league pyramid.
Behind this rise has been Fylde-born Andy Pilley, a self-made energy tycoon, who has redeveloped Highbury Stadium and funded a club currently standing at a higher level than its two nearest rivals, Blackpool and Morecambe.
And, of course, the Cod Army, buoyed by their club now in unchartered waters.
Bearings
With Blackpool's yet to be operational again, the nearest airports are Manchester and Liverpool, 110km (68 miles) away.
Neither has direct links by public transport to Fleetwood – nor does Fleetwood have a train station, but is served by buses and the seafront tram from Blackpool North.
A direct hourly train runs from Manchester Airport to Blackpool North (1hr 30min, £8 online) – otherwise change at Manchester Piccadilly. Hourly trains from Liverpool require a change at Preston (1hr 35min), as do services from Birmingham and London (hourly, 2hr 45min, £40 online).
From Blackpool North to Fleetwood, you can take the tram from nearby North Pier (every 10-12min, 40min journey time, £2.80) – walk 5-7min down Talbot Road from the station. This runs to Fleetwood Stanley Road near the stadium then to the coast and its hotels.
Quicker and arriving slightly closer to the ground, bus No.1 from North Pier (end of Talbot Road/Square) takes 30min to reach Hatfield Avenue in Fleetwood before terminating at the Freeport. It runs every 30min. Bus No.14 (every 12min, Sun every 20min) is more frequent and goes from alongside Blackpool North on Talbot Road to Poulton Road/Highbury Avenue in Fleetwood, 5min from the stadium, journey time 40min.
Single bus tickets are £2.60, pay on board – a Blackpool1 day pass for both bus and tram is £4.50 online, £5 on board.
Fleetwood Taxis (01253 872 000) quote £66-£70 from Manchester and Liverpool airports, £15-£16 from Blackpool North station. They also sponsor a local junior football team.
Bed
Freeport Fleetwood has a very limited database of approved accommodation.
Hotels and guesthouses line Fleetwood's Esplanade, about 15min walk from the ground or four stops by tram from the terminus at Fleetwood Ferry.
The grandest lodging in town, the North Euston Hotel, right by the tram terminus, is cheaper than you might think. Often this architectural masterpiece, designed by city planner Decimus Burton as an elegant railway hotel, has doubles at around £75 including breakfast. Another fiver and you get a sea view, and car parking is free.
Close by and also convenient for the tram, the Wavecrest Lodge (No.23, 01253 872 679) is a cheaper option, ten simple, clean, en-suite rooms, plus a sun lounge. Almost next door, the Savoy Hotel is a welcoming and affordable guesthouse, with lovely views from its bay windows, best enjoyed over breakfast.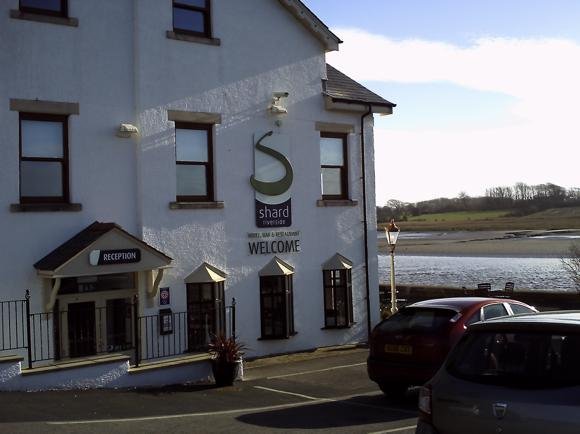 Further down, and a closer walk to the ground, the traditional New Boston Hotel has various configurations of en-suite rooms, with its own bar and restaurant.
On the opposite bank of the Wyre, by the Shard Bridge, the Shard Riverside Inn in Hambleton offers a stay in contemporary luxury, most of its 23 rooms with riverside views. It's also a superior dining destination, breakfast continuing the Lancashire culinary theme.
From here, bus No.2C runs to Knotts End (every 30min, 15min journey time) and the quick hourly ferry hop to Fleetwood. Also at Knotts End, there are B&B rooms available at the Bourne Arms, a large landmark pub with panoramic sea views.
Beer
Fleetwood, the smallest town in the country to support a Football League club, is an easy and pleasant destination for a pub crawl.
A suitable start would be The Mount, atop the highest sand dune of the same name, central to the town's original design. In keeping with that legacy and location, the place is huge and historic, recently refurbished, with sport on TV and pub food.
Round the headland by the ferry port, The Steamer is one of the oldest pubs in Fleetwood, a venue revered by old rockers and still staging live music, accompanied by real ales and draught continental lagers.
One tramstop down, the large, traditional King's Arms also has live sounds but goes big on TV sport. Round the corner, The Thomas Drummond is the Fleetwood Wetherspoon, set in a converted Sunday school built by the man of the same name, also responsible for the workers' housing here.
There's more big-screen sports at the Rossall Tavern, a community pub and live-music venue south of the town centre, at the nearest end of Larkholme Parade to the seafront.
At Knott End, destination for the hourly, ten-minute ferry from Fleetwood, the Bourne Arms makes best use of its expansive sea views, making it busy with bikers and Sunday trippers. Superior food, including daily specials, and a beer garden are other winning factors. If you miss the last early-evening ferry back, it rents out guestrooms.
On the same side of the Wyre, the Black Bull at Preesall is a traditional village hostelry with a fine kitchen – even if you're not after steamed mussels, it's not every day you sup in a pub that opened in 1776.
There's more history at the River Wyre, a late Victorian inn at Skippool creek, five miles south of Fleetwood. Edward VII entertained here back in the day – stars of stage and screen would nip up from Blackpool. It's on the No.2C bus route that runs up to Knotts End.
Gallery