An industrial hub in Limburg, close to the Dutch border in eastern Flanders, Genk has made its money from coal, cars and canal transportation.
A more recent phenomenon has been KRC Genk, thrice Belgian champions, based at the modern Luminus Arena, opened the same year as the club's first title in 1999.
Regular competitors in Europe, KRC (also referred to as Racing Genk) have been canny in business when so many Belgian clubs of longer vintage have fallen by the wayside or lost their character and fan base in far too many mergers. Genk's academy has produced the likes of Kevin De Bruyne, Thibaut Courtois and Christian Benteke, all sold for considerable profit to Premier League clubs. Companies are equally keen to be associated with such a high-achieving operation – only recently, energy provider Luminus took over sponsorship of the stadium from Limburg beer firm Cristal.
But this contemporary success story has its roots in Genk's grimy industrial past. KRC were formed as recently as 1988, the same year that the colliery closed at Winterslag in north-west Genk. Winterslag may evoke a grey vision of surrounding coalmines but it was also the name of the most notable local club before KRC, formed in 1923. Based at the Noordlaanstadion near the mines, the Red and Blacks are best known for their shock victory over Arsenal in the UEFA Cup of 1981-82. After the 2-2 win on away goals, Winterslag fell to Dundee United in the next round, 5-0.
In Belgium, their neighbours and bitter rivals were Waterschei, another industrial area of north Genk, where KRC are based today. Best summed up by the acronym in the full version of the club's name, THOR ('Tot Herstel Onzer Richten', 'To Recover Our Rights', a message to the mine owners should they ever consider switching to another industry), Waterschei were grittily Flemish through and through. In the Flanders colours of yellow and black, Waterschei battled against the big boys of Brussels, Bruges and Liège to twice win the Belgian Cup in the early 1980s.
In this golden era for football in Genk, Waterschei reached the semi-final of the European Cup-Winners' Cup of 1982-83 by overturning a 0-2 deficit to beat Paris Saint-Germain 3-0 after extra-time at the Stade André Dumont. Eventual winners Aberdeen then had too much for the Belgians, winning 5-1 at Pittodrie.
Despite such a proud legacy – their stadium had been named after André Dumont, the first man to find coal in Limburg – Waterschei were soon forced to succumb to the economic pressures of the day. With the closure of the colliery, Winterslag and Waterschei merged to form KRC Genk in 1988.
The new club, dressed in blue and white, took over Winterslag's league status in the top flight. KRC duly finished last in their first season but bounced back and flourished under coach Aimé Anthuenis in the late 1990s.
Since then, Genk have been at and around the top of the Belgian game, winning a total of three titles and four cups.
In a final footnote, after an initial stint at Winterslag's Noordlaan Stadium, the club moved to Waterschei's rebuilt André Dumont, naming it after the controversial and unpopular architect of the clubs' merger and colliery's closure, Thyl Gheyselinck.
Today this is the Luminus Arena, its past steeped in Genk's industrial heritage, just like that of its tenants.
Bearings
The nearest airport to Genk is Maastrict Aachen, underused since Ryanair withdrew in 2014. It's 31km (19 miles) away over the border in the Netherlands. There's no public transport to Genk, only Veolia bus No.59 that runs to Maastricht every 30min, journey time 40min. It runs on the Dutch OV-chipkaart system of ticketing.
The hourly train http://www.deutschebahn.com/en/start-en.html from Maastricht to Genk takes 2hrs, with a change at Hasselt.
Brussels' main airport of Zaventem is 90km (56 miles) west of Genk. The quickest train takes 1hr 30min, with a change at Hasselt, single ticket €18. If you're coming into Brussels-Midi by Eurostar, there are direct trains to Genk every hour, journey time 1hr 40min, single ticket €15.
Public transport in Genk consists of buses run by Flanders-wide De Lijn. Tickets are cheaper from the office at the train station – the bus concourse is alongside, the town centre a short walk away. When boarding the bus, run your ticket through the yellow machine.
Taxi Peters (+32 475 30 62 91) is a reliable local service.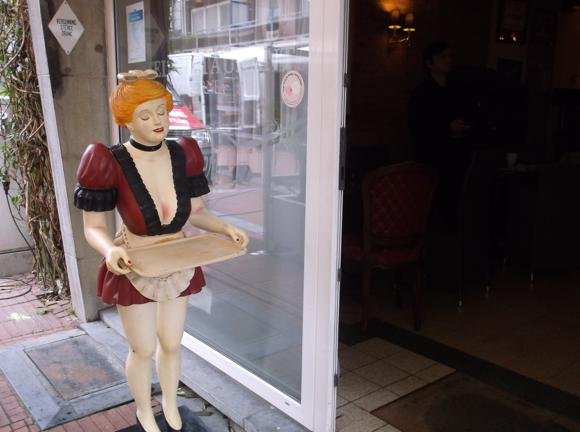 Bed
Visit Genk has a comprehensive database of local accommodation that links to a booking portal.
A reasonably varied selection of lodging is ranged around the city centre, an easy walk from the station and main square.
Three hotels line Europalaan directly opposite the station. First comes Carbon, part of the Different Hotels group, all high design, rain showers and Nespresso machines. Other features include a roof garden, a spa and hammam, massage treatments, wine bar and upscale restaurant. For all that, prices are mid-range and there are plenty of weekend package offers – Carbon is very much geared to the business community.
Alongside, in the same family, the Ecu is equally high-design but with budget-chain prices – guests may pay for the use of the spa next door.
A little further along, the Hotel Arte offers affordable and modern lodging, with an Irish pub attached.
Also close by, the Esplanada Studios comprise contemporarily furnished apartments with free access to the in-house spa, solarium, steam bath, sauna and gym. The only drawback is that, while reasonably priced, they are usually rented out on a minimum six-night basis. It might be worth contacting reception (+32 89 35 85 91, info@esplanadastudios.be) if you're looking for a shorter stay.
For all that, the most homely and certainly friendliest welcome is found at the Hotel 't Hert, just off the main square. With an in-house football-friendly bar at street level, 't Hert offers eight large twin rooms in the €65 range, most with balconies, and a pricier one with its own jacuzzi. As well as beer and football talk, you'll find honest Flemish cooking downstairs. All in all, a real home-from-home in the heart of Genk.
Beer
Limburg is the home of Cristal Alken, a golden, Pilsner-type lager, and until recently sponsors of KRC's stadium. You'll see its red-edged pentagonal symbol everywhere.
Cafés and restaurants line focal Grote Markt, though no real pubs. The most modern of them, Relaxy, at least has a TV to screen big matches.
A short walk away on Stationstraat, the Café Camargue is the friendly haunt of KRC fans and rockers, its bare-brick interior decked out in old Cristal beer signs and images of Jimi Hendrix. All is overseen by a ferocious-looking, shaven-headed barman known as 'King' to friends and strangers, a complete sweetheart and font of all local knowledge. Opposite, Het Witte Doek sadly closed in 2015. Hopefully any bar that reopens in its place will feature the stellar mural of the Genk team in a re-enactment of The Last Supper.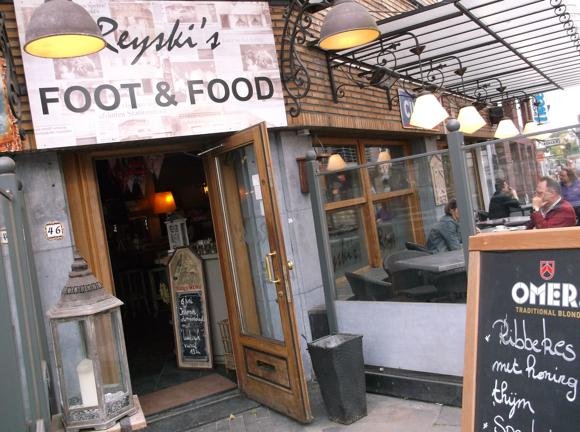 Also on Stationstraat, the excellent Reyski's Foot & Food has been run by a father-and-daughter team since 2007. Done out in Art Deco style with tables outside in summer, it has a quality kitchen (house prawns the speciality) and two TV screens for matches. Around a busy bar counter, a collection of match tickets from, among scores of destinations, Ružomberok, Azerbaijan and Luxembourg, reveals a passion for obscure football travel.
Until recently, official KRC fan bars once included 't Hoegseizon on Pastoor Raeymakersstraat and 't Nivoo on Europalaan, both currently closed due to financial problems.
Even the gorgeous, century-old Café Meng, a Genk landmark on Grotestraat, is still recovering from the retirement of its long-term owners and yet to find its feet.
Attached to affordable hotels in the town centre, 't Hert and the Arte, the Taverne 't Hert is a friendly locals' spot with a KRC affinity while Arte's is the only Irish pub in town.
Gallery