Best places to watch the game in Budapest, with beer, food and a Danube view thrown in
Host of the Europa League final and Euro U-17s in the same month in 2023, Budapest is a great bar city. The scene is extensive enough for the many stag parties not to become too overbearing, the party hub centred on District VII, between the Great Synagogue and Klauzál tér. 
Burger-and-sport joints line the Nagykörút, the busy tram-lined artery that connects the Pest side, particularly the Erzsébet körút section. Between Blaha Lujza tér and Király utca, screens attract fans to lively terraces – if one's too busy, there'll be another pretty much next door.
There's the added advantage of the 4/6 tram zooming past every two to five minutes, every ten minutes through the night, meaning you can easily jump on one to whizz through Pest and cross the river into Buda if need be.
Nearly all bar staff speak English. Table service is still the norm, although ordering from the counter is the custom in Budapest's so-called ruin bars, set up in semi-abandoned buildings with mismatching furniture and bohemian décor.
A half-litre (korsó, 'kor-sho') of domestic beer (sör, 'shurr') should cost you around Ft800-Ft1,200/€2-€3.25, a Czech, German or Belgian one around Ft1,200-Ft1,500/€3.25-€4. Craft beer (kézműves sör) will be pricier. To get through the hot summer, locals drink wine with soda water (fröccs, 'frurtch').
Opening hours can stretch until 5am along the Erzsébet körút, 2am elsewhere.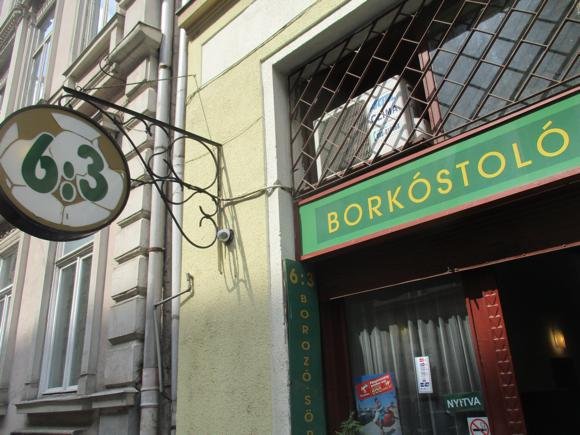 Where Lonyáy utca meets the Nagykörút, near the Boráros térstop on main tram lines 2, 4 and 6, the 6:3 takes its name from the famous scoreline when Hungary beat England at Wembley in 1953.
Its former owner, Nándor Hidegkuti, scored a hat-trick that day, and the bar remained in local hands until taken over by expat football fans in 2018.
Augmenting its priceless Puskás-era mementos and keeping its traditional feel, the incoming owners lay on live-match screenings and occasional special events.
6:3 Borozó, 1093 Budapest, Lónyay utca 62.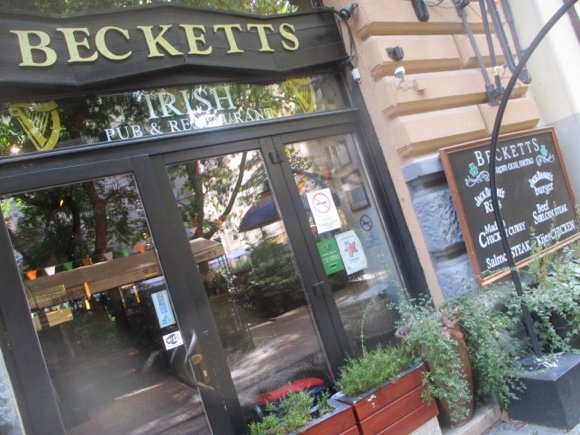 This second iteration of Becketts on Liszt Ferenc tér shares one key feature with its predecessor on Bajcsy-Zsilinszky út: landlord Declan O'Callaghan.
This Dublin Southsider has been running this money-spinning hostelry for 25 years or more, relocating onto this leafy, tourist-friendly square in 2015.
Football and rugby still pack the place, expats and Magyars laying into the Guinness, O'Hara's and Magners cider, with Guinness also featuring in the stews. Irish breakfasts are another mainstay.
Becketts, 1061 Budapest, Liszt Ferenc tér 11.
A more recent arrival onto Budapest's pub scene, Davy Byrne's is overseen by Irishman Brian Tuohy and Irish-American Tim Helmick, who named their venture after the Dublin pub besieged by Bloomsday pilgrims each June.
A long bar counter is lined with taps of varied O'Hara's, pale, red and 51st State IPA, while the whiskey list fills two long columns of a back-bar chalkboard.
This is also the only place in Budapest to sell Tayto crisps, with all-day breakfasts available for the more hungover. It's an expansive space, ideal for live music, comedy, quizzes and TV sport.
Davy Byrne's, 1066 Budapest, Jókai utca 4.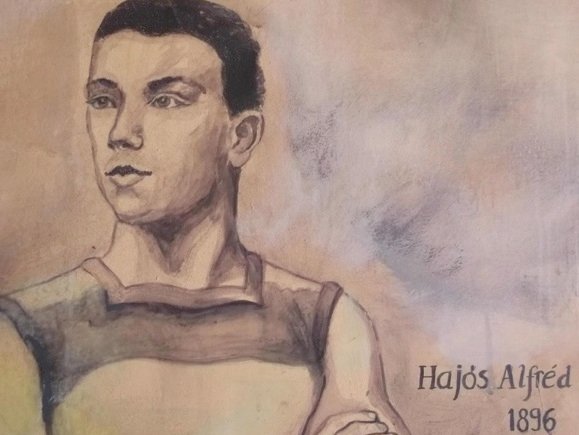 It's been here forever, this cellar sports bar just past the Great Synagogue on Dohány utca. Tastefully decorated, with painted likenesses of Hungarian Olympian heroes since 1896, Champs built its reputation on the thousands of TV channels it offers, so you might see pockets of Barnsley or Middlesbrough fans here to catch play-off action they may not be able to see elsewhere.
Not the cheapest place in town but fairly individual in its own right, rather than identikit faux pub. It usually runs a summer terrace sports bar on Margaret Island (see below).
Champs, 1074 Budapest, Dohány utca 20.
Sister operation to Champs in town (see above), its Island ('Sziget') outlet overlooks the Danube from a prime location at the gateway to the city's main recreation zone. With its own stop on the 4/6 tram, Margaret Island is both accessible and isolated from city bustle.
A large beer garden is surrounded by TV screens and football shirts, with club badges over the long bar counter. Prices for the many Czech, Hungarian and Bavarian draught varieties are reasonable, the food options are equally extensive if hardly adventurous, and there's a laid-back, holiday feel to the whole place.
Champs Sziget, 1007 Budapest, Margit-sziget, Gasztró sétány 1.
Right in the city centre, Irish-run Jack Doyle's is the best of the city's pubs, big on sport, food, live music and atmosphere. It sits beside what was once the Pilvax Café, where the Hungarian patriots of 1848 gathered to foment revolution before taking on the Austrians.
It's a big space to fill, decked out with images of photogenic Irish pubs and artwork by leading Budapest caricaturist Marcus Goldson.
A terrace operates through long, hot Hungarian summers. Superior pub grub and the black stuff both feature heavily, of course.
Jack Doyle's, 1052 Budapest, Pilvax köz 1-3.
It's mainly an international, studenty crowd gathering at this large basement bar, just off the Nagykörút. Fifteen screens and a large maxiscreen broadcast the action, with a pool table at the back for pre-match entertainment.
Drinks prices are kept reasonable to keep younger punters coming here and not to the many other options a short walking distance away. No surprises among the draught beer choices, but then again, there probably doesn't have to be. 
SCORE!, 1074 Budapest, Dob utca 65.
One of a chain of American-style sports bars geared towards drink-fuelled fun, wall-to-wall TVs attracting Britblokes happy to watch the match over affordable beers and perhaps a signature deep burger.
This is the main branch, a vast place with 27 TV screens, half-moon seating for intimate group chatter, and silly opening hours until 5am. The connected pool and games room operates until 11pm.
Nearby Stiflers on and off the Nagykörút (Dob utca 19, Rákóczi út 32) also go on towards dawn, one offering live music, the other the popular winning formula of TV sport and pub games.
Stifler, 1073 Budapest, Erzsébet körút 19.
Blending in with the umpteen sport-friendly bars on this stretch of the Nagykörút, Winners features 14 screens, one huge maxiscreen, more than 100 seats and a VIP room.
This is match-gawping on an industrial scale, bums on seats the priority here, but prices are reasonable, drinks deals operating for special events such as the Europa League final.
Winners, 1073 Budapest, Erzsébet körút 40.
Outlet for the TrollFoci platform for Hungarian football discourse, Ziccer! is the Hungarian for a chance in front of goal. Be kell rúgni is its slogan, a play on words meaning '…And he must score!' and 'You must get drunk!'
This apart, it's a temple to Magyar fan culture, with classic images from Euro 2016, as well as vintage ones from the 1938 World Cup and the golden 1950s.
Drinks-wise, it's pretty standard, Hungarian Borsodi the best domestic option, at standard prices. 
Ziccer!, 1073 Budapest, Erzsébet körút 48.