Lisbon
'

s ten best places to watch the game over Sagres, Super Bock or sherry
With Portugal a favourite destination for football fans, the pubs and bars of Lisbon are packed to the rafters these days for Champions and Europa League action.
Here are ten suggestions for where to watch the next game, from lively Latin tequila spots to classic Portuguese cafés, and Irish pubs to CR7's very own hostelry.
Atypical among the Irish pubs and regular sports bars listed below, Cuban-run Atípico is one of the first spots you come to as you climb up from the Elevador da Glória tram terminus to the age-old nightlife hub of the Bairro Alto.
It's the kind of place that ticks many boxes – TV sport, lively feel, sassy staff, Latin drink mixes – but most of all prioritises fun. One of the more recent posts on its Facebook page shows the world's worst Elvis impersonator on the loose here one night, while nearby competitors were going through the motions of serving drinks and wait for their cash tills to fill.
If Bairro Alto has long had its day, no-one seems to have told the folks here about it. Atipico, Rua Grêmio Lusitano 18
Lisbon's oldest bar, its foundation year of 1919 proudly displayed across its distinctive red awning, was serving ale and sherry long before the Portuguese capital was awash with faux pubs.
It was serving ale and sherry even before becoming the British Bar, in fact, as this was the Taverna Inglesa, the place so steeped in history it should be encapsulated in a book – you wonder what kind of travellers nervously drank here when neutral Lisbon was Europe's last escape route during the war. It still feels like a set for a Casablanca-era drama, perhaps what Rick's would have looked like had Stanley Holloway been the landlord and not Humphrey Bogart.
For today's patron, the BB provides all essential needs, including TV football, and stays open until 4am. An essential stop on any bar crawl around this end of Rua do Alecrim. British Bar, Rua Bernadino Costa 52
The best and certainly the biggest of the Bairro Alto pubs, Cheers divides into separate areas for match-watching on five large plasma screens, live music and drinking sessions with few distractions.
With its beermat-filled ceiling and idiosyncratic décor, it doesn't fall into the trap of just sticking up some cod Irish sign about strangers and friends then hoping for the best. Cheers feels loved and lived-in, staffed by a crew who know how the keep the good times good. Cheers, Rua da Atalaia 126
Brand Ronaldo in hotel and sports bar form anchors a prominent corner of downtown Baixa. Centrepieced by a circular installation of elevated sports screens that nobody seems to stand under, the CR7 exudes the same style and comfort of its sister hotels on Times Square, on Madrid's Gran Vía and, naturally, in the player's home town of Funchal on Madeira.
Framed shirts bearing the CR7 scrawl are tucked away discreetly – a collection of World Cup posters make a more striking impression, lining the reception area of the adjoining hotel lobby. Above runs the bizarre welcoming message, 'Your hate makes me unstoppable', though the boast on the venue's website of 'Flavours and smells that bring champions to mind' hardly encourages trade either. (Doesn't brand CR7 have a branding team?)
There's a decent range of spirits on offer, all the same, strong on Italian classics, while the Ballon d'Or cocktail involves vodka, passion fruit and egg white. CR7 Corner Bar & Bistro, Rua do Comércio 54
Lisbon's leading sports bar sits at eye level to the Rua do Alecrim overpass towards the waterfront, a lively, intimate hub of nightlife buzz. Head down the steps to the smokers' courtyard, then step inside a busy complex of 32 TV screens capable of beaming, they say, 800 channels, though there's usually just two or three games that encourage drinks to flow among a younger, multinational clientele.
Cocktails are named if not themed after famous sportsmen: George Best probably wouldn't have appreciated vanilla-macerated tangerine in his Cointreau and Rémy Martin. Tap choices include Guinness and Hop House, the menu (roast beef sandwiches, pork belly) goes beyond the standard bar-food offer and late-opening hours allow live music to start up after the final whistle goes. The Couch, Rua do Alecrim 21A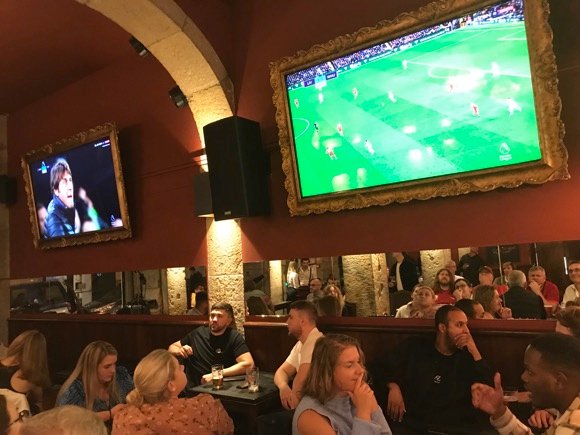 The best of Lisbon's Britpubs attracts a loyal client base, many in number, particularly for Liverpool games during the regular league season. Packed tables of punters in the spacious saloon bar fix their gaze on the row of gilt-framed screens showing the main game, with another shown on the facing wall if schedules and customers demand.
A live act then takes over the corner of the room as pints of Guinness, Sagres, Erdinger and Heineken are rapidly served by the attentive, friendly staff on first-name terms with many regulars. A real home from home, then, underlined by a particularly agile kitchen working from a crossover menu of Portuguese and pub favourites.
In the warmer months, chairs are ranged outside, around the screens facing out towards this narrow, otherwise non-descript street near Baixa-Chiado metro. The George, Rua do Crucifixo 58-66
Wow. We're not in Wetherspoons anymore, Toto. This Lisbon institution was unveiled in 1955 as the lobby of the huge cinema of the same name, the Império operating afterwards as a theatre during the early 1960s.
The 48-square-metre mural by figurative painter Luís Dourdil showing daily life in Lisbon still dominates the vast main dining room, staffed by smart waitstaff. It's not just a traditional steak restaurant, though, as overlooking this whole stately scene is the bar area above at street level, TV screens tuned to football, coffee and beer sold at fair prices given the historic surroundings.
There's also the house cocktail of papaya cream and Cassis, if you feel like going the whole nine yards. There's no dress code as such, but an old-school sense of decorum underscores proceedings. Café Império, Avenida Almirante Reis 205A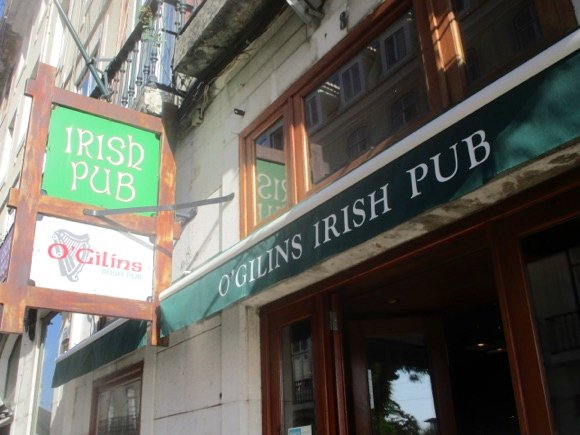 Gracefully approaching its 20th anniversary, Irish-run O'Gílíns is the oldest of its kind in Lisbon. Better known for its traditional live sounds, this cosy, intimate pub nonetheless sits in rapt attention whenever Celtic or Ireland play.
Major international and Premier League matches are also shown before the music starts up at 10.30pm from Wednesday through Saturday. A location close to Cais do Sodré station is handy for those who live further down the coast, and the pub also forms part of the after-dark drinking nexus at the waterfront end of Rua do Alecrim. Tables outside catch the late-evening sun during the warmer months. O'Gílíns, Rua dos Remolares 8
Don't worry, this place isn't themed around the team from Madrid, rather attached to the Hotel Real Palácio in that quiet part of north-central Lisbon where visitors might stay but not seek entertainment. As such, it might attract football-obsessed guests from other five-star hotels in the vicinity, the Sheraton, the Four Seasons and the Intercontinental, but not the younger and less discerning who gather in livelier bar hubs.
Marrying a US-style sports bar concept with the kind of comfortable pub you might find in a country retreat, it's neither fish nor fowl but a convivial place to watch the game all the same. Many here are happy to chalk off their tastefully presented drinks and dishes against expenses, so cheapskates need not apply. The special Tuga Menu conceived for the World Cup, for which the bar opens earlier at noon, lists green-cabbage soup with chorizo and veal croquettes and carries a price tag of €17 – but a couple of beers over the course of 90 minutes shouldn't break the bank.
'The club of all fans in the Lisbon city centre' – why do hotels spend a fortune on furniture and then skimp on copywriters? – can't hold a candle to real sports bars elsewhere but should be congratulated for focusing its theme on football and not random Portuguese royalty. Real Sports Bar, Rua São Sebastião da Pedreira 234C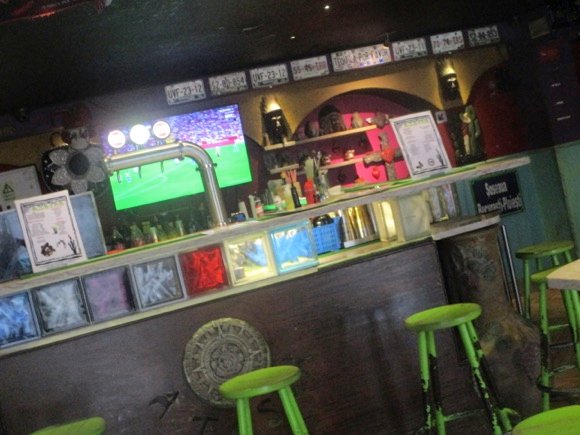 An unsung hangout in the Bairro Alto, A Tasca bills itself as a tequila tavern but it's much more than that. Within easy reach of the Elevador da Glória funicular tram, it's a colourful, lively and, most of all, unpretentious place to watch a football match.
Action is screened behind the bar counter, in front of which a row of stools is invitingly lined. A Tasca gets packed pretty quickly, so stake your place early, before the focus moves from football to partying, and sitting down isn't really an option given the Latin music being DJ'd.
Fun and affordable, A Tasca claims to have been here since 1983, which means it would have been rocking for that epic France-Portugal Euro semi a year later. Pick your match, involving Brazil, say, or indeed Portugal, and you should find yourself cheering and sighing in loud unison with your fellow customers. A Tasca, Travessa da Queimada 13-15