Pass the port and sink a few beers while seeing a game by the Douro
Portugal's economic powerhouse has been welcoming fans following their clubs on the European trail every season for the last half-century. Next up, it's Inter, the Italian giants heading to this energetic city in the north for a Champions League knock-out tie with the 30-time winners of the domestic title, FC Porto.
But football-seeking visitors fly into this budget-air hub every week, combining a game with a few days of wining and dining, or perhaps catching the action on TV in a suitable hostelry.
Where to watch the match in Porto has changed in recent years. Whereas Ribeira, down by the Douro in the shadow of Dom Luís I Bridge, was once the bar vortex, this atmospheric riverside location has since been given over to gastronomy. Sure, you can order a glass of the famed local wine, but you're really here to dine.
The siting of the pioneering Adega Sports Bar in the city's commercial centre, Baixa, around the streets parallel to focal Avenida dos Aliados, is no coincidence. This is where Porto knocks off work and kicks back. Here you'll also find Bonaparte Downtown, the Gulden Draak and at least six spots where decent selections of craft beer overshadow the need for TV sport.
Expat pubs are surprisingly few in number – Ryan's has had little competition for many a year, the city lacking the cachet that draws so many Brits and Irish to Lisbon. This means, in turn, that there's more of a local feel to many of the bars, and Porto is all the better for it.
The first and best of its kind, the Adega has been well conceived, right down to the 'You'll Never Drink Alone' logo that greets you at the door. Long and deep with comfy booth seating, it features large TVs throughout, plus pool, darts and beer pong. 
Drinks include Belgian, British and global beers – is this the world's only sports bar to serve port? Burgers and sandwiches are also served by a staff at pains to make international visitors feel at home. 
Handy closing times of 2am, 3am at weekends. Adega Sports Bar, Rua de José Falcão 180
The Guinness toucan has long spread its wings over this part of Ribeira, tucked in behind the riverfront, a pleasant dander down from the Cathedral, a steep stagger back up afterwards. 
Oriented more towards live music, Ryan's still shows live sporting action whatever shape the ball happens to be. Your pint of Guinness comes with a signature toucan traced around the top, and is served with an experienced smile. 
Low ceilings give the impression of one of those pubs built into railway viaducts but this all adds to its lived-in charm. Ryan's Irish Pub, Rua do Infante D Henrique 18
There's a history to Bonaparte going back nearly half a century, which is when Klaus Teichgräber opened his pub shortly after the Carnation Revolution of 1974 and end of the authoritarian régime in Portugal. The Bavarian had arrived just before, fallen for a local and decided to stay, setting up what would become everybody's favourite hostelry overlooking the seafront at Foz. 
British in style, it had a welcome alternative feel in both attitude and music, capturing that first wave of freedom. After Klaus died in 2013, his children took it over, by which time downtown Baixa was also emerging as a bar hub. 
Three years later, they opened Bonaparte Downtown, younger sister of the Foz operation, its smart façade overlooking the tramlines of Praça Guilherme Gomes Fernandes. 
Food is upscale pub grub, which doesn't mean to say you can't order up a pint of Paulaner, raise a glass to the Teutonic adventurer of yore and settle down to watch the match on one of two big screens. Bonaparte Downtown, Praça Guilherme Gomes Fernandes 40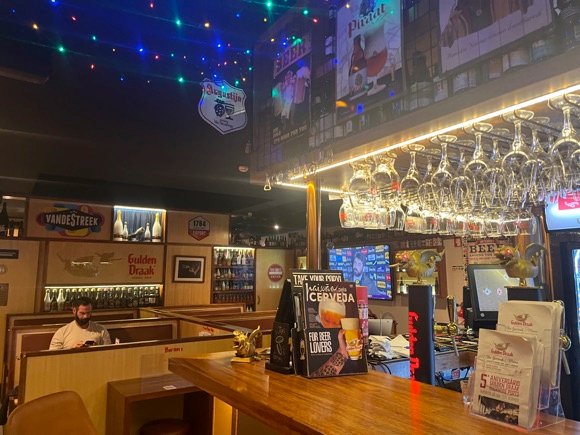 It's a long way from the top of a medieval belfry in Ghent to a pleasant pub in the bar hub of Porto, but the Gulden Draak, the Golden Dragon, found its way here due to this namesake ale. 
Inspired by a legendary Flemish landmark, the Brouwerij Van Steenberge in Ertvelde has long been making its ludicrously strong beer, adapted from a once secret recipe guarded by Augustin friars. Recently, this family-run concern began branching out to set up breweries abroad. The first was in Prague, this is the second, and the first in Portugal. 
It's also a brewpub, of course, opened in 2018, its bar lined with 12 taps, its fridges stacked with enticing labels from Benelux and beyond. TV football is another plus but not the main raison d'être. A nice place to watch the game, all the same. Gulden Draak, Rua de José Falcão 82 
5 guindalense football club
Since 1976, the bar at this local football club has been operating for its members and followers, and it's only in recent years that Porto locals have begun to appreciate its charms, too. 
And why not? A sun-catching terrace overlooks the Douro and intricate ironwork of Dom Luís I Bridge, standard beers and bifanas are still sold at silly cheap prices despite the rapid gentrification of Ribeira below, and you can not only watch the match but talk football with the regulars, too. 
You might want to ask them what actually happened to Guindalense FC, for the club itself no longer exists. A shame, because the trophy cabinet looks impressive and the badge sports an illustration of the nearby medieval walls that run alongside the Guindais Funicular. Guindalense Football Club, Escada dos Guindais 43
Craft beer is the stock-in-trade of the Carmo brewbar, opposite the beautiful Carmelite church. The chalkboard here is redrawn pretty regularly but you can count on Scottish BrewDog, Gulden Draak and La Chouffe from Belgium, plus several domestic examples, even ciders, worthy of investigation. Paulaner is usually a given, too. 
José Duarte, who converted this place from a long-standing confectionery, tends to play favourites rather than go out on a limb with his ales. He also shows games on terrestrial TV, so think midweek Champions League action rather than that Premier League fixture you've just crossed town to watch. 
To compensate, there's a terrace overlooking that lovely tiled façade from the 18th century – the bar itself is set deep into a sorry example of brutalist architecture. Cervejaria do Carmo, Praça de Carlos Alberto 124
Minis make things spin at Espaço 77, small bottles of chilled Super Bock paid for in coppers, snapped open and glugged down fast as locals battle over table football or banter over the bar counter.
Few other places in Portugal sell more mini bottles of domestic lager over the course of a calendar year, an extraordinary achievement considering this student-friendly spot is quite modest in size and tucked down a narrow street away from the city-centre bustle.
Major football games see Espaço 77 packed to the gills, groups of fans ordering the bargain-bucket 11 minis for the price of ten. Sandwiches and classic Portuguese snacks are also served. Espaço 77, Travessa de Cedofeita 22
First things first. This is not a football bar. This is a legendary café that happens to show games on its modest TV, so if you're desperate to catch that night's big Premier League clash on a maxiscreen, go elsewhere. If you feel like taking in whichever Primeira Liga game happens to be showing in a Porto landmark dating back to 1909, take a seat.
Secondly, it's not called the Café Flea, Piolho, it's actually the Âncora D'Ouro, the Golden Anchor, but because of its student clientele back in the day, the nickname stuck. (This same student clientele gathered here to successfully foment revolution in the early 1970s.) 
It's actually quite smart, in a lived-in sort of way, age-old waistcoated waiters serving the rows of tables beneath a solitary rotating fan. When tables are set up outside and the vintage tram goes past, your Porto experience is complete. Café Piolho, Praça de Parada Leitão 45
So low-key is this tiny bar that no-one seems to know its name, neither staff nor regulars – there certainly isn't anything to indicate it on the street, a narrow, cobblestoned thoroughfare leading up from the Cathedral. 
You'll notice, however, the giveaway all blue of the framework and a solitary ragged Portuguese flag dangling over the doorway. Squeeze in – it's narrow, that's another thing – and you'll be surrounded by a complete pictorial history of FC Porto, proud line-ups and revered players with big bushy moustaches. 
Three, perhaps four, generations have been raised watching these teams. This FCP-obsessed cubbyhole will survive for as long as its local clientele keep coming in to order absurdly cheap wine – a custom that thankfully seems to have survived the pandemic. Alfredo Portista, Rua do Cativo 14
10 restaurante portas de São roque
The nearest spot to FC Porto's stadium – particularly with the club's Museu Caffé currently out of commission – is an old-school restaurant brightened by row after row of football scarves dangling from the ceiling, many left by supporters of visiting teams. 
It's usually a daytime-only spot so time your arrival around your tour of the club museum one morning, and head here for a traditional Portuguese lunch, authentic, filling and wallet-friendly. Restaurante Portas de São Roque, Rua de São Roque de Lameira 1776