Figures from football history, cast in bronze for pre-match selfies
It can't easy depicting action in stone or bronze. Whereas kings on horseback and generals preparing for battle capture a moment in time, a footballer dancing down the wing or springing up to save a surefire shot heading for the top corner presents certain challenges to even the most talented of sculptors.
And then there's the facial features. The whole world knows what Ronaldo looks like. Few would recognise him from the statue unveiled at Funchal airport in 2018, an effort so poor it had to be replaced. 
Here are ten statues of football legends whose grace and aura leave the viewer in no doubt as to their authenticity and importance.
A good-time Charlie who earned untold riches in Italy while players back in Germany were limited to a fraction of his salary, 1966 hero Helmut Haller is nonetheless revered for his style of play, his charisma and his carefree attitude. Raised in difficult circumstances during the war, Haller joined his local club in Augsburg before heading off to help Bologna with the Italian title in 1964. 
After a decade in the sun, the Golden Boy returned to his see out his career in Augsburg, marrying a Cuban athlete half his age and siring three more children in his sixties. Teammates from the 1996 World Cup Final, including Franz Beckenbauer and Uwe Seeler, attended his funeral in 2012. 
Three years later, Augsburg fans raised the €25,000 needed to commission a bronze statue of the club's greatest-ever player, which now stands behind the home north end of the Augsburg Arena. Its creator, Bavarian artist Wolfgang Auer, and Haller's daughter Karin Watzka, were at the unveiling before a pre-season friendly with Toulouse.
You know when a footballer is heroic when he has four likenesses devoted to him dotted around his home town. Such is Lev Yashin, whose original statue shows him bounding across the fatal rectangle to save a certain goal. To illustrate the point, the sculptor has even thought to provide a miniature goal behind him and, as it's beside the metro station named after the club he played for, the word 'Dinamo' in Cyrillic script. 
Triangular in shape, the net provides perspective but is small enough to suggest that Yashin, a one-club legend whose career spanned 20 years and four World Cups, is a giant. He wears his trademark cap and, surely, is dressed in all black. 
As well as a plaque at the flat where he lived in Moscow and a monument over his grave, Yashin was honoured with a second statue near Sportivnaya metro, unveiled shortly after his death in 1990. A copy of the original Dinamo one was later created for the Russian Consulate in Rio.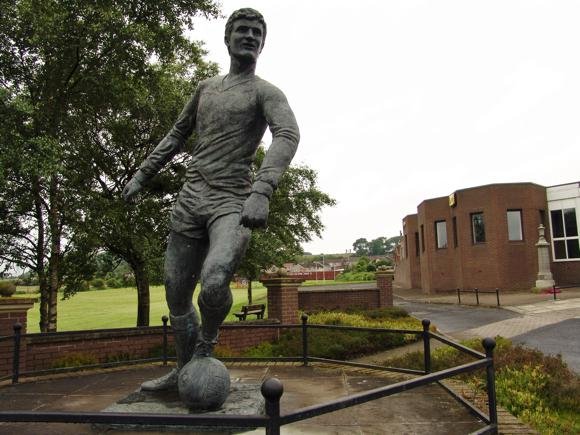 Stood opposite the row of miners' cottages where he grew up, Jim Baxter surveys all before him, the ball at his feet, perfectly in control and knowing exactly what his next move is going to be. 
Atop the Hill o' Beath, the tiny Fife mining community where Slim Jim spent his early life fixing cabinets or digging coal, Andy Scott's statue stands imperious, as if bossing the opposition at Wembley or leading Rangers to yet another trophy. 
It was unveiled in 2003, two years after the player's untimely death.
Wait a minute – Lev Yashin, Jim Baxter and… Gerard Cieślik? When this one-club forward passed away in 2013, the City of Chorzów voted to erect a statue in his honour right in the heart of town. Here, outside the Post Office, 'Gienek' can be seen gesturing with one hand ('I've got this…'), his foot on the ball, looking to outwit the Soviets. 
Cieślik was a folk hero in industrial Silesia during the harsh years immediately after World War II, scoring both goals to defeat the hated USSR in a World Cup qualifier in 1957. A crowd of 93,000 packed into the Stadion Śląski in Chorzów that day, Cieślik carried shoulder high off the pitch in triumph. 
A regular visitor to Ruch Chorzów after his career ended in 1959, Cieślik is also honoured with a huge mural by Chorzów Miasto station depicting the three great heroes of Polish football. Robert Lewandowski and Włodzimierz Lubański may have a higher international profile – the latter best remembered for his goal that buried England at the same Stadion Śląski in 1973 – but no player is as revered as Gerard Cieślik.
In Budapest, you cannot move for reminders of Ferenc Puskás, whose name appears on T-shirts, on billboards for musical productions, pub signs and, of course, across the front of the new national stadium. 
In statue form, his best likeness can be found in Óbuda, on a pedestrianised stretch near a sports bar that also carries his name. Dressed in a suit and tie, the Galloping Major is balancing a ball on his golden left foot as a gang of lads gather round in admiration, wishing they could do the same one day. 
Unveiled in 2013, the statue is one of several dedicated to the Magic Magyars across Hungary – one to Zoltán Czibor was unveiled in Komárom in 2021.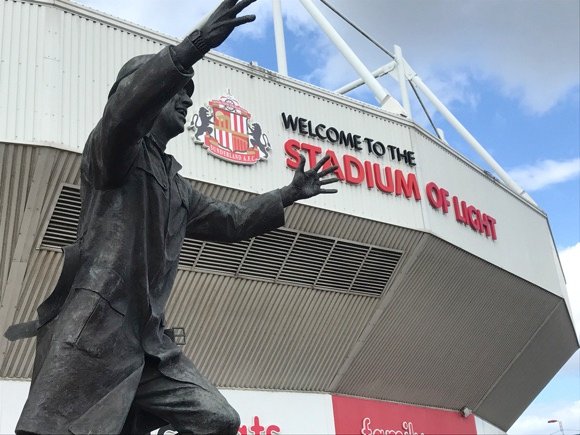 Few statues capture a spontaneous moment in time as poignantly as the depiction of manager Bob Stokoe running with his arms outstretched at Wembley in 1973. 
Second-Division Sunderland have just won the cup, beating the all-conquering Leeds United. Trilby hat intact, raincoat flapping, red tracksuit bottoms a blaze of forward motion, Stokoe has only one aim in mind, hurtling like a train through the mayhem of celebration and angst on the Wembley turf: his goalkeeper, locally born Jim Montgomery, whose incredible double save had kept the Wearsiders in the game. 
Unveiled outside the Stadium of Light in 2006, two years after Stokoe's death, it's one of several painstakingly accurate works by Sean Hedges-Quinn, also responsible for the statue of Sir Bobby Robson outside St James' Park in Newcastle and the one of Ted Bates in front of St Mary's in Southampton.
You may as well say that the entire Nou Camp is a statue to László Kubala, for this soccer palace in the centre of Barcelona was built for the mercurial Central European to showcase his skills. 
Born in Budapest to parents of mainly Slovak heritage, Kubala was of the same golden generation as Ferenc Puskás but fled Hungary in 1949. He ended up in Spain, where he transformed Barcelona, adding tens of thousands to home gates. Moving from cramped Les Corts to the new-build Nou Camp, FCB were ready to challenge Real Madrid for supremacy but were held back by the cautionary tactics of manager Helenio Herrera. Kubala bowed out after Barça's narrow defeat in the 1961 European Cup Final. 
Generous to a fault, Kubala is held in similar esteem as the club's later megastars – which is why Montserrat García Rius was commissioned to create to a statue to him in 2009, the club matching every fan's donation euro for euro.
If ever there were a moment in the sun, then it was on July 30, 1966. England have just won the World Cup for the first and only time, and Royal Sculptor Philip Jackson illustrates the moment when Geoff Hurst and Ray Wilson lift up triumphant captain Bobby Moore, Jules Rimet still gleaming. Alongside stands Martin Peters. 
Standing near the former Upton Park ground where the West Ham trio learned their football from the late 1950s onwards, The Champions takes a little artistic licence, unsung full-back Wilson given a different facial expression to the grimace he showed when bearing most of the weight of his captain for the Daily Mirror photographer. Hurst, Peters, Wilson and Moore's widow Stephanie were all present at the statue's unveiling in 2003, ten years after the player's death. 
Although Upton Park was demolished in 2016, the Boleyn Tavern pub opposite The Champions still stands, restored and renovated in 2021. Jackson also created the definitive statue of Moore right outside Wembley Stadium, six metres tall, overlooking the crowds walking up Wembley Way.
Location, location, location. The dramatic statue of Portuguese legend Eusébio stands right outside Benfica's Stadium of Light, catching the sun as it passes over hilly north-west Lisbon. Here, the art is in the muscle delineation – the ball, also in view, on a small sphere of green, is about to be spanked with the leg of a pure thoroughbred. 
Arms and hands are outstretched and, for those who believe that the world's greatest strikers were blessed with minimum backlift, that right leg is drawn way back ready to pull the trigger. And what a trigger – Eusébio scored 733 goals in 745 matches, including nine at the 1966 World Cup. 
Draped in Benfica scarves after his death in 2014, this statue has a copy that once stood outside the Gillette Stadium in Foxborough, where the man from Mozambique also starred for the Boston Minutemen. It was then moved to the Lusitano Stadium in Ludlow, Massachusetts, home to a significant Portuguese community.
Take a bow, Peter Hodgkinson. The sculptor decided to follow a specific image, one taken by sports photographer John Horton of Tom Finney sliding through a huge puddle yet still controlling the ball in a game at Stamford Bridge when Chelsea met Preston in August 1956, to create this masterpiece outside the Sir Tom Finney Stand at Deepdale. 
Commissioned on the occasion of the mercurial winger's 80th birthday in 2002, the Preston-born artist used bronze, concrete, Lakeland slate and water for dramatic effect, capturing the skill and thrill of the world's greatest game when played in classic conditions. 
For eight years, The Splash stood outside the National Football Museum until it controversially moved to Manchester in 2012.