Great places to watch soccer in Portland, America
'

s very own craft-beer capital
Portland being Beervana, home of 70+ local brews, and Providence Park being right in the city center, it's no surprise that drinking and soccer go together hand in glove.
Few other stadiums in MLS are surrounded by as many bars as Portland's. Many showcase the liquid nectar of America's craft-beer capital, of course, making your Timbers visit a memorable one despite all your efforts to the contrary. 
If you're barhopping prematch, the streets parallel to the home North End, on and off NW 21st Ave, should reap the richest rewards for the liveliest drinkeries.
Chugging and match-watching aren't confined to Providence Park, of course, with a fair few sports bars dotted around the city center.
Though the closest and most celebrated sports bar to Providence Park, Cheerful Bullpen is actually a haven for fans of Buffalo Bills, hence the name. Geography and attitude ('giving customers the best bar experience they'll ever have') then align to welcome hordes of Timbers fans on match days.
Sports paraphernalia (including soccer scarves) and multiple screens provide the perfect backdrop to the jovial imbibing of Modelo, Breakside and Widmer Hefeweizen. There's a dozen draft choices in all, complemented by a full menu of all-day breakfasts, hot turkey bacon Swiss sandwiches and cups of house-made chili, plus burgers made from scratch. Younger sister of the revered and late-opening Cheerful Tortoise on PSU Campus
Cheerful Bullpen, 1730 SW Taylor St, Portland, OR 97205. Open Mon-Tue 8am-2pm, Wed-Fri 8am-10pm, Sat 11.30am-7pm, Sun noon-6pm.
2 Blue Moon Tavern & Grill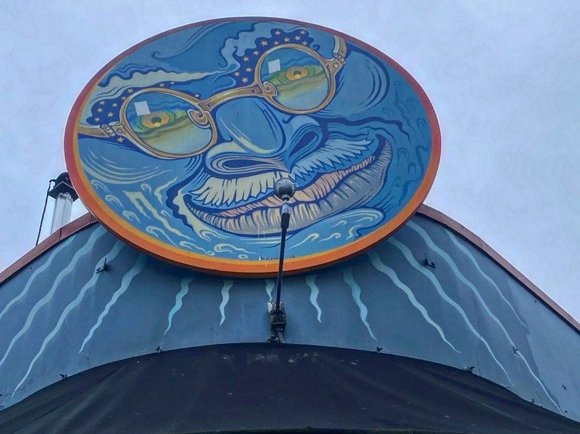 McMenamins Blue Moon Tavern & Grill belies its arty décor with classic sports bar accoutrements such as plentiful pool tables, big-screen action and tap options from Blackberry Cider to Electric Orange Weizen wheat beer. North-West style pub fare also features, with discounts on food and drink during happy hours.
A history of the place, from wine dealers to gambling den to bikers' hangout, makes for fascinating reading. Established by former Kentucky slaves in the 1870s, this plot on Nob Hill became a grocery store and wine dealers in the early 1900s. Close by was a beer parlor, the Silver Moon, that opened to celebrate the end of prohibition in 1933. 
A rowdy haunt then set up here, later hosting local rock bands, before a fire gutted the place in 2000. Remade as new, it's perfectly situated to begin any bar crawl toward Providence Park – though late weekend opening hours may encourage you to linger a while postmatch.
McMenamins Blue Moon Tavern & Grill, 432 NW 21st Ave, Portland, OR 97209. Open Mon-Wed & Sun 11am-11pm, Thur 11am-midnight, Fri-Sat 11am-1am.
3 the civic taproom & bottle shop
The Civic Taproom & Bottle Shop takes its name seriously, although the four letters emblazoned over the front doors send the message loud and clear: BEER. In all, 22 taps pour craft beer, cider and wine as regulars fixate on sports action on five flat-screen TVs.
Local history is depicted on the archive black-and-white photos decorating the walls – check out Stadium Tavern from the 1940s – contrasting with the bright colors provided by rows of random soccer scarves.
Soon to celebrate its tenth anniversary in 2024, Civic Taproom takes its local heritage seriously, hence its being named for the previous incarnation of Providence Park. No kitchen, but they're cool if you bring in your takeaway eats to soak up the booze.
The Civic Taproom & Bottle Shop, 621 SW 19th Ave, Portland, OR 97205. Open Mon-Thur 3pm-midnight, Fri-Sun noon-midnight.
Back in Portland's NASL days, this was a Greek gyro place – locals may well have tucked into a juicy souvlaki after watching Pelé play the last competitive game of his career at what was then Civic Stadium here in 1977.
The former Acropolis Tavern is now the Marathon Taverna, still proud to serve what it considers to be the best gyro in Portland, but around the feast has been created a large and lively three-story sports bar, with as many HD screens as beer taps.
The 20 draft options are complemented by cocktails and daily specials. The food's still Hellenic, and the Greek platter comes recommended. Note also the opening hours, giving the 24-hour clock a run for its money. Marathon by name, marathon by nature.
Marathon Taverna, 1735 W Burnside St, Portland, OR 97209. Open daily 7am-2.30am.
A block or so from Providence Park, Kells Brewery adds an Irish touch to proceedings, with an entire library of whiskeys to choose from as you watch the action.
In place long before the Timbers phenomenon, Ireland's World Cup year of 1990, in fact, Kells started out as the Portland operation of the namesake original venue in Seattle.
Since then, Kells has set up its own in-house brewery, hence the name, offering Irish lager, IPA and red ale. Food is sourced from the restaurant's own farm just south of Portland – free-range lamb goes into the Irish stew, Irish buttermilk is the dipping sauce for the house fries – and drinks prices can be tempered by weekday happy hours between 4pm and 5pm.
Live music is a given on Friday and Saturday nights, also a feature at the sister branch at the downtown location of 112 SW 2nd Ave.
Kells Brewery, 210 NW 21st Ave, Portland, OR 97209. Open Mon noon-9pm, Tue-Wed noon-10pm, Thur noon-11pm, Fri noon-1am, Sat 11am-1am, Sun 11am-9pm.
6 the independent sports bar & grill
Of the many sport-friendly pubs in town, The Independent Sports Bar & Grill just off W Burnside St is lined with more screens and taps than most, 34 and 20 at the last count.
The tap list changes both daily and seasonally, keeping the many regulars on their toes – local brews currently include Honeycrisp Dry Cider by Swift Cider and Gigantress citrus sour by the Gigantic Brewing Company, served by the pint and pitcher. Those starting early can tuck into breakfast, creative diners can fashion their own burger.
Happy hours on weekdays (4pm-6pm) attract the postwork crowd and friendly staff does their best to keep them here.
The Independent Sports Bar & Grill, 225 SW Broadway #100, Portland, OR 97205. Open Mon-Thur 11am-10pm, Fri-Sat 11am-11pm, Sun 11am-9pm.