A fan's guide – the club from early doors to today
Traditionally the most popular club in Turkey, Fenerbahçe are based on the Asian side of Istanbul in Kadiköy. Barred from Europe from 2013 to 2015 due a corruption scandal, Fenerbahçe bounced back to snatch wins over Manchester United, Ajax and Feyenoord in feisty Europa League campaigns.
Domestic silverware, however, has proved elusive since the last league title of 2014, the 19th, although the club insists on counting trophies won before a single national division was set up in 1959. In truth, Fener have long been overshadowed by their bitter rivals, Galatasaray.
Formed around French college St Joseph's, Fenerbahçe ('Lighthouse Garden') rose to the challenge when facing representative teams of occupying British forces after World War I, winning most games, and regularly topped the fledgling Istanbul League.
Either side of World War II, Fenerbahçe were record champions of the Turkish National Division, a league for big-city clubs invariably scrapped out between today's Big Three.
 Fener claimed six titles in all, the top scorer in the final campaign in 1950 being Lefter Küçükandonyadis. Arguably the greatest Turkish player of all time, and certainly of his day, 'Lefter', as he is known, starred for Fiorentina and Nice between stints at his beloved Fenerbahçe. Revered despite his Greek origins, Lefter is honoured with a statue near the club's Şükrü Saracoğlu Stadium.
Under captain Naci Erdem, another veteran of the 1954 World Cup, Fenerbahçe won the inaugural national league in 1959, and maintained a winning streak during the 1960s thanks to international midfielder Șeref Has.
The Yellow Canaries sealed their nationwide popularity as representatives of Turkey in European competition. In 1968, they beat English champions Manchester City, Colin Bell, Franny Lee and all, reversing a 0-1 scoreline in Istanbul after a 0-0 draw at Maine Road. With the Inönü Stadium packed long before kick-off, the fiery atmosphere setting a trend for decades to come, a team led by former Serie A star Can Bartu poured forward in the second half to overrun a bewildered City. At the back, stalwart defender Ion Nunweiller, an export from Ceauşescu's Romania, kept the visitors at bay.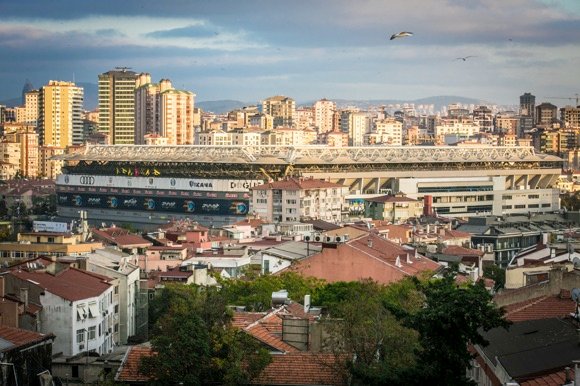 As bonfires were lit around the terraces, the crowd poured onto the pitch to carry the players aloft. Hero of the hour was coach Ignác Molnár, one of many Hungarians who took their tactical savvy from 1920s' Budapest to foreign parts. Returning to Fenerbahçe for the third time, the Magyar led the Canaries to five trophies in just over a year, including the double and Balkans Cup, but this unrelenting performance by his team was his greatest triumph.
By the modern era, games with equally successful rivals Galatasaray, the so-called Intercontinental Derby, were often marred by violence and incident. Most famously, Galatasaray manager Graeme Souness planted his club's flag in the centre-circle at Fenerbahçe in the combustible aftermath of the Turkish Cup final of 1996.
Fenerbahçe came back strongly under Christoph Daum and later Zico to win the league in 2004, 2005 and 2007. Thanks to hatfuls of goals by Brazilian captain Alex, Fenerbahçe kept up their title challenge in 2010-11. A long unbeaten streak saw them pip Trabzonspor for the title on the teams' head-to-head record, though some of these matches were later found to have been fixed.
Long-term chairman Aziz Yildirim, who had overseen the impressive modernisation of the Şükrü Saracoğlu, served jail terms for his involvement and fans took to the streets in numbers in protest. Thrown out of the Champions League, Fenerbahçe were allowed into Europe in 2012-13 thanks to a second-place league finish the previous May.
It was just as well. Winning a tricky Europa League group that included Marseille and Borussia Mönchengladbach, Fenerbahçe overcame Lazio before meeting Benfica in the semi-final. After a 1-0 win at home, an equalising penalty from Dirk Kuyt  in Lisbon wasn't enough to stem the Portuguese tide.
Despite a 3-1 defeat, Fenerbahçe could reflect on the best campaign by a Turkish club in Europe since Galatasaray's UEFA Cup win of 2000.
For 2012-13, Kuyt remained in place, partnered by the prolific Senegalese Moussa Sow – whose vital goals helped Fenerbahçe regain the title in 2014. Providing the chances was former Liverpool and Chelsea midfielder Raul Meireles – with left-back Caner Erkin another important element.
Failing to defend the title in 2014-15, and bidding farewell to former Inter and Newcastle star Emre Belözoğlu, Fenerbahçe approached the 2015-16 campaign with former Premier League stars Nani and Robin van Persie in their ranks. Holding Celtic and Ajax away, beating the Amsterdam side at home, Fener negotiated a tough Europa League group only to fall to a late rally by the hosts in Braga the following spring.
With van Persie, Sow and later Denmark captain Simon Kjaer still starring, Fenerbahçe topped their Europa League group the next season, beating Manchester United and Feyenoord, but the biggest test came when Greek side Olympiacos visited the Şükrü Saracoğlu in 2021. Returning Portuguese coach Vitor Pereira, who had managed both clubs in quick succession in 2015 and 2016, had his his reputation tarnished when the Piraeus side came away with a 3-0 win in Kadiköy.
Remarkably, the former Porto man was kept on but would only stay in place until Christmas. Incoming Benfica legend Jorge Jesus led his team through the group stage of the Europa League in 2022 but hopes of a domestic title were dented in January 2023 with Galatasaray's devastating 3-0 win at the Şükrü Saracoğlu.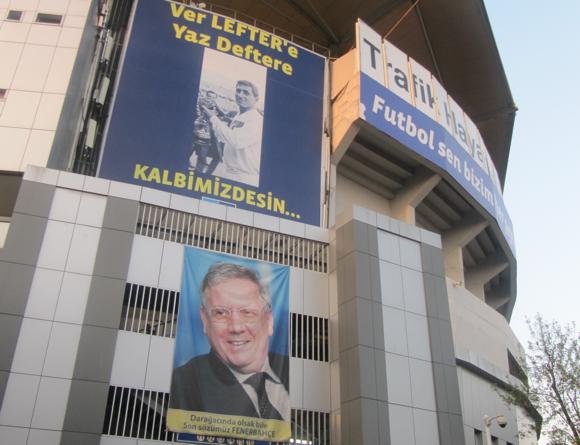 The field of dreams – and the stands around it
Few stadium visits are as magical as the ferry crossing over the Bosporus to the Şükrü Saracoğlu, on the Asian side of Istanbul in Kadiköy. With a current capacity of 50,500 and named after a pre-war club president, the former Priest's Field still shows the benefits of a decade-long renovation project initiated in 1999.
Venue for the last UEFA Cup final ten years later, this four-star arena is a regular host to Turkey's national side. Reconstruction brought each of the four stands closer to the pitch: the north Migros Tribün and south Türk Telecom Tribün behind each goal, and the Maraton Tribün and VIP Fenerium Tribün on the sidelines. Each has two tiers.
Away fans are seated in G, H, O and P-Blok in the Migros. Neutrals should head to the game early – the Şükrü Saracoğlu is in a dense residential area, surrounded by bars, restaurants and kebab shops.
Going to the stadium – tips and timings
Football by ferry – what could be better? Boats leave for Kadiköy Harbour every 15-20 minutes from Karaköy and Eminönu, convenient for Sultanahmet, on the European side.
From Kadiköy the stadium is a 15-minute walk from the harbour, up Söğütlü Çeşme, veering right up Kușdili cad at the junction. If traffic is not too bad, take a taxi (around TL30/€1.50).
Buying tickets – when, where, how and how much
For all games in Turkey, you need a Passolig card before you can be admitted. Here's an English-language guide on how to do this. Once you've done this, you can buy a ticket for specific matches on a week by week basis online through Passo.
The days of turning up before kick-off and hoping to get in are sadly no longer with us.
For an international fixture at the Şükrü Saracoğlu, visiting supporters should source tickets through their own FA.
Shirts, kits, merchandise and gifts
The club shop, Fenerium (Mon-Fri 9am-6pm, Fri-Sat 10am-6pm, match days), is opposite the row of kebab shops on Recep Peker cad.
As well as replica shirts and training tops, you'll find pint glasses and sunglasses.
Pre-match beers for fans and casual visitors
Cafés and kebab shops surround Kadiköy Harbour, including the hopefully reopening Olimpiyat 2 with its five-ring sign and beautiful wooden interior filled with Fenerbahce line-up shots from the 1940s onwards.
Approaching the stadium, you'll find a small stream trickling from the narrow street Șefik Bey sok. Here, the Mackolik sports bar is the best pre-match option, a two-storey operation with an enclosed terrace. The Fenerbahçe game is projected onto a big screen while regulars sip draught Efes and snack on kebabs, hamburgers and hot dogs.
On the same stretch on the quietest side of the stadium is club members' bar Vakfi Ada, worth a look-in out of curiosity even if you'll probably only be able to join the old guys playing cards on quieter midweek afternoons.
Opposite the Fenerium club shop on Recep Peker cad is a row of kebab shops and Efes bars flying the yellow and blue of Fenerbahce, the Fener Büfe, Stad Büfe, Görkem and the Köșe Burger. 
In the ground, behind B-Blok, the Café Crown serves hot drinks and juices.