Fifty years ago, a group of football-mad shipyard welders passed round a tin to buy strips for a team they wanted to build. This year, the team launched by the shipyard that launched the Titanic is embarking on the next leg of an extraordinary football voyage. Peter Doyle meets the dedicated men who steered Harland & Wolff Welders FC through the Troubles – and beyond.
Forged at a shipbuilders and tempered during Northern Ireland's Troubles, Harland & Wolff Welders FC are on the verge of completing a remarkable journey from lunchtime kickabouts to the top flight.
The Welders' steely determination to 'keep football going' may soon reap substantial reward in the shape of first-league football and a shiny new home ground.
When collection tins were passed around H&W's Musgrave Yard in 1965 to raise funds for a Saturday-morning side bearing the name of the world-renowned shipbuilders of Titanic fame, it proved to be a popular move with the workforce.
H&W treasurer John Davidson, whose father was a founder member, explains: 'Back in those days in the Belfast shipyards, tradesmen kicked a ball about every lunch hour.'
'Half the Irish league played in the shipyards at that time. We could have fielded an Irish league team in our department of welders.'
Now the Welders are preparing to mark their half-century – and they have every right to celebrate.
Sitting fourth in Championship 1 of the Northern Ireland Football League (NIFL), H&W are four points behind leaders Bangor with two games in hand.
They're still going strong in the Irish Cup too, with a home tie against holders Glenavon awaiting the part-timers in the sixth round on February 7.
Belfast's top-flight big three of Linfield, Cliftonville and Glentoran await – though perhaps not in 2015-16, and certainly not at Tillysburn Park. The Welders' windswept ground, with its solitary 200-seater stand, fails to match the requirements of the senior league.
In order to overcome this hurdle, the ever-ambitious club – proudly never relegated in the 50 years from lowly public-park battlers to Premiership challengers – has submitted plans to Belfast City Council for an all-seater stadium beside Tillysburn Park.
There's also lots of work to do beyond council-owned Blanchflower Park on Holywood Road. John Davidson believes top-flight status should be their 'short-term aim' and not a long-term goal: 'The Northern Ireland government has £36 million to invest in football at this level and all the clubs have to apply with drawings and business plans.
'It's not just a question of asking for money and then you get a stand. We have to make a case to go before the First Minister Peter Robinson and the Sinn Fein sports minister Carál Ní Chuilín.'
'But we are confident, once we get funding, that hopefully within the next two years, three maximum, we will have a ground that will meet the requirements not only of the Irish Football Association but of FIFA also, with drug-testing rooms and media areas.'
'It's a big project we are looking at. We might need to do it in phases. Forty-one clubs have applied for the funding but some are only looking for a training pitch. Not many are looking for what we want. If we get £3 million we can do the first phase – but we are looking for £6 million.'
The proposed 2,500-seated arena would cost an estimated £6 million to complete, plans also including up to six all-weather pitches for local junior football and hockey sides.
Club officials hope the new complex will become a centre for cross-community sporting excellence, with the emphasis on cross-community – a phrase you cannot escape in this part of the world, where politicians from both sides of the religious and political divide must share power at the highest level.
A poignant reminder of a troubled past came when UEFA's vice-president, Belfast's own Jim Boyce, recently dedicated his New Year's OBE to the 'players, officials, coaches or spectators' who kept football going during the darkest days of the Northern Ireland's sectarian conflict.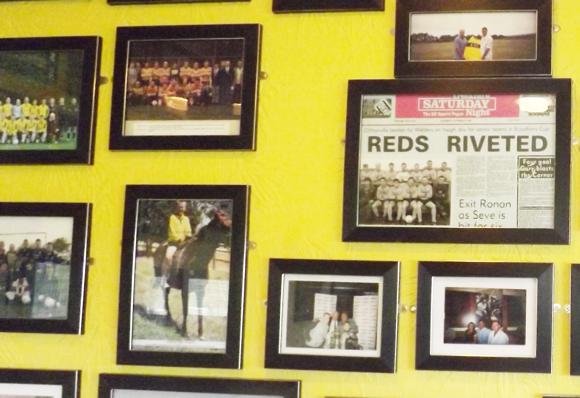 One such person is the Welders' long-serving club secretary Fred Magee, who also acts as the club historian after 45 years of service.
Recalling the Troubles, 76-year-old Fred acknowledges that, 'it would have been easy to walk away, to jack it in…' as the violence escalated and the bombs exploded across the province.
But the retired printer is rightly proud of the fact that the Welders, from predominantly Protestant East Belfast, never once abandoned a match during almost four decades of strife.
Fred adds: 'There might have been some tension during a game but we never, ever missed a match during the whole time of the Troubles, during the riots. And we went to some very tense areas, playing against teams from the other religions.'
'And all credit to other clubs. Not just at this level, but amateur level, the juniors and even the kids, all played most Saturdays.'
'We never, ever got into any major incidents. We never missed a game. It wasn't just us. A lot of clubs decided, 'sod them! We just want to play football. We want to keep it going'.'