Lviv hosts Champions League football on February 17 when Bayern Munich take on Shakhtar Donetsk there. The Arena Lviv has become the de facto home ground for Ukraine's title-holders – but Lviv was also home to pre-war Polish champions Pogon Lwów. Peterjon Cresswell reports on Pogon's recent revival – in the city known as the cradle of Polish football.
When Shakhtar kick off the knock-out stage of the Champions League against Bayern Munich on February 17, it won't be in the club's war-torn home of Donetsk.
For 2014-15, the champions of Ukraine for the last five seasons have been forced to move to Lviv, 1,000km from Donetsk in the far west of the country.
This is where you'll find the Arena Lviv, built for Euro 2012 on the southern outskirts of town.
The choice of Lviv as one of Ukraine's four host cities surprised many. Flagship club Karpaty Lviv had won no silverware since Ukrainian independence in 1991 and have now been floating over the relegation zone for four years. Former local rivals FC Lviv folded in 2012.
But way down in the fourth tier, the recent revival of Pogon Lwów represents a positive step for the local football scene.
And if Lwów, four-time title winners after World War I, doesn't sound Ukrainian, that's because it's Polish.
The historic, culturally rich crossroads of Lviv – Lwów to Poles – is more than just a geographical stepping stone between Ukraine and neighbouring Euro 2012 co-hosts Poland. Habsburg, Russian, Polish, German, Soviet and Ukrainian over the course of a hundred years, with strong Jewish and Armenian connections, Lviv developed as a modern metropolis in the early 1900s, when its architecture, culture and sport reflected the patchwork nature of its citizenship.
Fourth biggest city in the Habsburg Empire, third biggest in the post-war Poland of 1920, Lviv can be considered as the cradle of Polish football. It wasn't Warsaw or Kraków, but Lviv that saw the first goal scored in an official game between Polish sides.
That honour went to teenager Wlodzimierz Chomicki, who scored at the end of a six-minute exhibition game between representative teams of Lviv and Kraków at a sports tournament here in 1894.
At that time, there weren't even codified rules in Polish, but another Lviv citizen, Kazimierz Hemerling, published the first translation in 1904. The first referee in the Polish game, Stanislaw Polakiewicz, was also a local, recognised as an official in 1911 when the Polish Football Federation was founded – in Lviv.
Here, too, Poland's first professional football club, Czarni Lwow, was set up in 1903, later to play in the first stadium designed to host Polish football, in 1913.
Its owner, Pogon Lwow, were formed in 1904 and dominated the Polish league in the 1920s. As a boy, Poland's greatest ever national team coach, Kazimierz Górski, hero of the 1974 World Cup, would have watched – and later played for – his local Lviv teams between the wars. Four teams from Lviv played in Poland's first league, including legendary Jewish sports club Hasmonea.
Interestingly, the last game to be played at Pogon Lwów's stadium before Nazi Germany invaded Poland in 1939 was between Ukraina Lwów, made up of ethnic local Ukrainians, and RKS Lwów, starring Górski.
Górski was sent, along with many of his compatriots, over the border to modern-day Poland when Lviv became part of the Soviet Union in 1945.
The city lost much of its ethnic diversity. Some who played for Ukraina later became involved with Karpaty, formed in 1963.
Pogon Lwów were dissolved but their players bolstered other clubs in Poland, most notably the revived Polonia Bytom, champions in 1954, and Pogon Szczecin.
In the run up to Euro 2012, in 2009 local Polish enthusiasts in Lviv re-established Pogon Lwów for young amateurs and students. Under coach Wladimierz Mandziak, previously of Karpaty, a Pogon side played several friendlies against ethnic Polish teams from the region, before joining the local Lviv league in 2010.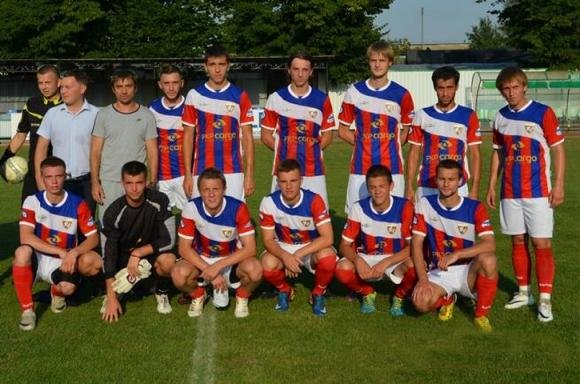 Having won it, Pogon now compete in the fourth flight of the Ukrainian league. Though their stadium has long gone, the club plays at Lviv Polytechnic. Of the club's four sports departments, football has attracted 150 players, with one senior side.
The ambition is now for the club to progress and turn professional – although such is the situation in Ukraine, with five top-flight clubs forced to play elsewhere, football is not top priority.