A fan's guide – the club from early doors to today
Serbian champions in 2017, Partizan Belgrade have also made the group stage of the Europa or Champions League eight times since 2008.
The club has always had a proud European pedigree. Having played the first ever game in the European Cup, a 3-3 draw at Sporting Lisbon in September 1955, Partizan were the first Eastern-European club to make the final, in 1966. Gento's Real Madrid stopped Partizan in both campaigns – both times a close-run thing.
Eternal rivals of near neighbours Red Star, Partizan were also founded in 1945, by war heroes and hard-line Communists from the Yugoslav Army, the JNA – originally Tito's Partisans.
Key to the new club's immediate success was Budapest-born coach Illés Spitz, a star forward for Újpest before the war. Here he could call on the best players in the new republic, Zagreb-born Stjepan Bobek and Čik Čajkovski. Bobek became all-time top scorer for club and country, Čajkovski the coach who would nurture Beckenbauer at Bayern.
Winners of the inaugural Yugoslav league in 1946-47, Partizan built their own JNA Stadium where defunct Belgrade SK once played.
Then joined by Miloš Milutinović and Branko Zebec, Partizan were invited to compete in the inaugural European Cup in 1955. Pitted against Sporting Lisbon of dictatorial right-wing Portugal, staunchly Titoist Partizan avoided a diplomatic spat and played the tie – setting the internationalist tone for the next 60 years.
Milutinović scored six against Sporting, bagging two more against eventual winners Real Madrid – only to lose 4-3 overall.
The next great Partizan side, now sporting black-and-white stripes, came in the 1960s. Still under Spitz, players such as Velibor Vasović, Fahrudin Jusufi and Milan Galić emerged to claim four titles and a place in the European Cup Final of 1966. Overcoming Manchester United in the semi, a poignant return to Belgrade for Bobby Charlton after the fateful flight of 1958 that crashed at Munich, Partizan briefly led Real Madrid in Brussels, only to lose 2-1.
Partizan's stars fled abroad, Vasović for Cruyff's Ajax. After fallow years, youngsters Zvonko Živkokić, Nenad Stojković and Dragan Mance came through. The genial Mance is remembered for his goal in a 4-0 turnaround that beat QPR in the 1984-85 UEFA Cup – and for his early death. Partizan picked up more titles, but only really came into their own in the 1990s.
Without the top sides from Croatia, Slovenia or Bosnia, or top players from European champions Red Star, Partizan monopolised the weaker Serb-Montenegrin league.
Under former Partizan player Ljubiša Tumbaković, the club won six titles in ten years, the first with Predrag Mijatović. With war, hyper inflation and a UEFA ban on European competition, many, including Mijatović, Savo Milošević and, later, Mateja Kežman, headed abroad.
Back in Europe from 1997, albeit on the bottom rung, Partizan brought in Lothar Matthäus to lead the club to the 2003-04 Champions League group stage. Knocking out Newcastle on penalties to get there, Partizan gave creditable performances against Jose Mourinho's Porto, Didier Drogba's Marseille and Real Madrid of the Galáctico era.
More penalty drama in 2010-11 saw Partizan again progress to the group stage, under Aleksandar Stanojević. The popular young ex-Partizan defender had just overseen an exciting and successful title finish, bringing through teenage prodigy Lazar Marković – but Europe proved too much.
Internal disputes led to the hiring of Avram Grant as coach – albeit briefly. With mainstay captain Sasha Ilic in the twilight of his career, along with Sasha Marković and Danilo Pantić, Partizan wrested the title back from Red Star in 2015. With nearly a goal a game, Serbian international Uroš Đurđević swept Partizan to another title in 2017, earning him a transfer to Olympiacos, with Brazilian Leonardo equally prolific also for that single season.
Coach Marko Nikolić was tempted over the border to Hungary, allowing Red Star to then nip in for two straight titles in 2018 and 2019. With a European place in jeopardy, Partizan old boy Savo Miloševič came in as coach in the spring of 2019, leading his former club to a Serbian Cup win over Red Star and Europa League group-stage berth, to come up against Manchester United and AZ Alkmaar.
The field of dreams – and the stands around it
Very much looking its age, the Partizan Stadium stands near a major crossroads, a ten-minute walk (uphill) from Red Star's. Still referred to by its original name of the JNA (Yugoslav Army), it was previously where pre-war champions BSK used to play.
It was also the de facto national stadium, a tradition that continued in 1949, even before the rebuild was ready. It was here that Yugoslavia drew with France 1-1, bringing them a step closer to the 1950 World Cup.
Parades, internationals, cup finals, they all took place here after the stadium was officially opened on Army Day in 1951.
Partizan bought the stadium from the Army in 1989 but modernisation has been slow and piecemeal. Current capacity is just short of 33,000, and the surrounding statuary, garden and parkland still lend a feel of yesteryear – as does the old-school Restoran Partizan, and offices for other sports clubs ringing the stadium.
The stadium is divided into four areas, north (sever) and south (jug) behind each goal, east (istok) and west (zapad) along the sidelines.
The south stand is the home of Partizan's faithful Grobari, the Gravediggers. Depending on numbers, away fans are given most of the north, sever, stand.
Going to the stadium – tips and timings
Partizan lies between two main roads. On one side, trolleybuses 40 and 41 run along Bulevar kneza Aleksandra Karadjordjevica, to the stop named 'Stadion Partizan'. Beforehand, they call at the main Post Office ('Glavna Poshta') by the National Assembly, the 41 setting off from downtown Studentski Trg. Bus 34 only starts from local station Beograd-Centar close to Partizan.
On the other side, buses 47, 48 and 78 trundle along Bulevar Oslobodjenja, past the junction of Trg Oslobodjenja, an equally short walk to the ground.
Bus 78 runs directly from the train station to Trg Oslobodjenja – allow about 15mins. The 47 runs from downtown Trg Slavije. Tram 9 usually serves this same route.
Buying tickets – when, where, how and how much
Unless it's for the Red Star derby, tickets are easily bought on the day, about RS300 in the sever or jug sectors behind the goal, RS500 in the istok or zapad sectors along the sidelines.
For a big European game, prices more than double.
As well as the ticket office (blagajna) at the stadium, there's another outlet at the Kombank Arena at Bulevar Arsenija Carnojevica 58, over the river in Novi Beograd.
Online, local agency Eventful also distributes tickets, usually through partner organisation Sports Events 365. Tickets can be delivered to your hotel.
Shirts, kits, merchandise and gifts
The Crno Beli Butik, the Black & White Store (Mon-Fri 11am-6pm, Sat 11am-3pm, match days) by the stadium car park, offers tops, shirts and T-shirts in any colour you like – provided it's black and white.
Pre-match beers for fans and casual visitors
Two little bars sit by Trg Oslobodjenja at the junction with Dr Milutina Ivkovicha that leads to the ground. The Uzice and Maratona are old-school Yugo, with lovely old photos of Belgrade in the Maratona.
A little further up, close to the stadium, the Zona is a betting bar with little atmosphere but plenty of sport on TV. Further round, at No.11, Klub 011 is a somewhat faux-chintzy restaurant with a pleasant terrace for a casual pre-match beer.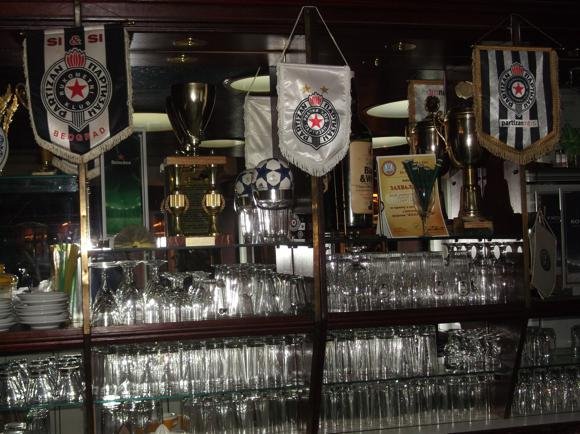 At the stadium itself, the classic spot is the Restoran Partizan by the small, enclosed garden and Partizan fountain. A two-floor operation little changed since Tito's day, it comprises a restaurant downstairs and standard bar upstairs, with photos of various Partizan sports teams and Jelen beer at under RS150 a bottle.
Further round, past the club shop, Partizan's archery club run a basic bar-kiosk, with tables conveniently set outside beneath Amstel umbrellas.