When Parma face Bologna this Sunday, it won't be any ordinary Derby d'Emilia. The men of the cross striding out against their age-old regional opponents will be playing for a European place for the first time since 2007. Kate Carlisle visits the city of opera, prosciutto and Parmesan cheese to chat to fans in the Bar Gianni about their club's recent resurgence.
Today's Parma Football Club are the survivors of the financial crisis that almost finished off the tenth most successful team in the history of calcio.
After the disappearance of much-decorated Parma AC in 2004, Parma FC have spent the last decade re-establishing their status as a top-flight club to be feared – none more so than during the current campaign so than under Roberto Donadoni.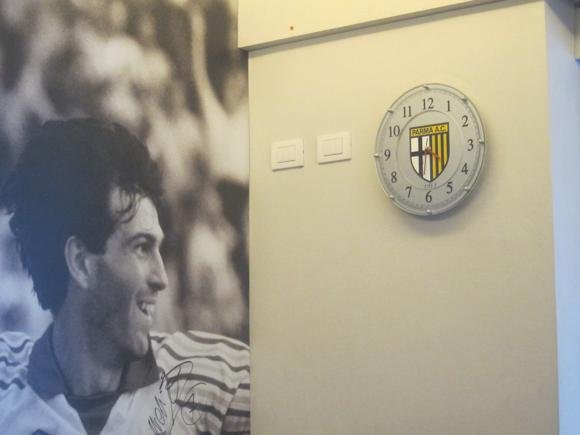 The former World Cup star, having steered Parma almost immediately out of the relegation zone in 2012, is now leading them back onto the European stage. Another familiar face is leading the charge, striker Antonio Cassano. With his favourite No.99 shirt, the Bari-born firebrand has put himself in the reckoning for Brazil, named in Cesare Prandelli's 42-man Italian squad for next week's get-together at Coverciano. Cassano's two goals at the San Siro against AC Milan in March sealed a 16-game unbeaten run.
'When we scored last week against Napoli, I was on my feet shouting more than I have done the whole season…we all were,' says raspy-voiced Tomi, a long-time Parma follower and part of Boys Parma 77, the club's most historic and adamant ultra group.
Now sat in a more calmly fashion in the Bar Gianni, the main pre-match spot near Parma's Stadio Ennio Tardini, Tomi and his fellow fans were gathered to rev up for the upcoming derby game.
In 2004-05 it required a play-off between the Emilia Romagna rivals to send Bologna to Serie B – a currently ominous risk this season – and save Parma from the drop, albeit temporarily. It was dubbed the Salvation Derby by Parma followers.
'Bologna had beaten us at home… we were desperate,' remembers Silvia Menoni, an avid Parma fan, raised to follow the club at her father's side. 'We were struggling after a horrible season. We had no money, and had gone from the Champions League to knocking on the door of Serie B. But then, we won at Bologna …. 0-2! Thanks to that play-off, we survived another season. We always remember that when we play against Bologna'.
'There will be lots of us heading to this match. Bologna is always a hard one and everyone is on the edge of their nerves.'
Tomi also pointed out developments off the pitch. 'It isn't just about the star players, it's the whole formula. Management, coach and players have found unity,' he enthuses.
'Running a football club is a business and not a hobby,' Parma president Tommaso Ghirardi has said. 'Parma FC is a company with somewhere between 400 employees and consultants. In Italian football, we need qualified individuals with a university degree, something we don't have at the moment.'
Marketing has been another factor. The official Parma Store, once inside the stadium and erratically accessible, has now been moved outside the entrance, the former ticket office. An impressive product range gleams yellow and blue around a boutique of high-design. It's a world away from Lazio or even Bologna.
Parma, with gracious city planning and broad boulevards, is also the home of Napoleon's second wife Marie-Louise, immortalised at the stadium entrance. French in feel, it doesn't display the immediate local passion for the game you might find in Bologna.
'It's true, we have cultivated a sort of off-handed, almost snobbish attitude when it comes to football. It is part of our French-influenced history,' Silvia explains. Local opera followers are also hard to please. 'Pavarotti, who was from Modena, was always a bit intimidated to sing here,' says Silvia. 'Even the most sophisticated opera fan has been known to boo if a performance isn't up to par.'