It's a cold Christmas for Russian football. With the country in financial crisis, on December 24, the 16 clubs in Russia's Premier League agreed an exchange rate for the rouble – in order to pay their want-away foreign stars. Andy Potts reports.
The rouble has turned to rubble after a dramatic slump in the exchange rate – and that could have a devastating impact on Russian football.
As CSKA Moscow president of Evgeny Giner told the R-Sport agency: 'I'm not really sure how things will progress with our foreigners. They've come here to play for a million dollars, and it doesn't really matter to them whether it's 30 million roubles or 50 million. They just want to take home their million bucks. Right now things are difficult here.'
Many foreign stars in the Russian Football Premier League (RFPL) have contracts in dollars or euros rather than the roubles that clubs earn on the gate and through their TV contracts.
Giner was speaking on December 24 after the RFPL published a memorandum, signed by all 16 clubs and supported by sports minister Vitaly Mutko, setting a football exchange rate of 45 roubles to the dollar and 55 to the euro. At the time of writing, the bank outside my window is selling dollars for 55 roubles and euros for 68. A year ago the numbers were closer to 33 and 45.
Few expect many of the big-name imports to stick around for long as clubs cut deals to get big contracts off their books and the rest of Europe goes sniffing for bargains. Artur Petrosyan, editor-in-chief of 'Sport Express', took to his Twitter last week to predict: 'All big earners (Hulk, Valbuena, Witsel, Kuranyi etc) leave by July 2015. Clubs likely to discuss compensation and terminate their contracts'.
In the current Russian political climate many would be happy to see foreign mercenaries leave – and not just in the sporting world. But Petrosyan fears worse could be on the way. Club teams reliant on local government funds or closely linked to a single sponsor, might also face a dark future.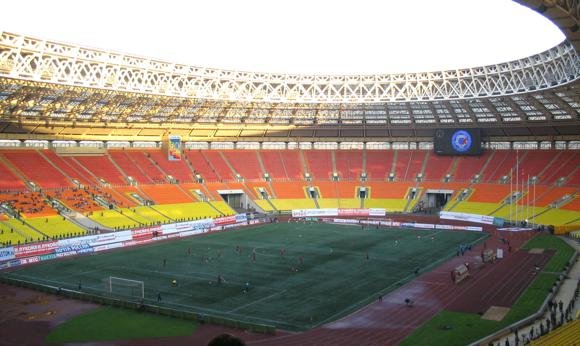 The 2009-10 crisis spelled the end for FK Moskva and Saturn Moscow Region, both top-flight teams before the money ran out, while this season has already seen reports that FC Rostov and Amkar Perm have struggled to pay their players' wages. December 25 brought reports that Kuban Krasnodar might cease competing at the end of the current season, with news agency Interfax suggesting that the playing staff could switch to Anzhi Makhachkala. Kuban general director Evgeny Muravyov later insisted that the club's finances were among the healthiest in the league.
Meanwhile the Russian Football Union (RFS) is not best placed to help out. Throughout the season there have been reports that national team coach Fabio Capello has not been receiving his generous remuneration, prompting many to suggest that Russia's lukewarm performance in Euro 2016 qualifying is evidence that one does indeed get what one pays for.
With the 2018 World Cup getting closer – and with currently just two of the planned venues so far open for football – Petrosyan is not alone in questioning whether Russia can meet its obligations in time for the big kick-off.