Peterjon Cresswell visits SC Hakoah, formerly Hakoah Vienna, who won the Austrian title in 1925.
Exactly 90 years ago a club was crowned champions of Austria for the first and, as history would have it, only time: Hakoah Vienna.
In fact, in their short lifespan, Hakoah were responsible for many firsts. The world's first Jewish club, founded by a librettist and a dentist in 1909, Hakoah were the first club from continental Europe to cross the Channel and beat an English side on their own turf. Hakoah were the first club to win the newly professional Austrian league, in 1925, and the first to undertake a lucrative and well attended tour of America, a year later.
Pioneering Hakoah also laid the groundwork for similarly named clubs around the world and for the modern game to develop in Israel – but, by then, this Viennese outfit had ceased to exist, its surviving members spread all over the world and its stadium still in the unyielding hands of the city authorities.
Today, SC Hakoah thrives as a 1,000-member strong sports club with an impressive new complex opened exactly 70 years after the Nazis swept into Vienna to incorporate Austria into the Third Reich in 1938. Set near the national football stadium in the Prater park, it comprises a pool, tennis courts, an indoor sports hall and gym – but it no longer has a football team.
SC Hakoah, now open to all, is also close to the original sports ground where its football team won the Austrian title in 1925.
A photo of the 20-member winning squad of 15 players and five officials is displayed in the Leopold Böhm Museum by the reception area of the modern-day complex. Also under glass is a stern image of Béla Guttmann, beside the watch presented to him on the occasion of arguably his greatest triumph in the game, leading Benfica to victory over Barcelona in European Cup of 1961.
As a player, Guttmann was a no-nonsense centre-half, whose tactical nous compensated for any lack of athletic ability. Indeed, this 1925 title-winner helped devise the 4-2-4 formation that spread across Central Europe then, partly thanks to Guttmann himself, South America, in the 1950s. It enabled Brazil win the World Cup in 1958.
This Budapest-born Jew had left MTK for Hakoah in 1922, escaping Hungary's rising anti-Semitism. Hungarian champions the two previous seasons, MTK were known as Budapest's Jewish team – but Hakoah Vienna were more than just a club.
They were founded by Fritz 'Beda' Löhner, librettist for famed operetta composer Franz Lehár, and Ignaz Körner, after the pair had been inspired by a speech at the second World Zionist Conference of 1898. This new movement, they were told, required strength – and so Hakoah ('Strength') were formed. All their members were Jewish, unable to join other sports organisations in the city.
After World War I, the club acquired some 30,000 square metres of land at the Krieau end of the Prater park, near the Danube. There they built the 25,000-capacity Sportplatz, Hakoah's home after hiring pitches around Floridsdorf. As now, Hakoah was a multi-sports club, particularly strong in swimming.
The title win of 1924-25 was not without incident. After beating FA Cup holders West Ham in London the year before, Hakoah were competing in a strong Austrian league. Matthias Sindelar, one of the greatest players of the pre-war era, had just joined SV Amateure, aka Austria Vienna.
Including Guttmann, six Hungarians lined up in Hakoah's first XI, causing the influential local weekly 'Illustriertes Sportblatt' to complain after the title win, 'And there isn't a single Viennese in the team!'
Legend has it that goalkeeper Sándor Fábián broke his arm in the last match, moved up front and scored the decisive goal.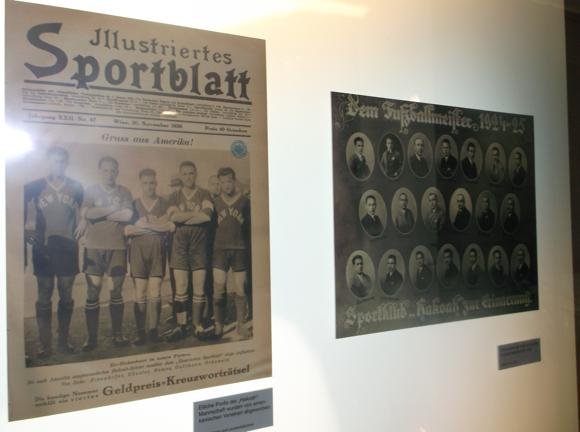 A year later, Hakoah embarked on a groundbreaking tour of America, attracting a record 46,000 spectators to the Polo Grounds in Upper Manhattan for a game against New York Stars. Not until Pelé and Cosmos did such numbers gather again to watch soccer in the Big Apple.
Guttmann, forward Sándor Nemes and others decided to stay in the States, though the game's chaotic set-up there saw them return to Europe. As Austria fell to Nazism, and Hakoah folded, several players fled to France. Winger József Eisenhoffer won the French Cup with Marseille. Stalwart Max Scheuer joined him, only to be sent to the infamous transit camp at Drancy – and then Auschwitz.
Hakoah's talented co-founder, 'Beda' Löhner, was also murdered at Auschwitz, in 1942. Incredibly, Ignaz Feldmann survived Auschwitz, Sachsenhausen and Buchenwald. Josef Grünfeld survived Buchenwald and made it back to New York where he opened Joshy Gruenfeld's Restaurant, a major post-war meeting place for exiled Hakoahns.
Some went to the newly formed state of Israel, whose national team had 1925 Austrian champions Egon 'Gitschi' Pollak and Lajos Hess for its first two managers.
To this day, Guttmann's movements in World War II are unknown, although his brother died in a concentration camp. As someone who ran a speakeasy in New York in the 1920s, the later manager of Benfica probably knew how to handle himself.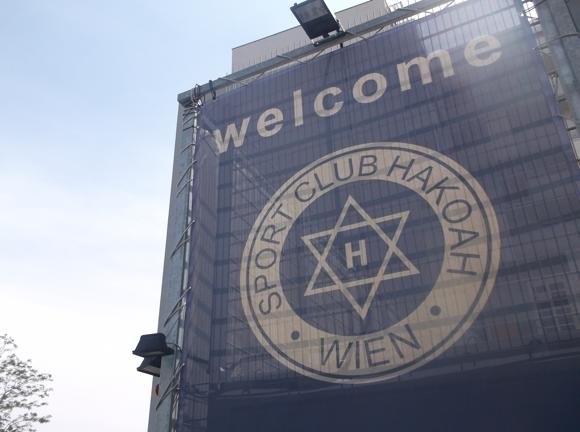 In his dotage, the globetrotting Guttmann moved back to his beloved Vienna. As a club, Hakoah managed to compete in sundry sports but were unable to claim back their Sportplatz from the City of Vienna. For many years, it was even used by the sports club of the Finance Ministry.
Today, Vienna's Jewish football team is Maccabi Wien of the Stadtliga division, who play at the Police Sports Ground on Dampfschiffhaufen over the water from the Prater. The name Hakoah lives on in the football-bereft sports complex by the Danube Marina – and in Hakoah teams around the world, from Buenos Aires to Sydney.