More than 20 years since the World Cup that launched it, ever-expanding MLS seems to be booming. But what about the domestic game as a whole? Can it thrive without promotion-relegation between currently separate leagues? With falling TV ratings and controversy over attendance figures in MLS, Tony Dawber speaks to Jonathan Tannenwald of The Philadelphia Inquirer and Ted Westervelt of soccerreform.us about the pros and cons of the league ladder.
On 4 July 1994, in front of 84,000 at Stanford Stadium in California, USA held Brazil to 0-0 for three-quarters of a sudden-death match in the World Cup. Although tournament star Bebeto settled the game on 72 minutes, for the hosts the event was a watershed.
This was not only America's first match in the knock-out stages of a World Cup for 60 years. Creating a domestic league, MLS, had been part of the deal agreed with FIFA for the US to stage the tournament. Brazil went on to win the trophy but the US had arrived as a credible international force on soccer's biggest stage.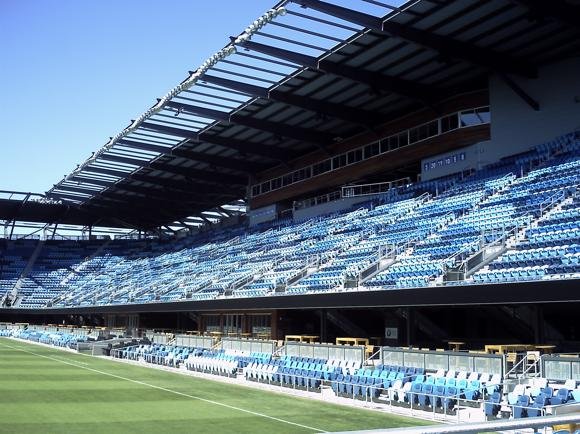 Two years after the best-attended World Cup finals in history, MLS kicked off in front of low crowds, mainly in stadiums otherwise used for American football.
In 2016, its average gate reached 21,692. Currently 14 of the 22 stadiums used for MLS are soccer-specific, with another three planned for 2018-19.
Jonathan Tannenwald, soccer correspondent for The Philadelphia Inquirer, firmly believes MLS is on the up, as shown by the success of 2017 newbie Atlanta United. This burgeoning franchise tops the attendance league with first-season average of almost 47,000.
'The scale of what Atlanta has done is really remarkable,' says Tannenwald. 'Not just because of the sheer numbers attending, but because it's happened in a city that is not regarded as a traditional soccer hotbed in America.'
'And next year, the arrival of Los Angeles FC is going to change the game again. It is coming in with its own stadium that is much smaller but it's been built just off Downtown next to the famed Los Angeles Coliseum. It's easy to get to and everyone knows where it is – and, of course, LAFC is going to swing for some big-name signings.
'All of this allows MLS to set a justifiably high bar for new expansion teams.'
But that's just one showcase league. Running parallel to MLS, NASL is a second-tier organisation with more former clubs than current ones. More recent NASL departures include Minnesota United, the other new arrival to MLS in 2017, and Tampa Bay Rowdies, which joined the rival lower-flight United Soccer League (USL).
NASL, a name chosen to conjure up the era of Pelé, New York Cosmos and, indeed, Tampa Bay Rowdies, has no links to MLS. Cosmos won the 2016 NASL title in front of 2,150 people.
USL is a different story. Nearly all the 30 clubs in its two divisions are either affiliated with those in MLS or actual reserve sides.
Current USL Eastern Conference leaders Charleston Battery is linked with Atlanta United. Topping the Western Conference, Real Monarchs shares Rio Tinto Stadium with sister club Real Salt Lake.
Last month, USL side FC Cincinnati triumphed over Bastian Schweinsteiger's Chicago Fire in the US Open Cup, after beating another MLS team, Columbus Crew. On July 12, Cincinnati travels to NASL's Miami FC, a fellow MLS giantkiller which saw off Atlanta and Orlando in previous rounds.
More than 32,000 witnessed two hours of cup drama, plus penalties, when Cincinnati overcame Chicago in Ohio.
With one guaranteed non-MLS team in the semi-finals of this venerable, century-old competition, talk has turned to breaking the top-tier franchise monopoly of MLS and instigating a system of promotion and relegation as in operation across Europe and much of the soccer world.
Is the franchise system stifling development and holding back expansion as forward-looking clubs see their progress blocked as the top bracket jealously guards its position?
Ted Westervelt of soccerreform.us has campaigned relentlessly for pro-rel to be introduced to the American game. With the franchise system so deeply entrenched in all top-level US sports, he's swimming against the tide, but claims growing support for his views.
'We have over 100 consecutive years of professional soccer history,' says Westervelt. 'Our history is marked by massive club and league collapses. This is totally unique to closed leagues. It's beyond time to acknowledge that inconvenient history – not our lack of footballing history.'
And Westervelt is also sceptical of the claim that US soccer needs protecting because it is still developing. He believes the MLS will continue to prosper but to the detriment of the game in general.
'Plunging popularity is not in and of itself a fatal problem for MLS. As long as it maintains its special relationship with US Soccer and its global market arrangements,' he says. 'I see MLS ploughing forward on that platform for as long as they possibly can, and damn the lack of popularity.'
Jonathan Tannenwald of philly.com agrees that soccer in the USA remains at a critical development stage, but believes the introduction of relegation could scupper the huge strides MLS has made in raising the profile of the game.
'While I understand the sporting merits of the system,' says Tannenwald, 'I don't think the sport as a whole in this country is sustainable enough yet economically to have three big cities relegated all at once. That could have happened many times in recent years – say, Chicago, Philadelphia and Houston as the bottom three.
'If you lose them, I think you lose the impact of MLS or any other American soccer for many more years than just the ones where these clubs are down a division.
'Fans will go watch English or Mexican soccer and not come back for some time. The sport can't afford that.'
Westervelt argues otherwise: 'MLS is wed to the US sport model where parity is imposed and monopolistic behaviour is tolerated. That's perhaps understandable for isolated US sports that exist in their own bubbles and don't compete outside their leagues, but an anathema in global football.
'As a result of this knee-jerk adherence to US sports dogma, the MLS bubble simply shrinks. As a result of this isolationist nonsense, in internet search and viewership, MLS appeals to a smaller proportion of US soccer supporters more than at any time in its history.'
Indeed, Cincinnati's stunning success in this year's US Open Cup highlights a fundamental worry over MLS dominance of the scene. Critics claimed that the push by MLS to elevate Columbus Crew as 'Ohio's team' assumed it would hoover up all soccer fans in the state. Cup defeat to the rival an hour away, Cincinnati, has placed a huge question mark over that dynamic.
Falling TV ratings for MLS after years of growth appear to bear out Westervelt's concerns. Tannenwald disagrees but appreciates the challenges ahead.
'Personally I don't get too worked up about the TV ratings,' says Tannenwald.
'I've been around the sport for long enough in this country. I've seen how much the overall audience for soccer has grown even if television audiences for MLS haven't grown as much as the community would like.
'The big challenge that MLS faces is that people in one market – say, New York, Seattle or Philadelphia – often only want to watch their team. They don't care much about the rest of the league.
'So getting them to watch a national TV game involving two other teams can be a challenge.'
And what of actual attendances?
Fuelling current debate are the TV images of MLS games showing swathes of empty seats while organisers claim sell-out crowds.
'I've been tracking it for the better part of a decade,' says Westervelt.
'MLS has set an obtuse standard on false attendance reporting that other US leagues are now beginning to emulate.'
But Tannenwald reckons MLS is no worse than anyone else in this regard: 'Every sport in America does official attendance counts the same way: tickets sold and distributed, not tickets torn – or scanned these days – at the turnstile'.
'When there are empty seats at NFL or college football games, they are shown up to be even worse because they are the big sports on the landscape.'
Tannenwald remains optimistic about the future, and sees the franchise system as fundamental in allowing all clubs to believe they have a fair shot at silverware when a new campaign kicks off.
'I grew up a fan of all the big American sports and I still am,' he says.
'I think there's real value for a fan of almost any team to start the season believing that team has a chance to win a trophy.
'It is a bedrock principle of American sports, along with trying to make as much money as possible. I think far more people value that than want to see it go away, and for good reason.'
Twenty-four years after California hosted the Independence Day clash between the US and Brazil, Los Angeles FC joins MLS in 2018. A new club with a new soccer-specific stadium near Downtown LA enters America's showcase soccer stage backed by owners including Hollywood A-lister Will Ferrell and basketball legend Magic Johnson.
The question is, just how far can glitz and glamour go? And is it time to call time out on the franchise system?