With the Champions League final this Saturday, it's a timely reminder of the last time Europe's showcase event was staged in Lisbon. Chris Hunt meets veterans of Celtic's victory over Internazionale, one crazy evening in May 1967. While the later named Lisbon Lions were preparing for the final, their fans were selling their houses and taking any means of transport necessary to reach Portugal. These photos are taken from Celtic's last visit to Lisbon in 2012, when players and fans revisited the hallowed Estádio Nacional for a kickabout, 45 years after the event.
On May 25 1967, a Thursday, 12,000 Glaswegians converged on Lisbon to watch Celtic beat previously dominant Internazionale and become the first and only Scottish team to lift the European Cup.
'There had been nothing like it before,' says Jackie Connor, who made the journey himself as a 44-year-old in 1967. 'Celtic fans just took over all forms of transport. A lot of guys even set off in old bangers and you'd wonder how they were going to get out of London Road, never mind get to Lisbon.'
Another fan, 25-year-old Ernie Wilson, had just been laid off from his job on the railways. Unable to raise the money to travel, he gave his scarf to a friend, so that if he wouldn't be able to be there, at least his scarf would make it. As the big day got nearer, however, he concocted an elaborate plan to get to Lisbon.
'I decided to sell my house,' he explains. 'I told my wife that I was moving in with my mother and managed to get a deposit on the house and this got me to Lisbon. It had been a trial separation, but when I broke the news of what I'd done, that was goodbye to my marriage. But I just had to get there. And who was the first face I saw when I arrived in Lisbon but the friend who I had given my scarf to – so I ended up at the game with my scarf after all.'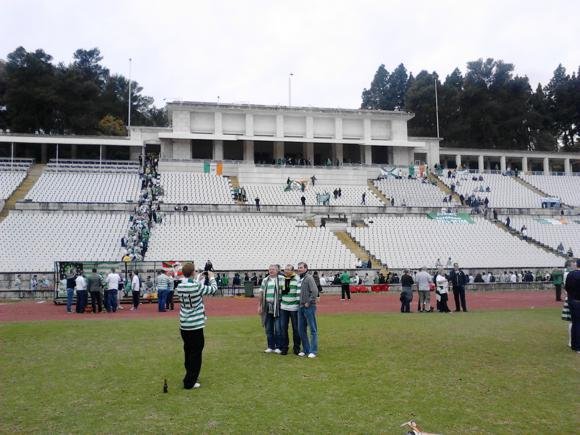 When the final whistle went, the Celtic fans celebrated their team's 2-1 victory with a pitch invasion, jumping across the moat that separated the terraces from the pitch. 'It was a trickle to start with,' says a then 29-year-old fanatical Celtic fan, Bernie Boyle. 'I watched a man who was the same age as my father jumping over and I thought if he can do it, I can too. It was the only time in my life I ran onto the pitch.'
'A lot of the fans fell into the moat and had to be pulled out,' recalls another supporter, Jack Marshall. 'By the time they got to the park they were kissing the grass, doing the highland fling and cutting bits of the grass out. I just sat and laughed at all these characters going cuckoo.'
'I jumped onto the park and headed for what players I could see,' recalls Ernie Wilson. 'I got hold of Tommy Gemmell and hugged him, and I chased after Bobby Lennox. I feel sorry for the players, as they were getting strips ripped off them. I saw Billy McNeill and the scratches that man had on his back were unbelievable, just from people trying to get the strip off him.'
Over the years this mass exodus has passed into football legend. Stories abound like mythical tales of Glaswegians who went to Lisbon for the big game and never returned, choosing instead to get jobs in Portugal and make the party last. 'I think some of the planes flew out with maybe a dozen people missing,' recalls Connor.
Ernie Wilson was one of the fans who did make his plane – carrying with him a little bit of excess luggage on his return journey. 'Maybe I shouldn't have,' he recalls, 'but I dug up a big bit of the pitch and brought it home in my bag.'