Record title-winners Galatasaray set out on the 2015-16 campaign with an extra star on their famous red-and-yellow shirts. With former Gala midfielder Hamza Hamzaoglu taking over from Cesare Prandelli as coach halfway through, 'Aslanlar' ('The Lions') grabbed their elusive 20th championship in 2014-15.
But 2015-16 has proved to be one the club's worst seasons in modern times, with a constant change of coaches, poor showing in the Champions League and even relatively mediocre form in the domestic league. Just when things couldn't get any worse, in March 2016 Galatasaray were ruled out of any potential European football for the next two seasons, financial irregularities discovered just as the club had notched only one league win in six games. Oh, and top scorer Burak Yilmaz left for China.
The bar was set high in 2000 by legendary manager Fatih Terim, who took Galatasaray to the unique treble of league, cup and European trophy, the UEFA Cup.
Based at their new all-purpose Türk Telekom Arena way north in Sisli, the club was formed at the Galatasaray Lycée in Beyoglu. For most of the modern era, they played at the north-east district of Mecidiyeköy, until the move to Sisli 2011. The Ali Sami Yen stadium had been the stage for many a memorable European night, teams arriving to cacophony of noise and riot of colour, as drums beat the rhythm to the communal mantra of 'Cim Bom Bom'.
Galatasaray became known as 'Cim Bom Bom' after a song devised during an early tour to Switzerland. Other tours were not so idyllic. Formed in 1905, Galatasaray courageously played early matches in towns touched by the Balkan wars. At home, Istanbul's most popular club found its first star in Metin Oktay, who notched more than 300 goals in the 1960s – his death in a car crash made him the fans' icon. His mantle was taken by Tanju Colak, prolific in the 1980s, and then by Hakan Sükür in the 1990s.
By then, regular title wins were bringing European riches, attracting big name stars such as Romanians Gica Popescu and Gheorghe Hagi. It just needed the tactical guile of former Gala defender Fatih Terim as coach for the club to go places. The UEFA Cup run of 1999-2000 saw wins over Borussia Dortmund, Real Mallorca and Leeds United – a tie marred by the death of two Leeds fans in Istanbul.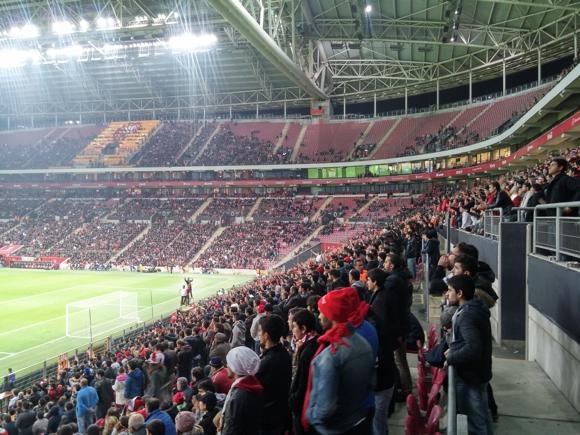 The final, a tense, scoreless draw with Arsenal, was decided on penalties after Hagi was sent off. The UEFA Cup was part of a treble that may never be repeated. Terim and Hakan Sukur left for Italy, and Galatasaray spent the rest of the decade planning and building their new arena.
Terim's second return finished disappointingly, an embarrassing 6-1 defeat at home to Real Madrid in the Champions League – despite the presence of Didier Drogba and Wesley Sneijder. In came Roberto Mancini, and Galatasaray earned a 2-2 draw at Juventus, then beat FC Copenhagen 3-1, Drogba and Sneijder scoring.
A late winner from Sneijder that December, and the Turks knocked Juventus out of second qualifying place. Drogba then faced his former team-mates Chelsea, and former manager José Mourinho, in the last 16, a step too far for Mancini's side.
Galatasaray then won the Turkish Cup, but surrendered their league crown to Fenerbahce, whose exclusion from European competition meant that Galatasaray took their place in the Champions League.
Drogba had impressed Mourinho enough to go back to Chelsea – at 36. Mancini made way for Cesare Prandelli but he failed to repeat the Champions League heroics of 2013. Halfway through 2014-15, Hamza Hamzaoglu replaced him. The goals of Burak Yilmaz and industry of Wesley Sneijder duly pushed Aslanlar back into the driving seat – and onto a 20th title and historic double.
Stadium
The Türk Telekom Arena is located in Sisli, in the far north of Istanbul. Opened in 2011, it has taken over from the legendary Ali Sami Yen Stadium further south in Mecidiyeköy.
The 52,600-capacity arena is set beside the Istanbul Cevre Yolu motorway that leads to the airport and bridges leading to different parts of the country. The second largest club stadium in Turkey, also used for national games, comprises a main West Stand (Bati Tribün) and East Stand (Dogu Tribün) along each sideline. Behind the goals are the North (Güney Tribün) and South (Pegasus Tribün) Stands.
Away fans are placed in Rakip Category 6, a pie-slice of stadium split across blocks 419-421 of the Güney Tribün and block 418 of the Dogu Tribün.
Transport
The venue is served by Seyrantepe metro station, on the other side of the Istanbul Cevre Yolu motorway, connected to the stadium by an underground tunnel. Depending on which line you are using from town, from Sishane or Haciosman, you must alight at Sanayi Mahallesi. From there, the match-day M2 shuttle runs one stop to Seyrantepe. On non-match days, the service serves homecoming workers 5pm-7pm daily.
When arriving at Seyrantepe metro station, head upstairs, out of the station and into a car park. Follow the sign marked 'Stadyum'. A taxi from central Istanbul should cost around TL40-TL50 – leave plenty of time for traffic.
Tickets
For all games in Turkey, you need a Passolig card before you can be admitted. Here's an English-language guide on how to do this. Once you've done this, you can buy a ticket for specific matches on a week by week basis online through Passo.
The days of turning up before kick-off and hoping to get in are sadly no longer with us.
Shop
The Galatasaray shop, the GS Store, is by Gate D5. Amid the wealth of red and yellow, you'll find tracksuits, jeans, slippers and jackets, as well as Turkish national team shirts, home and away.
Bars
There are no real bars or restaurants in and around the arena. Beside one of the ticket office areas and by the Seyrantepe metro exit to the stadium there are a couple of outlets: Simit Sarayi for sandwiches with traditional Turkish bread, simit; and the Yüzevler kebab stall. Inside the stadium are snacks, hot drinks and juices, but no alcohol.
Back in town, on bar-lined Nevizade, close to the Cicek Passage, Galatasaray fans meet at late-opening Aslanim at No.14, which packs with drinkers inside and out on match nights.
Gallery