A historic textile town exactly halfway between Brussels and Antwerp, close to Belgium's main airport, Mechelen was once a feared name in the international game.
The last Belgian city to welcome home a European trophy, Mechelen last featured on the international stage in 1994 and has since been left behind by Flemish rivals such as Ghent, Genk and Bruges.
Mechelen's two clubs, KV and KRC, were formed within three months of each other in 1904 and sit next to each other on Belgium's hallowed registration list at Nos.24 and 25, above Anderlecht and Lierse.
While KRC, popularly referred to Racing, had their heyday in the early 1950s, KVM hit the heights in the late 1980s when they won the Belgian Cup, European Cup-Winners' Cup and Belgian league over the course of three seasons. KVM, also known as the Malinois, have been in Belgium's top flight since 2007. KRC have sunk almost without trace, relegated to the Provincial Leagues in 2017.
KVM were first called FC Malinois after the French name for Mechelen, Malines. Many of their team were originally students who attended the prestigious Catholic University of Leuven and came home at weekends. Traditionally, KVM's ownership has come from local politics and the high-ranking Catholic community. The club's chairman until his death in 1951 was Francis Dessain, a Belgian canon whose brother was Catholic mayor of Mechelen. More recently, the chairman behind KVM in the glory years of the 1980s was John Cordier, who stood for the Christian Democrats at local elections. A prominent businessman, he was later buried at St Rumbold's, the vast cathedral that dominates the city centre, venue for weddings of minor Benelux royalty.
Racing, on the other hand, were formed by young students of the Atheneum, a local college with liberal leanings. The club's first colours were blue, signature tone of the Liberal Party, but were soon changed to green to avoid any misinterpretation.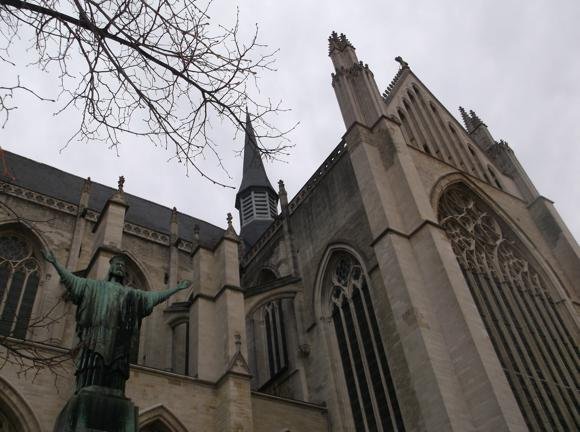 Nevertheless, Racing's first chairman, elected when still only 18, was Oscar Vankesbeeck, later a leading politician in the Liberal Party. Taken prisoner, tortured and beaten by the Gestapo, he died soon afterwards, his funeral in 1943 a proud display of Belgian patriotism during the Nazi occupation.
Racing's ground, the Oscar Vankesbeeckstadion, later took his name. It last staged top-flight football in 1990, the club's two-season dalliance in the Eerste Klasse coinciding with city rivals KVM reaching their peak. Holding just over 6,000, with more than 1,000 seats, the ground is considerably better than any other in the Belgian Provincial Leagues, where Racing are now stranded.
The stadium is 2km north of town, over the river Dijle, on the main N1 motorway between Brussels and Antwerp. Bus No.500 leaves perron 10 of Mechelen bus station every 15-30min, passes central Veemarkt then reaches Oscar Van Kesbeeckstraat, seven stops/15min in total. Bus No.9 is less frequent but takes a different, quicker route to Oscar Van Kesbeeckstraat, leaving from perron 15. Alternatively, take bus Nos.2 or 5 from perron 1 to Oude Pleinstraat, 150 metres away. Admission is €12.50-€15 for a seat and €10 to stand.
KVM have long been based 1km east of Racing, also north of the Dijle. On the bank of the river stands the Kazerne Dossin, formerly an army base, hence the stadium pre-sponsored name of Achter de Kazerne ('Behind the Barracks'). Today the Kazerne is a museum dedicated to the round-ups and deportations from Mechelen during World War II, a fascinating and worthwhile memorial.
Bearings
Half-hourly trains direct from Brussels airport take 10min to reach Mechelen (€8.50) 24km (15 miles) away.
From the Eurostar station at Brussels-Midi, a frequent train takes 30min to Mechelen (€4.50 single).
Mechelen's main train station is a 5-10min walk south of the city centre. Both stadiums are north of town. Mechelen-Nekkerspoel station is walking distance from KV Mechelen's ground. Most trains from Brussels/Brussels Airport require change at Mechelen main station for Nekkerspoel.
The city's bus terminus is alongside the main train station, services run by De Lijn. A single ticket is €3 from a platform machine or the driver, with 60min validity and any changes. A day pass is €7, €9 on board.
KM Taxi (+32 48 40 30 373) based in Mechelen offers airport transfers for €50, with online booking.
Bed
Toerisme Mechelen has an extensive, English-language hotel database.
The nearest lodging to Nekkerspoel station, and to the KV Mechelen ground, is the Value Stay City Residence (Lange Heergracht 65, +32 499 51 68 29), a complex of 27 plain studios, each with a flat-screen TV and microwave/kitchenette. Reception hours are very limited. It's featured on popular hotel-booking sites. For a more conventional stay, the Holiday Inn Express at Veemarkt is as close to Nekkerspoel as it is to the city centre, with free high-speed internet in all 69 rooms.
In the same vicinity, the Elisabeth Hotel on Goswin de Stassartstraat offers contemporary urban comfort in a converted hospital an easy walk to the KV Mechelen stadium.
Right by the cathedral, pricier Den Grooten Wolsack fills a historic building with 22 funkily furnished guestrooms, a grand café and steakhouse. By the river, the Mercure Mechelen Vé is an excellent find, with a pool, spa and whirlpool, and decent restaurant.
Beer
Mechelen is the home of Golden Carolus beer, whose sign you'll see all over town. Traditional bars dot the city centre. A lesser-known, smaller one, right by the cathedral, is the hub of Mechelen's football culture: De Bovenstad at Steenweg 14. Scarves of both local clubs decorate the brick walls and bar talk centres on games past, present and upcoming.
Alongside, Grote Markt is lined with bars and restaurants, the most football-friendly being O'Fiach, with an authentic pub feel, plenty of match action, quality bar food and a signed photo of Eden Hazard behind the bar. Closed on Mondays, no kitchen on Sundays.
Down at Vismarkt at the waterfront, Bar Popular is just that, ever lively, with big matches broadcast. A Caribbean/Latin touch and 4am closing towards the end of the week help things along nicely.
There's a pub hub near the station, where De Prof brings in a student crowd with cheap drinks deals and 3am closing. Next door, you'll find live football at Boesjkammeree. Round the corner, classic Café De Olifant puts on DJ nights.
Gallery