A fan's guide – the club from early doors to today
The last Belgian club to lift a European trophy, KV Mechelen have recently been tainted by the wide-reaching corruption scandal that swept across Belgian football in 2018-19. Bizarrely, despite being found out for fixing the decisive relegation clash on the last day of the 2017-18 campaign, KVM still failed to stay up as other results went against them.
Perhaps more bizarrely, they were allowed to go back up to the top tier after winning the First Division B in 2019, as the misdemeanour had been committed the season before. However, Mechelen were prevented from defending the Belgian Cup they won in 2019 and entering the Europa League.
Formed, like city rivals Racing, in 1904, Football Club Malinois gained their name from the French rendering of Mechelen, Malines. It was only as late as 1970 that the club switched to the Flemish Mechelen, by which time it had long gained the royal seal of approval signalling 25 years of activity.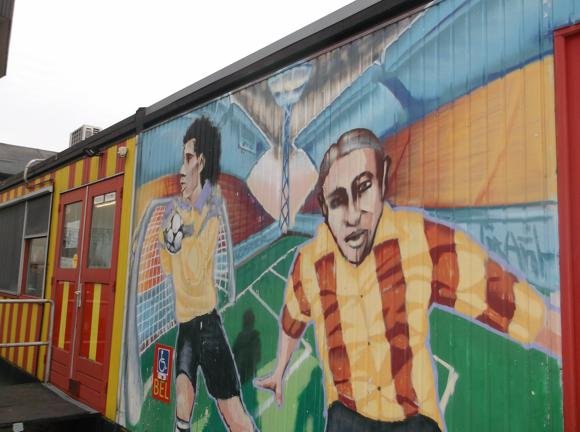 Thus Royal Football Club Malinois became Koninklijke Voetbalclub Mechelen, or KVM. In common parlance, Mechelen are the Malinois or, as Flemings prefer to differentiate from the French, 'Malinwa'.
Based at Achter de Kazerne since 1911, the club first made the top flight in 1921 but didn't make an impression until the arrival of defender August ('Gust') Hellemans and forward Bert De Cleyn. Hellemans played in both Belgium's matches at the 1930 World Cup, including the defeat by USA on the opening day of the inaugural tournament.
With De Cleyn scoring nearly as many goals as the 455 matches he played in, RFC Malinois won a first title in 1943, another in 1946, then a third in 1948.
Both these Belgian internationals lived long enough to see the now renamed KV Mechelen reclaim the glory days in the 1980s. Behind the revival was John Cordier, who had reaped huge rewards with Leuven-based telecommunications giant Telindus he set up in 1969. 
Ploughing many of the profits into moribund Mechelen from 1982 onwards, Cordier first oversaw the club's return to the top flight under Breda legend Leo Canjels. He then convinced coach Aad de Mos to leave Ajax, where he had just won three Dutch titles, for an underachieving club in Flanders.
The results were immediate. Arriving in 1986, de Mos signed top Belgian internationals Michel Preud'homme and Leo Clijsters, as well as Alain De Nil and Paul De Mesmaeker from cash-strapped RWDM. PSV Eindhoven linkman Erwin Koeman was another big signing. In the first full season under de Mos, Mechelen finished runners-up behind Anderlecht in the league and won the 1987 Belgian Cup with a 1-0 win over Standard Liège.
Again missing out on the Belgian title by two points, this time to Bruges, European debutants Mechelen were provided passage through the Cup-Winners' Cup thanks to vital goals from incoming striker Eli Ohana. The Israeli international hit a brace at St Mirren when the Paisley side had the upper hand in the Second Round, an opener at Dinamo Minsk then another against Atalanta in the semi-final.
Pitted against Ajax in the final in Strasbourg, Mechelen had been well briefed by de Mos, former coach at the Dutch club. A solitary strike from Piet den Boer after half-time sowed panic in the Ajax ranks, who quickly brought on a teenage Dennis Bergkamp but to no avail. With Preud'homme solid in goal, the Belgian underdogs had won a European trophy at their first attempt.
A loser that day, Ajax striker John Bosman then signed for his old boss de Mos and helped Mechelen to a Super Cup win over PSV with two goals.
Preud'homme proved the vital factor the following season, too, when KVM only conceded 20 goals in 34 games to lift their first Belgian title in 40 years. With a young Marc Wilmots added to the squad, as well as fellow Belgian international Bruno Versavel, de Mos had the strength in depth to vary the midfield. 
Again, Mechelen impressed in Europe, overcoming Anderlecht then Eintracht Frankfurt, both with goals from Wilmots, in the defence of their trophy. KVM then fell to Gianluca Vialli's Sampdoria in the semi-final after taking a 2-0 lead in the home leg.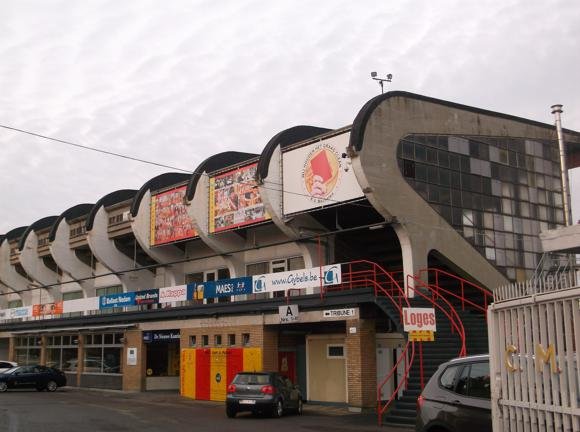 Anderlecht then gained revenge of sorts by poaching de Mos against a backdrop of financial uncertainty at KVM, Cordier's telecommunications company under pressure from the computer boom. Hiring Dutch legend Ruud Krol in his first coaching post, Mechelen still had the core squad to challenge in the league and take an outstanding Milan side to extra-time in the San Siro in the quarter-final of the European Cup, their only appearance in the premier club competition.
With Preud'homme still between the sticks, KVM were never going to concede goals easily, but now lacked edge up front. Cup finalists in 1991, KVM also lost out the following year to Antwerp after a marathon penalty shoot-out that saw Preud'homme score but captain Clijsters miss the vital kick.
It was a sad end to a successful, if short, era. Cordier, already offloading players rapidly, pulled out. Preud'homme left for Benfica and Mechelen sank down the table. Relegated in 1997, KVM needed two seasons to get back up. 
Further relegation two seasons later, and the subsequent lack of revenue, nearly finished the club, rescued by a fan-backed initiative that saved KVM but forced their demotion to the third flight – and a new entity to be formed, Yellow-Red RFC Mechelen.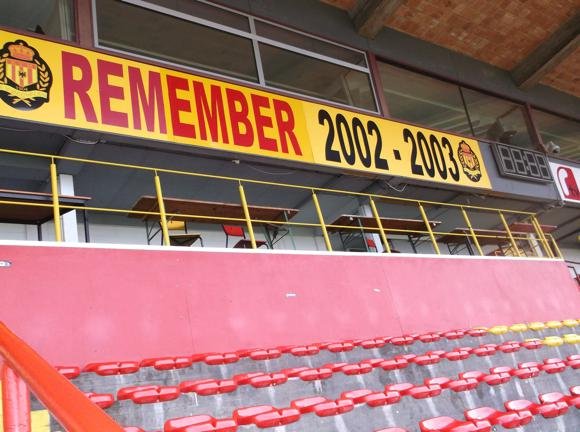 A couple of months later, the club was KVM again and, starting out with a nine-point penalty, spent two seasons in the Derde klasse, reviving the Mechelse Stadsderby with Racing.
Promoted in 2005, KVM hired former Racing Mechelen goalkeeper Peter Maes as coach and regained the top tier in 2007. Loyal fans were further rewarded in 2009 when KVM won a penalty shoot-out over Cercle Bruges at the Achter de Kazerne to reach the Belgian Cup final.
After an early red card for defender Jeroen Mellemans, KVM struggled against Genk, eventual winners 2-0.
Relegation in 2018 followed 11 regular if unremarkable seasons in the top division, although it later turned out that Mechelen had fixed their final decisive match against Beveren. All to no avail as across Belgium, Eupen had achieved a win by a greater scoreline.
To bounce back to the Eerste Klasse and quickly, KVM brought in the old warhorse Igor de Camargo, a naturalised Brazilian with nine Belgian caps and nearly 20 years of top-flight experience behind him. In the promotion play-off, Mechelen overcame Beerschot, down to ten men in both legs. 
At the Achter de Kazerne, a crowd of 16,000-plus witnessed French midfielder Clément Tainmont hit an 89th-minute winner. Goals by de Camargo and Tainmont also saw off Union St-Gilloise in the semi-final of the Belgian Cup before KVM surprisingly reversed KAA Gent's 1-0 lead at the Stade Roi Baudouin with two goals either side of half-time.
Mechelen's first major trophy since the heady days of 1989 didn't open the door to Europe, however, the club tainted by the match-fixing scandal of 2018. Despite Beerschot's protests, KVM were allowed passage back to the top flight – and the 36-year-old de Camargo given the opportunity to increase his impressive career-long goalscoring record.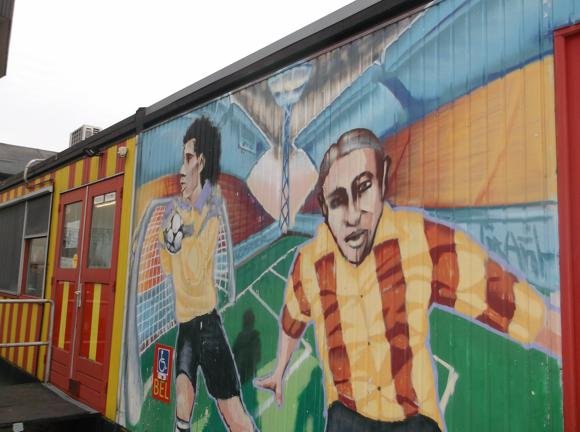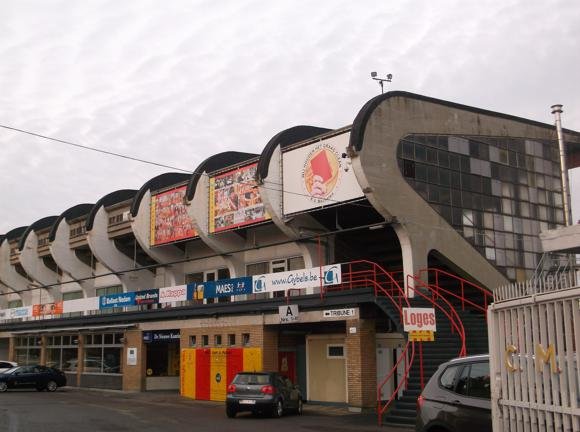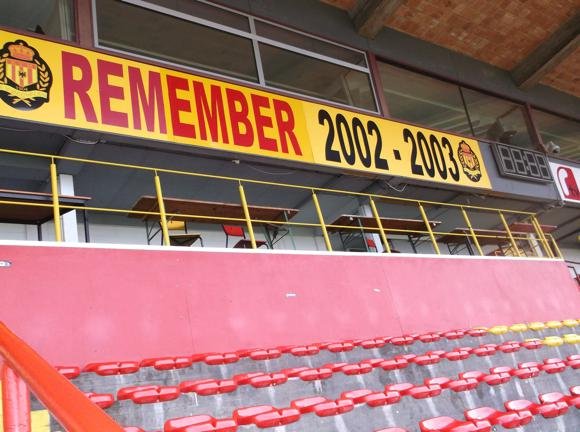 The field of dreams – and the stands around it
In place for well over a century, the Achter de Kazerne takes its name from the barracks that once stood nearby – although sponsors such as Scarlet, Argos and, currently, AFAS, have added their brands to its official title in recent years.
Opened in 1911, the ground gained a new main stand in 1926 and a replacement one in 1952, at the end of the club's most successful era. In those days, Racing were also at their height, so crowds would pack in for the Mechelse Stadsderby.
With the arrival of moneyed chairman John Cordier and a new wave of success in the 1980s, a modern press area was installed and big European nights included the visits of PSV Eindhoven, Sampdoria and Sporting Lisbon – although the tie with the great Milan side of 1990 was switched to the national Heysel stadium.
Mechelen's recent revival has allowed wooden seats to be replaced by plastic ones – these latest improvements have seen capacity shrink from 18,000 to just under 17,000.
The new stand, Tribune 3, opposite the main one of Tribune 1, opened at the start of the 2016-17 campaign, seats 2,000, set above a pitchside terrace of 3,000 standing places. In a sadder development, the legendary chalet where drinks were served from 1911 onwards, was demolished in 2007. The small stand that replaced it was also knocked down in the rebuild of 2016.
Home fans remain in Tribune 2, aka Telenet, also with standing places at the front. Visiting supporters are allocated two sectors, Z1 and Z2, at the furthest end of Tribune 3 from the KVM faithful.
Going to the stadium – tips and timings
The ground is a 10-15min walk from Mechelen-Nekkerspoel station – follow the river along Frans Halsvest, turn right up Populierendreef, left at the end then first right up Kleine Nieuwdijkstraat. Nekkerspoel connects with mainline trains from Brussels – usually with one change at Mechelen's main station.
You can also take buses 550, 551 or 552 that set off at 15min intervals from Perron 1 by the main station, taking 10mins to reach the nearest stop to the ground, Caputsteenstraat, via the city centre. From the bus stop, turn right into Caputsteenstraat itself, then first left into Kleine Nieuwdijkstraat.
Buying tickets – when, where, how and how much
There are advance sales (voorverkoop) from the Ticketshop (Mon, Wed, Fri 9am-6pm, Tue & Thur 9am-7pm, match-day Sat 10am-noon) by the main entrance. There is also an online option. Ticket windows open 90mins before kick-off.
Average gates are around 10,000, so availability shouldn't be a problem except for the visits of Anderlecht and Bruges.
For all ticket enquiries, contact ticketing@kvmechelen.be.
Games are categorised into Verhoogde Wedstrijden, higher-class, ie Anderlecht, Antwerp, Bruges, Genk and Liège, and Niet- Verhoogde Wedstrijden, ie all the rest.
Basic admission to stand in the home end, F1 in Tribune 2, is €17, €19 for top opposition. To sit behind the goal in sectors K1/K2 in Tribune 4 is €19/€24, and in sectors E1-E3 in Tribune 2, €19/€27.
The cheapest seats in sideline Tribune 3 are in sector H1 at the far end, €27/€32. All other tickets, around €35/€40, offer a quality view near the halfway line.
There are discounts of around €7 for under-19s in all areas.
Shirts, kits, merchandise and gifts
The KVM Fanshop (Mon-Fri 10am-12.30pm, 1.30pm-6pm, match days 90min before kick-off, for 45min after final whistle) is by the car park behind the new stand, Tribune 3.
Amid the mass of red-and-yellow stripes (away kit is white and grey halves…), you'll find a range of gear with a 1904 theme. Coffee mugs emblazoned with 'Proud to be a Kakker' refer to the nickname for Mechelen fans. Note also the tops and T-shirts produced in celebration of the 2019 Belgian Cup victory.
Pre-match beers for fans and casual visitors
Surprisingly, for a populist Belgian club in place at the same ground for over a century, the KVM ground has no bars near it.
It gets worse. The excellent stadium bar behind the main stand, De Nieuwe Kantine, with Belgian league ladders on one wall and photos of classic KVM moments on the pillars, has been transformed into the smarter Supporterscafé Grand Kavee. Only open on match days, it is accessible by paying €10 admission. At least they haven't got rid of the historic images, which now cover one wall.
Open lunchtimes during the week, the Restaurant Kazerne in home Tribune 2 offers three-course lunches at €37 and, if you reserve on match days, a three- or four-course meal with two glasses (!) of beer, wine or champagne, at around €150/head. On the plus side, the restaurant does have a prime view overlooking the pitch.