A fan's guide – the club from early doors to today
The Canaries of Sint-Truidense VV may be light on major silverware but the club from Sint-Truiden have been a consistent presence in the top flight for over 30 years.
Two short appearances in the Inter-Toto Cup, both involving long trips to ex-Soviet cities, are the sum total of Sint-Truiden's European adventures so far, the last one taking place the same year as the club last reached the Belgian Cup final, in 2003.
Then again, until Genk started winning league titles, the province of Limburg was hardly known for setting Belgian football alight. Here, close to the border with south-eastern Netherlands, cycling and motocross compete for popularity. Sint-Truidensche Voetbalvereeniging weren't founded until 1924, from a merger of Gold Star and Union Sint-Truiden, about whom little is known.
In fact, any details of the club's pre-war history are scant. Sint-Truiden made their debut in a friendly against near neighbours Cercle Tongeren, the only statistic to have survived being the meagre attendance of nine paying spectators.
One figure does emerge, however, from the days of lower-league football either side of the war: Pol Appeltants. A locally born, one-club forward, made his debut in 1938 at the age of 16 and earned a solitary Belgian cap a decade later.
In 1950, he was top league scorer in the second division but it wasn't enough to gain the Canaries, by then officially called Sint-Truidense VV, promotion to the top flight. That didn't come until 1956-57, ironically his last season at Stayen.
Built on the western edge of town in 1927, the ground has been home to STVV for almost their entire history.
Appeltants also just missed the arrival of the other important figure in the club's chronology: Raymond Goethals. The former Daring Brussels goalkeeper took his first main coaching job at Sint-Truiden in 1959, his seven-year stay at Stayen ending in the all-time best league finish of 1966, a runners-up spot behind Anderlecht – and a post for Goethals in the Belgian national set-up. He later went on to win European silverware for Anderlecht and Marseille.
Back in Sint-Truiden, STVV were relegated in 1974 and stayed there until 1987. Under Limburg-born coach Guy Mangelschots, with later multi-capped internationals Danny Boffin and Marc Wilmots just starting out in their careers, the club climbed back to the First Division.
Although Boffin was soon off to Liège, Wilmots remained at Stayen for another season, and would return as coach in 2004.
In between, Mangelschots returned for another four years, succeeding in achieving another promotion, in 1994, following relegation three seasons before.
Lifting the short-lived and sporadically played-for Belgian League Cup in 1999 allowed access to the Intertoto Cup and easy wins over Spartak Varna, Ararat Yerevan before a narrow defeat to Austria Vienna. 
A year later, Danny Boffin returned to finish his career in his home town, but the 53-time Belgian international couldn't make the difference in the 2003 Belgian Cup Final against La Louvière, 3-1 winners on the day. A solitary defeat to Toboi Qostanay in distant Kazakhstan in the subsequent Intertoto Cup proved to be Sint-Truiden's last European adventure so far.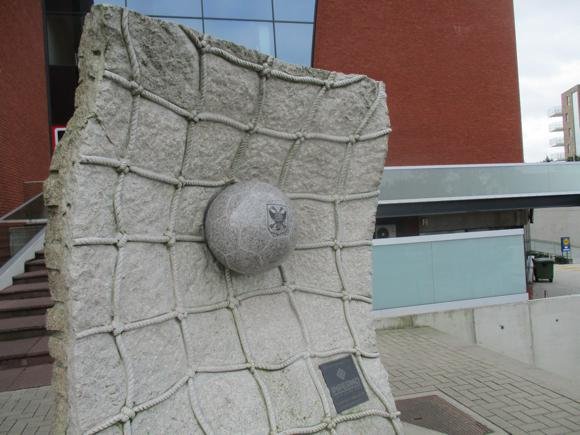 A year later, politician and wealthy entrepreneur Roland Duchâtelet started up his wide-reaching football empire right in Sint-Truiden. From a fourth-placed position in 2003, STVV sank to the lower reaches of the top flight five seasons in a row, before relegation in 2008.
After bouncing back thanks to goals from Senegalese striker Ibrahim Sidibe, Sint-Truiden enjoyed a surprisingly buoyant campaign in 2009-10. Sidibe was still scoring goals – stopping them was locally born Simon Mignolet, his performances earning him a transfer to Sunderland, then Liverpool.
Before he left, STVV pushed local rivals Genk awfully close in the Europa League play-off, holding them to 2-1 at the Cristal Arena and going 1-0 up thanks to a Sidibe penalty early in the second leg. Genk duly hit back with three goals, and a season later, Duchâtelet had sold the club and moved to Standard Liège.
He briefly stepped back in five years later, but only to gear the club for its sale to Japanese electronic commerce company DMM.com in 2017.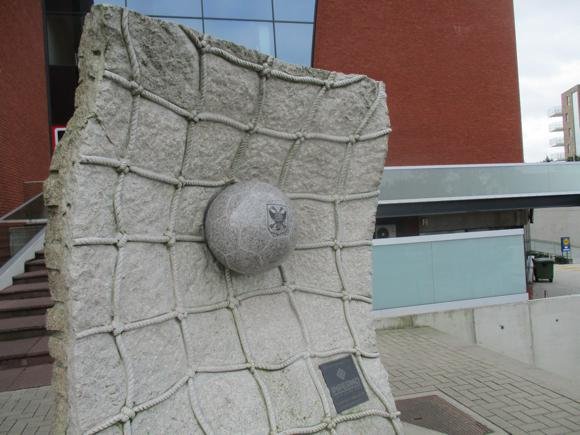 The field of dreams – and the stands around it
Stayen, once known as Staaien after its location west of town, has been home to Sint-Truiden since it was built in 1927. Destroyed during World War II, it was gradually rebuilt during the 1950s as STVV climbed up to the top tier. The year that Sint-Truiden claimed their first and only runners-up spot in the Belgian League, a 20,000-plus crowd was recorded for the visit of eventual champions, Anderlecht.
Modernisation in the form of floodlights, a new stand and relaid pitch, came in the 1980s, then again 20 years later with an all-seater stand, VIP areas and, by 2008-09, two new stands and a hotel. What you see today, artificial turf and all, was pretty much laid out by 2014.
Current capacity is 14,600, officially with 3,530 standing places but for 2019-20, the Tribune Noord aka Sfeertribune ('Sfeer' as in 'atmosphere') has also been designated entirely for standing fans. Sitting down wasn't really happening anyway, what with all the drums, megaphones and noise generated by beer-bearing Binks supplied by the Raymond Goethals outlet just behind.
Away fans are allocated the Tribune Zuid, through gates Z2 and, with its own drinks outlet alongside, Z1.
The main Tribune West is a three-tiered affair with a row of sky boxes sandwiched in between. Opposite is the one-tiered, family-friendly Tribune Oost.
With Sint-Truiden off the boil of late, average gates have dropped to around 6,000-7,000.
Going to the stadium – tips and timings
The bus service from Sint-Truiden station to the Sint-Truiden STVV stop by the stadium is pretty infrequent, especially at weekends. From Perron 8 on the concourse as you exit the station, the 23 and the 313 each run every 30-60mins during the week, every 2hrs on Sat and four times a day on Sun. It's only a one-stop, 2min journey.
Walking, head through the car park, then straight ahead, veer right and cross the railway bridge. From there, you should see the floodlights ahead on the left-hand side. Allow about 15mins from station to stadium.
Buying tickets – when, where, how and how much
Availability is rarely a problem these days at Sint-Truiden, although there are usually special arrangements in place for the visit of local rivals Genk.
Advance admission is sold two weeks before every home game, at the STVV Fanshop (Wed-Fri 2pm-6pm) and Dutch-only online, usually available until lunchtimes on match day. Ticket windows then open 90 minutes before kick-off. For all enquiries, contact tickets@stvv.com.
Note that for two weeks before a high-risk fixture (Genk, Liège, Bruges, Anderlecht, Antwerp, Charleroi), due to demand and limited ticket distribution, the shop operates Tue-Fri 2pm-7pm, Sat 10am-2pm (no tickets sold here on match days).
For the home Tribune Noord, it's €15, €12 for under-24s and €7 for under-12s. For top games, including local rivals Genk, this rises to €20, €17 and €12. In the Tribune Oost, a seat in outer sectors A-C and I-K is €20/€25, €17/€20 for under-24s and €15/€17 for under-12s. Discounted rates don't change in inner sectors D-G, but for adults, it's €25/€32 and €30/€37, the pricier ones (sectors E-G) with a upper view over the halfway line.
In Tribune West opposite, only VIP seating is available, from the outer VIP 3 (€35/€50, under-12s €25/€30) to the prime VIP 1 (€85/€105, under-12s €60-€65). Apart from the nicer chairs and great view, you can help yourself to a glass of beer or sparkling cava, and join the post-match party at the Rvue bar.
Shirts, kits, merchandise and gifts
To the right of reception at the Hotel Stayen, STVV Fanshop (Wed-Fri 2pm-6pm, non-match Sat 10am-2pm, 2hrs before kick-off, 1hr after final whistle) sells all things yellow and blue, the first kit being mainly yellow with blue shorts, the second-choice, the opposite. Sint-Truiden are the Canaries, after all.
See Getting in for details of later opening hours in the run-up to high-risk fixtures.
Pre-match beers for fans and casual visitors
Many fans prefer a pintje or two of Cristal in the homely De Kanarie bar to reserving a match-day at table at the Grand Café of the Hotel Stayen across the road. Those who do book, though, can watch the match close to the touchline – a curtain is otherwise drawn across to prevent anyone else getting a free view of the action.
If you're here on a non-match day, it's worth having a drink in the café's dining room, black-and-white images illustrating a history of the club and its supporters.
If you haven't booked, the hotel runs the separate Café du Soleil closer to the precinct of shops. It opens from noon though makes few decorative references to STVV.
For pre-match chips, Belgian chips, remember, the Kriekenclub (formerly Bart en Miet) facing the stadium on the main road is a fans' favourite.