A fan's guide – the club from early doors to today
The Zebras of Sporting Charleroi are currently looking at a much brighter future, with concrete plans in place for a new stadium, the return of mercurial coach Felice Mazzù and European appearances after a long absence. 
In a country where mergers and name changes are often the norm, Les Zèbres have a strong tradition and identity. Founded on New Year's Day 1904, the club spent its first decades in the regional Hainaut league. Sporting first entered the elite Division d'Honneur in 1947.
Within a year, RCSC (Royal Charleroi Sporting Club) had eclipsed once stronger city rivals Olimpic. In 1968-69, a team built by former Belgian international Pol Anoul reached second place in the renamed Division 1, above Anderlecht and Bruges.
The subsequent debut in the Fairs' Cup was soon ended by Rouen, setting an unfortunate tradition of short European jaunts. At home, so regular were the appearances of the club in the top tier, and so definitive the demise of Olimpic, that 'Charleroi' shorthand for Royal Charleroi Sporting Club. The last top-flight derby took place in 1975, a 7-1 win for RCSC to mark Olimpic's last season in the elite.
Star of the side was fans' favourite Charly ('Charly-la-Foudre') Jacobs, a dynamic, diminutive striker. Memorably beating Anderlecht on penalties, Charleroi reached the Belgian Cup final in 1978, only to lose to to Beveren by two late goals.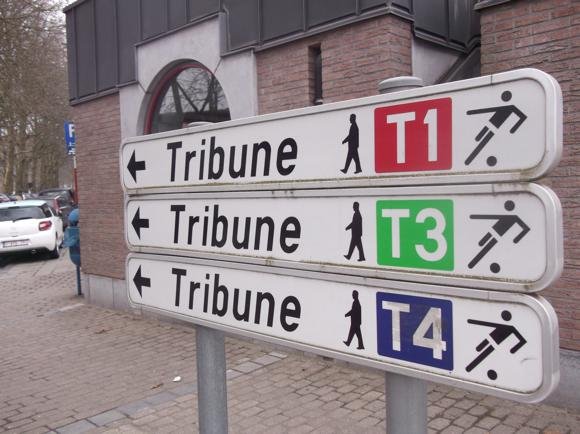 The next decent Charleroi side – and cup-final appearance – came in the early 1990s. In 1993, under later national coach Robert Waseige, The Zebras kept Standard Liège to 0-0 at half-time before succumbing 2-0. Former Belgian international and club captain Raymond Mommens then led Charleroi to a fourth-placed finish in Division 1.
Improvements and expansion of the club's Stade du Mambourg – renamed Stade du Pays de Charleroi – before Euro 2000 did the club few favours, poor form attracting fewer spectators in the echoing stadium. Despite a string of later national managers and famous former players as coach – Waseige three times, Enzo Scifo, John Collins – Charleroi failed to pick up.
Winning Division 2, changing chairmen and shrinking the stadium capacity, Les Zèbres have enjoyed a new lease of life from 2012 onwards.
Under locally born, ex-Charleroi youth player Felice Mazzù as coach, league form improved significantly. In 2015-16, the club returned to Europe after more than a decade, beating Beitar Jerusalem in the Europa League but falling to Zorya Luhansk.
In 2018-19, Charleroi made it through to the play-off final for a Europa League place, a winner-takes-all clash at revived Antwerp. Going 2-0 up in the opening exchanges, the visitors then succumbed to three goals without reply, Gjoko Zajkov given a red card on 20 minutes.
Thanks to a promising start to the league campaign in 2019-20, another shot at Europe came in 2020-21, involving a win in extra-time over Partizan Belgrade, and a narrow defeat by the same 2-1 scoreline to Lech Poznań.
By then, Felice Mazzù was working miracles at Union Saint-Gilloise, but a subsequently unhappy time at Anderlecht saw the prodigal son return to Charleroi in 2022.
The field of dreams – and the stands around it
Venue for three matches at Euro 2000, including England's 1-0 over Germany, the Stade du Pays de Charleroi is the revamped version of the stadium reconfigured and expanded for the tournament, itself rebuilt from the original Stade du Mambourg opened in 1939.
Required to reach a capacity of 30,000 for Euro 2000, the stadium saw a reduction to 25,000 then, after still being barely half-full, 15,000. These reductions have gone hand in hand with modest improvements.
Season-ticket holders follow The Zebras from Tribune 4, away fans are allocated Tribune 2 behind the opposite goal. Tribune 1 is the main stand with the press and business seats, Tribune 3 facing it.
Plans for a new €60 million stadium were presented to fans in 2022, to be built at Marchienne-au-Pont, an industrial zone in the far west of town. The current completion date is some time in the 2024-25 campaign, though it isn't yet clear what will happen to the current ground.
Going to the stadium – tips and timings
The stadium is a little too far to walk from Charleroi-Sud station. From voie 1 outside the station building, take red tram line 1 or blue 4 (direction Anderlues-Charleroi or Parc-Soleilment) to Janson, three stops/5mins away. The M4 runs every 10-15mins, the M1 every 30min Mon-Fri, every 1hr Sat-Sun.
From Janson, bear right out of the train, up two escalators – the stadium is signposted to your right, past the clinic, up rue des Sports.
Coming back to Charleroi-Sud, you need green line 2 or yellow line 3 for three stops – though bear in mind that services stop by around 9pm. To and from town, it's about a 15min walk between boulevard Joseph Tirou and the stadium.
Buying tickets – when, where, how and how much
Tickets are sold at the club shop (Tue-Fri 10.30am-5.30pm, Sat 10.30am-3pm, match days 10.30am-4.30pm) and at Night and Day (€2 supplement) newsagents/ticket offices in Charleroi and region – there's one in town at 15 boulevard Joseph Tirou.
There are also online sales through TicketHour (€1 supplement), registration required.
Note that these are not print-at-home tickets – take your voucher, with ID to the main ticket office from 11am on the day of the match (if Tribune 3, then that window opens 2hrs before kick-off).
There are byzantine rules concerning the presentation of identity cards when purchasing. At present, you may buy up to four tickets from the stadium ticket windows without any form of ID – but it may be wise to take a passport, just in case.
Advance rates are €20 in main Tribune 1, €18 in Tribune 3, pay on the day €23/€21. Unless you're a visiting supporter (€19), you can't buy a ticket behind the goal – the home end is season-ticket only. Children aged six to 15 are charged €10, under 6s enter free.
Rates increase by around €4 for matches majorés (Anderlecht, Standard Liège, Bruges and major cup games). Note that for these games, away supporters cannot buy on the day.
Shirts, kits, merchandise and gifts
There's a reasonably sized club shop (Tue-Fri 10.30am-5.30pm, Sat 10.30am-3pm) on main boulevard Zoé Drion behind the main stand/Tribune 1. There's no real surprises among the souvenirs – expect racks of replica shirts, baseball caps and the like.
Everything is black and white, of course, except for away tops in striking light blue.
Pre-match beers for fans and casual visitors
The main pre-match bar is the Brasserie du Pays Noir at 10 rue de la Neuville, at the restaurant of the same name. Operating weekday lunchtimes, Fri & Sat evenings and match nights, it has recently been spiffed up, going for a contemporary look over sad Watney's ads and tatty Sporting pennants. This is also reflected in the menu.
Alongside, Belgium Drink is more of a straightforward pre- and post-match bar. For something a little quieter, Taverne Le Tassili on rue Aimé Mignolet is old-school Belgian and all the better for it.
Within the stadium, Le Grill du Zèbre is no longer with us but Le Coin du Supporter under the home stand still dispenses drinks and basic snacks.