A fan's guide – the club from early doors to today
First-time Belgian title winners in 2015, KAA Gent surprised everyone by then finishing second in a tricky Champions League group, beating Lyon in France and leaders Zenit St Petersburg and Valencia at home. The first time a Belgian team had qualified for the group stage since Anderlecht in 2000, this achievement set Gent up against Wolfsburg, who just edged it.
A year later, KAA fared better against Tottenham in the later stages of the Europa League, stealing a 1-0 win in Ghent and gaining a 2-2 draw in front of 80,000 spectators at Wembley.
The home legs took place at Gent's smart Ghelamco Arena, unveiled in 2013. The first Belgian new-build since 1974, the Ghelamco replaced the Jules Ottenstadion, where the club had played since their old ground opened for the Antwerp Olympics of 1920.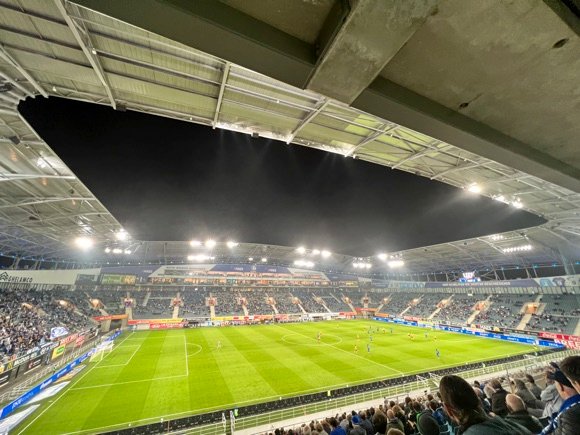 Before then, La Gantoise, as they were known, had mainly operated in the shadow of their then bigger city rivals Racing. Formed in 1900, part of a sports association that had been created in 1864, La Gantoise topped the Second Division in 1913 but didn't make an impression on the First until the 1950s.
Nicknamed after a Buffalo Bill cowboy show that came to town in the early days, De Buffalo's first put in a serious challenge for the title in 1954-55. With Belgian international striker Maurice Willems, La Gantoise stayed just behind the likes of Anderlecht, Antwerp and Liège in the table for a decade or more. Stalwart keeper Armand Seghers also made the Belgian national side through the 1950s, and was still between the sticks when De Buffalo's won silverware at last, the Belgian Cup of 1964.
Having made their European debut in the Fairs' Cup in 1963, La Gantoise lost narrowly to Bobby Moore's West Ham in the Cup Winners' Cup of 1964.
Officially known as the Flemish KAA Gent from 1971, the club suffered a disastrous run of form that even led to a stint in the third flight. Gent bounced back in the 1980s, winning the cup in 1984 and making a welcome return to Europe.
In 1990, with the arrival of international strikers Erwin Vandenbergh and Dutchman Eric Viscaal, Gent stepped up a gear, just missing out on a first Belgian title then reaching the quarter-finals of the UEFA Cup.
League and European form remained inconsistent until a succession of coaches – Georges Leekens, Trond Sollied and Michel Preud'homme – added steel. It was the former Belgian international goalkeeper Preud'homme who led Gent to runners-up spot in the league and a cup win in 1990-2000, a season that saw Norwegian striker Ole Martin Årst scoring nearly a goal a game.
Though Årst was quickly snapped up by Standard, Belgian international goalkeeper Frédéric Herpoel remained in place to keep Gent in contention in the early 2000s.
With Gent's higher profile and the Benelux 2018 World Cup bid in mind, attention turned to a new stadium, proposed in 2003, to replace the ageing Jules Ottenstadion. Set by the trade fair centre and ring road south of the city, the stadium, originally named after medieval statesman Jacob van Artevelde, was originally due to open in 2006.
With the economy in crisis and 2018 eventually lost to Russia, the project stalled, to be revived in 2010. Construction firm Ghelamco was also awarded with the stadium name.
After moving into the Ghelamco Arena in 2013, Gent began to see a settled side established, starting with the signing of a young goalkeeper from Lierse, Matz Sels. Six months later, coach Hein Vanhaezebrouck arrived from Kortrijk and midfielder Sven Kums from Zulte Waregem.
Though Gent trailed Club Bruges during the regular season, a vital 3-2 win at their Flemish rivals during the championship play-offs reversed the positions. De Buffalo's then won a first ever title with a 2-0 win over Standard Liège at a sold-out Ghelamco. Team captain Kums capped a fine season by scoring the opening goal.
And it was Kums who reliably converted a penalty against Valencia at the Ghelamco to gain Gent a first Champions League victory – in the fourth game of the group stage. De Buffalo's then snatched a last-second win at Lyon thanks to a brave header from Malian striker Kalifa Coulibaly, before Moses Simon ravaged the Zenit defence in the last group game against St Petersburg.
A year later, a run in the Europa League brought KAA up against Tottenham, and two of the most memorable nights in the history of the club. Striker Jérémy Perbet scored in both legs as Gent snuck a 1-0 win at home before battling for a 2-2 in front of a record crowd for a Europa League fixture, 80,000 at Wembley. An estimated 10,000 Gent fans hit the roof once Perbet put away a rare chance ten minutes from time.
There was perhaps an even greater shock when Gent fell to a 5-2 home defeat to compatriots Genk in the next round. Further European appearances culminated in a narrow defeat to Roma in the knock-out stage of the Europa League in 2020, and a run to the quarter-finals of the Conference League three years later.
At home, the Buffalos remain a potent force. A tense cup semi-final with Bruges in 2022 upped the ante on a bitter Flemish rivalry, Gent shocking the hosts with a 3-0 win in the away leg, before winning an equally edgy final on penalties. Key team members set aside previous loyalties to Anderlecht, Davy Roef saving two spot-kicks to earn his club its first silverware in seven years.
Returning former Anderlecht coach Hein Vanhaezebrouck duly replaced Roef with former Lorient keeper Paul Nardi but it was young Nigerian striker Gift Orban, signed in January, who made the headlines in Gent's charge up the table in the early spring of 2023.
The field of dreams – and the stands around it
The first football stadium to be built in Belgium since 1974, the Ghelamco Arena was a long time in the making.
With Ghent overlooked as one of the four Belgian cities to host Euro 2000, it was obvious that Gent's venerable Jules Ottenstadion was obsolete for modern-day use.
A new stadium site, south of the city ring road near the Trade Fair, had long been chosen. What hadn't been anticipated were the cash-flow problems and bureaucracy wrangles that beset this project for the best part of a decade.
Completion dates (2006? 2008?) came and went. Eventually 2012 was agreed upon – then moved to 2013. Ghent electronic legends 2manydjs were brought in to perform as part of the curtain-raising activities that July, Stuttgart providing the opposition on the pitch.
With its Michelin-star restaurant, Horseele, the Ghelamco is a cut above any other stadium in Belgium. The home end (Spionkop/T2), accessed through main gates C and D, sits opposite the Telenet/Familientribune/T4, gate H.
Alongside, away fans ('Bezoekers') are allocated sectors 421 and 422, gate G, set next to the Officebox/VDK Tribune/T3. Opposite are the business seats of main Maes Pils Tribune/T1.
Going to the stadium – tips and timings
Regular city bus 8 leaves Gent Zuid perron 9 every 20mins for the terminus at Arteveldepark by the stadium, journey time 15mins.
From Gent-St-Pieters, on the concourse to the left of the station as you exit, city bus 19 sets off every 20mins from platform 11. Journey time to Arteveldepark is 15mins.
For both routes, services run back to town after 10pm.
For those driving to Ghent, match-day P&R shuttle buses have started up again. They leave from the Gent-Brugge P&R tram stop where Land van Rodelaan on the E17 meets Brusselsesteenweg south-east of town. The service is free, then €1 nearer to kick-off or right after the final whistle.
Buying tickets – when, where, how and how much
With an average gate often close to the capacity of 20,000, availability is not a given. During the regular season, tickets for league games go on sale six weeks in advance. Online ticketing is Dutch-language only.
Tickets are distributed from the offices (Mon-Fri noon-6pm, Sat 10am-1pm, midweek match days 10am-12.45pm, 2pm-kick-off, weekend match days 5hrs before kick-off) facing the bus terminus at the stadium. For most matches, you'll need to provide an ID card/passport to purchase. For all details, contact tickets@kaagent.be.
A seat in the home end, Spionkop/Tribune 2, is €20, €10 for under-16s, €15 for under-16s for a high-risk match. For away fans, it's €20/€25 and €10/€15 for under-16s. For neutrals, a seat in VDK/Tribune 3 is €25-€45, €10-€15 for under-16s. Adult prices are €30-€50 in main Tribune 1, €10-€15 for under-16s.
Shirts, kits, merchandise and gifts
The Fanshop (Tue-Sat 10am-6pm, match-day Sat 10am to kick-off then for 1hr after the game, match-day Sun 3hrs before kick-off then 1hr after the game) is by the ticket office, accessed through the main entrance on non-match days and match-day entrance outside to the left when there's a game on.
For 2022-23, first-team shirts are blue and white stripes, with a separate top of blue with a white wing collar for Conference League fixtures. Away is white with a blue wing collar, third-choice luminous yellow. Hoodies and T-shirts carry the club name with an illustration of Ghent's historic skyline.
Pre-match beers for fans and casual visitors
Options around the Ghelamco Arena are pretty limited – you're way down south of Ghent near a spaghetti junction of motorways. 
If you're reasonably smart in appearance, head up to the skybar on the tenth floor of the Van der Valk Hotel on the north side of the stadium, the terrace of the Asian restaurant Mr Sato, where cocktails come with a panoramic view and, later on, a DJ. Open Thur-Sat 5pm-1am, though hours may change pre-match.
On the same side, at street level, contemporary ZwartWit is part restaurant, part post-work events space that turns into Turbo Gantoise for two hours before each game, offering draught Jupiler, burgers and rousing tunes from the DJ.
At the stadium, also open weekday lunchtimes, the Buffalo Bistro between Tribunen 1 and 2 (gate C) serves standard dishes, beers and hot drinks. On match days, you're advised to arrive early to avoid the long queues – it opens 2hrs 30mins before kick-off. A buffalo burger will set you back €20, stoverij or Flemish beef stew, €20.50.
If you're just after beer, smaller outlets also line this level, with a Gent-branded table-football game ready for action.
Other eats range from the Buffalo Sandwich Club on the ground floor of the main stand to the Michelin-starred Restaurant Horseele, with a perfect view of the pitch from four floors up. Both operate weekdays. On match days, you should reserve for the Horseele, while the BSC doubles up as a modest bar.