Finding the right place to watch the game in Barcelona, port, Barri Gòtic or Nou Camp
There are almost as many bars in Barcelona as pickpockets, but not all are football-friendly or particularly individual. Barcrawling the Raval area after dark is a dangerous sport while strolling around Port Olímpic is an experience so bland, you begin to curse the Francoist banker who brought the Games to Barcelona in 1992.
But even with FC Barcelona moving out of the Nou Camp for three seasons and decamping to Montjuïc, you can still find plenty of soccer-centric hostelries, invariably done out in Azulgrana paraphernalia, a hangover from when FCB were the world's most marketable football brand before Messi left in tears and Xavi headed to Qatar.
Barhopping in town is best done just off the Ramblas, along Carrer de Ferran, where the street embraces the overflow of tourists from nearby Plaça Reial. Around focal Plaça de Catalunya, it's a case of picking out the specific bars listed here rather than stumbling on some random gem.
The Nou Camp is very much open for business – hey, they're Catalans! – so bars that would probably shut up shop due to lack of pre- and post-match trade are still very much going concerns as punters still stream towards the shell of the old stadium to visit the club museum aka Barça Immersive Tour.
The beer is almost universally Estrella Damm, a standard lager, but do look out for the hip and superior Moritz, dating back to 1856 and revived in recent times. Those of the crafty persuasion should make a beeline for CocoVail, where you can choose between 24 options on tap as you gawp at the match or take your mates on at some obscure board game.
Those interested in the football history of Barcelona would do well to head to the Hungarian-run Futballárium near the Nou Camp, inspired by the club's star Magyars of the post-war era.
Born of a West London pub dynasty that embraced – perhaps even conceived of – the concept of hostels with standalone bars alongside, Belushi's has now spread across Europe.
Just off Plaça de Catalunya at the top of the Ramblas, this particular branch feels somewhat more functional than its expansive Berlin counterpart, but the younger, budget-conscious clientele aren't too bothered, happy to dive head first into practically half-day happy hours (4pm-10pm) as if drinks weren't cheap enough anyway.
A full schedule of sports fixtures is given on the website, while paella nights and pool competitions provide further entertainment after the final whistle.
Belushi's, Carrer de Bergara 3, 08002 Barcelona. L1/L3/L6/L7 Plaça de Catalunya or L1/L2 Universitat. Open daily 11am-2am.
A mainstay of the city's expat community for longer than most can remember, this institution of bare stone walls and arched ceilings actually feels like a pub – which, in the sweltering heat of summer, is its drawback, as you'll be pleased to be back inside an air-conditioned metro carriage afterwards.
They do have a terrace, though, and over the football season, it welcomes the usual crowd of English teachers, genial malingerers and would-be novelists for Premier League action and popular pub quizzes. Close to the trendy quarter of the Born, which means you're away from the incessant pedestrian traffic on and off the Ramblas.
The Black Horse, Carrer de Allada i Vermell 16, 08003 Barcelona. L4 Jaume I. Open Wed-Thur & Sun 6pm-midnight, Fri-Sat 6pm-1am.
One of the Nou Camp bars that should survive the lack of FCB match days with ease, Casa Ferreiro is actually a Galician restaurant, the corner kitchen giving off a fierce heat as plates of octopus and bowls of caldo broth are delivered to diners inside and on the large street terrace. It's also a tapas bar, just point to the tortilla slice of your dreams and have it assuage your hangover in just a few forkfuls.
And, for our purposes, it's a real football hangout, with signed photos of golden-era Barça stars on the walls, as well as a team line-up of Ourense to indicate the owner's regional allegiance. Lovely staff, too. Oh, and no website or Facebook page – what would be the point?
Casa Ferreiro, Carrer de la Riera Blanca 6, 08903 Barcelona. L5 Collblanc. Open daily 8am-1pm.
The best of Barcelona's contemporary urban bars, the CocoVail Beer Hall underscores the beer factor, in fact, chalks up the 24 options regularly available on tap across a large board as is the custom in craft-beer bars across the States.
This is no coincidence, as CocoVail was conceived by two Catalans who discovered the wonders of these kinds of places while travelling around the US, deciding to offer their compatriots something more than just a tap of Estrella Damm and a slice of yesterday's tortilla once they got back to BCN.
This they did, filling an old textile factory with American-style buzz as regulars and fresh-faced travellers gather over chicken wings in 16 flavours (BBQ, chipotle, Jack Daniels), burgers and cheesecake.
Six TVs allow the CocoVail team to screen an extensive schedule of soccer while dedicating Sunday evenings to NFL, meaning that midweeks see Eurocups action beamed in from Milan, Athens and Manchester, and Premier League goes out on weekend afternoons and Monday evenings.
All is backdropped by bare brick, US license plates, old beer ads and images of the country our Catalan pair fell for on their game-changing transatlantic odyssey.
CocoVail Beer Hall, Carrer d'Aragó 284, 08009 Barcelona. L2/L3/L4 Passeig de Gràcia. Open Mon-Thur 12.30pm-1am, Fri 12.30pm-2am, Sat-Sun 1pm-2am.
This bastion of individuality overlooks a marina lined with overpriced seafood restaurants and bland waterfront attractions. The Fastnet doesn't have to try too hard to attract its many regulars, but what it does, it does well: TV sport, pub grub, Guinness, Magners cider, Thursday night quizzes and genuinely friendly bonhomie.
The enclosed, sun-catching front terrace is a boon year-round, allowing the yachting fraternity to drop in on regular occasions and talk tides and halyards. Major matches see the large TV screen facing the terrace be pressed into action, meaning you can plot up and take in the game in the sea air under open skies – if you get there early enough. Mid-morning opening hours lend themselves to hangover-curing breakfasts.
Fastnet, Passeig de Joan de Barbó 22, 08003 Barcelona. L4 Barceloneta. Open Mon-Thur & Sun 10.30am-1am, Fri-Sat 10.30am-1.30am.
First things first. This is a Hungarian-run place (hence the Magyar-language website) and a Hungarian-run place for a reason. Back in the 1950s, before Barcelona became a brand, the stadium up the road from here was built for one man and one man only: László Kubala, whose statue still stands outside the Nou Camp.
When FC Barcelona were playing at nearby Les Corts, the highly skilled Kubala would fill it, week after week. Francesc Miró-Sans duly won the club's presidential election on a manifesto of building a new stadium, and it wasn't long after it had opened in 1957 that Kubala persuaded two fellow Magyar refugees, Sándor Kocsis and Zoltán Czibor of Hungary's Golden Team, to join him in Barcelona.
This bar celebrates that era, one that FCB would have dominated but for Real Madrid, but one that established the Azulgrana as a global force. While in thrall to his country's football heritage, owner Péter Büki is well aware of the game's universal drawing power, hence the scarves and shirts from around the world. The many green ones are due to Péter's own home team of Haladás ('Hajrá Hali!'), the many returning customers acquiescing to his request for football merchandise of the same colour, the more obscure the better.
Magyar items on the menu include Székely cabbage and Brassó pork, best accompanied by a shot of grappa-like Hungarian pálinka or, more daunting still, Jägermeister-like Unicum. Sadly no Hungarian wines are available but they do sell ones produced for Messi, Iniesta and Cristiano Ronaldo.
Futballárium, Carrer de Benavent 7, 08028 Barcelona. L5 Collblanc. Open Tue-Fri 9am-9pm, Sat 10am-9pm, Sun noon-8pm.
Barcelona has many Irish pubs. Few feel loved or lived-in. This one does. It's partly the bar counter itself, long and prominent, perfectly designed for socialising around taps of Paulaner, Amstel, Guinness and Heineken, partly the TV screens tuned to the game, and partly the international mix of people who gather here.
This includes the post-work crowd, bustling Via Laietana lined with banks and offices rather than the tacky souvenir shops along the Ramblas, and expat residents drawn to an Irish-owned hostelry rather than an identikit bereft of authenticity. Look out for the Guinness sign and bright-green frontage as you head from either Urquinaona or Jaume I metro stations.
McCarthy's Bar, Via Laietana 44, 08002 Barcelona. L1/L4 Urquinaona or L4 Jaume I. Open Mon 6pm-2.30am, Tue-Thur 5pm-2.30am, Fri 5pm-3am, Sat 1pm-3am, Sun 1pm-2.30am.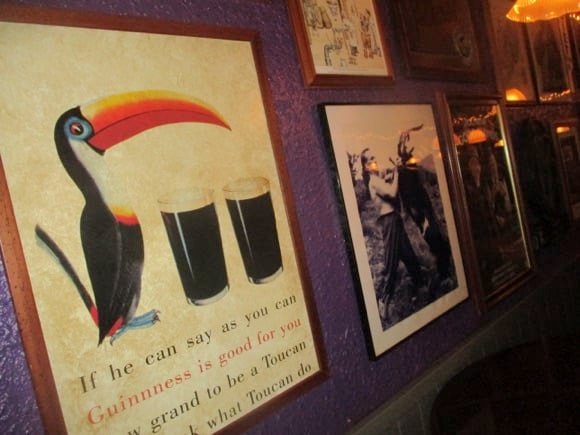 This unassuming yet perfectly welcoming Irish pub doesn't make a song and dance about its presence so close to focal square Plaça de Catalunya, squeezed beneath an imposing office block and beside a supermarket, but feels a real home from home once you walk in. The fact that it's been very much in business since 2001, years before Barcelona became the Messi-backed brand it is today, speaks volumes.
The story behind it, of how an Irish couple transplanted their own Scobie's pub from the Emerald Isle to the capital of Catalonia after it closed, remains a mystery, but they probably brought with them some of the items on display, the photo of heroic Kerryman explorer Tom Crean, and the Guinness toucan poster outside. A scattering of tables alongside allows smokers to chatter against the regular din of traffic. Within, sports channels are plentiful, just ask for the match you want and they may be able to find it for you.
Scobie's, Ronda de la Universitat 8, 08007 Barcelona. L1/L2 Universitat or L1/L3/L6/L7 Plaça de Catalunya. Open Mon-Thur 2pm-2am, Fri 2pm-2am, Sat 1pm-3am, Sun 1pm-2am.
In the no-man's-land west of Poblenou, this large, US-style collegiate sports bar attracts a surprisingly healthy custom, partly made of up students attracted by weekly karaoke and drinks promotions, and partly Argentines, who flock here for parrillada barbecue nights and occasional live music.
A heavy schedule of TV football also helps, of course, as well as hulking burgers, themed wraps (Super Bowl, World Series, Stanley Cup) and generous opening hours – there are far fewer neighbours to disturb in these parts.
Sonora Sport Tavern, Carrer de Pamplona 96, 08018 Barcelona. L4 Bogatell. Open Mon-Thur 8am-2.30am, Fri 8am-3pm, Sat noon-3am, Sun noon-2.30am.
With My Bar next door and Lennox The Pub opposite, this little stretch of Ferran between the Ramblas and Plaça Reial attracts football fans a-plenty, safe in the knowledge that they'll be able to watch the match at some place or other. Temple Bar is probably the most pub-like of the bunch, with its ornate back bar, gleaming wood and high ceilings.
The seats lining the counter are pointed towards the large screen at the end, allowing you to prop up the bar counter and keep ordering the Paulaners or Peronis as the match unfolds. Burgers dominate the menu but the kitchen can also do you fish & chips or steak & Guinness pie. In business since 2002 and still going strong.
Temple Bar, Carrer de Ferran 6, 08002 Barcelona. L3 Liceu. Open Mon-Thur 1pm-2am, Fri-Sun 1pm-2.30am.