A fan's guide – the club from early doors to today
No longer masters of Europe or champions of Spain, FC Barcelona are at least masters of their own destiny. As their motto says, 'More Than a Club'. With nearly 150,000 members and more political clout than most, Barça have put their faith in the return of former Catalan MP Joan Laporta as club president.
The man who oversaw the rise of one of the greatest club sides in football history, graduates from Barça's own La Masia academy, has in turn put his faith in one of its number. Along with his midfield partner Andrés Iniesta and mercurial forward Lionel Messi, playmaker Xavi elevated Barcelona to unprecedented dominance. For a golden decade of four Champions League trophies, Barça became a huge global industry, filling cinemas for titanic Clásico clashes with Real Madrid and shifting merchandise across the world.
Now as coach, Xavi must revive the club that threw it all away, status, reputation and Messi, through mismanagement. Finances remain tight but Barça are at least a credible force once more.
FC Barcelona fly the flag for Catalonia, the economically powerful region whose language and culture were suppressed under Franco until the dictator's death in 1975. Founded by Swiss Hans Gamper ('Joan Gamper')  in 1899, FCB wear blue and grenadine ('blaugrana' in Catalan) probably taken from FC Basel, another club Gamper founded. Of Barça's 60 managers, more than half have been foreigners.
The first one Gamper hired was Jack Greenwell, who coached the great pre-war side that featured Josep Samitier, Ricardo Zamora and Ferenc Plattkó. Rampant Catalan nationalism at the Les Corts stadium built by Gamper caused the authorities to close it down. Cash-strapped to Gamper later killed himself in the wake of the Wall Street Crash.
Following the Spanish Civil War, the ground witnessed the rise of another great Barça side, with László Kubala at the helm. His statue standing proudly today outside the Nou Camp, this Budapest-born forward of Hungarian and Slovak descent could have risen to fame alongside his Magyar contemporary, Ferenc Puskás, but for war and geopolitics. Skipping borders and swapping passports, Kubala played only three games for Hungary before finding his way to Barcelona. 
For Franco, the arrival of a poster boy who had rejected Communism for right-wing Spain, this was an opportunity not to be missed. Kubala was soon granted another nationality and 19 caps for his adopted country. For Barcelona, Kubala spearheaded a golden age of post-war football. 
Crowds flocked to Les Corts to see him play, so much so that the club had to build a bigger stadium, the Nou Camp. When Puskás needed money to bring himself and his family over following the Hungarian Uprising of 1956, Kubala helped him find it. He then persuaded Barça to sign his compatriots Sándor Kocsis and Zoltán Czibor, members of the great Hungary side of the early 1950s.
Rivalry with Real Madrid became gladiatorial. Favoured by Franco, Real were always just that one step ahead. Barça had Brazilian Evaristo, Real Di Stéfano. Barça won the first two Fairs Cups, Real the first five European Cups. The last was won in 1960 after two epic semi-final victories over Barcelona for which cautious manager Helenio Herrera had refused to play Kubala.
One of them had to go. Herrera duly left for Italy. Kubala returned to help Barcelona avenge that defeat the following season, knocking Real Madrid out of the European Cup for the first time. The stage was set for Barça to assume Real's mantle. With Spanish forward Luis Suárez in his prime, and the European Cup beckoning, Barcelona took the lead against Benfica in the final, only to fall to a younger, stronger side. Suárez followed Herrera to Inter, Kubala retired.
Despite the arrival of Johan Cruyff and Diego Maradona, it would be 1986 before Barça made another European Cup final, a shock defeat to Steaua Bucharest on penalties.
It was Cruyff who created the next great Barça team, club president Josep Núñez setting up the La Masia academy upon Cruyff's prompting. Cruyff gave equal emphasis to key foreign stars – Ronald Koeman, Michael Laudrup, Hristo Stoichkov – as to local Catalans, particularly the young midfield orchestrator Pep Guardiola. Barça won the Spanish league four times running, and in between, that long-sought European Cup in 1992.
A repeat of Barça's Cup Winners' Cup triumph over Sampdoria in 1989, the Wembley win was a watershed. The last European Cup before it became the Champions League, it occurred shortly before Barcelona held the Olympic Games to become a global metropolis. It marked a last great Dutch-engineered triumph for a side playing in bright orange, the game settled by a screamer of a free-kick from Koeman. 
Most of all, the lifting of the European Cup 32 years after Barça lost to Real in the semi-final was a triumph for Johan Cruyff and the attack-minded, passing tactics practised by the Ajax side he had led to three European Cups as a player. This same approach was taken by Cruyff's playmaker, Pep Guardiola, and adopted to successful effect at the Nou Camp nearly 20 years later.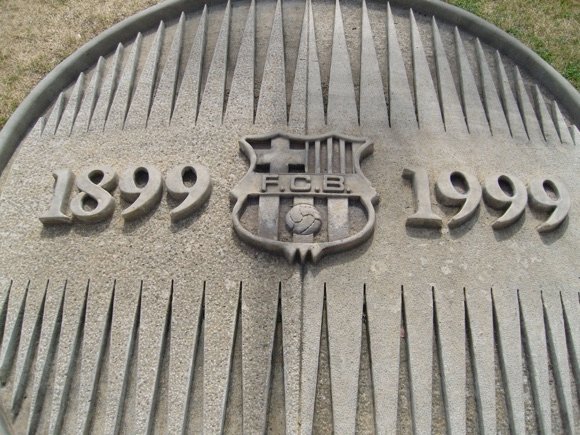 Cruyff's Dream Team was badly beaten by Milan in the final two years later. Cruyff and Núñez fell out but the Dutchman remained behind the scenes to advise on major decisions. Fan group Elefant Blau, headed by local politician Joan Laporta, pushed out Núñez, then Cruyff pushed Laporta to presidency.
Despite a string of world-class Brazilians – Romário, Ronaldo, Rivaldo, Ronaldinho, Deco – Barça only managed one more Champions League trophy, beating Arsenal in 2006. A pressured Laporta brought in an untried Guardiola as coach, who duly achieved the treble in his first season of 2008-09.
Dismissing Deco and Ronaldinho, Guardiola created one of the finest sides in football history, whose midfield passed the opposition off the park. Messi justifiably assumed the once-in-a-lifetime status previously reserved for Pelé and Maradona, while the creative industry of Xavi and Iniesta made Barça (and Spain) almost unbeatable.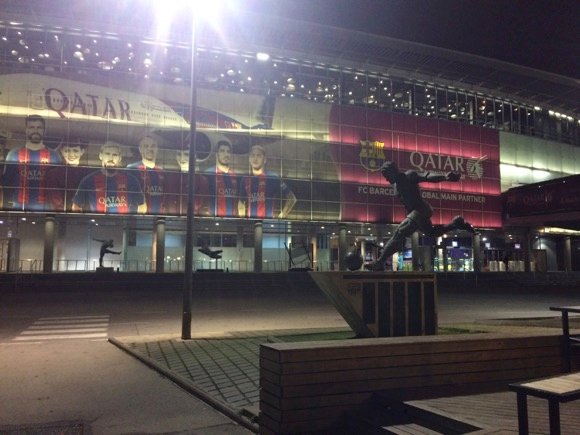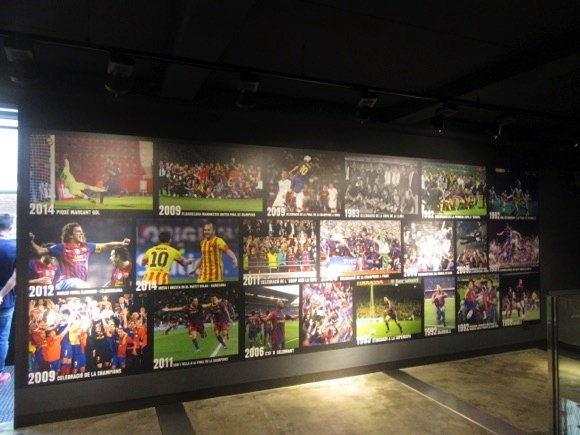 It wasn't just the 14 trophies in four years under Guardiola – it was how they were won. Immaculate passing football (tiki-taka) was executed by the world's best mainly raised at the club's academy of La Masia.
One slip to Real Madrid and narrow semi-final defeats to Internazionale and Chelsea apart, Barça swept all before them at home and abroad. Perfection proved too much, Guardiola bowed out, his assistant Tito Vilanova kept the same side and won the league by a mile. Then came Neymar. After a drawn-out transfer saga, one that would have serious repercussions, the 21-year-old Brazilian needed time to set La Liga alight.
The forward line of Messi, Neymar and incoming South American Luis Suárez overshadowed even the side that Pep built.  After Guardiola, already a high-water mark for European club football, FCB came good again, playing as imperiously as at any time in their history. Fronted by the dream trio, Barça gained a seventh league title in ten years, a Copa del Rey and a fifth Champions League/European Cup, all in 2014-15.
Providing able supporter were incoming old boy Luis Enrique as coach and unsung midfielder Ivan Rakitić. It was the quick-thinking Croat who scored the opener in the Champions League final against Juventus.
Incoming club president, Barcelona-born entrepreneur Josep Maria Bartomeu, had already been making big promises, underlining €600 million plans for an expanded, covered Nou Camp stadium, with an overall capacity of 105,000, to be built in stages between 2017 and 2021.
Ever so slowly, though, the roof was caving in. An investigation by the tax authorities into Neymar's transfer put the heat on Bartomeu, vice-president at the time of the agreement. On the pitch, without a Qatar-bound Xavi, Barça had just enough to retain their title in 2016, 40 league goals coming from Suárez, 59 (!) in all competitions. In the game that mattered, however, Barça had lacked the savvy to overcome Atlético Madrid. An all-Spanish Champions League final would take place without them.
Approaching 30, Messi knew that chances to win the Champions League again would not come around too often. The following year, willing his team to overcome a 0-4 deficit against Paris Saint-Germain to engineer an improbable comeback 6-1, he then saw Barça meekly surrender to Juve in the next round. 
Four days later, he destroyed Real Madrid in the Bernabéu in a Clásico for the ages. In a night of compelling drama, Barça nicked the game 3-2 and relit the title race thanks to a millimetre-precise strike on 93 minutes by the Argentine master. This was La LIga in its prime, an epic contest of the world's very best at the top of their game. The overall winners, though, were Real, who took a first title in nine seasons.
Scorer of 45 goals in all competitions in 2017-18, 34 in the league, Messi enabled Barça to overcome the €222 million (!) sale of Neymar to Paris Saint-Germain and win back the Spanish title. 
Bartomeu, meanwhile, was squandering the windfall without bolstering an ageing midfield and defence. A 3-0 collapse to Roma in the Champions League was followed a year later by a similar but more dramatic second-leg reversal at Liverpool. Messi sat in tears in the Anfield dressing room afterwards, almost missing the plane home. With Iniesta having left Barça for Japan earlier in the season, the writing was on the wall. 
The trophy-less Covid-hit campaign of 2019-20 began with the unwise purchase of Antoine Griezmann from Atlético for €120 million and ended in farce with an 8-2 defeat to Bayern Munich in the Champions League. 
The last two goals in the rout came from Barça loanee, Philippe Coutinho. Suárez was then allowed to go on a free to rivals Atlético, Rakitić to Sevilla for next to nothing. The club that had conquered all and filled its tills with cash for Neymar was now a laughing stock.
Bartomeu lasted until a home defeat in El Clásico in October 2020. Stop-gap coach Ronald Koeman rallied a broken side, stalwart defender Gerard Piqué taking a pay cut to play. Messi showed glimpses of magic, as did incoming teenager Pedri in a 19-game unbeaten streak in the league, but Barça were steamrollered by PSG in the Champions League. 
A 2-1 home defeat by Celta Vigo in May 2021 ended any mathematical chances of the title and proved to be Messi's last game. He left the pitch of an empty Nou Camp, head bowed, having scored the only goal to make him top league scorer for the season. Three months later, he gave a tearful press conference announcing his departure for Paris. No farewell match, no gala, after 672 goals in 778 games.
Telling defeats to Bayern and Benfica in the Champions League spelled the end for Koeman. Incoming old boy Xavi was unable to prevent a slide to the Europa League but persuaded promising young Spanish international forward Ferran Torres to join bright teenager Gavi and an ever more accomplished Pedri in the Barça ranks. 
Next arrived unhappy Arsenal star Pierre-Emerick Aubameyang to hit two at Real Madrid and point towards a more promising 2022-23 than seemed possible when Messi bowed out before 2021-22. Between the two seasons, work starts on the long-term renovation of the Nou Camp.
The field of dreams – and the stands around it
A vast three-tiered bowl with a thin, vertiginous fourth fringe by each scoreboard for away supporters, the Camp Nou was inaugurated on 24 September 1957 during the post-war boom in Spanish football. With Kubala and other stars regularly attracting 60,000 fans to the cramped Les Corts, the management needed a modern arena. The first stone was laid in 1954 – in front of 60,000 fans. Three years later, with Handel's 'Messiah' blasting out, one of the world's finest football temples was unveiled.
Today, as the Blaugrana stride out, the Barça hymn rings out around the ground ('Bar-ça! Bar-ça! Barrrr-çççça!) and Catalan flags of blood red and yellow are flown with abandon at either end of the ground. The notorious Boixos Nois outsing the Almogavers behind the other goal, the Nou Camp fills with fan clubs, penyas, from every corner of the world.
Nevertheless, at the time Franco-backed Real Madrid were still the dominant force. Barca fans had to suffer seeing their team go down 3-1 to Real in the European Cup semi-final of 1960. A few months later, Barca exacted revenge in front of 120,000 fans, breaking Real's five-year monopoly on Europe's premier trophy with a decisive 2-1 second-leg victory in an early round.
Barca-Real clashes have dominated the Spanish season ever since. The Nou Camp became a refuge for Catalans looking to express pride in their region suffering under the Franco regime. Ironically, Barca's greatest triumph over their bitter rivals, the Cruyff-inspired 5-0 win of 1974, took place at Real's Bernabeu.
In order to prepare for the 1982 World Cup, stadium capacity was increased to 115,000 with the addition of a third tier. New VIP and media areas were also put in, to complement the electronic scoreboards installed during the 1970s. Having hosted the European Cup-Winners Cup final a month earlier, the Nou Camp then staged the opening game of the 1982 World Cup, a shock win for Belgium over Maradona's Argentina. Ten years later, the Nou Camp played host to the 1992 Olympic football tournament, a late goal from Kiko winning Spain gold over Poland.
In 1998, standing areas were converted to seating, reducing the capacity to just under 100,000. Many of those packed in for the Manchester United-Bayern Munich Champions League final of 1999 had already left the ground before United's Teddy Sheringham and Ole Gunnar Solskjaer famously reversed the scoreline in overtime.
Still luxuriating in the trophy-laden Messi era, the Nou Camp attracts a record number of visitors to its museum and for its stadium tours. It is currently the largest of UEFA's official four-star stadia. As first announced back in 2014, in the pipeline is a plan to raise capacity to 105,050, with a revamped and steeper first tier, the completion of the third tier and a large roof.
Renovation is now set to start in the summer of 2022 and end in 2025. For the 2023-24 season, work on a new third tier will force the club to move to the Olympic Stadium on Montjuïc for home games.
Going to the stadium – tips and timings
The Nou Camp is north-west of Sants train station, surrounded by three metro stations: Collblanc (blue L5); Les Corts, and Maria Cristina (both green L3). Collblanc gives access to the bars of Riera Blanca and is an easy, direct hop from Sants. 
Bus 56 runs closer, right by the bars of Riera Blanca, and links with Sants and focal squares of Espanya and Catalunya.
Buying tickets – when, where, how and how much
Tickets go on sale ten days before each match from the Oficina de Taquillatge at Accès 14 (Mon-Thur 9am-1.30pm, 3.30-6pm; Fri 9am-2.30pm; Sat on match weekends 9am-1.30pm; match days from 11am). Locals also hang around Accès 14 to offload any spares. Tickets are also available online.
Depending on the price category of the opposition, a seat in the best spot (1a/2a grada) in the main stand (tribuna) over the halfway line will cost €140-€180. Higher up (3a grada) is a few euros cheaper. 
Facing this, the lateral is similarly graded into tier prices (€100-€150). Behind the goals, the three tiers break down into price categories from €70-€90. The cheapest places are gol no numerat, general access, at €59.
Shirts, kits, merchandise and gifts
Through Accès 7, the Barça Store Camp Nou (daily 10am-8pm) is a huge, two-tiered affair lined with new shirts for the 2022-23 campaign featuring stripes of red and two shades of blue. Sponsors Spotify now take centre stage. 
LEGO models of the Nou Camp go for a staggering €300+, long-shirted retro shirts with button-up collars celebrate the club's foundation year of 1899, or there are away tops from the 1980s of bright yellow with a single blaugrana stripe down one side.
You'll find other outlets on the Ramblas (No.124) and Passeig de Gràcia (No.15), both open Mon-Sat 10am-9pm. There are more stores at Universitat (Ronda de la Universitat 37, Mon-Sat 10am-8pm), near the Sagrada Familia at Carrer de Mallorca 406 and at both airport terminals (all daily 10am-9pm).
Explore the club inside and out
There are various ways to treat the kids to the Camp Nou Experience but the basic tour/museum purchased online is €28, €21 for 4-10 year olds and over-70s. Under-4s get in free. Throw in around €5 for the VR glasses, €3 extra if you're paying on the door and that's well over €100 for a family of four. Plus they'll bombard you with photo opps as you walk round. These days you can't just buy a museum ticket, it's plus tour or nothing – so bite the bullet, take in the interactive room, the Messi section, the Cruyff area and trophies the size of Jodrell Bank.
The stadium's breathtaking of course, but the home dressing room is off-limits. Note the black Madonna chapel by the players' tunnel.
Pre-match beers for fans and casual visitors
Pre-match bars line both sides of Riera Blanca, south of Travessera de les Corts, between Collblanc metro and the Nou Camp. Sadly El Rincón de Viti and its wall of framed Barça photos are no longer with us but still offering Galician cuisine, on the same strip, the Casa Ferreiro nearby is a handy place to catch the game on TV if you've not been lucky enough to get in. Now featuring an open kitchen, it's trying to play more to its culinary credentials.
Opposite, El Cargolet Picant is an upscale eaterie while the sun-catching seats outside Bar El Rellotge also provide a pre-match terrace.
Still on the same side of the stadium, a little further along and so slightly less crowded, the Bar Avinguda (Carrer del Cardenal Reig 26) puts a big TV in the window for pavement drinking and snacking, with press clippings of famous Barça victories framed inside.
The best pre-match destination stands at Carrer de Benavent 7. A living testament to the three Hungarians who starred for FCB in the 1950s – Kubala, Kocsis and Czibor – Futballarium is overseen by Péter Büki, a Haladás fan from Szombathely. Fans gather for goulash and pálinka brandy before the 200-metre stroll to the stadium. There's plenty of draught beers, too. By way of introduction, you might want to bring a scarf of any club who play in green – it's a Haladás thing – though wall space is pretty limited by now.
Closer to the ground, on Travessera de les Corts between the NH Rallye hotel and the stadium, there's another row of busy pre-match bars, some with pavement tables. These include BaYo, Granja El Gol and Casa Pin.
A welcome addition at the ground is the Barça Café (daily 10am-7pm), opened in 2021 between the ice-hockey arena and the statue of László Kubala. Tapas, burgers and charcoal-grilled meat and fish are served with draught Estrella – TV screens and FCB iconography abound, of course. Reserve a table through the website for pre-match dining – there's free parking until 4hrs before kick-off.
Alcohol-free Estrella beer, hamburguesas and perritos, hot dogs, are sold at kiosks around the ground.