A fan's guide – the club from early doors to today
Six-time Europa League champions, Sevilla FC were founded in 1905 by José Luis Gallegos. Educated in England, Gallegos was a customs agent at the local port office, where he befriended Adam Wood, whose ship transported sought-after Seville oranges to London.
Once acquainted with Seville's expat football fraternity, Gallegos and friends soon joined in. Thus UK demand for top-quality marmalade led to the formation of one of Spain's most venerable football clubs.
Sevilla's directorship was drawn from the land-owning classes – rivals Betis were founded by dissident members.
Once based at Nervión, under president Ramón Sánchez Pizjuán, Sevilla won the Spanish Cup in 1935. He later planned a new stadium there but didn't live to see it built. When opened in 1958, it bore his name.
Sánchez Pizjuán did see the title win of 1946. International striker Juan Arza, who scored 200 goals for Sevilla over 16 years, was the hero.
During the 1950s, under coach Helenio Herrera, Sevilla achieved several top-five finishes, competing in the burgeoning European Cup. Real Madrid, the trophy holders who had allowed Sevilla in, beat them 8-0 in the quarter-finals.
With an expensive new stadium, Sevilla sold key players and trod water for two decades. A rare highlight was Gambian winger Alhaji Nije, known as Biri Biri, who came to Sevilla by way of Brian Clough's Derby. Local fans took him to their hearts, naming their group the Biri-Biris.
Other foreign stars included goalkeeper Renat Dessayev, and strikers Toni Polster and Davor Šuker, whose hat-trick kept Sevilla in the Primera in 1996. Diego Maradona, under coach Carlos Bilardo, World Cup winners both in 1986, proved disastrous.
The club was in equal disarray, thrown out of La Liga for financial mismanagement. Directors and coaches came and went. There was one constant: Monchi. Ramón Rodríguez, aka 'Monchi', had been reserve goalkeeper at the club in the Maradona era and in 2000, was given the task of building a solid youth system and scouting network.
The immediate result was academy graduates Sergio Ramos and José Antonio Reyes, later sold to Real Madrid and Arsenal for around €40 million between them. Dani Alves was picked up as a Brazilian youth international and passed on to Barcelona for around €25 million. Over 17 years, Sevilla would accumulate money and trophies. Monchi's astute transfer policy would make the Andalusians the envy of Europe.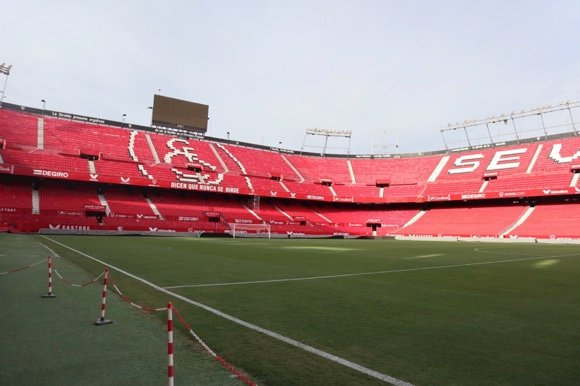 First, Sevilla marked their centenary season with a triumphant run in the UEFA Cup in 2005-06. Under Juande Ramos, with Luis Fabiano, Frédéric Kanouté and Adriano, Sevilla snuck through against Schalke in the semi to destroy Middlesbrough 4-0 in the final. 
They repeated the feat, on penalties over Espanyol, the following year. Sevilla also came close to the Spanish title, won in last-gasp fashion by Real Madrid.
After Sevilla won the Supercopa over Real, defender Antonio Puerta suffered a fatal heart attack during their first league match. Ramos left for Spurs but Sevilla still made it through to the Champions League. Then again, and again. Factor in a Spanish Cup win in 2010, and Sevilla could reflect on the most successful decade in their history.
The return of locally born Reyes and goals by Álvaro Negredo kept Sevilla in the hunt. After the lucrative sales of Negredo and Jesús Navas to Manchester City, Sevilla stumbled at first in 2013-14 but recovered to progress in the Europa League.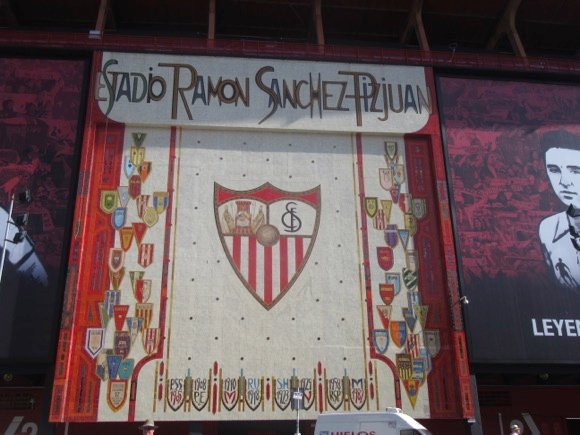 Despite vital goals by Carlos Bacca against (of all people) local rivals Betis, Porto and semi-finalists Valencia, Sevilla still trailed 3-2 on aggregate with a place in the final at stake. A late, late, late header from Stéphane Mbia and Valencia were beaten at the death.
In the final in Turin, Bacca and Mbia who converted their penalties in the shoot-out against Benfica – captain Ivan Rakitić, who had put away vital spot-kicks against Betis and Porto, wasn't needed for a fifth. Sporting director Monchi then sold the Croat star to Barcelona, who sent over former Manchester City Young Player of the Year Denis Suárez in part return.
Bacca was again in prolific form as Sevilla repeated their achievements in 2014-15, retaining the Europa League with an entertaining 3-2 win over a feisty Dnipro and gaining a Champions League spot in the league. As a curtain-raiser to 2015-16, Sevilla played out a 4-5 thriller with Barcelona in the UEFA SuperCup.
Bidding for a third straight Europa League trophy in May 2016, Unai Emery's Sevilla trailed Liverpool 1-0 at half-time only to strike back with goals from the prolific Frenchman Kévin Gameiro and man-of-the-match captain Coke.
As well as a record three trophies in a row, the win provided Sevilla with a place in the group stage of the 2016-17 Champions League. Narrow victories over Lyon and Zagreb led to a showdown with Leicester – and, after two thrilling games, defeat.
Again qualifying for Europe's premier trophy in 2017, Sevilla managed high-scoring draws against Liverpool, despite the departure for Jorge Sampaoli for the Argentine national job. After a short stint by Eduardo Berizzo, Vincenzo Montella took over at Christmas 2017 though was soon on the wrong end of an eight-goal derby thriller at home to Betis.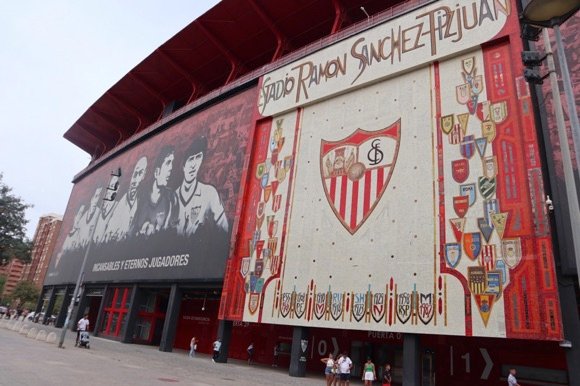 Goals from Ben Yedder having earned Sevilla creditable draws with Liverpool in the group stage of the Champions League, the French striker then hit a quick brace to see off Manchester United in the first knock-out round. Reaching the quarter-finals for the first time, Montella's men then fell to Bayern Munich after going 1-0 up in the home leg. A 0-5 whitewash against Barcelona in the Copa del Rey final and poor league form led to the Italian's departure.
The arrival of former Spanish national manager Julen Lopetegui as coach, Dutch striker Luuk de Jong and Argentine winger Lucas Ocampos in the summer of 2019 reignited a flagging side. Reclaiming fourth place in the league, Sevilla overcame Roma, Wolves and Manchester United in one-leg ties in the pandemic summer of 2020 to reach yet another Europa League final. A brace from Man of the Match de Jong then saw off Internazionale in Cologne to bring a sixth trophy back to Seville.
The emotional return of Ivan Rakitić after his phenomenal success at Barcelona gave Sevilla a fillip before the 2020-21 campaign but the team didn't have quite enough to break into the top three in the league or contain a rampant Erling Haaland against Dortmund in the Champions League. Four goals from the Norwegian matched Sevilla's total over two ding-dong legs, the German side edging out the Spaniards 5-4.
In between the two games, Sevilla had gone into the second leg of the domestic cup semi-final 2-0 to the good thanks to a late clincher by Rakitić against his former employers. Barcelona then pulled out all the stops at the Nou Camp in a game of two red cards, a missed penalty by Ocampos and a stoppage-time equaliser from the Catalans. Eventual narrow defeat meant no silverware for the season but Lopetegui's men were very much in the hunt.
Putting in a serious title challenge the following season, Sevilla again lost out by the narrowest of margins, an 87th-minute winner by Real at the Bernabéu after new signing Rafa Mir had put the visitors ahead, a single decider by Barcelona at the Nou Camp and, perhaps most painfully, a late, late turnaround by Real Madrid at the Sánchez Pizjuán. In Europe, West Ham edged out Sevilla after extra-time with the quarter-finals beckoning.
After new signings failed to spark, Lopetegui gave way to a returning Jorge Sampaoli in October 2022 but Sevilla were still at the wrong end of the table. A feuding ownership and supporter discontent underscored woeful league form overshadowed by the prospect of relegation. In March 2023, incoming Basque coach José Luis Mendilibar could at least look forward to the prospect of yet another Europa League run-in.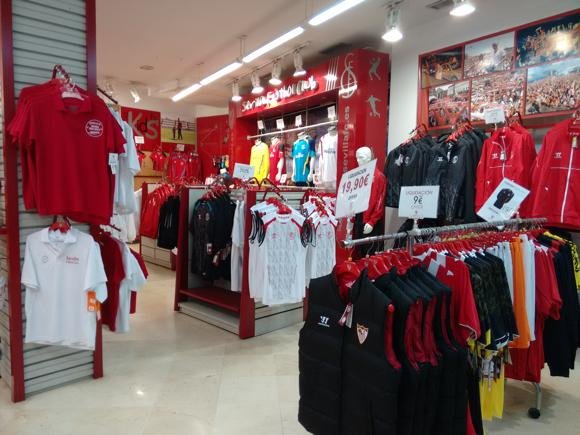 The field of dreams – and the stands around it
Set in commercial Nervión, the Estadio Ramón Sánchez Pizjuán is one of Spain's great venues. Named after the club president who conceived it but died before its completion, this 43,000-capacity arena is steeped in football lore.
For the Spanish national team, it held talismanic properties – they have still never lost a game here. The legendary French side starring Michel Platini didn't lose here either, only the penalty shoot-out with West Germany in the epic World Cup semi-final of 1982. Barcelona, too, lost a shoot-out here to Steaua Bucharest that decided the 1986 European Cup.
After first playing at the Prado de San Sebastián, Sevilla FC moved to the Campo de la Victoria, named after the pub-cum-changing room that sat alongside the Paseo de la Palmera.
In 1928, they moved again, to Nervión, then on the eastern edge of town, today prime real estate near the AVE train station. The Nervión, holding 20,000, served Sevilla for 30 years.
The new stadium alongside, though opened in 1958, wasn't completed until 1975, in time for the 1982 World Cup. As well as a roof, a key new element was a dramatic mural created by Santiago del Campo, a bright mosaic of badges of visiting clubs, centrepieced by Sevilla's own logo. Since moved round to face the Nervión Plaza mall, it sets the classic tone for this classic arena.
Rising up in two sets of tiers, the Sánchez Pizjuán comprises a Gol Norte (Calle Luis Arenas Ladislao) and Sur (Avenida Eduardo Dato), a main Preferencia stand with the VIP seating and club offices, and Fondo opposite. 
Away fans are allocated a pie-slice of seating high in the corner between the Fondo and Gol Sur, Sector 46, gate 11. Home fans occupy both ends, particularly the Gol Norte.
Getting to the stadium – tips and timings
The stadium is between the Nervión and Gran Plaza stops on the new metro system, line 1. From the city centre, walk to Puerta de Jerez (10min from Plaza Nueva) – from there it's four stops (8mins), direction Olivar de Quintos. 
Several buses also serve the stadium, such as the 32 from Plaza del Duque, via AVE station Santa Justa. In all, it's 25-30mins from downtown Seville.
Buying tickets – when, where, how and how much
Tickets should be available for most games except for the derby with Betis and visits of Real Madrid and Barcelona when you need to arrange yours as quickly as possible.
The club has an online service in English. To buy in person, the taquillas principales (Mon-Fri 10am-9pm, from 10am on match days) are by the club shop nearest the Hotel Novotel. 
Tickets are around €30 behind each goal, Gol Norte will be in most demand, running to €60 for a decent seat on the Preferencia. A slightly cheaper spot in the Fondo opposite should suit most neutrals. Prices rise at least 15% for the visits of Barcelona and Real Madrid.
Shirts, kits, merchandise and gifts
The Tienda Oficial (Mon-Sat 10am-9pm, Sun 11am-3pm, match days) at the stadium is a large store nearest the Hotel Novotel.  The club also has a downtown outlet at Puerta Jerez (Avenida de la Constitución 40, Mon-Sat 10am-9pm).
Current first-team shirts in hallowed white feature a rather fashionable three-quarters round-necked collar in red. Second choice is all red. T-shirts feature the club's foundation date of 1898. Spanish readers should enjoy the book Los 100 más importantes partidos del Sevilla FC, showcasing the most important hundred games in the club's history. 
Explore the club inside and out
Entering though gate 3, stadium tours start with a visit to the club museum, lined with the six Europa League trophies and five Spanish cups. 
You then visit the VIP boxes and suites, the dressing rooms, press room, pitch, dug-outs and, as the Hymno del Sevilla FC blasts out, the players' tunnel. Included is an eight-language audio guide you can download onto your phone. 
Tours (€12, €10 under-14s, free under-5s) last around 90 minutes. Book your slot online. They run most days during the summer holidays – during the season, it's Fri (5pm-9pm), Sat (11am-3pm, 5pm-9pm) and Sun (11am-3pm). Last entries are 1.30pm and 7.15pm. There are no tours on match days or the day before, and no separate admission for the museum. Contact stadiumtour@sevillafc.com. 
Pre-match beers for fans and casual visitors
The gentrification of the area around the stadium has led to the disappearance of all the characterful pre-match bars of old – and arrival of chain and mainstream replacements. On main Avenida de Eduardo Dato, the spacious corner Bodega La Doma is one of three in town, serving cold cuts, cheeses and wines by region. The terrace is handily located directly over the road from the Sánchez Pizjuán. 
Set back from Eduardo Dato, on Calle Aznalcázar, the Peña Sevillista Al Relente serves the local fan group in thrall to Sevilla FC since 1958. Open every day but Monday, it should welcome most visitors except on fervent match nights.
Across Eduardo Dato, up C/José Luis de Casso, the tiled Mesón Campeones ('Since 2019!') makes an attempt at authenticity, placing tables outside for a convivial glass two minutes from the stadium.
On the other side of the ground, the Cervecería Europa (C/Benito Mas y Prat 5) is almost certainly the best pre-match option, a large, modern beer hall pouring draught La Sagra from Toledo and bottles of Belgian, Dutch, German and Czech favourites. 
A few doors down, slightly closer to the stadium, La Andaluza is another chain tapas bar, perhaps better passed over for El 17, a block away where C/Martínez de Medina meets C/Santo Domingo de la Calzada, a corner bar away from the pre-match bustle.
For a quiet drink pre- or post-match, the bar in the Novotel Sevilla on Eduardo Dato should do the trick.