A fan's guide – the club from early doors to today
With their distinctive red lightning-bolt stripe ('rayo'), the flagship club of working-class Vallecas became Rayo Vallecano in 1947. Before then, the club was the Rayo Athletics Association, with a modest history dating back to 1924.
Gaining promotion to the top flight in 1977, shortly after the inauguration of the intimate Estadio de Vallecas where they remained unbeaten all that season, Rayo only managed three seasons in La Liga before another decade with the smaller fish.
Promotion in 1989 thanks to a goal from England international Laurie Cunningham, who had come to Spain after a big-money transfer from WBA to Real Madrid, but whose injuries prevented him from realising his true potential. Weeks later, he was killed when his car overturned on the motorway outside Madrid.
Another folk hero at Rayo, goalkeeper Willy Agbonavbare, is best known for his heroic saves against Real Madrid in 1992-93. After dropping out of favour, his career dipped, and he died in poverty in Madrid in 2015 after fans had raised money for his children to visit from Nigeria.
In the early 1990s, controversial businessman José María Ruiz-Mateos assumed control of Rayo, passing ownership to his wife, Teresa Rivero, who became the first female president of a top-flight Spanish club.
This mother-of-13 presided over the most successful era in the club's history, briefly topping the Spanish league and reaching the quarter-finals of the UEFA Cup. The midfield driven by Rayo academy graduate Michel, the Vallecas side beat Lokomotiv Moscow and Bordeaux to face eventual finalists Alavés in all-Spanish clash.
The Rayo women's team also became one of Spain's best. Fans later voted to name the stadium after her, but Ruiz-Mateos was forced to release control of his shares in the club in 2011 – the year Rayo gained promotion back to the top flight. 
A creditable eighth place in 2013 under coach Paco currently represents the highest league finish in Rayo's history. Sadly Europa League participation for 2013-14 was refused as Rayo lacked a UEFA licence.
Rayo at least made headlines and no few friends in June 2015 when they announced that their change strip for 2015-16 would feature six colours, each for an underprivileged social group, and each of whom would gain financial recompense on shirt sales.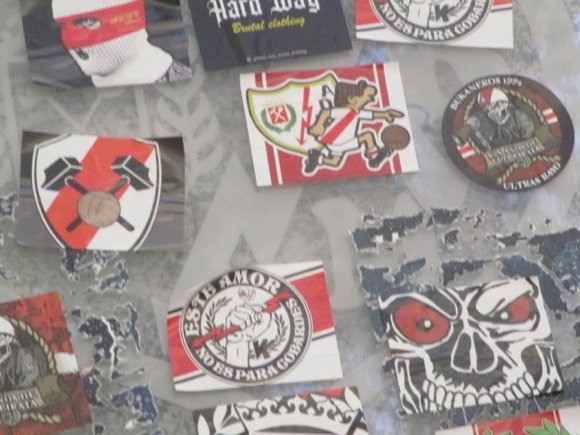 On the pitch, it was all to no avail as the Vallecanos finished 18th to continue their yo-yo existence between Segunda and Primera. Cameo appearances by veteran Colombian striker Radamel Falcao, wearing an unfamiliar number 3 shirt in honour of his father, led Rayo to 12th place in La Liga in 2022 and run to the semi-finals of the Copa del Rey.
Impressive performances from Spanish U-21 striker Sergio Camello, on loan from Atlético, saw Rayo bid for a European place in 2022-23, more than two decades after the club's last and so far only appearance on the international stage, the UEFA Cup run of 2000-01.
The field of dreams – and the stands around it
The modest but somehow quite wonderful Campo de Fútbol de Vallecas stands right by Portazgo metro station in the heart of the left-leaning working-class southern district of Vallecas. Corner bars and Communist graffiti surround a venue that was unveiled in 1976, shortly before Rayo reached the top flight.
Intimate, so intimate it seems to have been squeezed into the residential buildings on all sides, the former Estadio Teresa Rivero has seen Rayo yo-yo between divisions, as well as witnessing a number of notable rock stars perform, from Bob Dylan to Metallica.
Slight renovations to the laterales in 2011 reduced capacity to its current 14,700. The away entrance is on main Avenida de la Albufera, gates 17-19, leading to the Tribuna Alta Lateral. The Rayo faithful are found in the Fondo Sur – there is no Fondo Norte, this being a ground with only one end.
Going to the stadium – tips and timings
Portazgo station on the light-blue M1 metro line, south-east of Atocha, sits on the main road beside the stadium. Turn right out of the train, right out of the barrier, the stadium is signposted. The away entrance is also alongside. 
Allow 10mins from Atocha, Madrid's main train station.
Buying tickets – when, where, how and how much
The ticket office near the stadium bar on C/del Payaso Fofó usually opens from 11am for the three days up to match day. There are no online sales.
The cheapest seats are in the Fondo (€35 for derbies, €5-€10 cheaper otherwise), with prices rising to €75 to watch quality opposition from the Tribuna Central, the main stand. Opposite, a place in the Tribuna Alta de Lateral should cost anything up to €50. There's a smaller, match-day ticket office on Avenida de la Albufera.
Shirts, kits, merchandise and gifts
The Tienda Oficial Rayo Vallecano (Mon-Fri 11am-2pm, 5.30pm-8.30pm, Sat 11am-2pm, match days) sits on the corner of Avenida de la Albufera and C/del Payaso Fofó, press bell for entrance on quieter days. 
You'll find copies of Rosa de la Vega's weighty tome Vallecas y el Rayo Vallecano but for a simple gift bearing the red lightning-bolt stripe, ask for a badge, always impressive on the lapel.
Pre-match beers for fans and casual visitors
Bars line main Avenida de la Albufera opposite the stadium. While the old-school Cafeteria Disan keeps the Rayo flag flying inside, alongside, the Mesón Moreno has replaced its decorative support for the local club with a long, showy restaurant and handy terrace. TV screens line the interior, but gone are the scarves and pennants.
If you can squeeze in, between the two, the tiny Cafeteria Lider covers its walls in red-and-white iconography.
On the other side of the ground, hidden away along C/Teniente Muñoz Díaz, El Castañar should be the perfect pre-match choice in terms of location, but lacks atmosphere and, quite often, customers. 
El Sitio on the corner of C/del Arroyo del Olivar and C/del Payaso Fofó provides standard Spanish dishes and beers, and a terrace on which to enjoy them. Just round the corner, El Capricheto is similar in vein, though smaller. 
Nearby on C/del Payaso Fofó, the stadium bar/restaurant, La Franja is done out in red and white but without the cosy Rayo paraphernalia of its predecessor. A pull-down screen is set up for matches.