A fan's guide – the club from early doors to today
Valencia's second club, UD Levante, ended a series of five consecutive seasons in the top flight with relegation in 2022. But the club now has an impressively renovated stadium, the Estadi Ciutat de València, one of the largest in the Segunda, and a relatively lucky one for the Granotes in the Derbi Valenciano against Valencia CF.
For decades, the city rivals hardly met, the Frogs of Levante in a different league to Los Che. Their first meeting in the league took place as late as 1963 but after UD's promotion in 2004, the Valencia derby became a regular occurrence. 
Working-class Levante Fútbol Club were founded in 1909, playing in Valencia's port area. That same year, Gimnástico Fútbol Club came into being, attracting player and supporters with a university education – they even gained brief royal patronage in the 1920s. Both clubs competed in the Campeonato de Valencia. Levante beat the great Barcelona in a quarter-final play-off of the Copa del Rey in 1935 but lost in the semi-final.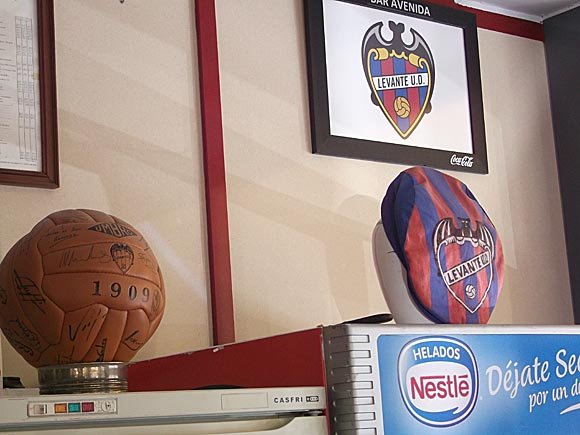 Levante's Algirós ground was destroyed in the Spanish Civil War that also claimed many local players. The two clubs decided to merge, basing themselves at Gimnástico's Estadio de Vallejo, in the district of the same name.
It wasn't until the 1960s that Levante Unión Deportiva made the top flight. Yo-yoing between divisions, Levante improbably attracted Johan Cruyff to play at the Estadi Ciutat de València for a few months in 1981.
The club bounced back from near bankruptcy in 2008 to gain promotion and even brief leadership of La Liga itself in 2011. An ageing side under young coach Juan Ignacio Martínez ('JIM') surprised all with seven straight league wins, including one over Real Madrid.
A final sixth place was well deserved and qualified the Frogs for the Europa League. Unbeaten at home, tonking both Twente and Olympiacos 3-0, Levante eventually lost to Rubin Kazan in extra-time. In front of fewer than 2,000 at Moscow's Luzhniki, this was a sorry end to a creditable, debut campaign in Europe.
A team featuring former Spanish international defender Juanfran, Austrian international attacking midfielder Andreas Ivanschitz and Spanish under-20 cap Rubén García held their own in La Liga – but only for so long.
Bottom of La Liga in 2016 after an unprecedented purple patch in recent seasons, Levante bounced back at the first attempt under former Juande Ramos assistant, Juan Muñiz. Staying up by dint of a bizarre 5-4 win over Barcelona – at one point, Levante were 5-1 up against the recently crowned champions – Levante continued to surprise a few giants with their former striker, Páco López, at the helm.
Fittingly, it was stalwart forward Roger, a Levante player since 2011, who scored the goal in the dying seconds of extra-time that sent the club into the Copa del Rey semi-finals for the first time in 2021. Sadly, the Estadi Ciutat de València was empty for the late win over Villarreal and for the subsequent clash with Athletic Bilbao. Scoring first in both legs, Levante lost out to the Basques in extra-time but survived another season in La Liga thanks to goals from veteran striker, José Luis Morales.
Sadly, another baker's dozen from this late developer wasn't enough to provide the Frogs from slipping down to the Segunda in 2022 – but did earn Morales a surprise transfer to Villarreal at the ripe old age of 34.
His near contemporary, Alessio Lisci, was duly dismissed from his position at head coach, ending the Italian's decade-long relationship with the club, youth and B teams included. In his place came former Tunisian international Mehdi Nafti, Nasty to Birmingham City fans who saw his gritty attitude in the Blues midfield in the early 2000s.
With former Arsenal and Valencia star Shkodran Mustafi at centre-back and North Macedonian international Enis Bardhi leading the midfield, Levante were looking for a quick return to the top tier when the 2022-23 campaign got under way.
The field of dreams – and the stands around it
The Estadi Ciutat de València now holds just over 26,000. It was completely overhauled in 2016 with new seats, then covered with a new roof and equipped with video screens four years later. It wan't that long ago that this was a very modest ground indeed, a mess of broken concrete and rubble.
Set in the northern district of Els Orriols, with a high immigrant population, the stadium was originally built in 1969 and saw little improvement until a mall was opened along its East Stand in 2010. It was around that time that Levante's fortunes picked up, too, the Granotes even leading La Liga at some point.
By then, Levante were averaging nearly 15,000 gates – within five years, in an almost continuous fight against relegation, it was closer to 20,000. The Estadi Ciutat de València is simply a comfortable place to watch a football match, and well served by public transport.
Inside is a bowl of red and blue, topped with a light roof. Acoustics and WiFi have improved dramatically. Home fans occupy the Gol Orriols nearest the mall, visiting supporters a high sector behind the Gol Alboraya towards the Grada Central. Opposite is the main stand, the Tribuna Central.
Going to the stadium – tips and timings
Directly opposite the stadium's main entrance, the Estadi del Llevant stop on purple metro line 6 is also directly connected with the beach. Coming from town, change at Benimaclet.
Buying tickets – when, where, how and how much
The ticket office (Mon-Fri 9am-2pm, 5pm-8pm and match days) is by the club shop on C/de Santiago Rusiñol. Online sales are also available.
The cheapest seats, around €25 each, are behind each goal, Orriols and Alboraya, while the best choice for the budget-conscious neutral is in the Grada Central along the sideline. The prime spots at €50-€60 are in the Tribuna Central under the stand.
Shirts, kits, merchandise and gifts
The Tenda Granota ('Frog Shop') sign can be seen on shops at the stadium (Mon-Sat 10am-2pm, 4pm-8pm & 2hrs before kick-off), to the right of the main entrance on C/de Santiago Rusiñol, and in town at Colón, Plaza de los Pinazos 6 (Mon-Sat 10am-2pm, 4pm-8pm).
The current home kit has thick red-and-blue stripes, not unlike Barcelona in the 1950s, the second choice black-and-white stripes with a thick black band making a cross over the chest. Scarves come in various colours and Spanish speakers can test themselves with the Levante quiz card game.
Pre-match beers for fans and casual visitors
Authentic neighbourhood bars await on C/de Santiago Rusiñol on one side of the stadium, and, on the other, mall outlets in the arena complex. 
The first bar you come to, the Bar Avenida on the corner with C/Esteban Dolz de Castellar, is the best. A single tap of Cruzcampo stands guard over a bar counter behind but most tend to sit outside in the run-up to kick-off. 
There's another little bar, Los Valles Gallegos, right next door, alongside an otherwise featureless fans' bar, also busy pre-match.
Further down Santiago Rusiñol, the Torre Levante and Stonyan provide modest alternatives. One street over on Carrer d'Esteban Dolz de Castellar, Al Mar is a notch above, with its wider choice of beer and dishes, and shaded terrace.
The alternative to these somewhat down-at-heel local bars are the mainstream chains at the Arena mall on the other side of the stadium. There, 100 Montaditos is a local mainstay offering attractive deals on iced pitchers of draught beer, as well as many types of tapas. 
Kiosks at the stadium serve standard snacks and beer.