Find the game in Madrid, at a cheery Irish boozer, a historic literary hangout or CR7's posh pad
All roads lead to Sol, Madrid's bar hub around the metro station of the same name. From here, a tangle of streets fans out, with a drinking spot on almost every corner.
Late-opening is a common feature – whatever Sinatra sang, Madrid is the city that never sleeps, and some locals don't even go out until midnight. Note also that many places don't open until late afternoon or early evening.
Most bars have TVs but for big-screen action, follow our tips here. Madrid has a significant expat community, which gathers at regular spots to watch Premier League and European games.
Madrid is also a beer capital – it's where Mahou was born in 1890. Those who went to Atlético's old Manzanares ground might remember the huge brewery nearby. A third of all Spain's beer consumption is now linked to Mahou, which owns San Miguel, Alhambra and other top domestic brands.
You'll also see Madrí, a contemporary brand launched by Madrileño Carlos García, rooted in the city's history and culture.
To go with your beer, tapas selections in Madrid tend to be more wide-ranging than you'll find in Barcelona, with the accent more on meat than seafood – you're in the very heart of Spain, which is why Madrid was chosen as the capital in the 1500s.
cervecerÍA deportiva sports bar
Considering Madrid is arguably Europe's football capital, it has remarkably few out-and-out sports bars. This is one, done out with football scarves and shirts, going to show that you don't have to do too much to fill your place and its pavement terrace with satisfied punters.  
The fact that it's pretty small is a blessing, meaning it doesn't have to try that hard to feel busy, and the irresistible aromas of its signature grilled chicken inevitably lead to the next table ordering some, too. Open from noon, so a handy place for lunch as you catch up on the previous night's match action. If you're here on a summer night, you might want to step outside for some fresh air – or chip in for the place to install air conditioning.
Cervecería Deportiva Sports Bar, Calle de las Veneras 7, 28013 Madrid. Metro Callao or Santo Domingo.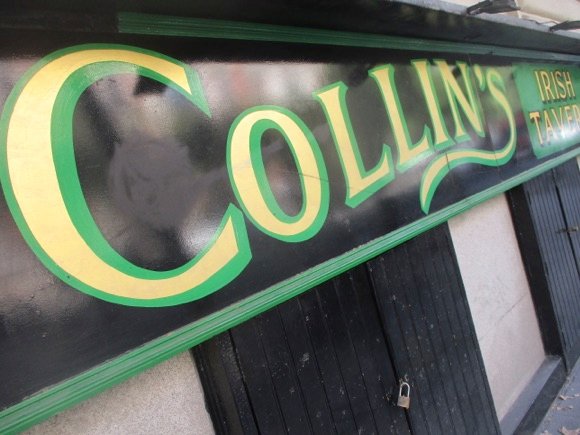 Music is more the focus at this basement Irish pub near Alonso Martínez metro station, but football and rugby are still very much part of the winning equation here. Like Paddy's (see below), many head to Collin's because here's where they want to be. You could easily walk past the large sign just above pavement level, so footfall along this quiet street isn't as big a factor as it would be around Sol.
Which is just as well, as it can get pretty crowded in here, especially for traditional Irish and the recently introduced bluegrass nights. It's also worth investigating the range of bottled beers from across Central Europe. Evenings only, open until 3.30am at weekends.
Collin's Irish Tavern, Calle de Sagasta 26. Alonso Martínez metro.
If you're happy to give Cristiano Ronaldo €10 just to enter, pay the admission fee to the flunky just inside the door of this high-end hotel and ascend to the ninth floor. Just so you know, you're in a Pestana, a group set up by the Madeira family of the same name in 1972 and now featuring five CR7-branded properties across the globe. It's only a matter of time, surely, before another is unveiled in Saudi Arabia, following on from Funchal, Lisbon, Marrakech, Times Square and this place on Madrid's showcase boulevard, the Gran Vía.
Sports bars are part of the franchise – Lisbon's isn't bad, actually – and Madrid's comes with a pizzeria, a rooftop cocktail bar and match-winning views across the Spanish capital. The sports bar feels like… well, like a hotel bar, and some overpaid mood engineer has obviously put an awful lot of thought into the shades of reds and greens at play here. A giant-sized table-football table also features. There's no dress code but scruffy customers need not apply.
If all this isn't for you, further down the Gran Vía at No.53 you'll find LaLiga 29's, a more down-to-earth (and ground-floor) sports bar set up by the LaLiga brand, hence the 'It's Not Football, It's LaLiga' slogan displayed across a turf-like wall. With Messi and Ronaldo long gone, Spain's premier league is having to win back global attention from England's – which is why there's another branch at the Kempinski in Doha.
CR7's 9th Floor, Pestana CR7 Gran Vía Madrid, Gran Vía 29, 28013 Madrid. Metro Callao or Gran Vía.
Deep in the Sol bar hub, the screen-filled traditional tavern La Fontana de Oro celebrates its 30th anniversary in 2025. This strange but successful hybrid of Irish pub and Spanish bar stays open until 6am, shows games and serves Guinness behind a traditional tiled façade.
What the liberal-leaning literary figures who used to gather here in the 1800s would think of it now is debatable – but then again, according to the Benito Pérez Galdos novel written about the place in 1870, debate is what these veterans of the Peninsular Wars came here to do.
You never know, they may well have enjoyed a pint of Paulaner or Kilkenny, available among the limited draught options.
La Fontana de Oro, Calle de la Victoria 1, 28012 Madrid. Metro Sol.
A stalwart of Madrid's Irish pub scene and packed pretty much every night. The many screens mean that almost wherever you are, you're within sight of the action, although tables will be at a premium later in the week. As suggested by its strange name, O'Connell, S.T. is Irish-ish, ie it sells Guinness and displays images of its iconic toucan, but dyed-in-the-wool authenticity doesn't really bother the party-centric clientele that gathers here in numbers.
If you're just after a quiet pint, quiet this is not – music blares loudly for no apparent reason, and the friendly bar staff should be equipped with ear trumpets to take customers' orders. Proximity to Sol works in its favour, and once the final whistle goes, you can dander along to any number of other hostelries for actual conversation.
O'Connell, S.T., Calle de Espoz y Mina 7, 28012 Madrid. Metro Sol.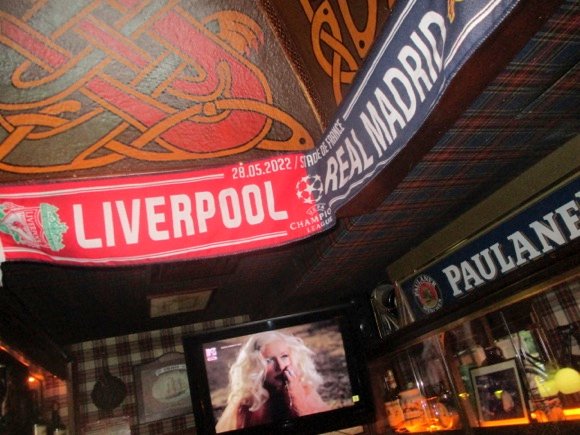 Paddy's puts football first, thanks to friendly Madrileño Paco, who's been running the place for more than 25 years. He'll be the gent in the Scotland shirt saying hello to everyone. A real pub that feels loved and lived-in, Paddy's caters to a regular crowd also happy to gather on its street terrace for sundowners.
Inside feels like a ship's cabin if the captain was a football obsessive, with match scarves and sundry personal souvenirs. Drinks, including draught Guinness, Murphy's and Paulaner, as well as whiskies and whiskeys, are a little cheaper around the bar. Matches shown, of course.
It's pretty handy if you've got a late flight and just fancy a quick pint before an easy hop to the airport – Concha Espina metro station is close by, one stop and one change from line 8.
Paddy's, Avenida de Concha Espina 69, 28016 Madrid. Metro Concha Espina.
About the same time that the surrounding district of Malasaña was shedding its cobwebs and becoming trendy, the Triskel Tavern near Tribunal metro was establishing itself as a football-watching destination of choice, particularly for fans of Liverpool. 
The Madrid Reds convene at this cosy corner spot over pints of Guinness, Paulaner and Kilkenny, football taking a back seat where there are regular open-mic sessions held in the bare-brick cellar, La Caverna. It feels a world away from the industrial-scale faux pubs elsewhere in town, and all the better for it. Evenings only during the week, open from lunchtimes on Saturday, after 3pm on Sundays.
Triskel Tavern, Calle de San Vicente Ferrer 3. Metro Tribunal.