A fan's guide – the club from early doors to today
Promoted to the Premier League again in 2018, Cardiff City have benefitted from the investment of Malaysian billionaire Vincent Tan – and suffered from his capricious decisions. One such was to change the team colours from blue to red in 2012.
His money, though, allowed the Bluebirds to reach the Premier League for the first time in 2013 – and England's top flight for the first time since 1962. The cantankerous Yorkshiremen Neil Warnock then pulled off an unlikely promotion in 2018, a record eighth in his managerial career.
Just as in 2013-14, Cardiff's stay with the elite in 2018-19 was short and sweet, the Bluebirds back down within one season. After a promotional play-off defeat to Fulham in 2020, it may be some time before they return. 
Previously, the club had enjoyed two spells in the national and international limelight. In 1927 Cardiff won the FA Cup, famously taking the trophy over the border and in the late 1960s/early 1970s, through winning the Welsh Cup, the club achieved a series of unexpected victories in the European Cup-Winners' Cup.
Founded as Riverside AFC in 1899 – present-day Cardiff fans miffed by Tan's recent switch to red shirts should consider Riverside's unwise choice of brown-and-yellow quarters – Cardiff played a series of friendlies before moving in 1910 to Ninian Park.
The first goal there was scored by Jack Evans, the outside-left who would help Cardiff achieve league, then top-flight status, after World War I. In 1924, Cardiff came within a fraction of winning the title, pipped by Herbert Chapman's Huddersfield Town by the very narrowest of goal averages. A year later, Evans starred for the Bluebirds at their first FA Cup Final, a 1-0 defeat by Sheffield United.
Evans had left before Cardiff enjoyed their greatest moment: the FA Cup Final of 1927. With Chapman now managing England's greatest side of the pre-war era, Arsenal, Cardiff shocked a nation of radio listeners by winning 1-0. The goal, a shot that bobbled under the slippery jumper of distracted Welsh keeper Dan Lewis, came from Hughie Ferguson. Three years later, he killed himself at a Dundee training session.
Four decades later, it was the Welsh Cup that gave Cardiff the chance to shine once more. With the striking duo of Brian Clark and a teenage John Toshack, Cardiff made it to the semi-finals of the Cup-Winners' Cup in 1968, Uwe Seeler's Hamburg scoring two late goals to seal the tie at Ninian Park.
Cardiff-born Toshack was sold to Liverpool, leaving Clark to score the only goal in a legendary win over Real Madrid in the same competition. Cardiff then dropped down the divisions until the arrival of owner Sam Hammam in 2000.
Not always popular – what is it with owners and their need to impose a new colour scheme on century-old clubs? – Hammam at least chose wisely in manager Lennie Lawrence. After a dramatic play-off at the Millennium, Cardiff made it back to the second-flight Division One in 2003.
Leaving the club with huge debts, Hammam sold on to Peter Ridsdale in 2006. Under manager Dave Jones, Robbie Fowler and Jimmy Floyd Hasselbaink starred in Cardiff's cup run of 2008. Fowler was left out of the final, though 17-year-old Aaron Ramsey came on, unable to prevent Portsmouth from a 1-0 win.
Despite £5 million from Arsenal for Ramsey, Cardiff continued to flounder in fiscal misery until the Asian ownership deal of 2010. The drawn-out saga of a new ground was also concluded, in 2009, with the opening of the Cardiff City Stadium.
On the pitch, there were three consecutive play-off disappointments, before a team under Malky Mackay, starring returning local striker Craig Bellamy, won the league outright in 2013.
Despite keeping the Bluebirds just above the relegation zone, Mackay was sacked after Christmas. Incoming coach Ole-Gunnar Solskjaer was unable to prevent the slow drop from the Premier League the following spring – nor Tan from making more capricious decisions on his choice of manager.
The choice of Neil Warnock in 2016, however, proved a sound one, and his 16th (!) managerial posting would be one of his longest. Taking Cardiff from second-bottom in the Championship back to the Premier League in under two seasons, Warnock converted Scottish international Callum Paterson into a midfield creator and described the Bluebirds' promotion of 2018 as his greatest achievement. And all in front of a full house at the Cardiff City Stadium, fans streaming onto the pitch after a tense 0-0 draw with Reading.
The joy was very much short-lived. Out of their depth in the Premier League and badly needing a proven goalscorer, Cardiff hastened the transfer of Argentine striker Emiliano Sala from Nantes. The light aircraft carrying him over the Channel from France crashed, leaving no survivors. A club record signing at £15 million, Sala inspired a mini-revival in form and left behind a legal mess between vendor and buyer. An agonising defeat at Fulham put paid to Cardiff's hopes of safety.
The Cottagers then prevented Cardiff's instant return a year later when they outplayed the Bluebirds in the promotional play-offs, although the Welsh visitors put up a good fight in the away leg. By then Neil Harris was manager, to be replaced by Mick McCarthy and then Steven Morison, but the former Welsh international has his work cut out to keep Cardiff in the hunt. Vincent Tan, meanwhile, oversees clubs in Bosnia, Belgium and California.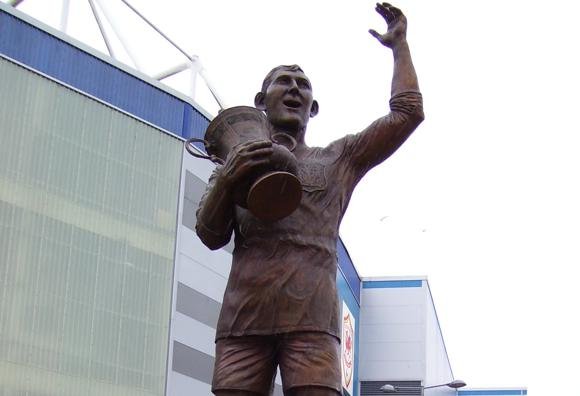 The field of dreams – and the stands around it
The Cardiff City Stadium was nearly a decade in the planning, conceived against a backdrop of financial side-stepping by one-time club owner Sam Hammam. When it opened, in 2009, it was near the stadium it replaced, Ninian Park.
After playing at Sophia Gardens, just over the Taff from today's Millennium Stadium, Cardiff moved to the new Ninian Park in Leckwith, west of the city centre, in 1910. Named after a World War I commander of the Welsh Regiment, Ninian Park would pack out regularly during Cardiff's glory years of the 1920s, and European nights of the late 1960s and early 1970s. Here Real Madrid were put to the sword.
The de facto national stadium, Ninian Park was where legendary manager Jock Stein died of a heart attack on the touchline as Scotland edged out Wales in a tense World Cup qualifier in 1985. A plaque was later unveiled here in his memory.
By the 1990s, the stadium was showing its age. It was only a matter of time – and money – before it would have to be replaced.
Alongside the new football ground, the Cardiff Athletics Stadium was also built. Ninian Park was flattened to make way for housing. Opened with a curtain-raising friendly against Celtic, the stadium later featured a statue of Fred Keenor, Cardiff's cup-winning captain of 1927. The original Ninian Park gates stand by Sloper Road on the east side of the ground.
Current capacity is just over 33,000, expanded for the UEFA Super Cup final held here in 2014, a 2-0 win for Gareth Bale's Real Madrid over Sevilla. Healthy crowds were also registered after Euro 2020, and the heroic homecoming of Wales to face Estonia, Belarus and Belgium for World Cup qualifying games in the autumn of 2021.
For domestic fixtures, away fans find their seats in sectors 119-122, in a corner of the Grange Stand adjoining the Ninian one, accessed through gate 12. The Canton Stand is the behind the opposite goal, while the Grandstand accommodates press and VIPs.
Going to the ground – tips and timings
The nearest rail station is Ninian Park, every 30mins from Cardiff Central (not Sun). After the game, fans are encouraged to use Grangetown, a 10min walk away along Sloper Road, and more frequently served, with trains every 5-10mins. Journey time for either from/into town is 5mins, a day return £3.50.
If you're taking the bus, then showing your match ticket allows you a special return fare of £2.60 (exact change/contactless on board). The closest service to the ground, Cardiff Bus circle line 1 goes from Central Station JM, hourly to Cardiff Bus Depot nearest the away end, then Leckwith Close by the Ninian Park Gates (journey time 20mins). Coming back, take circle line 2 from the Ninian Park stop to Central Station – this runs in the opposite direction to line 1. Again, it's only hourly. 
Quicker and more frequent are routes 92 and 94 from the Philharmonic near Central Station, which run every 15mins to Ninian Park School, a 7-8min walk along Sloper Road to the ground. Journey time is just over 5mins. Another swift option from the Philharmonic is half-hourly bus 95, which takes just over 5mins to reach Jubilee Park on the stadium side of Ninian Park station.
To walk from Cardiff Central along Tudor Street/Ninian Park Road would take about 25mins but away fans should be prudent and not wear colours. A taxi from the station should cost £7.
The sat nav code for the Cardiff City Stadium is CF11 8AZ. The Gôl Centre (CF11 8BR) in Lawrenny Avenue leading to the stadium offers match-day parking for £6. For this, you'll also be given a £5 bar voucher to spend at the club – which may be useful, as post-match traffic in this cul-de-sac can take a fair while to clear. Book your space through the Gôl Centre website – evening games tend to be oversubscribed.
If you get to the ground (really) early enough, there's very limited parking for £10 (cash-only). The site closes 30mins before kick-off. The wholesale market (CF11 8BB) on Bessemer Road has been known to offer match-day parking slots for £5, about 10mins from the ground and there's limited free on-street parking at your own risk alongside on Hadfield Road.
Buying tickets – when, where, how and how much
The stadium ticket office operates for phone sales only (UK only 0330 311 1920, Mon-Fri 10am-5pm, match days 9.30am-half time). There are also online sales. For all enquiries, contact tickets@cardiffcityfc.co.uk. Visiting supporters should source tickets through their clubs. Tickets are also sold in-person on the day, availability rarely a problem in the Championship.
Average prices for a league fixture are around £30, £20-£22 for over-65s/18-21s, £17 for 13-17s, £10 for under-12s. Digital tickets incur a £1 transaction fee, paper ones £2-£3.
Shirts, kits, merchandise and gifts
The Cardiff City Stadium Store currently opens Fridays/non home-match Saturdays 10am-4pm, and for home matches from 10am to kick-off and for 30mins after the final whistle. For 2021-22, the storied shirts of blue feature black trim, away colours are pink and third-choice tops are sea-green.
Beach towels, passport covers, frilly pennants and pint glasses display the Cardiff bluebird, whose recent troubled history saw it battle with Welsh and Chinese dragons for prominence on the club badge. 
Pre-match beers for fans and casual visitors
Pubs line Cowbridge Road East, about 15mins from the stadium coming from town. These are usually Cardiff haunts, such as the Admiral Napier at No.239 and The Ivor Davies, a dowdy Wetherspoons at No.245-249.
Home and away fans frequent The Lansdowne on Lansdowne Road near Ninian Park station, a friendly local and regular CAMRA-award winner known for its food as well as its real ales.
The nearest pub is the Sand Martin, by the car park and KFC just off Leckwith Road, with decent food (including a carvery) and a kiddies' play area. Sensible away fans are served on match days.
One alternative is the Gôl Centre in Lawrenny Avenue leading to the stadium, which offers parking and a fully stocked bar. On match days, the £6 parking fee can be cashed at the bar in the form of a £5 voucher. On the same street, nearer the ground, the Canton rugby club also has a bar, TV sport and parking.